Highland Winter Birding
A week of Scottish birding across the Highlands featuring a two night stay on the remote North Coast!
Overview
This holiday is for those who want something a little bit different, a unique holiday with the very best in Scottish winter birding. You will almost certainly see the key specialities, plus we will also make an exciting expedition to four different coastlines, from the very far north of Scotland to the Aberdeenshire or West coast to find winter rarities. Wild landscapes and solitude (you won't see many other birders!) are combined with exceptional birding.
KEY MOMENTS at our Friday round-up - which will be yours?
White-winged gulls! Iceland, Glaucous and maybe more in a variety of plumages
Waxwing, Jack Snipe, Great Grey Shrike, Brambling, all possible in the north in March.
That special rarity. Ross's Gull? An American duck or wader?... could be anything!
Divers at close quarters, sheltering in a northern harbour
Itinerary
DAY 1: Saturday
Arrival, welcome, dinner and briefing. Don't forget our courtesy collection service from Aviemore.
DAY 2: Sunday
Let's begin as we mean to continue, with fantastic birding! We visit a moorland location in our minibus to see Black Grouse popping and cooing at the lek. Next we take a safari on a private estate to search for Capercaillie. Staying inside our large minibus, we have a good chance of coming upon birds in the open, and even lekking in midmorning. 'The Big Grouse' show well in March, and our chances are good. In the Caledonian forest Crested Tit are noisy, whilst Scottish (Parrot) Crossbill are usually seen singly. We may surprise a Capercaillie 'gritting' on the tracks, and Buzzard, Treecreeper, Siskin, Hen Harrier, Sparrowhawk and even Golden Eagle are all more than possible.
DAYS 3-5: Monday - Wednesday Birding the far North!
We cross the Black Isle north of Inverness (where we may see Red Kite), heading for Sutherland and Caithness - the remotest and most under-birded counties on the British mainland. We call at key sites on the journey, a fascinating part of a unique holiday. Glaucous and Iceland Gull are regular in harbours and we can reasonably expect to see both of these, perhaps also exceptional rarities such as Ring-billed, Ross's and Ivory Gull. In secluded lochs and coastal bays, wintering Red-throated and Great Northern are occasionally joined by a beautiful White-billed Diver, and regular but uncommon passage migrants include Grey Phalarope and Little Auk. More expected are good numbers of Black Guillemot and Purple Sandpiper. John O'Groats can be excellent for flocks of Twite, Snow Bunting and perhaps many thousand migrating Fieldfare, Redwing and Starling, which we scan for that special rarity. Holidays in the past couple of years have produced Common Crane, American Wigeon, Greenland White-fronted Goose, Snow Goose, Long-billed Dowitcher, Ring-necked Duck, Ring-billed Gull, Bonaparte's Gull, Waxwing, Great Grey Shrike, White-billed Diver and Jack Snipe. We must stress that this is a real birding adventure, depending on our birding skills, the weather and a slice of luck. Our two overnight stays in Thurso give us the chance of detailed searches of Caithness harbours and bays, with views to the Orkneys across the Pentland Firth. We will spend time on Tuesday looking at large lochs and fertile pastures where we check the wildfowl, with large numbers of geese and ducks expected. In previous years we have seen Brent, Bean, White-fronted and good numbers of Pink-footed Geese. Our return journey will see us call at estuaries and mudflats, returning south in time for dinner on Wednesday. Our bird list should also include a good cross-section of resident northern specialities, such as Hen Harrier, Merlin, 'real' Rock Dove, Raven and Hooded Crow.
DAY 6: Thursday
Today we visit the Cairngorms with Ptarmigan in mind. The birds are mainly white at this time, and our quest is usually successful. We round-up a few more interesting birds, perhaps including Peregrine, Snow Bunting, Dipper and Goldeneye. Local fields have returning waders, and Lapwing, Curlew, Oystercatcher, Redshank and Golden Plover are splendid in fine breeding colour. We will use this day to target any Scottish Specials we may have missed on Sunday.
DAY 7: Friday
Back to the coast, this time in Morayshire. We will almost certainly see Common and Velvet Scoter, and Long-tailed Duck, perhaps at very close quarters. Great Northern and Red-throated Diver are highly likely, and rarities are frequent at this time of year. Previous March visits have yielded Glaucous Gull, Iceland Gull, Black Duck, Green-winged Teal, American Wigeon, Surf Scoter and King Eider - a feast of seawatching! Red Grouse, Corn Bunting, flocks of grey geese and lots of spring waders perhaps including Purple Sandpiper are on the agenda too. Waxwing and Great Grey Shrike are often seen at this time of year. Expect around seventy species on this day.
DAY 8: Saturday
Breakfast and departure. Don't forget our courtesy return service to Aviemore.
Please note: all itineraries are given as a guide only. Actual holiday content may vary according to the judgement of your guide, and elements beyond our control (eg weather).
This holiday can be combined with:
MAINLAND SCOTLAND
NEW! Birders Blast, Highlands and the East Coast.

SCOTTISH ISLAND ADVENTURES
NEW! Mull & Islay
Trip Information
Accommodation at Mountview Hotel can be seen here. www.mountviewhotel.co.uk . All accommodation is en-suite unless otherwise advised before your booking is confirmed.
Food There is a choice of evening meal, and vegetarian, vegan and other diets are welcome. Breakfast may be chosen from a full Scottish menu. You don't need flasks for hot drinks.
Walking will be light, although mountain walking for Ptarmigan can be strenuous, depending on the snow level.
Weather Expect a wide variation in weather conditions. Blazing sunshine and rain are equally likely, and you will probably experience a bit of everything, including snow! Bring waterproofs, walking boots or shoes and warm clothing.
Biting insects are unlikely to be encountered.
Group size maximum 7 clients per guide.
Optics. Telescopes will be useful, and you should bring binoculars. We have a limited number of top quality Swarovski binoculars, which you may borrow at no charge (subject to availability). A camera would be useful too!

Getting here is easy!

BY CAR Travel north to Perth. Take A9 signposted Inverness to exit north of Aviemore. Follow signs northeast through Boat of Garten to Nethy Bridge (ten miles). In Nethy Bridge, drive through the village, over the River Nethy, and you will see our sign 200 metres ahead on the right.
BY RAIL Don't forget our courtesy collection service from Aviemore on Saturdays at 16:30 and 19:30, but please let us know at least 48 hours in advance! The best train to Aviemore is the 'Highland Chieftain' on the East Coast Line. This leaves London Kings Cross at 12.00, arriving Aviemore at 19.28. We recommend you connect with this service if possible. Our pickup also works well with the 16:19 arrival from Edinburgh. In general, rail travel via Edinburgh is easier than via Glasgow, where a trip across the city between stations is needed, often followed by a change at Perth. Return trains leave Aviemore at 07.25, 08.29 (fast train to London –recommended), 09.24. 10:27 and 11.23. However we can only make 2 journeys to Aviemore on Saturday morning, so you may be taken to Aviemore a little earlier. Rail enquiries: 0845 7484950, www.nationalrail.co.uk.
BY AIR Flights to Inverness are becoming available all the time, for latest info call our office. Currently direct flights to Inverness are available from: Belfast, Dublin, Amsterdam, Birmingham, Jersey (all Flybe), London Gatwick, London Luton and Bristol (all Easyjet). A new service has just been launched with daily service to London Heathrow with British Airways. Guests arriving in Inverness airport can then take a taxi to Nethy Bridge, or take the Airport Flyer bus to Inverness, from where they can take the train to Aviemore where we can collect you. Our courtesy collection service is on Saturdays at 16:30 and 19:30, but please let us know which at least 48 hours in advance! We will be able to meet the 15:51 and 18:46 trains departing from Inverness that arrive at 16:34 and 19:24 respectively.
What's included in your holiday price
* Five nights comfortable accommodation at The Mountview Hotel, VisitScotland rated 3 Star. All rooms are en-suite, with TV and hospitality tray. There is no single supplement, and guests are never expected to share. Single guests may be upgraded to double room accommodation at no extra charge.
* Two nights comfortable en-suite accommodation in Thurso featuring good home-prepared food.
* Full Scottish breakfast, a substantial packed lunch, and a delicious dinner.
* Six full days wildlife watching.
* Guidance from a professional Group Leader.
* All transport by comfortable minibus.
* All estate access and ferry fees.
* A checklist specifically prepared for your holiday to record your sightings and notes.
* Courtesy bus service to and from transport in Aviemore.
What's not included in your holiday price
* Insurance, drinks and other items of a personal nature.
Why choose Heatherlea for your Scottish birding holiday?
Heatherlea is THE place for top quality birding holidays in Scotland, chosen by more and more birders each year. Stay in our own three star Small Hotel, and enjoy first-rate birding with Scotland's best guiding team. Relax and enjoy yourself, as we do all the planning! Above all, we make it our business to show key wildlife to you. Our fully inclusive guided holidays concentrate on the real experience, and we take time to ensure that each of our guests enjoys everything we do.
We have been organising birding and wildlife holidays for 27 seasons, and have a highly experienced and capable office team. We also offer a telephone and email service outside normal office hours.
Our 'Mainland Scotland' holidays based at Mountview Hotel have a maximum ratio of 7 clients per guide, putting the emphasis on personal service, and helping you get the best possible experience.
We are a small company, run BY birders FOR birders. Come and see!
Heatherlea are Mainland Scotland's FIRST '5-Star Wildlife Experience!' This is the highest available grading, classified as 'exceptional' by visitScotland.
There is no single supplement. Single guests are never expected or invited to share.
Our holidays often include things which others might invite you to pay yourself, for instance loan of Swarovski binoculars, packed lunch and tips to hotels.
We offer a courtesy transfer between our Hotel and Aviemore rail/bus links on Saturdays.
Heatherlea hold full Tour Operator Insurance for your added protection.
Heatherlea is a limited company, registered in Scotland. We are also registered to pay VAT, which is included in your holiday price as quoted on this page.
Once your holiday is confirmed in writing by us, we promise not to surcharge the price for any reason.
Enjoy an excellent birding and wildlife holiday with Heatherlea.
Mainland Scotland's FIRST '5-Star Wildlife Experience!'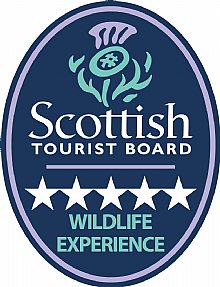 'Exceptional'
Visit Scotland
Please note: all itineraries are given as a guide only. Actual holiday content may vary according to the judgement of your guide, and elements beyond our control (eg weather).