Twenty Scottish Specials
Early Autumn birding at its best
Dates

31 Aug - 07 Sep 2019
29 Aug - 05 Sep 2020

Guides
Max Group Size
7 per guide
Duration
8 Days
More Info

2019 'Early Birder' offer - book now & save up to £200pp!

2020 Special offer - prices held! 2019 price of £1295pp is currently available for 2020 dates.
PLUS! Save up to £200pp with 'Early Birder'

Prices

£1295 PP, no single supplement.

Deposit £200
This brand new holiday is designed for those who would like a holiday in Scotland to see northern speciality birds, and we target 'Twenty Scottish Specials' to give the holiday a fun focus. Ideal whether you keep a UK birdlist or not, on this holiday we concentrate on rounding up as many key birds as possible, at a relaxed pace. We are based at Mountview Hotel for the whole holiday, though will travel to habitats throughout the Highlands, including a rewarding day on the West Coast, where we should see some of our most important target birds.
Early autumn is a great time to visit the Highlands; all of our Scottish specials have fledged chicks, so bird numbers are at their peak and with dependent young it also means they can be easier to find than in the middle of summer. We also have the excitement of migration, with waders and wildfowl numbers building, with chances of rarities being found too. With the flexibility of seven nights at our own Mountview Hotel, we can pick and choose the best days for our key habitats, giving us an excellent chance of dodging the weather and selecting ideal conditions for raptors, skuas and grouse.
On this holiday we will visit the West Coast of the Highlands, where we can find Red and Black-throated Diver, Black Guillemot, Hooded Crow and White-tailed Eagle, all amid stunning late summer scenery. We will also have two days around the Moray Coast, to give us the best chances of skuas chasing the soon to depart terns and Kittiwakes, and also to see the last of the Ospreys fishing before they head back to Africa for the winter. The rich arable farmland here is good for Tree Sparrow, and with luck we should find Corn Bunting, Stock Dove, Yellowhammer and Grey Partridge too. Around the Cairngorms we will spend at least two full days, working hard to find all four UK grouse species, as well as pinewood specialities such as Crested Tit and Scottish Crossbill, with good chances of Golden and White-tailed Eagles over the crags, with the possibility of a roaming Hen Harrier over the moorland.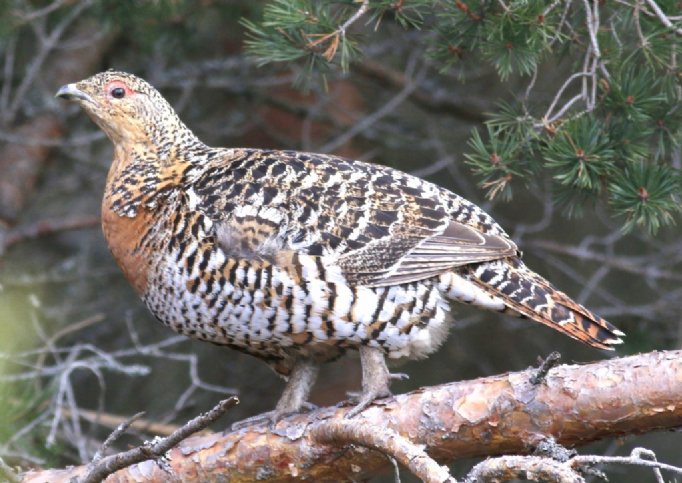 We will of course be delighted in all the birds (and other wildlife) we encounter, though these will be our 'Twenty Scottish Specials':
1. Golden Eagle
2. White-tailed Eagle
3. Capercaillie
4. Black Grouse
5. Red Grouse
6. Ptarmigan
7. Crested Tit
8. Scottish Crossbill
9. Dipper
10. Peregrine
11. Black Guillemot
12. Hooded Crow
13. Raven
14. Black-throated Diver
15. Red-throated Diver
16. Osprey
17. Great Skua
18. Arctic Skua
19. Tree Sparrow
20. Hen Harrier
... and a few mammals are also possible too: Otter, Bottle-nosed Dolphin, Brown Hare, Mountain Hare, Red Squirrel, Grey Seal, Common Seal, Red Deer, Roe Deer.
DAY 1: Saturday
Arrival, welcome, dinner and briefing. Don't forget our courtesy collection service from Aviemore.
DAY 2: Sunday
A morning in the Abernethy Forest to look for Crested Tit and local birds. Scottish Crossbill are found in the forests and with both Common and Parrot Crossbill also present, separation of these three species can pose a real identification challenge! We also visit local lochs and rivers, birchwoods and moorland, and may see Osprey, Dipper, Goldeneye, Red Grouse, Black-throated Diver and Lesser Redpoll. Later we investigate our private estate woodlands for Capercaillie, frequently seen from Heatherlea mobile hide minibuses. Moorland and upland specialities such as Slavonian Grebe, Hen Harrier, Ring Ouzel, Raven, Twite, Stonechat, Common Sandpiper, Peregrine, Buzzard, Sparrowhawk and Kestrel may also be seen.
DAY 3: Monday
An adventure on the west coast, and we make an early start to spend a full day here. With the possibility of both Golden and White-tailed Eagle, this is always an exciting day, and we will visit areas where these species have been present during the summer. Black Guillemot, Hooded Crow and both Great and Arctic Skua are also possible today, and gathering Black-throated Diver might also be found in number in a secluded western bay.
DAY 4: Tuesday
An optional early start to see Black Grouse at the lek is a great start. After breakfast we may head north to explore coastal haunts, and could expect to see a range of breeding birds including Osprey fishing, Common Eider, Goosander, Red-breasted Merganser, Stonechat, Common Scoter, Red-throated Diver, Tree Sparrow, Corn Bunting and Yellowhammer. Sandwich, Common, Arctic and Little Tern, Gannet, Guillemot and Razorbill are also likely. We also search for any rarities within reach.
DAY 5: Wednesday
Ptarmigan are our target after breakfast, skulking in mountain corries within walking distance of transport. The birds give good sightings once located as they rely upon camouflage more than flight whilst moulting into white winter plumage. Lingering Snow Bunting may also be seen. A brilliant day's birding in a very special habitat. Later we round up any inland species that might have been missed earlier in the week.
DAY 6: Thursday
Another great coastal experience, we go north to the Moray Coast or east to Aberdeenshire, depending upon the local birding. Amongst the passing terns, auks and Gannet we watch out for Skuas, and we also visit favourite spots where just about anything might drop in! Likely sites include the Ythan Estuary or the Loch of Strathbeg, with a great range of ducks and waders wherever we choose. We will also look for Red Kite, Tree Sparrow, and farmland birds such as Grey Partridge and Yellowhammer and also search for any rarities within reach.
DAY 7: Friday
Round-up day, meaning a good look for anything we may have missed, plus another coastal location with great birding. We may look for concentrations of waders, including Bar-tailed Godwit, Sanderling, Dunlin, Turnstone, Knot and many more, some individuals in summer plumage, or we may take a special trip for one of the rarities which make a Scottish autumn so special.

DAY 8: Saturday
Breakfast and departure. Don't forget our courtesy return service to Aviemore.
Please note: all itineraries are given as a guide only. Actual holiday content may vary according to the judgement of your guide, and elements beyond our control (eg weather).
Please note: all itineraries are given as a guide only. Actual holiday content may vary according to the judgement of your guide, and elements beyond our control (eg weather).
What's included in your holiday price
Seven nights comfortable accommodation at The Mountview Hotel, VisitScotland rated 3 Star. All rooms are en-suite, with TV and hospitality tray. There is no single supplement, and guests are never expected to share. Single guests may be upgraded to double room accommodation at no extra charge.
Full Scottish breakfast, a substantial packed lunch, and a delicious dinner.
Six full days wildlife watching.
Guidance from a professional Group Leader.
All transport by comfortable minibus.
All estate access and ferry fees.
A checklist specifically prepared for your holiday to record your sightings and notes.
Courtesy bus service to and from transport in Aviemore.
What's not included in your holiday price
Insurance, drinks and other items of a personal nature.
More holiday information
Accommodation at Mountview Hotel can be seen here. www.mountviewhotel.co.uk . All accommodation is en-suite.
Food There is a choice of evening meal, and vegetarian, vegan and other diets are welcome. Breakfast may be chosen from a full Scottish menu. You don't need flasks for hot drinks.
Walking will be light, although mountain walking for Ptarmigan is strenuous as birds generally start moving around in large coveys, and may need us to cover some miles to locate them. The excursion for Ptarmigan is completely optional.
Weather Expect a wide variation in weather conditions. Blazing sunshine, wind and rain are equally likely, and you will probably experience a bit of everything. Bring waterproofs, walking boots or shoes and warm clothing.
Biting insects are unlikely to be encountered, but bring a good repellent just in case!
Group size maximum 7 clients per guide.
Optics Telescopes will be useful, and you should bring binoculars. We have a limited number of top quality Swarovski binoculars, which you may borrow at no charge (subject to availability). A camera would be useful too!
Getting here is easy!
BY CAR Travel north to Perth. Take A9 signposted Inverness to exit north of Aviemore. Follow signs northeast through Boat of Garten to Nethy Bridge (ten miles). In Nethy Bridge, drive through the village, over the River Nethy, and you will see our sign 200 metres ahead on the right.
BY RAIL Don't forget our courtesy collection service from Aviemore on Saturdays at 16:30 and 19:30, but please let us know at least 48 hours in advance! The best train to Aviemore is the 'Highland Chieftain' on the East Coast Line. This leaves London Kings Cross at 12.00, arriving Aviemore at 19.28. We recommend you connect with this service if possible. Our pickup also works well with the 16:19 arrival from Edinburgh. In general, rail travel via Edinburgh is easier than via Glasgow, where a trip across the city between stations is needed, often followed by a change at Perth. Return trains leave Aviemore at 07.25, 08.29 (fast train to London –recommended), 09.24. 10:27 and 11.23. However we can only make 2 journeys to Aviemore on Saturday morning, so you may be taken to Aviemore a little earlier. Rail enquiries: 0845 7484950, www.nationalrail.co.uk.
BY AIR Flights to Inverness are becoming available all the time, for latest info call our office. Currently direct flights to Inverness are available from: Belfast, Dublin, Amsterdam, Birmingham, Jersey (all Flybe), London Gatwick, London Luton and Bristol (all Easyjet). A new service has just been launched with daily service to London Heathrow with British Airways. Guests arriving in Inverness airport can then take a taxi to Nethy Bridge, or take the Airport Flyer bus to Inverness, from where they can take the train to Aviemore where we can collect you. Our courtesy collection service is on Saturdays at 16:30 and 19:30, but please let us know which at least 48 hours in advance! We will be able to meet the 15:51 and 18:46 trains departing from Inverness that arrive at 16:34 and 19:24 respectively.
Why choose Heatherlea for your Scottish birding holiday?
Heatherlea is THE place for top quality birding holidays in Scotland, chosen by more and more birders each year. Stay in our own three star Small Hotel, and enjoy first-rate birding with Scotland's best guiding team. Relax and enjoy yourself, as we do all the planning! Above all, we make it our business to show key wildlife to you. Our fully inclusive guided holidays concentrate on the real experience, and we take time to ensure that each of our guests enjoys everything we do.
We have been organising birding and wildlife holidays for 27 seasons, and have a highly experienced and capable office team. We also offer a telephone and email service outside normal office hours.
Our 'Mainland Scotland' holidays based at Mountview Hotel have a maximum ratio of 7 clients per guide, putting the emphasis on personal service, and helping you get the best possible experience.
We are a small company, run BY birders FOR birders. Come and see!
Heatherlea are Mainland Scotland's FIRST '5-Star Wildlife Experience!' This is the highest available grading, classified as 'exceptional' by visitScotland.
There is no single supplement. Single guests are never expected or invited to share.
Our holidays often include things which others might invite you to pay yourself, for instance loan of Swarovski binoculars, packed lunch and tips to hotels.
We offer a courtesy transfer between our Hotel and Aviemore rail/bus links on Saturdays.
Heatherlea hold full Tour Operator Insurance for your added protection.
Heatherlea is a limited company, registered in Scotland. We are also registered to pay VAT, which is included in your holiday price as quoted on this page.
Once your holiday is confirmed in writing by us, we promise not to surcharge the price for any reason.
Enjoy an excellent birding and wildlife holiday with Heatherlea.
Mainland Scotland's FIRST '5-Star Wildlife Experience!'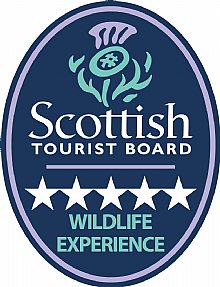 'Exceptional'
Visit Scotland
Trip Reports