'Self Drive' Short Break
A fantastic new option to enjoy Highland birding as autumn approaches
| | |
| --- | --- |
| Destination | |
| Focus | |
| Max Group Size | 5 per guide |
Welcome back to Scotland's wide-open spaces! We are currently planning to run all scheduled departures, please read our latest Coronavirus update. Until further notice, our minibuses will carry a maximum of five passengers each, with everyone guaranteed a free seat next to them. Please contact us for up-to-the-minute status on this departure.
Here at Heatherlea we are keen to return you to Scotland's wide-open spaces safely, to enjoy the special birds and wildlife we all cherish! This is a different type of tour, where you follow your Guide in your own car. You can still enjoy Scotland's wonderful birdlife with a Heatherlea Guide during these unprecedented times.
Join our Guide on location at a set time, and then we may visit several locations in one day, all of which have been selected with adequate parking and space to maximise our birding and maintain social distancing. Your guide will keep you updated, brief you regularly on planned events, and we will be birding either from a fixed position or on foot, walking to specific areas for key targets.
In this welcome return, we focus our attention on the highlights of Scottish birding as summer merges into autumn. It is a wonderful time to come to Scotland, the leaf and heather colours are turning and our target birds are at their highest numbers with all youngsters fledged. Birding will be varied, including difficult to find Highland specialities and coastal migrants.
We stay at our own Mountview Hotel in Nethy Bridge throughout, and your Guide will select daily activities based around the weather and known birds. We take time to watch resident birds in their highest densities, including Ptarmigan, Red and Black Grouse, Black-throated Diver, Slavonian Grebe, Golden and White-tailed Eagle, Osprey, summer plumage waders, terns, Crested Tit, Scottish Crossbill and much more! This holiday will be a welcome breath of fresh air, ideal for general birders who want to see Scotland's birds in their smartest plumage, as well as those who like to keep lists. Our small hotel is 'covid ready', and as an extra precaution is closed to all but resident birders and our staff.
This short break is merely a 'dip' into the birdlife of the Highlands. That said, it is a busy time of year and you can reasonably expect around 90 species, including many key Scottish summer specialities, and a host of northern birds which might be difficult to see elsewhere in Britain. We have a maximum limit of three vehicles per guide, and five clients per Guide, to maximise our traditionally high levels of personal service.
Day 1: Arrival
Arrival, welcome, dinner and briefing. Please note this holiday is regrettably only available to clients with their own vehicles, and so we are unable to offer courtesy collection from Aviemore.
Day 2: Forest and Moors
Your Highland birding experience begins with a stroll through ancient Scots Pine forest at a location close to our hotel. On good trails, we search for diminutive Crested Tit which may be found in roaming family groups at this time of year. Scottish Crossbill are found in our forests too, and 2020 has seen a bumper cone crop, with crossbills enjoying a good season with fledged second broods. Common and Parrot Crossbill are also present, and separation of these three species can pose a real identification challenge! Red Squirrel are also taking advantage of the abundance of food. Next, we investigate moorland lochs for Red-throated and Black-throated Diver and Slavonian Grebe, all of which may have large chicks. Our afternoon focus is upon raptors, as we scan the skies from roadside viewpoints within a beautiful, local glen. Golden and White-tailed Eagle are our main targets, the latter very much on the increase in the Highlands. Osprey, Peregrine, Hen Harrier, Goshawk, Red Kite and Raven may also be seen patrolling the skies, with Red Grouse, Dipper, Goldeneye, Goosander, Grey Wagtail, Siskin and Lesser Redpoll possible too. A classic day's birding in the Scottish Highlands!
Day 3: Coastal Birding
Today we head to either the Black Isle or Moray Coast, for exciting migration-based birding. Your Guide will monitor both the weather and tides, though both regions offer many possibilities. We spend some time looking through concentrations of waders, which at this time include Golden Plover, Curlew, Whimbrel, Bar-tailed and Black-tailed Godwit, Redshank, Sanderling, Dunlin, Turnstone and Knot for scarcer species such as Greenshank, Ruff, Little Stint and Curlew Sandpiper, or perhaps something rarer. Immature Osprey are often seen, and we may also find Red-throated and Great Northern Diver, Common Eider, Red-breasted Merganser, early returning Common or Velvet Scoter and Long-tailed Duck, plus a range of gulls, terns and auks. Passing Fulmar, Gannet or skuas may be encountered offshore, while farmland boasts Grey Partridge, Tree Sparrow, Corn Bunting and Yellowhammer. Either location also offers a good chance of Bottlenose Dolphin and both Common and Grey Seal, or perhaps even Otter.
Day 4: Cairngorm Mountain
An optional early start before breakfast to see Black Grouse at the lek will be a great way to begin our final day. If weather conditions are favourable, Ptarmigan will be our target after breakfast. With recently fledged young gathering in extended family groups, it is a good time to try to find them and birds can give fantastic views once located, choosing to rely on their camouflage rather than taking flight. We plan to spend most of the day exploring the Cairngorm plateau, where we may also see Snow Bunting, lingering Ring Ouzel, Wheatear, Peregrine, Raven, Red Grouse, Mountain Hare and perhaps Reindeer (in August, there is also a chance of a late departing Dotterel family). We finish the day at Insh Marshes RSPB, where breeding and migrant wildfowl and waders are beginning to gather. Raptors will likely feature with White-tailed Eagle, Red Kite, immature Hen Harrier or even a migrant Marsh Harrier possible – we have often seen half a dozen species from the lookout at this time of year!
Please note, due to vehicle limitations we will be unable to visit the Heatherlea 'Private Estate' to look for Capercaillie. There is always a chance though of an encounter in other Pine forest locations.
Day 5: Departure
Breakfast and depart.
Please note: all itineraries are given as a guide only. Actual holiday content may vary according to the judgement of your guide, and elements beyond our control (eg weather).
What's included in your holiday price
Four nights comfortable accommodation at The Mountview Hotel, VisitScotland rated 3 Star. All rooms are en-suite, with TV and hospitality tray. There is no single supplement, and guests are never expected to share. Single guests may be upgraded to double room accommodation at no extra charge.
Full Scottish breakfast, a substantial packed lunch, and a delicious dinner.
Three full days wildlife watching.
Guidance from a professional Group Leader.
A checklist specifically prepared for your holiday to record your sightings and notes.
What's not included in your holiday price
Insurance, drinks and other items of a personal nature.
More holiday information
Accommodation at Mountview Hotel can be seen here. All accommodation is en-suite unless otherwise advised before your booking is confirmed.
Vehicles Due to Covid restrictions we are unable to take clients in our minibuses at the present time. Clients will be required to drive their own cars (maximum of 3 cars per guide) to chosen locations from where we birdwatch. This gives flexibility to leave the group later in the day should you wish, as picnics are individually provided.
Food There is a choice of evening meal, and vegetarian, vegan and other diets are welcome. Breakfast may be chosen from a full Scottish menu. We take a packed lunch daily (to be collected at breakfast time), and you don't need flasks for hot drinks as these are provided. You will be given your own mug for use during the tour.
Walking will be on good trails and footpaths. Walking in the Cairngorms can be strenuous and is optional. Good footwear is important and a walking pole may be useful.
Weather Expect a wide variation in weather conditions. Blazing sunshine and rain are equally likely, and you will probably experience a bit of everything. Bring waterproofs, walking boots or shoes and warm clothing.
Biting insects may be encountered, though not as a major problem.
Group size maximum 5 clients per guide.
Optics Telescopes will be useful, and you should bring binoculars and a camera would be useful too. Unfortunately our Swarovski optic loan service is suspended at this time, nor will clients be able to use the Guide's telescope.
Why choose Heatherlea for your Scottish birding holiday?
Heatherlea is THE place for top quality birding holidays in Scotland, chosen by more and more birders each year. Stay in our own three star Small Hotel, and enjoy first-rate birding with Scotland's best guiding team. Relax and enjoy yourself, as we do all the planning! Above all, we make it our business to show key wildlife to you. Our fully inclusive guided holidays concentrate on the real experience, and we take time to ensure that each of our guests enjoys everything we do.
We have been organising birding and wildlife holidays for 30 seasons, and have a highly experienced and capable office team. We also offer a telephone and email service outside normal office hours.
Our 'Mainland Scotland' holidays based at Mountview Hotel have a maximum ratio of 7 clients per guide, putting the emphasis on personal service, and helping you get the best possible experience.
We are a small company, run BY birders FOR birders. Come and see!
Heatherlea are Mainland Scotland's FIRST '5-Star Wildlife Experience!' This is the highest available grading, classified as 'exceptional' by visitScotland.
There is no single supplement. Single guests are never expected or invited to share.
Our holidays often include things which others might invite you to pay yourself, for instance loan of Swarovski binoculars, packed lunch and tips to hotels.
We offer a courtesy transfer between our Hotel and Aviemore rail/bus links on Saturdays.
Heatherlea hold full Tour Operator Insurance for your added protection.
Heatherlea is a limited company, registered in Scotland. We are also registered to pay VAT, which is included in your holiday price as quoted on this page.
Once your holiday is confirmed in writing by us, we promise not to surcharge the price for any reason.
Enjoy an excellent birding and wildlife holiday with Heatherlea.
Mainland Scotland's FIRST '5-Star Wildlife Experience!'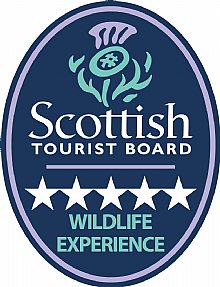 'Exceptional'
Visit Scotland