NEW!

South Africa - Kruger National Park
Birding and 'big game' at one of Africa's most famous destinations!
Destination
Focus
2024 Dates
Duration
13 Days
Guides
2024 Price

Holiday Price £4295 pp

£345 single supplement.

Deposit £1500

pre-flight airport hotel and lounge are inc.

2026 Dates
Duration
12 Days
2026 Price

Price TBC

Max Group Size
12
Free Bird Guide

FREE copy of Birds of Southern Africa with every room booked on this holiday.
Covering an area approaching 20,000km2, Kruger National Park is one of the largest and most famous African game reserves. Established late in the nineteenth century and originally known as the Sabi Game Reserve, the first three tourist vehicles entered the park in 1927 and since then many have enjoyed its wonderful wildlife. In 2024, that number will include Heatherlea clients!
Over 500 species of bird have been recorded in Kruger, of which half are resident and several threatened or range restricted. This is predominantly a birding tour with many targets, and of these Lappet-faced Vulture, Martial Eagle, Saddle-billed Stork, Kori Bustard and Ground Hornbill are difficult to see elsewhere. Famed for its 'big game', Kruger is home to more species of large mammal than any other African game reserve. Lion, Leopard, Rhinoceros (South-central Black and Southern White), African Elephant and Cape Buffalo make up the so called 'Big Five', and with an extended stay of five nights in the park, we have excellent chances of multiple encounters with many mammals including Wild Dog and Cheetah as a secondary, yet very important focus.
There is so much more to this tour, and before entering Kruger we explore bird rich locations to its west including Mount Sheba Nature Reserve, the Dullstroom grasslands and Blyde River Canyon – the latter being the third largest canyon in the world! Within Kruger itself, safari drives for mammals can also be great for birding, offering close views. We take extra time at Skukuza, on the Sabie river loop within the NP, where we should encounter a wide range of species at this time of year. Later at Wakkerstroom (where difficult to see Rudd's and Botha's Lark are possibilities) we will be well placed, as an exciting array of migrants begin to pass through. With 250-300 bird species and perhaps as many as 50 mammals, this is a superb new tour to one of the most famous African destinations.
Enjoy your complimentary pre-flight overnight hotel before your holiday begins. Full details from our office! Read more about our Pre-flight Service here!
Days 1 and 2: Mon 15 & Tue 16 January 2024
London - Johannesburg, birding at Rietveli NR
We fly overnight from London to 'OR Tambo' International Airport in Johannesburg, and meet our local guide, before driving to nearby Rietvlei Nature Reserve. Here we begin birding with exciting new species including South African Shelduck, Spotted Thick-knee, Crowned and African Wattled Lapwing, Northern Black Korhaan, Black-winged Kite, Greater Kestrel, Malachite Kingfisher, Cape Grassbird, Long-tailed Widowbird, Pied Starling, Dark-capped Yellow Warbler, Cape Longclaw and Chestnut-vented Tit-Babbler.
From Rietvlei, we make our way east towards Dullstroom, expecting to arrive late afternoon. En-route birding will depend on time available, though may include a roadside stop at marshland to look for Greater Flamingo, Cape Shoveler, Hottentot and Red-billed Teal, Yellow-billed, White-backed and Maccoa Duck, Southern Pochard and Black-necked Grebe, or perhaps a South African Cliff Swallow colony. Situated in South Africa's Mpumalanga Province, Dullstroom ('stroom' meaning stream), enjoys an abundance of water despite being over 2000m above sea level, and has enviable wildlife habitats. If time allows, a short afternoon excursion may yield Southern Bald Ibis, Steppe Buzzard, Ant-eating Chat, Mountain Wheatear, Pied Starling, Malachite Sunbird, Levaillant's Cisticola, Cape Crow and Bokmakierie while possible mammals include Black Wildebeest, Blesbok, Grey Rhebok, Mountain Reedbuck, Yellow Mongoose and Natal Red Rock Rabbit. Overnight Old Transvaal Inn for one night.
Day 3: Wed 17 January - Verlorenvalei NR, Panorama Route
The historical Panorama Route is a scenic road through Mpumalanga Province, centred around the Blyde River Canyon and connecting several cultural and natural points of interest. We spend the morning in the Steenkampsberg Range, at Verlorenvalei Nature Reserve where we search for endemics including Yellow-breasted Pipit, Gurney's Sugarbird, Eastern Long-billed Lark, Buff-streaked Chat, Mountain Wheatear, Drakensberg Prinia and Sentinel Rock-Thrush. More conspicuous, larger species we may also see include Denham's Bustard, Grey Crowned and Blue Crane, Jackal Buzzard, Cape Vulture and Secretarybird and perhaps mammals such as Blesbok, Oribi and Steenbok. Pushing on to Mount Sheba, once settled we explore the Afro-montane Forest surrounding the hotel for forest specialities including Knysna Turaco, Narina Trogon , Orange Ground Thrush, White-starred Robin, Olive Woodpecker, Cape Batis, Chorister Robin-Chat, Yellow-throated Woodland Warbler, Lemon Dove, Bar-throated Apalis, Grey Cuckoo-shrike and Blue-mantled Crested-Flycatcher. Overnight Mount Sheba Hotel for one night.
Day 4: Thur 18 January – Blyde River Canyon, Panorama Route
A pre-breakfast session in the forest will give us a second chance for any Afro-montane specialities we may have missed, before we relocate to Blyde River Canyon itself. The third largest in the world, the canyon is dominated by subtropical vegetation and we will have plenty of time for both birding and sightseeing stops along our chosen route through this scenic area. Among the birds we look out for are Long-crested and Verreauxs' Eagle, Rock Kestrel, Cape Rock Thrush, Black Saw-wing, Holub's Golden Weaver, Red-throated Wryneck, Amethyst and Greater Double-collared Sunbird, Little Bee-eater, Arrow-marked Babbler, Rufous-naped Lark, Southern Bald Ibis, Mocking Cliff Chat and many others. We stay overnight Forever Resort Blyde Canyon for one night.
Days 5 & 6: Fri 19 & Sat 20 January – Blyde River Canyon – Satara, Central Kruger
After a morning birding in the resort grounds, looking for White-throated and Red-capped Robin Chat, Black-collared Barbet, Striped Pipit, Yellow-fronted Tinkerbird, Greater Double-collared, White-bellied and Collared Sunbird, African Palm Swift, Yellow-breasted Apalis and many more, we depart for Kruger National Park.
Entering via Orpen Gate, we spend the rest of the day birding our way to camp, with many new birds expected. Notable species include Southern Ground Hornbill, Kori Bustard, Southern White-crowned Shrike, Chestnut-backed Sparrowlark, Temminck's Courser, Red-crested Korhaan and perhaps roosting Verreaux's Eagle Owl. A whole range of more widely-occurring birds are also likely, including Southern Carmine Bee-eater, European, Lilac-breasted and Purple Roller, Green-winged Pytilia, Brown-crowned Tchagra, Magpie Shrike, Green Wood Hoopoe, African Hoopoe, Burnt-necked Eremomela, Red-billed Buffalo Weaver, Burchell's and Greater Blue-eared Starling, Flappet Lark, Common Scimitarbill, African Grey, Southern Red-billed and Southern Yellow-billed Hornbill and many others. The spectacular array of possible raptors here includes White-headed and Lappet-faced Vulture, Bateleur, Martial, Tawny, Wahlberg's, Steppe and Lesser-spotted Eagle, Pallid and Montagu's Harrier, African Harrier Hawk, Brown Snake Eagle, Gabar Goshawk and Amur Falcon.
Satara is also one of the best game viewing areas within the Kruger National Park, and on the savannah during daytime are Burchell's Zebra, Blue Wildebeest, Common Waterbuck and Cape Buffalo. These in turn provide food for Lion prides and Spotted Hyena clans. Smaller herbivores such as Impala and Warthog may also be seen, doing their best to avoid being preyed upon by Leopard and Cheetah! Night drives are also an option at Satara, with chances to encounter African Scops, Pearl-spotted and Southern White-faced Owl, Verreaux's and Spotted Eagle Owl alongside partial-nocturnal mammals such as White-tailed Mongoose, African Wild Cat, Serval and Leopard. Overnight Satara Main Camp for two nights.
Days 7 & 8: Sun 21 & Mon 22 January – Skukuza, Kruger National Park
Following a morning excursion at Satara, we head south towards Skukuza, the headquarters and operations centre for the entire Kruger National Park, and our next rest-camp on the southern bank of the Sabie River. The habitat here is much more vegetated than that of the central plains of Satara, and as such attracts different birds and mammals. Among those we seek are Purple-crested Turaco, Trumpeter Hornbill, Hooded Vulture, African Green Pigeon, Giant and Pied Kingfisher, African Jacana, Black Crake, Crowned Hornbill, Goliath Heron, African Finfoot, African Darter, Saddle-billed Stork, Hamerkop, Water Thick-knee, Grey-headed and Orange-breasted Bush Shrike, Brown-headed Parrot, Bennett's, Bearded and Cardinal Woodpecker, White-crested Helmet-shrike, Black-collared Barbet, Violet-backed Starling and plenty more. As well as the famed 'big five', the relative abundance of water at Skukuza attracts many more mammals, and large Impala populations, in turn support predators such as Cheetah and Wild Dog. The latter can be a tricky mammal to find, and is a key target during our time exploring this rich section of the park. Early morning and afternoon game drives take place when both mammals and birds will be at their most active, with some time to relax planned in between. Overnight Skukuza Rest Camp for two nights.
Day 9: Tue 23 January - Pretoriuskop, Kruger National Park
For our final day in the Kruger, we continue southwards until we reach Pretoriuskop, one of the oldest and most well-known Rest Camps within the park. Dominated by large granite outcrops and some broad-leaf vegetation, the area holds a range of bird species which are uncommon in other areas. The camp gardens are one of the best places to see Scarlet-chested Sunbird, Purple-crested Turaco and Brown-headed Parrot, while other species we may find include Dark-chanting Goshawk, Lizard Buzzard, Bushveld Pipit, Croaking Cisticola, Yellow-throated Longclaw, Green-capped Eremomela, Striped Kingfisher, Scarlet-chested Sunbird and Pale Flycatcher. Though mammals can be relatively scarce here during the wet season, the area can be good for White Rhino with African Elephant, Lion and if lucky Wild Dog possible too. Overnight Pretoriuskop Rest Camp for one night.
Days 10 & 11: Wed 24 & Thur 25 January – Wakkerstroom, Mpumalanga Highlands
Today we must leave Kruger behind, and head south-west to Wakkerstroom, a small agricultural town in the Southern Mpumalanga highlands widely known as one of South Africa's best birding spots. Day Ten will be spent mostly travelling, though we make a few birding stops and pause for any interesting wildlife we may see en-route. Our accommodation affords magnificent views of rich grassland and wetlands, plus Martin's Dam and its waterfall, and if time allows we can explore a little before dinner. On our full day here we use a local guide to help find our target birds, which include Blue and Grey Crowned Crane, Secretarybird, Blue Korhaan, White-bellied Bustard, Ground Woodpecker, Quail Finch, Marsh Owl, Rudd's and Botha's Lark, Black-winged Lapwing, Cape Longclaw, Sentinel Rock Thrush, Yellow-breasted Pipit, Pale-crowned Cisticola and many more. Mammals we may see on this final part of the tour include Yellow Mongoose and the endearing Meerkat. Overnight Wetlands Country House & Sheds for two nights.
Day 12 Fri 26 January – Departure
We may have a chance for some final wildlife watching before we make our way back to the airport, with some birding stops en-route if time allows. Our overnight flight departs late-afternoon arriving in the UK on Day 13, Sat 27 January.
Please note: all itineraries are given as a guide only. Actual holiday content may vary according to the judgement of your guide, and elements beyond our control (eg weather).
What's included in your holiday price:
Outgoing flight London – Johannesburg and return Johannesburg - London. All airport taxes, baggage up to 20kg, hand luggage to 5kg, in-flight meal, airport transfers.
ground transportation, accommodation and meals including breakfast and lunch, evening meal and water during the day.
services of your Heatherlea leader and professional local guide.
park entrance and walk fees.
The Heatherlea Pre-Flight Service offers everything you need at the airport, including hotels, car parking, airport lounges, regional flights and upgrades. Let Heatherlea take the strain! Pre-flight airport hotel and lounge included subject to terms and conditions. Read More...
Free Field Guide! - Sasol guide to 'Birds of Southern Africa' fourth edition by Ian Sinclair et al. One copy per room booked.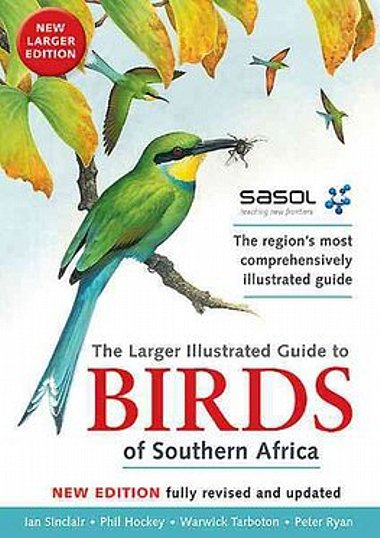 What's not included in your holiday price:
travel to and from the airport before and after the holiday, baggage above 20kg, incidental tips, drinks with meals, expenses of a personal nature and personal insurance.
More Holiday Information
Accommodation is in comfortable and friendly hotels and lodges. Rooms are comfortable, clean and attractive with en-suite bathrooms. All hotels have been especially chosen for their location, accommodation and food, which are universally very good.
Food Breakfasts offer a good choice, with tea, coffee, juice, fruits, pancakes, eggs of your choice and other things depending on location. We often plan to be out early, returning for breakfast and on some days not finishing our meal until mid-morning. As a result, we either purchase lunch from supermarkets/garages as we travel, or do not stop for lunch as we are well served by late breakfasts. This allows us to maximise our time in the field, though don't worry, you will not go hungry! Evening meals are at the accommodation with a full or buffet dinner. Vegetarian and other diets are available, please notify the office beforehand of any requirements.
Walking is easy throughout, but can be restricted in the national parks and game reserves. This is no hindrance, as we will be safe and able to get up very close to many animals and birds. At times it is also important for safety reasons to stay close to if not inside the vehicle – remember we are not top of the food chain here!
Travel is by open-sided Safari Vehicles, offering good viewing and ideal photographic opportunities, particularly for mammals.
Weather will be warm to hot most days although it can sometimes be cool, especially at altitude, in desert habitats and also in the early mornings. Kruger can often be humid in January, with temperatures often reaching 30°C, while rain is certainly possible. Most locations we plan to visit are close to water, where it may be slightly cooler and should hold plenty of wildlife.
Insects There can be a few biting insects at this time of year so precautions are always advised. Before travelling consult your doctor about suitable anti-malarial medication, and on arrival take adequate precautions against mosquito bites, although you may not encounter mosquitos.
Clothing We recommend a mixture of light and warm clothing as temperatures will vary from place to place. Gloves and hat are advised especially when at altitude. Please bring waterproof clothing, hopefully it won't be needed but rain is possible at any time.
Why choose Heatherlea for your African wildlife holiday?
Our overseas holidays are planned with care to offer great birding and wildlife, led by capable Leaders who really look after you. Every holiday is run the 'Heatherlea Way', and we hope our Overseas Adventures remind you of the quality and care so many of you enjoy in Scotland. That means rewarding and exciting days in the field, and good quality accommodation and meals, with a real flavour of the country we are visiting. Heatherlea always seek to include the personal touches that make all the difference.
Heatherlea holidays are not 'dawn to dusk' expeditions. Our less-intensive approach is ideal for those who want to relax whilst experiencing the best wildlife watching, and wherever possible we organise early or late activity on an optional basis. We also take sensible breaks when in very hot places and regular comfort breaks on every holiday whenever possible. All itineraries are planned carefully around the best wildlife opportunities, and you won't miss out on memorable wildlife, whilst enjoying relaxed, informal days that are great fun.
The really important part of any wildlife holiday is the experience for you, our valued customer. Heatherlea invest in many things to offer you the best possible service;
We have been organising birding and wildlife holidays for over 30 seasons, and have a highly experienced and capable office team. We also offer a telephone and email service outside normal office hours.
Heatherlea overseas holidays have a maximum of 12 clients per trip, putting the emphasis on personal service, and helping you get the best possible experience.
Our holidays often include things which others might invite you to pay yourself, for instance Departure Taxes and tips to hotels.
All elements of our holidays are sold under our own licence, ATOL 6113. Under 'Flight-Plus' legislation it is a legal requirement of any tour operator to hold an ATOL licence for the supply of any overseas holiday where a flight is involved, if that holiday includes either overseas accommodation and/or car hire. It can be a criminal offence for an operator to book flights as part of a package without an ATOL licence. Heatherlea also hold full Tour Operator Insurance for your added protection.
Heatherlea is your complete wildlife holiday provider. Our 'Back Office' team can organise all your pre-flight and other travel needs. Our specialists will help you book the right services, at the best price. Book holiday extensions through us, and your ATOL protection is extended further. We don't charge extra for this service.
Heatherlea is a limited company, registered in Scotland, and registered to pay VAT (applies to all holidays within the European Union).
Free Bird Guide

FREE copy of Birds of Southern Africa with every room booked on this holiday.