Botswana
A fantastic safari including the Okavango Delta and Victoria Falls
Destination
Focus
2024 Dates
Duration
17 Days
Guides
2024 Price

£6995 pp

£295 single supplement.

Deposit £1500

pre-flight airport hotel and lounge are inc.

2026 Dates
Duration
17 Days
2026 Price

Price TBC

Max Group Size
12
Free Bird Guide

FREE copy of Birds of Southern Africa with every room booked on this holiday.
Botswana is a sparsely populated, landlocked and wild country in the centre of the southern African plateau. It straddles the interface of two biomes; the Zambezian to the north and the Kalahari-Highveld to the south, and has an outstanding system of protected areas covering c. 40% of the country, making it one of the most desirable safari destinations in Africa. Approximately 600 bird species have been recorded, 415 of which are residents.
This is a safari holiday for both birds and big game, where we travel in luxury mobile tents, and visit a wide variety of habitats in a stunning series of beautiful protected areas, including the world famous Okavango Delta and Victoria Falls. We focus our efforts on the northern and transition habitats which are home to numerous special birds, many of which are rare and difficult to see elsewhere. Days spent in floodplains, marshes, lagoons, woodland and savannah will make our game drives exciting and rewarding.
We start our safari in the Moremi Game Reserve where we explore the eastern fringes of the Okavango Delta. This is a superb area for raptors, waterbirds (especially crakes), as well as critically endangered Slaty Egret and Wattled Crane. Our journey follows the Khwai River into the Mababe Depression where Leopard, Serval and Lion are common predators and we enjoy good birding at the riverside and other habitats including the mopane veld and woodlands. With limited vehicle access, Mababe is one of the best game reserves in Africa and we visit the famous Dombo Hippo Pools en-route. Our drives, both during the day and night may yield Wild Dog and other hard to see mammals, often alongside uncommon bird species such as Kori Bustard, Rosy-throated Longclaw and Bat Hawk. We then head north and explore the desert-like landscapes of Chobe National Park, where on a series of game drives we have good chances of seeing Cheetah hunting. A good area for Lion and Hyena too, surface water in this area provides a major attraction to birds. Heading to the Chobe River, the birding shifts to broad-leaved woodland or the miombo, where new targets include Grey Tit-flycatcher, Paradise Flycatcher, Amethyst Sunbird and Violet-backed Starling to name a few.
We end our tour in fine style with a few days beside the Zambezi River at Victoria Falls, where the birding is very special. Here we seek a series of rare, elusive and otherwise difficult to see species and of course enjoy the dramatic spectacle of the falls themselves - one of the seven wonders of the world!
This adventure to Botswana is additionally remarkable in that our accommodation comes with us! We stay in luxury, mobile safari tents at locations specially selected by our ground team, offering additional wildlife encounters. Tents are large, with comfortable beds, bedside tables, LED lights, en-suite with washbasin and shower, and a covered veranda area with relaxing chairs to watch the African sun rise and set each day. Our professional safari staff cater for every need, while wonderful safari chefs produce mouth-watering meals on a bed of coals. The mobile tented safari experience is one to remember in this trip of a lifetime!
Enjoy your complimentary pre-flight overnight hotel before your holiday begins. Full details from our office! Read more about our Pre-flight Service here!
Day 1 & Day 2: Fri 29 and Sat 30 November 2024 - Fly UK – Maun, Botswana
After relaxing in our complimentary VIP Airport Lounge, we fly from London to Maun, Botswana, via Johannesburg. After landing, we check into our hotel for the night to relax and get acquainted with our local guide before starting our safari adventure tomorrow!
Day 3: Sun 1 December - Transfer to Xakanaxa with birding en route
This morning we depart Maun for the Xakanaxa region which will be our base for the next three nights. We will be introduced to every type of mopane habitat on this drive, from the towering cathedral woodlands, classic climax mopane woodland and in the drier and harsher habitats, extensive stretches of scrub. Roadside stops can be good for raptors, and we scan for African Hawk-Eagle, Gabar Goshawk, Shikra, Little Sparrowhawk, Dark Chanting Goshawk and Tawny, Lesser Spotted and Steppe Eagle. Other common species often encountered along this route include Red-billed, Southern Yellow-billed, African Grey, Bradfield's and Southern Ground Hornbill, Shaft-tailed, Pin-tailed and Eastern Paradise Whydah, Greater and Lesser Honeyguide. Migrant Cuckoo's are also likely, with Diederick, Levaillant's, Jacobin, African, Common and Great-spotted Cuckoo possible. Overnight Moremi for three nights.
Days 4 & 5: Mon 2 & Tues 3 December - Xakanaxa and Moremi Game Reserve
On the eastern extremity of the Okavango Delta is the Moremi Game Reserve where habitats range from floodplains, marshes and lagoons some with vast stands of Miscanthus and Phragmites, woodland and open savannah. As a result Moremi boasts both quantity and diversity of wildlife and birdlife. We take a series of game drives here to find exceptional wildlife. This is reputedly one of the best game reserves in Africa for viewing endangered African Wild Dog, and Xakanaxa is also home to a resident herd of several hundred Buffalo, whose range overlaps with several prides of Lion, often resulting in a thrilling encounter when the two meet! Breeding herds of elephant move between their browsing areas in the mopane forests and fresh water of the Okavango, while Red Lechwe are one of the scarcer antelope species found here. Birdwatching at Xakanaxa can be good too, open water and swampy ground attracting African Rail, African and Black Crake, Purple Swamphen, Allen's Gallinule, African Skimmer, Saddle-billed and Yellow-billed Stork, Intermediate Egret, Goliath Heron, African Fish Eagle as well as critically endangered Slaty Egret and Wattled Crane. Chirping and Luapula Cisticola, Coppery-tailed and Black Coucal, Red-chested Flufftail and other passerines may also be seen in the scrub.
Day 6: Wed 4 December - Manuchira Channel and transfer to Mababe
Departing Xakanaxa after an early breakfast, we drive through Moremi Game Reserve again but this time travelling north-east towards the Mababe private reserve. Loosely following the Manuchira Channel at the eastern extremity of the Khwai River, habitats change from riverside and floodplains into the mopane veldt and woodlands which make it one of the most diverse and wildlife rich areas of the Okavango. The river runs slower here, and calmer back waters support a high density of Hippopotamus and we pass the magnificent pools at Dombo where Crocodile can also be seen. The western mopane veldt is home to both breeding herds and older bull African Elephant, and it is the latter which can often observed drinking or bathing at close quarters at the water's edge. Leopard, Cheetah and prides of Lion are regular predators along this route and commoner game we are likely to see includes Southern Giraffe, Burchell's Zebra and Tessebe. Roan and Sable Antelope are possible though less common here. Birds around the mopane woodland can include African Harrier Hawk, Gabar Goshawk, Red-headed Weaver, Stierling's Wren-Warbler, Scarlet-chested Sunbird, Neddicky and Yellow-breasted Apalis to name a few. Overnight Mababe for three nights.
Days 7 & 8: Thur 5 & Fri 6 December - Mababe Private Reserve
Around the banks of the Khwai River we have two days to explore Mababe, a reserve which employs strict limitations on vehicle access at key times. We are well positioned near the floodplains, and on game drives during both day and night we have more chances to encounter the regions special wildlife and to view some nocturnal animals rarely seen by day. This is a great area for birds, Kori Bustard (Botswana's National Bird) being a resident of the lower reaches of the Mababe depression. With opportunities to explore the surrounding wilderness on foot too, the western reaches are prime habitat for uncommon Rosy-throated Longclaw, while the entire length of the river is hunting domain for Bat Hawk. Other raptors include Cuckoo Hawk (rare), Long-crested, Tawny, Steppe, Lesser-spotted and Martial Eagle, Bateleur and African Hawk-Eagle while the waterways support Africa Rail, African Crake, Greater Painted Snipe, Allen's Gallinule, Lesser Jacana and Lesser Moorhen. The Mababe region boasts excellent populations of African Elephant as well as Lion, Leopard, Serval and African Wildcat. Buffalo use the area seasonally, large herds moving in during the summer rains and Red Lechwe, Tsesebe, Blue Wildebeest, Kudu, Impala, Sable and Roan Antelope and perhaps even Oryx may be present.
Day 9: Sat 7 December - Mababe to Chobe
A fascinating drive north towards Chobe, with time to investigate the Paleo-Lake Makgadikgadi which dried up some ten thousand years ago. Our exact route will be determined by conditions on the Magwikwe Sand-ridge which forms on the shoreline of this inland sea. Whichever route we take, we will be passing through some of the best Cheetah country of the tour so will be on the lookout for this mammal today! Nutritious grasses growing on the rich soil provide an excellent food source for an array of bird species including magnificently coloured Violet-eared and Black-cheeked Waxbill, Village Indigobird, Shaft-tailed and Paradise Whydah. Hunting Red-necked Falcon and Lanner Falcon are drawn to the area, and also present may be Secretary Bird (sometimes in large numbers), Black-shouldered Kite, Wahlberg's Eagle and Steppe Buzzard. Overnight Savuti for three nights.
Days 10 & 11: Sun 8 & Mon 9 December - Exploring Central Chobe
Unlike the vast majority of the country, Central Chobe is not a totally flat landscape as large outcrops of volcanic rock reach up out of the Kalahari sands and tower over the endless savannah. These hills provide habitat for a completely different array of small wildlife, birds and plants and what once was the Savuti Marsh has been the stage for many of the most dramatic wildlife documentaries filmed in Africa. Here, the combination of wide-open country, good ungulate populations and strong prides of Lion and Hyaena clans make for dramatic wildlife interaction and excellent viewing opportunities. Any gathered surface water provides a major attraction for birdlife, and in the dry season thousands of dove and sandgrouse visit to drink in the mornings. Also drawn in are Yellow-billed Kite, Tawny Eagle and African Hawk-Eagle, Dickenson's Kestrel, Amur and Red-necked Falcon. Red-crested Korhaan can be common in the Kalahari Apple-leaf veldt, while the marsh areas are summer home for good numbers of Caspian Plover, Montagu's Harrier, Chestnut and Grey-backed Sparrowlark, Rufous-naped Lark, Northern Black Korhaan, African Pipit and Desert Cisticola.
Day 12: Tues 10 December - Savuti to the Chobe River
Leaving camp early, we travel north through the stunted mopane scrub of the Goha clay basin and into the wonderful Zambezi Teak woodlands before coming to the Chobe River itself. The Chobe floodplain is tens of kilometers wide, while natural waterholes around Goha hold water well into the dry season and attract herds of Buffalo, Burchell's Zebra, Greater Kudu and African Elephant. Leopard occur in the Teak woodlands in low numbers but they are highly secretive and rarely seen. Most of the bird species we seek are to be found in the Teak woods, or miombo as they are locally known, providing plentiful food for canopy favouring birds. Grey Tit-Flycatcher, Ashy, Paradise and Pallid Flycatcher, Olive-tree Warbler, Scarlet-chested and Amethyst Sunbird, Yellow-throated Petronia, Red-headed Weaver and Violet-backed Starling are just some of the species we may encounter. We look out for Lizard Buzzard, White-faced Owl may be seen roosting in road-side vegetation and Flappet, Fawn-coloured and Dusky Lark are possible in open ground. Overnight Chobe River Front for 2 nights
Day 13: Wed 11 December - Chobe National Park
On our final safari, we explore a valley where the impact of a successful African Elephant population within the National Park is readily noticeable by the paucity of large trees. New habitat has generated which typically lines the rivers of sub-tropical Africa and the dense tangled masses with Knobbly Combretum Combretum mosambicense and Wooly Caper Bush Capparis tomentosa. This is one of the best places to see Roan and Sable Antelope and massive herds of Buffalo can visit, and Lion are at their highest density in southern Africa. Puku Antelope occur nowhere else in southern Africa except here on the Chobe floodplains, and despite the diminishing woodlands and thickets it can still be a good place to see increasingly scarce Chobe Bushbuck. We continually search for birds, targets including Ovambo Sparrowhawk, Eurasian Hobby, Great White Pelican, Corncrake, nomadic flocks of Collared and Black-winged Pratincole, Racket-tailed Roller, Malachite Kingfisher and Miombo Rock-Thrush.
Day 14: Thurs 12 December - Chobe River cruise and transfer to Victoria Falls
Departing to Kasane on a three hour boat journey along the Chobe River is a wonderful way to end your experience of this wildlife rich area. A range of game and birdlife is likely to be seen and from Kasane we transfer to Victoria Falls where we stay for the next two nights.
Days 15: Fri 13 December- Birding around Victoria Falls
With two nights at this iconic location we are able to enjoy a full day with a local expert exploring the diverse range of habitats and birding potential around the town of Victoria Falls. With over 400 species of bird recorded here, possibilities include Rock Pratincole, Grey-headed Parrot, White-backed Night Heron, African Finfoot, Western Banded Snake Eagle, Collared Palm Thrush and many more. As one of the world's seven natural wonders, we also plan to visit the Victoria Falls themselves - a truly spectacular sight to be savoured!
Day 16: Sat 14 December - Return flights to the UK
We take an overnight flight from Victoria Falls Airport, landing back into the UK on Day 17 (Sun 15 December)
Please note: all itineraries are given as a guide only. Actual holiday content may vary according to the judgement of your guide, and elements beyond our control (eg weather).
What's included in your holiday price:
All return scheduled flights from London – Botswana, via Johannesburg. and Victoria Falls - London, via Johannesburg taxes, baggage up to 20kg, hand luggage to 5kg, in-flight meal, and airport transfers are all included.
Ground transportation, accommodation and meals including breakfast and lunch, evening meal and water during the day.
Services of your Heatherlea leader and professional local guide,
Park entrance fees and boat trip fees.
Pre-flight airport hotel and lounge. Read more.
Free Field Guide! - 'The Birds of Southern Africa' fourth edition, by Ian Sinclair etc al is included in your holiday price. One copy per room booked.
What's not included in your holiday price:
Travel to and from the airport before and after the holiday, baggage above 20kg, incidental tips, drinks with meals, expenses of a personal nature and personal insurance.
Visa for entry into Zimbabwe
More holiday information:
Accommodation: We stay in luxury, mobile safari tents at locations specially selected by our ground team, offering additional wildlife encounters. Tents are large, with comfortable beds, bedside tables, LED lights, en-suite with washbasin and shower, and a covered veranda area with relaxing chairs to watch the African sun rise and set each day. Our professional safari staff cater for every need, while wonderful safari chefs produce mouth-watering meals on a bed of coals. The mobile tented safari experience is one to remember in this trip of a lifetime!
Food is usually plentiful. Breakfasts offer a good choice, with tea, coffee, juice, fruits, pancakes, eggs of your choice and is all prepared fresh. Picnic lunches are taken daily in the field. Tasty evening meals are prepared by the excellent ground team at the accommodation. Vegetarian and other diets are always available, please inform us of your needs in advance.
Walking is easy throughout, but restricted in the national parks and game reserves. This is no hindrance, as we will be safe and able to get up very close to many animals and birds. It is also important for safety reasons to stay close to if not inside the vehicle – remember we are not top of the food chain here!
Travel is by comfortable Landcruiser-type vehicles with excellent viewing opportunities. These are the best vehicles for this environment, all clients have a window seat, max six clients per vehicle. Tarmac roads make travelling much easier on some days, though there are some 'marram' roads, which are both rough and dusty. Sometimes the wildlife we want to see is at the end of a dusty road! Roads around National Parks are likewise unmade, though we travel slowly here to maximise our chances of good birding and game.
Weather will be warm to hot most days although it can sometimes be cool, especially in the early mornings. You will probably experience 'dry heat', though rain is certainly possible. Most sites selected for this holiday are close to water and so should hold plenty of wildlife at the time of year we are visiting.
Insects There can be biting insects at this time of year, so precautions are advised. Before travelling consult your doctor about suitable anti-malarial medication, and on arrival take adequate precautions against mosquito bites although you may not encounter mosquitos.
Clothing We recommend a mixture of light and warm clothing as temperatures will vary from place to place. Gloves and hat are advised especially when at altitude. Please bring waterproof clothing, it hopefully won't be needed but rain is possible at any time, even in the dry season.
Your Leaders
Holly Page: A keen birder from an early age, Holly moved from Lancashire to Strathspey in 2020, where she joined our guiding team. A now experienced guide, Holly is a key member of the Heatherlea team having led many of our tours across the Highlands and Islands including Shetland and the Outer Hebrides, as well as several overseas tours under her belt.
Holly has a passion for all wildlife including bees, hoverflies and beetles as well as eagles, divers and waders!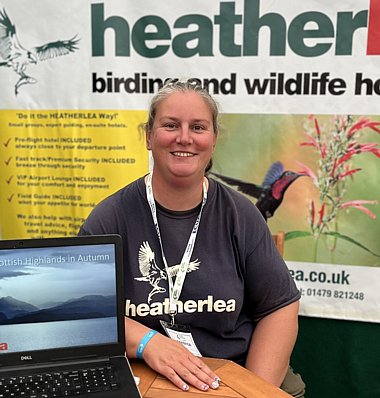 Why choose Heatherlea for your African wildlife holiday?
Our overseas holidays are planned with care to offer great birding and wildlife, led by capable Leaders who really look after you. Every holiday is run the 'Heatherlea Way', and we hope our Overseas Adventures remind you of the quality and care so many of you enjoy in Scotland. That means rewarding and exciting days in the field, and good quality accommodation and meals, with a real flavour of the country we are visiting. Heatherlea always seek to include the personal touches that make all the difference.
Heatherlea holidays are not 'dawn to dusk' expeditions. Our less-intensive approach is ideal for those who want to relax whilst experiencing the best wildlife watching, and wherever possible we organise early or late activity on an optional basis. We also take sensible breaks when in very hot places and regular comfort breaks on every holiday whenever possible. All itineraries are planned carefully around the best wildlife opportunities, and you won't miss out on memorable wildlife, whilst enjoying relaxed, informal days that are great fun.
The really important part of any wildlife holiday is the experience for you, our valued customer. Heatherlea invest in many things to offer you the best possible service;
We have been organising birding and wildlife holidays for over 30 seasons, and have a highly experienced and capable office team. We also offer a telephone and email service outside normal office hours.
Heatherlea overseas holidays have a maximum of 12 clients per trip, putting the emphasis on personal service, and helping you get the best possible experience.
Our holidays often include things which others might invite you to pay yourself, for instance Departure Taxes and tips to hotels.
All elements of our holidays are sold under our own licence, ATOL 6113. Under 'Flight-Plus' legislation it is a legal requirement of any tour operator to hold an ATOL licence for the supply of any overseas holiday where a flight is involved, if that holiday includes either overseas accommodation and/or car hire. It can be a criminal offence for an operator to book flights as part of a package without an ATOL licence. Heatherlea also hold full Tour Operator Insurance for your added protection.
Heatherlea is your complete wildlife holiday provider. Our 'Back Office' team can organise all your pre-flight and other travel needs. Our specialists will help you book the right services, at the best price. Book holiday extensions through us, and your ATOL protection is extended further. We don't charge extra for this service.
Heatherlea is a limited company, registered in Scotland, and registered to pay VAT (applies to all holidays within the European Union).
Free Bird Guide

FREE copy of Birds of Southern Africa with every room booked on this holiday.