NEW!

Ghana
Excellent birding in a part of West Africa which boasts a big birdlist!
| | |
| --- | --- |
| Destination | |
| Focus | |
| 2026 Dates | |
| Duration | 14 Days |
| 2026 Price | Price TBC |
| Max Group Size | 12 |
Ghana is a must visit destination for any birding and nature enthusiast, with over 760 bird species. From coastal lagoons, grassland savannah and upper guinea rainforest, moving northwards through broad-leaved guinea woodland and finally touching the Sahel savannah plains in the far north. Ghana offers all the core west African habitats and key locations we visit include Kakum National Park, the Shai Hills and Ankasa Reserve, the Abrafo Forest and the superb Mole National Park where over 300 bird and 100 mammal species have been recorded!
Birding is exceptional, with 12 of the 15 Upper Guinea Endemic bird species recorded in Ghana and highlights will include the legendary Yellow-headed Picathartes and stunning Egyptian Plover. Our itinerary is focused on birding at relaxed pace, though we will enjoy a big birdlist with many speciality species, with Nkulengu Rail, Forbes Plover, Pel's Fishing Owl, Black Dwarf Hornbill, Great Blue Turaco, Yellow-footed Honeyguide and Black-collard Lovebird, African Pitta, Yellow-bearded Greenbul, Rufous-winged Illadopsis, Green-tailed Bristlebill, Yellow-winged Pytillia and Wilsons Indigobird among the possibilities.
This is a relaxed tour with the emphasis on birding, though some key African mammals should also be seen including including African Elephant, Crocodile and many antelope and monkey species.
Day 1: Friday 6 February 2026- Arrival in Ghana
On arrival into Kotoka International airport we meet our local guides and head for our hotel. The drive will take about an hour to the town of Tema and we stay on the edge of the Shai Hills Reserve. Our guides will brief us we begin with time to settle in and relax, knowing we're ideally situated for tomorrow's birding. We stay for two nights at the Alexis Hotel, Tema.
Day 2: Saturday 7 February - Shai Hills Reserve and Sakamona Lagoon
Our first morning will be spent in the open grassland savannah of the Shai Hills Reserve where we search for Northern Crombec, Yellow-fronted Tinkerbird, Snowy-crowned Robin Chat, African Pygmy Kingfisher, Cardinal Woodpecker, Vieillot's and Double-toothed Barbet, White-crowned Cliff Chat, Rock Martin, Red-shouldered Cuckoo-shrike, Violet Turaco, Senegal Parrot, Senegal Batis, Blue-bellied Roller, Swallow-tailed Bee-eater, Oriole Warbler, Black-cap and Brown Babbler, Copper and Splendid Sunbird, White-crested Helmet-shrike, Croaking and Short-winged Cisticola, African Thrush, Red-necked and Lizard Buzzard, Lanner Falcon, Green Wood-hoopoe and Stone Partridge among many others. A great start!
Next we relocate to Sakamona Lagoon where depending on water levels an abundance of birds and several familiar palearctic waders may be seen, including Black-winged Stilt, Ringed, Grey and Spur-winged Plover, Black-tailed Godwit, Whimbrel, Common Greenshank, Spotted Redshank, Wood, Marsh, Curlew and Common Sandpiper, Turnstone, Little Stint and quirky Senegal Thick-knee. The wetland habitat could attract Long-tailed Cormorant, Squacco, Grey, Purple, Striated and Black Heron, and Little, Cattle and Intermediate Egret. With the heat of the day having subsided, we return to Shai Hills late in the afternoon to seek smart Purple Roller, Splendid and Variable Sunbird, Violet-backed Starling, Flappet Lark, Fork-tailed Drongo, African Grey Hornbill and Double-spurred Francolin if they haven't already been seen. Remaining after dark will give us a chance to look for Long-tailed, Plain and Freckled Nightjar plus Greyish Eagle Owl and African Scops Owl before we return to our hotel for our evening meal following a busy but very enjoyable first day.
Day 3: Sunday 8 February - Winneba Lagoon and Plains
A gentle start to the day, as we check out of our hotel after breakfast to head west towards Winneba Lagoon. Lower water levels are preferable in the hope of feeding waders along with African Royal, Black, Common and Caspian Tern. In nearby plains, the grassland supports Short-winged Cisticola, Splendid and Copper Sunbirds, Plain-backed Pipit, Flappet Lark, Red-winged Warbler, Yellow-mantled Widowbird, Black- necked Weaver, Black-crowned Tchagra, Western Grey Plantain-eater, Blue-spotted Wood Dove and Black-bellied Bustard to mention just a few, while hunting raptors can include Black-shouldered and Yellow-billed Kite, Lizard Buzzard and Grey Kestrel. Next we set off for Jukwa and the Rainforest Lodge where we'll stay for three nights, ideally placed for birding the famous Kakum National Park. We expect to arrive late afternoon, and may have time to search local scrub and farmland for Red-headed Quelia, Yellow-mantled Widowbird, Bar-breasted Fire-finch, Village and Compact Weaver, Splendid and Copper Sunbird and Red-faced and Whistling Cisticola. After dark, Frasers Eagle Owl and Long-tailed Nightjar may be found. We stay overnight for three nights at Rainforest Lodge, Jukwa.
Day 4: Monday 9 February - Kakum National Park canopy walkway
We reach the world-famous canopy walkway, close to our lodge, for first light. The seven platforms sit 40 metres above the forest floor with plenty of room for telescopes and give ideal viewing as well as a stunning vista of the semi-deciduous tropical rainforest. Kakum National Park boasts a long species list, and we'll be hoping to see many of the following; Violet-backed Hyliota, Chestnut-capped Flycatcher, Sharpes Apalis, African Pied, Brown-cheeked and White-crested Hornbill, Copper-tailed and Chestnut-winged Glossy-Starling, West African (Bioko) Batis, Blue Cuckoo-shrike, Little Green Woodpecker, Red-headed and Crested Malimbes, White-breasted and Grey-crowned Negrofinch, Red-fronted and African Grey Parrot, Yellowbill, Western Black-headed and Black Winged Oriole, Rufous-crowned Eremomela, Yellow-mantled Weaver, Green Hylia, Golden, Slender-billed and Little Grey Greenbul, African Green Pigeon, Yellow-billed Turaco, Emerald Cuckoo, Blue-throated Roller, Rosy Bee-eater, Yellow-throated, Red-rumped and Speckled Tinkerbird, Hairy-breasted and Naked-faced Barbet, Little Grey Flycatcher, and Cassins Honeybird, while a variety of sunbirds might include Blue-throated Brown, Green, Collard, Johanna's and Buff-throated. Raptors can include Congo Serpent Eagle, African Harrier Hawk, Palm Nut Vulture, Cassin's Hawk Eagle, European Honey and Red-necked Buzzard.
We'll need a break after such a busy morning, returning to the lodge with the options of birding around the grounds, an excursion to the Cape Coast Castle or simply relaxing during the mid-afternoon heat around the pool. We re-visit the canopy walkway in the evening where trickier to find species such as Long-tailed Hawk, Black Dwarf Hornbill, Great Blue Turaco, Yellow-footed Honeyguide and Black-collard Lovebird may be found.
Day 5: Tuesday 10 February - Antwikwaa
Today we visit Antwikwaa within the National Park to seek another big list of target species, including Piping Hornbill, Little, White-throated, and Black Bee-eater, Blue-throated Roller, White-spotted Flufftail, Cassin's and Sabine's Spinetail, Diederik Cuckoo, Melancholy and Buff-spotted Woodpecker, Kemps and Grey Longbill, Western Nicator, Western Bluebill, Olive-bellied Sunbird, Copper-tailed Glossy-Starling, Yellow White-eye, Bronze Mannikin, and Orange-cheeked Waxbill. More difficult are Yellow-billed Barbet, Forest Penduline Tit, Ayre's Hawk Eagle and Ahanta Francolin. We also relax at a picturesque river site where White-bibbed (White-throated Blue) Swallow, Preuss's Cliff Swallow, Rock Pratincole and White-headed Lapwing are possibilities, and if we are lucky bizarre-looking African Finfoot. Walking the many trails may well give us White-tailed Alethe, Red-tailed and Grey-headed Bristlebill, Black and Red-billed Dwarf Hornbill, Olive Long-tailed Cuckoo, Forest Robin, Yellow-billed Turaco and Fire-bellied Woodpecker. Owls and nightjars are possible as darkness falls.
Day 6: Wednesday 11 February - Kakum Forest relocation to Ankasa
A subtle change of scenery to look for new species in farmland scrub on the edge of the forest. Slightly more open ground means we may obtain good views of new birds such as Pale Flycatcher, Black and White Mannikin, Brown-crowned Tchagra, Sooty Boubou, Puvel's Illadopsis, Olive-green Camaroptera, Lesser Striped Swallow, Fanti Saw-wing, Chestnut Wattle-eye, Frasers and Little-green Sunbird, Red-cheeked Wattle-eye, Swamp Palm Bulbul, Common Fiscal, Finsch's Flycatcher Thrush, Spotted, Yellow-whiskered and Red-tailed Greenbul, Red-billed Helmetshrike, Rufous-sided Broadbill, Chocolate-backed Kingfisher, Olive Long-tailed Cuckoo and Long-tailed Hawk.
It will soon be time for pastures new and after lunch we continue westwards towards the Ankasa Reserve, Ghana's only pristine condition, wet evergreen rainforest. A stunningly beautiful and remote location, our base for the next three nights will be at a new lodge near the river which naturally forms a boundary of the reserve. Many rare and sought-after bird and mammal species occur within this rarely visited forest and we'll have plenty of time over the next few days to explore thoroughly. We stay for three nights at the Ankasa Paradise Lodge (no website).
Days 7 and 8: Thursday 12 and Friday 13 February - Birding in the Ankasa Reserve
Your guide will be up before first light listening for the unmistakeable call of legendary Nkulengu Rail, a very difficult but key species, and will alert the group before breakfast if it is found. Birding takes place virtually on our doorstep, with a welcome break from travelling as we venture into lush forest. Prime targets will be upper guinea endemics Yellow-bearded Greenbul, Rufous-winged Illadopsis and Green-tailed Bristlebill. Additionally we aim to see Ansorge's, Icterine, Red-tailed and Western-bearded Greenbul, Pale-breasted and Black-caped Illadopsis, Forest Robin, White-tailed Ant-thrush, Shining Drongo, Cassin's Flycatcher, Yellow-spotted Barbet, White-throated Bee-eater, Chestnut-breasted Negrofinch, Blue-headed Wood Dove, Western Bronze-naped Pigeon, Black-capped Apalis, Grey-headed Bristlebill, Tiny Sunbird and Red-fronted Antpecker. Rare and much sought-after African Pitta has been seen here on a couple of occasions and we will look for this species.
Watering holes located deeper inside the forest might give us Hartlaub's Duck, Dwarf Bittern, African Finfoot, Shining Blue, White-bellied, Blue-breasted and Dwarf Kingfisher. Scanning the skies, we may catch sight of Crown Eagle, Square-tailed Saw-wing and Black and Yellow Casqued Hornbill moving between the trees. Some very rare Ghanaian species occur here and if we are very lucky we may see White-breasted Guineafowl, Spot-breasted Ibis, White-crested Tiger Heron, Grey-throated Rail, Dusky Long-tailed Cuckoo and Forest Scrub Robin while evenings may yield Red-chested Owlet and Akun Eagle Owl. Superb birding!
Day 9: Saturday 14 February - Ankasa Reserve and Brenu Akyinim
A final morning birding at this wonderful location looking for species we may have missed or would like to see better. Afterwards we begin the drive back towards the Cape Coast calling at sites where we may find species unavailable elsewhere in Ghana. There's potential for Reichenbach's and Brown Sunbird, White-browed Forest Flycatcher, Orange Weaver and African Pygmy Goose. The coastal savannah plains at Brenu Akyinim hold some special species and we look for African Wattled Lapwing, Marsh Tchagra, Compact Weaver, Double-spurred Francolin, Oriole Warbler, Black-rumped Waxbill, scarce Yellow-winged Pytillia and Wilsons Indigobird. Tonight we return to the comfortable Rainforest Lodge, in Jukara.
Day 10: Sunday 15 February - Abrafo Forest and Yellow-headed Picathartes
A special day, setting off early to spend some time birding in the Abrafo Forest to 'mop up' forest species before driving to a remote village close to a small upper guinea rainforest in the Ashanti Region of Ghana. One species is our target – the incredible Yellow-headed Picathartes! With more nesting sites than any other in Ghana, this area is the stronghold for this strange, very rare bird, and our local guides are proud to be actively involved in protecting this habitat, sponsoring community forest members from the surrounding villages to patrol and stop illegal hunting and logging. By helping to show the local people the benefits of protecting this bird and its endangered habitat there has been a dramatic reduction in tree felling and groups have recently been enjoying better views than ever.
A bird of mythical reputation, we walk through beautiful forest to reach the nesting site, maintaining silence throughout so as not to disturb. Bamboo benches have been erected for our comfort as we wait, all eyes trained on the overhanging rock face and small cave with the mud nests. We hope to see these prehistoric looking birds return to the area from feeding forays as they hop and jump on the rocks at close range (no telescope needed!). Once good views have been had by all we leave these cryptic birds in peace as there's a long drive to our hotel at Kumasi, the capital of the Ashanti Region of Ghana. One night at Noda Hotel, Kumasi.
Day 11: Monday 16 February - White Volta River and Mole National Park
For the second day in succession we target another of Ghana's very special birds as we journey north towards the Mole National Park. Egyptian Plover, one of the most stunning waders in the world, can be found along the White Volta River and we'll devote time to admire and perhaps photograph them. The farther north we drive, we notice the habitat change into drier broadleaved Guinea woodland and savannah so now will be a good time to look out for raptors including Beaudouin's Snake and Long-crested Eagle, Grasshopper Buzzard, Yellow-billed Kite and Shikra amongst others.
Mole NP is Ghana's largest, protecting an area of 4847 km², and containing almost 100 mammal species and over 330 birds. Our base for three nights is the Mole Hotel, situated on a 250-meter-high escarpment overlooking the breadth of the Park offers a breathtaking vista and we'll have the special privilege of being able to watch African Savannah Elephants bathing and Crocodiles in watering holes from the comfort of the hotel.
Days 12 and 13: Tuesday 17 and Wednesday 18 February - Birding in Mole NP
Mole NP is a real nature lover's paradise, and we explore as fully as we can over the next two days. Mammals are in abundance and we hope to see Kob, Bushbuck, Waterbuck, Hartebeest and beautiful Roan Antelope, in addition to Green Vervet and Patas Monkey and Africa's largest land mammal, African Elephant. Another long list of birds is again possible and morning walks and excursions may give us Red-cheeked Cordon-bleu, Scarlet-chested, Beautiful, Pygmy and Western Violet-backed Sunbird, Lavender and Orange-cheeked Waxbill, Familiar and White-fronted Black Chat, Chestnut-crowned Sparrow Weaver, Red-billed, Bar-breasted and Black-bellied Firefinch, Fine-spotted, Grey, Golden-tailed and Brown-backed Woodpecker, Lesser Blue-eared and Greater-Blue-eared Starling, Abyssinian Ground and African Grey Hornbill, Stone Partridge, White-throated and Ahanta Francolin, Senegal Eremomela, Pin-tailed, Exclamatory Paradise and Togo Paradise Whyda, Bush Petronia, Little, Heuglins Masked, Village and Redheaded Weaver, Melodious and Willow Warbler, Brubru, African, Black and Great Spotted Cuckoo, Fork-tailed and Square-tailed Drongo, Northern Puffback, White-shouldered Black Tit, Red-faced, Rufous and difficult Dort's Cisticola.
Harder targets include Forbes Plover, Pel's Fishing and Northern White-faced Scops Owl, Spotted Creeper and Rufous-rumped Lark, and other birds we hope to see include Pearl-spotted Owlet, Yellow-breasted Apalis, Bearded Barbet, Swamp, African Blue, Lead Coloured and Gambaga Flycatcher, Giant, Shining Blue and Grey-headed Kingfisher, Red-throated Bee-eater, Bruce's Green Pigeon, Senegal Batis, Snowy-crowned and White-crowned Robin Chat, Sun Lark, Sulphur-breasted and Grey-headed Bush-shrike, African Golden Oriole, Oriole Warbler, Cinnamon-breasted Rock Bunting, Abyssinian and Broad-billed Roller, Black Scimiterbill, Violet Turaco, Woodchat Shrike, Northern Red Bishop, Yellow-crowned Gonolek, Rose-ringed Parakeet, Senegal Parrot, Black-billed Wood and Vinaceous Dove, Woolly-necked, Saddle-billed and Black Stork, Yellow-throated Leaflove and Red-headed Lovebird. Raptors are common with Martial, Booted, Long-crested and Tawny, African Fish, Wahlbergs, Brown and Short-toed Snake Eagle all possible. White-backed and White-headed Vulture patrol the skies and we could see Gabar and Dark Chanting Goshawk, Western Marsh Harrier, Osprey and Lanner Falcon. Because of the midday heat we look for wildlife in the mornings and evenings with some rest time planned for the middle of the day.
Day 14: Thursday 19 February - Internal flight to Accra before returning to the UK
A final mornings birding at Mole where we aim to pick up species still needed and to also get better views of birds we only had glimpses of previously. Birds we could add before leaving Mole include Woodchat Shrike, Northern Red Bishop, Pearl-spotted Owlet, Yellow-crowned
Gonolek, Rose-ringed Parakeet, Senegal Parrot, Black-billed Wood and Vinaceous Dove, Woolly-necked, Saddle-billed and Black Stork, Yellow-throated Leaflove and Red-headed Lovebird to mention a few before we set off to Tamale for lunch and catch our internal flight south to Accra saving us almost 2 days driving time. On arrival in Accra we check in to
Airport View Hotel where we have arranged day rooms for everyone to freshen up. We enjoy our final evening meal and checklist here, then transfer to the airport for our flight.
Please note: all itineraries are given as a guide only. Actual holiday content may vary according to the judgement of your guide, and elements beyond our control (eg weather).
What's included in your holiday price:
return scheduled flight from London – Kotoka and Tamale - Kotoka internal flight, airport taxes, baggage up to 20kg, hand luggage to 5kg, in-flight meal, airport transfers.
accommodation and meals including breakfast and lunch, evening meal and water during the day.
services of your Heatherlea leader and professional local guides.
ground transportation, park entrance fees and walk fees.
The Heatherlea Pre-Flight Service offers everything you need at the airport, including hotels, car parking, airport lounges, regional flights, and upgrades. Let Heatherlea take the strain! Pre-flight airport hotel and lounge included subject to terms and conditions. Read more...
Free Field Guide! - 'Birds of Ghana' by Nik Borrow and Ron Demey, published by Helm 2010 is included in your holiday price. One copy per room booked.
What's not included in your holiday price:
travel to and from the airport before and after the holiday, baggage above 20kg, incidental tips, drinks with meals, expenses of a personal nature and personal insurance.
More holiday information:
Accommodation is in friendly hotels and lodges, often located in areas with expansive views and close to our target wildlife. Rooms are comfortable, clean and attractive with en-suite bathrooms. Many hotels have been chosen for their location, accommodation and food, which are universally very good, and often exceptional.
Food is usually plentiful. Breakfasts offer a good choice, with tea, coffee, juice, fruits, pancakes, egg of your choice and other things depending on location. Lunches are taken at hotels or somewhere in the field depending on the day's plan. Evening meals are at the accommodation with a full dinner. Vegetarian and other diets are always available.
Walking is mostly easy and slow paced. We will be birdwatching throughout with occasional tougher walks to get to harder to reach places for target birds. There will be days were we will birdwatch before breakfast and up to midday taking breaks during the early-afternoon when bird activity can be slower and then returning to the field in the late-afternoon and evenings. We will make sure all clients are briefed about the day plan should you wish to opt out of any sessions.
Travel is by comfortable minibus, and all clients have a window seat. Tarmac roads make travelling much easier these days, though there are some 'murram' roads, which are both rough and dusty. Sometimes the wildlife we want to see is at the end of a dusty road but we travel slowly along these to maximise our chances of seeing things.
Weather will be warm to hot most days although it can sometimes be cool, especially in the early mornings nad overnight. An average temperature of around 30 degrees celcius is expected though rain and cooler conditions are possible.
Insects There are very few biting insects at this time of the year, but general precautions are advised. Before travelling consult your doctor about suitable anti-malarial medication, and on arrival take adequate precautions against mosquito bites although you may not encounter mosquitos.
Clothing We recommend a mixture of light and warm clothing as temperatures will vary from place to place. Gloves and hat are advised especially when at altitude. Please bring waterproof clothing, it hopefully won't be needed but rain is possible at any time, even in the dry season.
Group size is restricted to 12 clients maximum.
Your Guide:
Gerard Gorman is a very well-travelled, experienced and skilled birding tour guide who has led for Heatherlea over many years and in many destinations. He has birded extensively in Africa, including Ghana. He is also well-known as an expert on woodpeckers, and is author of Woodpeckers of the World: The Complete Guide, and several other well-informed bird and wildlife books. On this tour Gerard will be joined by expert local guides and park rangers.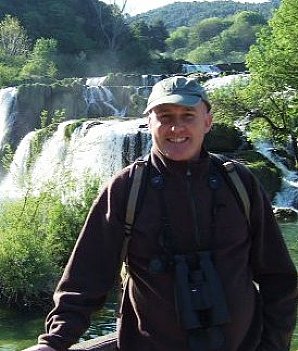 Why choose Heatherlea for your African wildlife holiday?
Our overseas holidays are planned with care to offer great birding and wildlife, led by capable Leaders who really look after you. Every holiday is run the 'Heatherlea Way', and we hope our Overseas Adventures remind you of the quality and care so many of you enjoy in Scotland. That means rewarding and exciting days in the field, and good quality accommodation and meals, with a real flavour of the country we are visiting. Heatherlea always seek to include the personal touches that make all the difference.
Heatherlea holidays are not 'dawn to dusk' expeditions. Our less-intensive approach is ideal for those who want to relax whilst experiencing the best wildlife watching, and wherever possible we organise early or late activity on an optional basis. We also take sensible breaks when in very hot places and regular comfort breaks on every holiday whenever possible. All itineraries are planned carefully around the best wildlife opportunities, and you won't miss out on memorable wildlife, whilst enjoying relaxed, informal days that are great fun.
The really important part of any wildlife holiday is the experience for you, our valued customer. Heatherlea invest in many things to offer you the best possible service;
We have been organising birding and wildlife holidays for over 30 seasons, and have a highly experienced and capable office team. We also offer a telephone and email service outside normal office hours.
Heatherlea overseas holidays have a maximum of 12 clients per trip, putting the emphasis on personal service, and helping you get the best possible experience.
Our holidays often include things which others might invite you to pay yourself, for instance Departure Taxes and tips to hotels.
All elements of our holidays are sold under our own licence, ATOL 6113. Under 'Flight-Plus' legislation it is a legal requirement of any tour operator to hold an ATOL licence for the supply of any overseas holiday where a flight is involved, if that holiday includes either overseas accommodation and/or car hire. It can be a criminal offence for an operator to book flights as part of a package without an ATOL licence. Heatherlea also hold full Tour Operator Insurance for your added protection.
Heatherlea is your complete wildlife holiday provider. Our 'Back Office' team can organise all your pre-flight and other travel needs. Our specialists will help you book the right services, at the best price. Book holiday extensions through us, and your ATOL protection is extended further. We don't charge extra for this service.
Heatherlea is a limited company, registered in Scotland, and registered to pay VAT (applies to all holidays within the European Union).