Uganda
A wonderful East African safari, combining top birding with big game, Mountain Gorillas and Chimpanzees.
Dates
Guides
Max Group Size
12
Duration
15 Days
Prices

£6795 pp, £795 single supplement.

Deposit £1200
Uganda is one of the most attractive destinations in East Africa for the wildlife enthusiast. Straddling the Equator and sharing a long land border with Kenya, the country is friendly, and regeneration of the economy over recent years has included investment in its tourism infrastructure, with good quality accommodation and improved travel. Uganda's wealth of birds and mammals make a wildlife visit thoroughly absorbing.
This holiday is a carefully designed safari through many of the most wildlife-rich areas, focused on birding and mammals, and with excellent opportunities for photography. Uganda boasts around 1080 birds, and on this carefully prepared itinerary we hope to see approx 300 species, including the impressive Shoebill, striking Bateleur Eagle and elusive African Finfoot. Among the wide diversity of birds we will be looking for are many avian specialities of central Africa, and a good number of endemic species. A key highlight of the holiday will be the opportunity to see both Mountain Gorilla and Chimpanzee.
As might be expected, our journey takes us to many of the most important wildlife locations in Uganda. Our first key destination is the Mabamba Wetlands, where we quietly approach Shoebill and many other wetland birds in canoes; Kibale National Park is wonderful for primates including Chimpanzee; the famous Queen Elizabeth National Park and its Kazinga Channel should yield Hippo, Nile Crocodile and a wide diversity of birdlife; Bwindi Impenetrable Forest National Park offers the opportunity to encounter Mountain Gorilla, and Lake Mburo, our final National Park, holds Eland, Burchell's Zebra, Cape Buffalo and many more new birds. Our tour includes three enjoyable boat trips, giving us exceptional views of birds and animals with minimum effort, an important part of this holiday.
This non-intensive tour seeks to avoid trekking and strenuous hikes to see wildlife, though we must point out that tracking to see gorillas and chimps involves walking to whichever part of the forest is favoured by these animals at the time of our visit, and this will be outside our control. We have excellent chances of seeing both large primates, and it is possible to spend up to an hour with the Gorillas, depending on our luck with their location. African safari holidays are becoming increasingly expensive, and we feel that Uganda still offers good value, especially given that your holiday price includes permits on seperate days to see both gorillas and chimps, and these command quite a significant price, particularly for Gorillas.
As an idea of the huge diversity of wildlife targetted on this holiday, mammals alone might include Mountain Gorilla, Chimpanzee, Lion, Leopard, Hippo, African Elephant, Burchell's Zebra, Rothschild's Giraffe, Nile Crocodile, Red Colobus, Black and White Colobus, Red-tailed Monkey, Blue Monkey, Grey-cheeked Mangabey, Spotted Hyena, Eland, Impala, Uganda Kob, Defassa Waterbuck, Reedbuck, Topi, Oribi, Bushduiker, Olive Baboon, Giant Forest Hog, Warthog, Cape Buffalo and more.
Saturday 25 January 2020: Departure
After relaxing in our complimentary airport lounge, we board our overnight flight from London to Entebbe.

Sunday 26 January 2020: Arrival
We arrive at Entebbe International Airport, where we will be met by our Driver and local Guide, then we proceed to our accommodation located just a few minutes away. Overnight for two nights at Boma Hotel, Entebbe.
Monday 27 January 2020: Mabamba Wetlands
We take an early breakfast and then head to the Mabamba Wetlands, a great spot for picking up some superb birds on our very first morning. We take to boats here to go through channels in the swamp, looking for the mighty, iconic, Shoebill! Other birds on this first full day should include Pink-backed Pelican, Long-tailed Cormorant, Yellow-billed Duck, Malachite Kingfisher, Long-toed Plover, Blue-headed Coucal, Blue-breasted Bee-eater, and many more.
We then bird our way back to Entebbe looking for birds including African Open-billed Stork, Grey Kestrel, African Green Pigeon, Great Blue Turaco, Ross's Turaco, Red-headed Lovebird, Broad-billed Roller, and various swifts, sunbirds, weavers and finches among others.
Tuesday 28 January 2020: Travel Day: Birding on the way to Kibale
After breakfast, we drive south to Kibale in the Toro Kingdom. We will be birding en-route, looking out for birds such as Western Banded Snake Eagle, Striped Kingfisher, Great Blue Turaco, Lizard Buzzard, Lesser Striped Swallow, Joyful Greenbul, Chubb's Cisticola, Cassin's Grey Flycatcher, African Stonechat, Green-headed Sunbird, Northern Fiscal among many others. We will pass through some typical lowland habitats and landscapes and opportunities for photography, as throughout the tour, will be very good. Dinner and overnight for two nights at Kibala Guest Cottages.
Wednesday 29 January 2020: Birds and Primates in Kibale NP
After an early breakfast, we start to bird the forest with our excellent local guide, looking out for the spectacular Green-breasted Pitta and other species like Yellow-billed Barbet, Speckle-breasted Woodpecker, African Emerald Cuckoo, Black-billed Turaco, Narina Trogon, Sabine's Spinetail, Chestnut Wattle-eye, Narrow-tailed Starling and more.
Kibale is one of the major rain forests in Uganda, home to 13 species of primate, making it perhaps the most important protected area on the African continent. These include Chimpanzee, Red Colobus, Black and White Colobus, Red-tailed Monkey, and Grey-cheeked Mangabey among others. In addition, it is home to 325 species of birds including Red-chested Owlet, Green-breasted Pitta, and White-spotted Flufftail. Chimpanzee watching is a major attraction of the park, and after lunch we head to Kanyanchu to look for them, hoping for excellent views. We search for Chimps on foot with a tracker/ranger, in flat terrain, or gentle hill country, depending on their recent movements; the animals are quite mobile as they search for food. While it isn't possible to say exactly how far we might walk, we might even locate them by the roadside.
Thursday 30 January 2020: Bigodi and transfer to Queen Elizabeth NP
After breakfast, we head to Bigodi for a wetland walk coming back in time for lunch. Later, we move on towards Queen Elizabeth National Park driving along the foothills of the Rwenzori Mountains and crossing the Equator, where we stop for photographs. The park, named after our own Queen who visited in 1954, is the second largest national park in Uganda, and ranks highest in terms of overall diversity, with a bird species list exceeding 600. The park has a mosaic of habitats from moist forest at Imarabigambo, to wild savannah excellent for Lions, Leopards, Elephants, Hyenas, Uganda Kob, Waterbuck, Bushbuck, Baboons, Giant Forest Hog, and Warthog among others. We will also look out for various herons, raptors, kingfishers, larks, pipits, babblers, swallow, cisticolas, shrikes, starlings, widowbirds, and many more wonderful birds. Dinner and overnight for two nights at Park View Lodge.
Friday 31 January 2020: Birding Queen Elizabeth National Park
After breakfast, we leave with a packed lunch for a mammal and bird safari. In the afternoon, we take a two-hour boat trip on the Kazinga Channel, to see a rich variety of wildlife, including hundreds of hippos, crocodiles and superb wetland birds, like pelicans, Green-backed Heron, storks, African Spoonbill, Martial Eagle, plovers, lapwings, larks, Yellow-throated Longclaw, babblers, sunbirds, weavers, and widowbirds. Photographic opportunities will be excellent throughout the day. We will no doubt also see mammals like Uganda Kob, Bushbuck, Defassa Waterbuck, Buffalo, Elephant, Warthog, and with a little luck Leopard, Spotted Hyena and Lion among others.
Saturday 1 February 2020: Transfer to Bwindi Impenetrable Forest National Park
After breakfast, we drive to Bwindi, getting there in the early evening after making several stops looking out for raptors, bee-eaters, kingfishers, barbets, tinkerbirds, woodpeckers, apalises, Honeyguide Greenbul, swallows, larks, cisticolas, pipits, chats, shrikes, starlings, widowbirds and many more. Game includes Elephant, Buffalo, Uganda Kob, Defassa Waterbuck, and Warthog among others. Our total drive is about 190 km, and we arrive in time for dinner and overnight at Engagi Lodge, where we stay for three nights.
Sunday 2 February 2020: Gorilla Trekking at Bwindi
Bwindi is an unspoiled National Park found in south western Uganda, covering an area of 331 sq. km, and home to half of the world's Mountain Gorillas. Indeed, the National Park is the only protected area in the world where Mountain Gorillas and Chimpanzees are found together. Today, after an early breakfast, we begin our gorilla trek, at about 8:00 a.m. Good walking shoes or boots will be needed, rain gear and plenty of drinking water. The trek isn't too long, but can be steep and challenging in parts, and so one must be in a reasonably fit condition. Our efforts should be worthwhile, as the thrill of seeing these very rare primates (no guarantee, of course, but chances are high as we will be with experienced trackers from the park) is simply incredible. It is no exaggeration to state that seeing these wild apes is one of the great wildlife watching experiences on the planet.
In the afternoon, there will be time to rest or enjoy a local birding foray.
Monday 3 February 2020: Birding Bwindi
Bwindi has a great diversity of mammals and birds and is home to some endangered species, including a special group of birds only found in the western Rift Valley in Uganda and neighbouring countries, popularly known as the 'Albertine Rift Endemics'. On this holiday we hope to see more than half of these birds, including Handsome Francolin, Dwarf Honeyguide, Red-throated Alethe, Archer's Robin-Chat, Red-faced Woodland Warbler, Short-tailed Warbler, Grauer's Warbler, Collared Apalis, Mountain Masked Apalis, Rwenzori Batis, Stripe-breasted Tit, Blue-headed Sunbird, Regal Sunbird and Strange Weaver. Today we also seek Black Bee-Eater, tinkerbirds and barbets, woodpeckers, African Broadbill, greenbuls, White-bellied Robin-Chat, Chapin's Flycatcher, Red-faced Woodland Warbler, Bocage's Bush-shrike, Luhder's Bush-shrike, Pink-footed Puffback, Petit's Cuckooshrike, starlings, sunbirds, Black-billed Weaver and Brown-capped Weaver among others. We also look out for primates including Blue Monkeys, Black and White Colobus, and Red-tailed Monkey among others.
Tuesday 4 February 2020: Travel to Lake Mburo
After breakfast, we bird our way to the Lake Mburo, another wildlife rich National Park, looking out for birds like Bateleur, Handsome Francolin, Crested Francolin, Emerald-spotted Wood Dove, Brown Parrot, Bare-faced Go-away-bird, Blue-napped Mousebird, African Grey Hornbill, Stripe-breasted Tit, Fork tailed Drongo, and various barbets, woodpeckers, apalises, flycatchers, batises and waxbills among others. Although the trip is not focused totally on wildlife photography, those with cameras should get some good shots today. Overnight at Mantana Tented Camp for two nights.
Wednesday 5 February 2020: Lake Mburo
This is one of the smaller National Parks in Uganda covering 260 sq. km but still very special in its own way. Mburo is home to over 320 bird and 68 mammal species. The park's special birds include African Finfoot, Brown-chested Plover, Red-faced Barbet and Long-tailed Cisticola. We have a full day birding the park, including a boat ride in the afternoon. We will be looking for species such as Bateleur, Crested Francolin, Black-bellied Bustard, Emerald-spotted Wood Dove, Brown Parrot, Bare-faced Go-away-bird, Blue-napped Mousebird, African Grey Hornbill, Spot-flanked Barbet, Long tailed Cisticola, Yellow-breasted Apalis and others.
The lake is home to Hippos and the surrounding wooded savanna is home to mammals including gorgeous Eland, Zebra, Impala, Buffalo, Reedbuck, Topi, Waterbuck, Bushbuck, Oribi, Bush-duiker and others. About 100 km round trip today.
Thursday 6 February 2020: Travel day to Entebbe
After breakfast, we start heading back towards Entebbe, birding on the way, in particular stopping for any species we may have missed so far, and getting there in time for dinner. About 280 km. Overnight once more at Boma Hotel, Entebbe.
Friday 7 February 2020: Head to airport for flight home
After breakfast, we have a short drive to Entebbe International Airport for our departure flight.
Saturday 8 February 2020:
Arrival in London.
Please note: all itineraries are given as a guide only. Actual holiday content may vary according to the judgement of your guide, and elements beyond our control (eg weather).
What's included in your holiday price:
Price includes return scheduled flight from London – Entebbe, airport taxes, baggage up to 20kg, hand luggage to 5kg, in-flight meal, airport transfers, the services of your Heatherlea leader and professional local guide, ground transportation, accommodation and meals including breakfast and lunch, evening meal and water during the day. Also included are Gorilla permit, Chimpanzee permit, boat rides, park entrance fees and walk fees. Pre-flight airport hotel and lounge included subject to terms and conditions.
FIELD GUIDE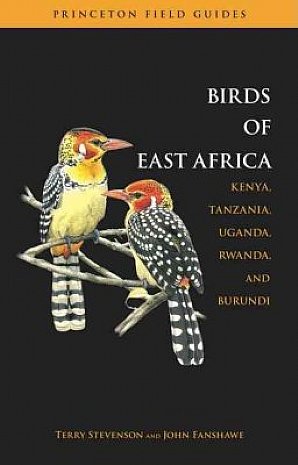 The Birds of East Africa: Kenya, Tanzania, Uganda, Rwanda, Burundi
by Terry Stevenson and John Fanshawe is included in your holiday price!
What's not included in your holiday price:
Travel to and from the airport before and after the holiday, baggage above 20kg, incidental tips, drinks with meals, expenses of a personal nature and personal insurance.
Accommodation is in excellent and friendy hotels and lodges, often located in areas with expansive views. Rooms are comfortable, clean and attractive with en-suite bathrooms.
Food is usually plentiful. Breakfasts offer a good choice, with tea, coffee, juice, fruits, pancakes, egg of your choice and other things depending on location. Lunches are often taken at Eco-lodges or somewhere in the bush depending on the day's plan. Evening meals are at the accommodation with a three or four course dinner. Vegetarian and other diets are always available.
Walking is generally light/moderate apart from Gorilla trekking. There may be some track and road walking over generally flat terrain, though generally an average level of fitness is required. We take advantage of the cooler mornings and late afternoons to see wildlife when it is most active, usually returning to our hotel in the early evening.
Weather will be mostly dry and hot! Uganda enjoys virtually uninterrupted sunshine and high daytime temperatures with little rainfall from mid December to mid March. Daily temperatures average 28°C, although it can be considerably cooler in the early mornings and evenings.

Insects There are very few biting insects at this time of the year, but general precautions are advised. Before travelling consult your doctor about suitable anti-malarial medication, and on arrival take adequate precautions against mosquito bites although you may not see any.
Clothing We recommend a mixture of light and warm clothing as temperatures will vary from place to place. Gloves and hat are advised especially when going Gorilla trekking. Please bring waterproof clothing, it hopefully won't be needed but rain is possible at any time, even in the dry season.
Your Leaders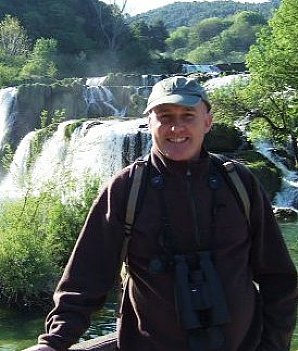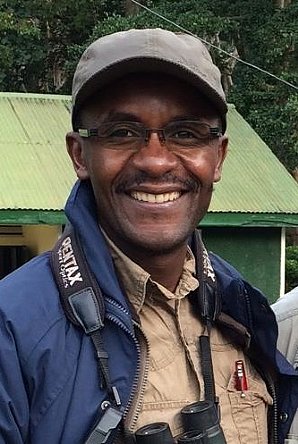 Gerard Gorman Johnnie Kamugisha

Gerard Gorman is a highly experienced Heatherlea Guide who has led birding and wildlife holidays on every continent. His numerous visits to Africa include a tour around Uganda with co-leader Johnnie. Gerard is also the author of ten books on birds, birding, wildlife, and animal tracks and signs.Johnnie Kamugisha is a vastly experienced Guide, having led wildlife tours across Uganda for 16 years. Johnnie is also a top birder, and is President of the Uganda Bird Guides Club. Johnnie strongly believes in training and education and has personally trained many naturalist guides in Uganda and continues to support this work in his role as a committee member of the Uganda Safari Guides Association, having been the Vice Chair for 15 years. Johnnie is a member of BirdLife International and also of the American Birding Association.
Why choose Heatherlea for your African wildlife holiday?
Our overseas holidays are planned with care to offer great birding and wildlife, led by capable Leaders who really look after you. Every holiday is run the 'Heatherlea Way', and we hope our Overseas Adventures remind you of the quality and care so many of you enjoy in Scotland. That means rewarding and exciting days in the field, and good quality accommodation and meals, with a real flavour of the country we are visiting. Heatherlea always seek to include the personal touches that make all the difference.
Heatherlea holidays are not 'dawn to dusk' expeditions. Our less-intensive approach is ideal for those who want to relax whilst experiencing the best wildlife watching, and wherever possible we organise early or late activity on an optional basis. We also take sensible breaks when in very hot places and regular comfort breaks on every holiday whenever possible. All itineraries are planned carefully around the best wildlife opportunities, and you won't miss out on memorable wildlife, whilst enjoying relaxed, informal days that are great fun.
The really important part of any wildlife holiday is the experience for you, our valued customer. Heatherlea invest in many things to offer you the best possible service;
We have been organising birding and wildlife holidays for over 30 seasons, and have a highly experienced and capable office team. We also offer a telephone and email service outside normal office hours.
Heatherlea overseas holidays have a maximum of 12 clients per trip, putting the emphasis on personal service, and helping you get the best possible experience.
Our holidays often include things which others might invite you to pay yourself, for instance Departure Taxes and tips to hotels.
All elements of our holidays are sold under our own licence, ATOL 6113. Under 'Flight-Plus' legislation it is a legal requirement of any tour operator to hold an ATOL licence for the supply of any overseas holiday where a flight is involved, if that holiday includes either overseas accommodation and/or car hire. It can be a criminal offence for an operator to book flights as part of a package without an ATOL licence. Heatherlea also hold full Tour Operator Insurance for your added protection.
Heatherlea is your complete wildlife holiday provider. Our 'Back Office' team can organise all your pre-flight and other travel needs. Our specialists will help you book the right services, at the best price. Book holiday extensions through us, and your ATOL protection is extended further. We don't charge extra for this service.
Heatherlea is a limited company, registered in Scotland, and registered to pay VAT (applies to all holidays within the European Union).
Trip Reports