NEW!

The Seychelles
Birding for endemics in an island paradise
| | |
| --- | --- |
| Destination | |
| Focus | |
| Max Group Size | 12 |
A new and different birding destination, the tropical islands of The Seychelles! Both exotic and idyllic, this Indian Ocean archipelago is actually a member of the African Union. Enchanting wildlife, blue water lapping at the palm-lined white sandy beaches, lush forests rising into cloudless skies, quality accommodation and a relaxed pace throughout combine to make this a superb, once in a lifetime holiday.
We spend our time on several of the granite inner islands, the oldest oceanic islands in the world. Twelve island endemics and a number of other rare bird species are found here, plus we enjoy the commoner birds on land and the more pelagic whilst taking boats between the islands. There is also a wide variety of endemic and interesting flora that exists due to the islands' isolation, amongst which is the Coco de Mer - a palm tree which bears a fruit with the largest nuts of any plant in the world and also the amazing Seychelles Pitcher Plant.
On the main island of Mahé we will look for Seychelles Scops Owl, Seychelles White-eye, Seychelles Sunbird, Seychelles Kestrel, Seychelles Blue Pigeon, Malagasy Turtle Dove, Crab Plover and other waders. On La Digue, we have our best chance of seeing critically endangered Seychelles Paradise Flycatcher, while Praslin is home to Seychelles Black Parrot, the national bird, and other targets there include Seychelles Bulbul, Seychelles Swiftlet, Madagascar Fody and Seychelles Fruit Bat. On the island of Cousin, rare Seychelles Warbler, Seychelles Fody and Seychelles Magpie-robin can be seen while seabirds can include Brown and Lesser Noddy plus terns, tropicbirds and frigatebirds.
In addition to the endemics there is the possibility of other species, although seabird passage offshore and migrants from Europe tend to have distinct seasons, as do many of the marine animals. Whale Shark is possible at the right time of year and both Green and Hawksbill Turtle breed on the islands. On land, a selection of skinks and geckos, including the world's largest, Giant Bronze-eyed Gecko.
There will also be opportunity on this holiday to relax, enjoy your beach surroundings and even snorkel should you wish. Memories of birding in paradise will certainly last forever, long after you leave the Seychelles!
Enjoy your complimentary pre-flight overnight hotel before your holiday begins. Full details from our office! Read more about our Pre-flight Service here!
Day 1: Thur 16 October 2025 London – Mahé
After relaxing in our complimentary VIP Airport Lounge, we fly directly from London to Mahé, the largest of the islands, and from here transfer to Praslin where we settle into our hotel for the next four nights. Common Myna and Madagascar Fody are both abundant near the hotel and if time allows we take a short stroll and may also encounter White-tailed Tropicbird overhead and perhaps Seychelles Fruit Bat.
Day 2: Fri 17 October Cousin Island
We begin our Seychelles adventure with a boat trip to the beautiful island of Cousin to search for our first endemics. This is one of the best places to look for endemic Seychelles Fody and Seychelles Warbler and if lucky we may also encounter Seychelles Magpie Robin. At one stage, numbers of some target birds were as low as twenty pairs, but with huge conservation projects these rare and important species are thankfully on the increase. Stunning Fairy Tern breed throughout the island and can sometimes be very confiding, and White-tailed Tropicbird nest by the paths. Other likely seabirds include Brown Noddy, Bridled and Great Crested Terns, Great and Lesser Frigatebirds, while from boat crossings anywhere within the archipelago we may see Audubon's and Wedge-tailed Shearwaters, Red-tailed Tropicbird, Lesser Noddy, Sooty and White Tern. Giant Tortoise lumber along the tracks as we walk around the island and we plan to spend the afternoon checking local beaches for waders or perhaps swimming/snorkelling in bath-warm seas teeming with bright and colourful fish!
Day 3: Sat 18 October La Digue
We board another boat, this time bound for La Digue, where we walk through the town and out to the small reserve to search for Seychelles Paradise Flycatcher. Classed as critically endangered and with fewer than 200 left in the wild, La Digue offers our best chance, though the species has been translocated to several other islands over the past decade to safeguard against extinction. On our return to Praslin we have the rest of the afternoon to discover birds and wildlife around our hotel which can include including Seychelles Bulbul and Seychelles Sunbird, or to relax if you wish on the glorious white beach.
Day 4: Sun 19 October Praslin and the Coco de Mer forest
We drive to the last remaining Coco de Mer forest, where on slow walks along the nature trails our main target will be Seychelles Black Parrot. From a viewpoint in the forest we might also see Seychelles Swiftlet feeding low over the canopy. This is also the only place we have a chance of encountering Giant Bronze Gecko, as they feed on the unique Coco de Mer flowers. The mangroves also play host to thousands of Mangrove Crab and Mud Skipper, while on the beaches we might see Ghost and Pale Hermit Crab.
Day 5: Mon 20 October Transfer to Mahé
We return to Mahé today, on the lookout for seabirds from the ferry and once at our hotel may have time for a local walk to see what we can find. Seychelles Blue Pigeon and Seychelles Kestrel will be top targets and any flowering plants should be scanned for Seychelles Sunbird.
Day 6: Tue 21 October Mahé hills
We visit the Mahé mountain range today, Morne Seychellois at 905 meters above sea level being The Seychelles' highest peak. Recent conservation efforts in the hills has returned some of the higher areas to natural scrub woodland and here we look for the stunning Seychelles Pitcher Plant plus other endemic flora. Amazing views will be enjoyed throughout and later we return to the same area and the old missionaries viewpoint to seek rare, endemic Seychelles Scops Owl.
Day 7: Wed 22 October Mahé forests and coast
A pre-breakfast start will see us drive onto the main ridge to look for Seychelles White Eye which may be found feeding in a specific area early morning, before dispersing widely across the forested hillside. Later we investigate tidal mud flats near Victoria (the islands capital) where we scan for waders, our main target being incredible Crab Plover. Also possible are Whimbrel, Lesser and Greater Sand Plover, and any passing migrant species, as well as Saunders, Sooty and Gull-billed Tern. The Seychelles sub-species of Cattle Egret is abundant on the coast and we should also encounter Green-backed Heron in good numbers.
Day 8: Thurs 23 October It's up to you!
A day with no fixed itinerary, one to perhaps explore lesser known parts of the main island for wildlife or to simply relax on the beach and enjoy snorkelling in the stunning warm sea. An excursion may be offered by your guide for a second attempt at some of the target endemics if we haven't seen them or there might be the chance to visit the city of Victoria.
Day 9: Fri 24 October Return flight The Seychelles - UK
Transfer to Mahé airport and travel back to the UK.
Please note: all itineraries are given as a guide only. Actual holiday content may vary according to the judgement of your guide, and elements beyond our control (eg weather).
What's included in your holiday price:
scheduled return flights from London - Mahé, Seychelles. All airport taxes and transfers.
all boat trips to islands as outlined.
transportation around Mahé in comfortable air-conditioned mini-bus.
Full-board accommodation on both Praslin and Mahé, including breakfast, lunch and dinner.
the services of your Heatherlea leaders.
The Heatherlea Pre-Flight Service offers everything you need at the airport, including hotels, car parking, airport lounges, regional flights, and upgrades. Let Heatherlea take the strain! Pre-flight airport hotel and lounge included free of charge subject to terms and conditions. Read more....
Free Field Guide! 'Birds of The Seychelles' by Adrian Skerrett and Tony Disley is included in your holiday price. One copy per room booked.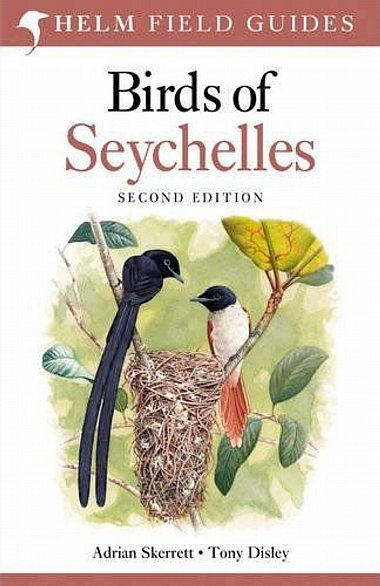 What's not included in your holiday price:
personal insurance, drinks and other personal expenses, optional tips to local guides/other staff, and any other costs not specified as 'included'.
More holiday information:
Accommodation is in excellent and friendy hotels and lodges, often located in areas with expansive beach views. Rooms are comfortable, clean and attractive with en-suite bathrooms.
Visas are not required for UK citizens to travel to The Seychelles, though it is always advisable to check in good time before you travel.
Meals and drinks: Breakfast generally consists of a continental style breakfast with cereal, fruit and yoghurt and tea/coffee. Lunch will generally consist of a packed lunch style meal eaten in the field with sandwich/filled roll, fruit and a drink. Dinner usually consists of several options with vegetarian and other diets catered for. Water will also be provided while out in the field.
Boat trips to islands are weather dependant, and if conditions are deemed unsafe may be cancelled at short notice. In the event of cancellation we will try to reschedule though please be aware this may not always be possible if moving to a new base location.
Weather: Temperatures at this time of year can vary although warm weather can be expected. During the rainy season, heavy rain can occur so you should bring waterproofs just in case.
Daily Routine: This is not a fast paced tour and though birding and wildlife watching will take priority, there will also be time to relax in our beautiful island surroundings. Clients may also opt out of daily excursions if they wish.
Biting insects: Although biting insects are not regularly encountered on this tour, mosquitoes may be present at certain places.
Walking: There is no demanding walking on this tour with the birding/wildlife locations easily accessible on foot. Guests can expect comfortable walking at the pace of a stroll and while walking is mostly on flattish trails and dirt tracks there will be the occasional hill and uneven terrain.
Why choose Heatherlea for your African wildlife holiday?
Our overseas holidays are planned with care to offer great birding and wildlife, led by capable Leaders who really look after you. Every holiday is run the 'Heatherlea Way', and we hope our Overseas Adventures remind you of the quality and care so many of you enjoy in Scotland. That means rewarding and exciting days in the field, and good quality accommodation and meals, with a real flavour of the country we are visiting. Heatherlea always seek to include the personal touches that make all the difference.
Heatherlea holidays are not 'dawn to dusk' expeditions. Our less-intensive approach is ideal for those who want to relax whilst experiencing the best wildlife watching, and wherever possible we organise early or late activity on an optional basis. We also take sensible breaks when in very hot places and regular comfort breaks on every holiday whenever possible. All itineraries are planned carefully around the best wildlife opportunities, and you won't miss out on memorable wildlife, whilst enjoying relaxed, informal days that are great fun.
The really important part of any wildlife holiday is the experience for you, our valued customer. Heatherlea invest in many things to offer you the best possible service;
We have been organising birding and wildlife holidays for over 30 seasons, and have a highly experienced and capable office team. We also offer a telephone and email service outside normal office hours.
Heatherlea overseas holidays have a maximum of 12 clients per trip, putting the emphasis on personal service, and helping you get the best possible experience.
Our holidays often include things which others might invite you to pay yourself, for instance Departure Taxes and tips to hotels.
All elements of our holidays are sold under our own licence, ATOL 6113. Under 'Flight-Plus' legislation it is a legal requirement of any tour operator to hold an ATOL licence for the supply of any overseas holiday where a flight is involved, if that holiday includes either overseas accommodation and/or car hire. It can be a criminal offence for an operator to book flights as part of a package without an ATOL licence. Heatherlea also hold full Tour Operator Insurance for your added protection.
Heatherlea is your complete wildlife holiday provider. Our 'Back Office' team can organise all your pre-flight and other travel needs. Our specialists will help you book the right services, at the best price. Book holiday extensions through us, and your ATOL protection is extended further. We don't charge extra for this service.
Heatherlea is a limited company, registered in Scotland, and registered to pay VAT (applies to all holidays within the European Union).