Brazil - Atlantic rainforest
Destination
Focus
2022 Dates
Duration
9 Days
2022 Price

Price TBC

2023 Dates
Duration
9 Days
2023 Price

Price TBC

2024 Dates
Duration
9 Days
2024 Price

Price TBC

2025 Dates
Duration
9 Days
2025 Price

Price TBC

Max Group Size
12
More Info

Max 12 clients with Heatherlea guide Chris Townend and expert local guide

Scheduled British Airways flights direct from London Heathrow to Rio de Janeiro.
Free Bird Guide

FREE copy of Birds of Brazil with every room booked on this holiday.
THIS PAGE IS UNDER CONSTRUCTION - MORE INFO COMING SOON!
Full details shortly. If you wish to register an interest by email, we will inform you when the page is complete.
Join us on this great Heatherlea tour to Brazil. The objective of this holiday is to acquire a big list of South American species of the Atlantic rainforest, while offering value for money on a relatively short holiday. This is a single-base tour, and we stay in the comfort of the Guappi Assu Bird Lodge in the Reserva Ecológica de Guapiaçu (REGUA), in the depths of the beautiful Atlantic Rainforest. This is a fantastic place to see many treasured bird species, but two species in particular can be difficult to find elsewhere – Shrike-like Cotinga and Giant Snipe, which can be found within walking distance of our rooms!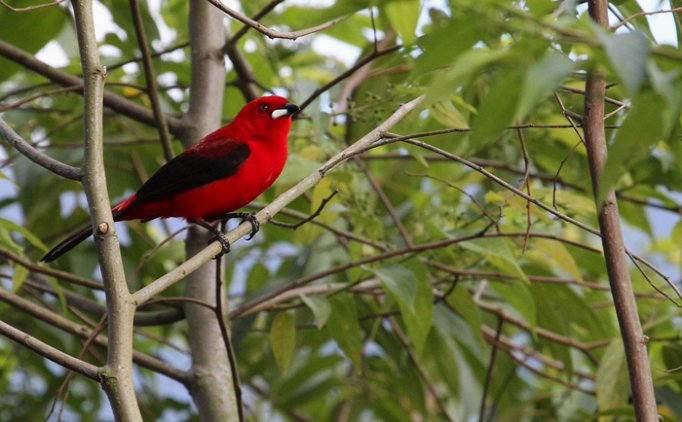 We will spend time exploring the forest trails where over 430 species having been recorded in forest ranging from around 30 – 2,000 metres above sea level. Many of the trails are very close to the Lodge (some within walking distance), a newly created wetland is visible from the Lodge grounds and hummingbirds regularly visit the feeders on the veranda. Several days we will travel further afield for a full days birding. Please note that whilst walking is not strenuous, most birding will be along forest trails or wide tracks, which can be rough underfoot. Be prepared for leisurely walks of up to 5k, with some steep inclines. A reasonable level of fitness is required. Accommodation is homely and comfortable and well equipped for our group.
Enjoy your complimentary pre-flight overnight hotel before your holiday begins. Full details from our office!
Day 1
After relaxing in the complimentary VIP Airport Lounge, we board our scheduled British Airways flight direct from London Heathrow to Rio de Janeiro. We arrive into Rio in the evening, and transfer to the Guappi Assu Bird Lodge. The journey will take around 2 hours

Day 2
The Guapi Assu Bird Lodge boasts a fantastic variety of habitats and species. After breakfast at the Lodge, we shall take time to orientate ourselves and take in the wonderful Serra dos Órgãos mountain views and to get to grips with our first hummingbirds and the commoner garden species. Violet-capped Woodnymph, Swallow-tailed Hummingbird, Black Jacobin and Glittering-throated Emerald should be easily found at the hummingbird feeders and a casual stroll around gardens should produce Brazilian Tanager, Burnished-buff Tanager, Sayaca Tanager, Palm Tanager, Violaceous Euphonia, Streaked Flycatcher and Tropical Kingbird.
In the late morning, we take a short trail down to the wetland. This amazing area was little more than a field of pasture just a few years ago, but thanks to the REGUA restoration project, it is now a 12ha wetland teeming with wildlife. We search for species including White-faced Whistling-Duck, Masked Duck, Least Grebe and a possible 13 species of heron including the very smart Whisting and Capped Herons. The wetland is also a very good area to get to grips with raptors, in particular Lesser Yellow-headed Vulture, often seen soaring low over the nearby hillsides. We also watch for Grey-headed Kite, Crane Hawk, Black-and-white Hawk-Eagle, Laughing and Aplomado Falcons. With a little perseverance and patience we shall collect a few crake and rail species that have become a bit of a speciality for the area. Slaty-breasted Wood-Rail, Rufous-sided and Ash-throated Crakes and Blackish Rail are all frequently seen. Kingfishers are also a possibility with Ringed, Amazon and Green Kingfishers being the most common. Some of the commoner passerines that we hope to find include Wing-banded Hornero, Eye-ringed Tody-Tyrant, Yellow-lored Tody-Flycatcher, Sooty and Yellow Tyrannulets, Bran-coloured Flycatcher, Yellow-browed Tyrant, Chestnut-vented Conebill, Red-rumped Cacique and White-headed Marsh-Tyrant. If we have time, we shall search some of the adjacent forest in the hope of finding Rufous-capped Motmot, Rufous-tailed Jacamar, Crescent-chested Puffbird and perhaps striking and colourful Blond-crested Woodpecker. Finally, birds are not the only wildlife to be found here as Capybara and Broad-snouted Caiman and even Crab-eating Fox are all possible.

A short walk back to the Lodge and we shall no doubt be ready for a lovely home-cooked evening meal before an early night!
Day 3
After breakfast at the lodge, we collect our packed lunches and head out for a full day walking on the Waterfall trail, an easy/moderate trail of around 170-1,300M in elevation. There will be no hurry though, as we have a whole day to take in this wonderful 4.8Km trail. The possibilities are endless and we spend some time familiarising ourselves with many of the commoner species, but also keeping time to see some of the key targets of this trail. These include White-necked Hawk, Saw-billed Hermit, motionless and often difficult to find Buff-bellied and Cresent-chested Puffbirds, Scaled Antbird, Rufous-breasted Leaftosser, Pin-tailed Manakin, Turquoise Tanager and stunning Black-cheeked Gnateater.

We enjoy our picnic lunch at a very picturesque waterfall and local guide Adilei will demonstrate his extraordinary talent at imitating numerous bird calls and hopefully pull in a Spot-billed Toucanet with its strange croaking call or even a stunning Rufous-capped Antthrush with its diagnostic whistle. Next we try for the very shy and ground-dwelling Slaty Bristlefront, before spending time searching for perhaps one of the most wanted of all South American birds, Shrike-like Cotinga. We listen out for its mournful whistle and appreciate the old name of Elegant Mourner.

Other birds we may find on this day include: Surucua and Black-throated Trogons, Rufous-capped Motmot, Channel-billed Toucan, White-barred Piculet, Yellow-eared, Yellow-throated and Blond-crested Woodpeckers, Spot-backed Antshrike, Spot-breasted and Plain Antvireos, Star-throated, White-flanked, Unicoloured and Streak-capped Antwrens, White-shouldered Fire-eye, White-bibbed Antbird, Black-cheeked Gnateater, Variegated Antpitta, Slaty Bristlefront, Rufous-capped Antthrush, Rufous-breasted Leaftosser, Plain-winged, White-throated, Planalto and Lesser Woodcreepers, Ochre-breasted, Black-capped, Buff-fronted and White-eyed Foliage-gleaners, Pale-browed Treehunter, Sharp-tailed Streamcreeper, Plain and Streaked Xenops, Ochre-bellied, Grey-hooded and Sepia-capped Flycatchers, Southern Antpipit, Eye-ringed Tody-Tyrant, White-throated Spadebill, Whiskered (Sulphur-rumped) Flycatcher, Greyish Mourner, Grey-hooded Attila and Sharpbill.

Day 4
Today will be an early start and an early breakfast as we take a trip to the high altitude region of Pico da Caledônia. Pico da Caledônia is one of the highest peaks in the Serra dos Órgãos mountains reaching 2,219 m. On a clear day the views from the top are truly spectacular. Dependent on weather, we plan to visit the higher section of this stunning trail first where we hope to catch up with key species such as Large-tailed Antshrike, Mouse-coloured Tapaculo, Bay-chested Warbling Finch, Diademed Tanager and stunning Plovercrest. However, it is for two species in particular that this area is best known, extremely rare and elusive Grey-winged Cotinga and the Itaiaia Thistletail. We shall try our best to find these two very special birds before heading downhill to enjoy our lunch and look for more fantastic birds.

At around 1,500 metres we shall be in an area of Montane Forest and fields and here we spend time doing some general birding picking up some of the commoner species that we may not yet have connected with but focussing on three key species in particular, shy and nervous Serra do Mar Tyrant-Manakin, Dusky-tailed Antbird and what to many may be a highlight of the trip, the fantastically colourful and highly distinctive Swallow-tailed Cotinga.
On returning to the Lodge we shall have the opportunity after dinner to hear about the great conservation work that is going on at REGUA, with an evening presentation by Nicholas Locke, owner of the reserve.
Day 5
After breakfast we shall set out straight from the lodge to explore another trail at a leisurely pace. This time we visit the Casa Anibal Trail, an easy/Moderate trail of around 2.8Km 60-350M elevation. This starts at the Small Wetland and leads steadily upwards through well established secondary forest to a derelict house (Casa Anibal) at an altitude of 352 m. Key birds we hope to find are, Turquoise Tanager, White-bibbed Antbird, Black Hawk-Eagle and Yellowish Pipit.

Other birds include: Surucua and Black-throated Trogons, Rufous-capped Motmot, Rufous-tailed Jacamar, Buff-bellied and Crescent-chested Puffbirds, Channel-billed Toucan, Spot-billed Toucanet, White-barred Piculet, Yellow-eared, Yellow-throated and Blond-crested Woodpeckers, Spot-backed Antshrike, Sooretama Slaty Antshrike, Spot-breasted and Plain Antvireos, Star-throated, White-flanked, Unicoloured, Rufous-winged and Streak-capped Antwrens, Scaled and White-bibbed Antbirds, Black-cheeked Gnateater, Plain-winged, Olivaceous, White-throated and Lesser Woodcreepers, Black-capped, Buff-fronted and White-eyed Foliage-gleaners, Plain and Streaked Xenops, Ochre-bellied, Grey-hooded and Sepia-capped Flycatchers, Eye-ringed Tody-Tyrant, Rough-legged and Planalto Tyrannulets, Eared Pygmy-Tyrant, Euler's Flycatcher and Long-tailed Tyrant.

At the end of this trail, we have lunch before returning to the Lodge by Land Vehicle. The rest of the afternoon shall be spent relaxing or, for those that wish, a tour of the nursery to learn about the tree planting programme of REGUA. The vast majority of the trees planted have been grown here from local seeds collected in REGUA's forests by staff and volunteers. The nursery has gradually expanded and can now provide about 20,000 seedlings a year of about 50 species!

In the early evening, we take a short walk from the lodge down to the wetland in search of some nocturnal species. There are many mouth-watering birds to be found and our primary targets will be Giant Snipe, fantastic Scissor-tailed Nightjar and beautiful Striped and Tawny-browed Owls. Other possibilities include Short-tailed Nighthawk, Tropical Screech-Owl, Barn Owl, Parauque and Common Potoo. Capybara and Broad-snouted Caimen should also be seen.
We shall enjoy a slightly later dinner at the Lodge.
Days 6
Today sees another early start, as we make an all day excursion through some very different habitat of remnant Atlantic Forest, grassy plains and small wetland areas. This is a long day in the vehicle but well worth it for the number of new species that we hope to encounter. Most birding will be done at roadside stops. Amongst many others, key targets will be Blue-winged Macaw, Red-legged Seriema, Firewood Gatherer, Gilt-edged Tanager, Tawny-headed Swallow, Hangnest Tody-Tyrant and perhaps the highlight of the day, an endangered endemic with its subtle golden hues, Three-toed Jacamar.

Other birds we hope to find include: Dusky-legged Guan, Lesser Yellow-headed Vulture, White-tailed and Bicoloured Hawks, American Kestrel, Bat Falcon, Red-legged Seriema, Blue-winged Macaw, White-eyed Parakeet, Blue-winged Parrolet, Scaly-headed Parrot, Common Barn Owl, Planalto Hermit, Sapphire-spangled Emerald, Three-toed Jacamar, White-eared Puffbird, Black-necked Aracari, Rio de Janeiro Antwren, Red-eyed Thornbird, Firewood-gatherer, Hangnest Tody-Tyrant, Ochre-faced Tody-Flycatcher, White-rumped Monjita, Streamer-tailed Tyrant, Long-tailed Tyrant, Curl-crested Jay, Tawny-headed Swallow, Black-capped Donacobius, Magpie Tanager, Orange-headed, Hepatic and Gilt-edged Tanagers, Uniform Finch, Crested Oropendola and Hooded Siskin.
Day 7
Today we visit another area for high altitude species as we explore the Macaé de Cima trail. Macaé de Cima is a private reserve owned by a renowned orchid expert, and contains montane forest up to an altitude of c.1,400 m. The forest here offers some of the easiest access to high altitude Atlantic Forest specialities, with most birding done from the road. Targets today are Black-hooded Berryeater, Black-billed Scythebill, Brazilian Antthrush, White-throated Hummingbird and Scale-throated Hermit. Not forgetting of course gorgeous Brazilian Ruby and Plovercrest, the tricky to see but fantastic Giant Antshrike, bright and distinctive Black-and-Gold Cotinga and one of the most classic sounds of the Atlantic Forest, Bare-throated Bellbird. We hope to have lunch at the wonderful Vale das Taquaras Bird lodge where Bare-throated Bellbirds are in profusion and there will be some great opportunities for photography.

Other birds we hope to find on this day include: Barred Forest-Falcon, Plumbeous Pigeon, Golden-tailed Parrotlet, Amethyst Woodstar, Yellow-browed Woodpecker, Tufted Antshrike, Rufous-backed Antvireo, Bertonis, Ochre-rumped and Dusky-tailed Antbirds, Rufous Gnateater, Rufous-tailed (Brazilian) Antthrush, Rufous-capped and Pallid Spinetails, Red-eyed Thornbird, White-browed, Buff-browed, Buff-fronted and White-collared Foliage-gleaners, Sharp-tailed Streamcreeper, Sharp-billed Treehunter, Drab-breasted Bamboo-Tyrant, Ochre-faced Tody-Flycatcher, Southern Bristle-Tyrant, Mottle-cheeked Tyrannulet, Serra do Mar Tyrannulet, Shear-tailed Grey-Tyrant, Rufous-crowned Greenlet, Chestnut-headed and Azure-shouldered Tanagers, Green-winged Saltator and White-browed Warbler.
We arrive back at the lodge in good time to do a second optional evening walk at the wetland for nocturnal species.

Day 8
After an early breakfast, we shall travel to the Rio de Janeiro Botanical Gardens. In the shadow of the world famous Christ the Redeemer Statue, this is a great place to end the tour. We shall spend the morning wandering around the great gardens where many species are very tame, such as Slaty-breasted Wood Rail, Rusty-margined Guan and Channel-billed Toucans, allowing for excellent photographic opportunities. Finally, we shall enjoy our lunch overlooking Ipanema Beach where we shall hopefully find Kelp Gull and Brown Booby before visiting the tourist site of Sugar Loaf Mountain before our tour ends back at Rio de Janeiro airport where we take an afternoon flight back to the UK.

Day 9
Arrive back to UK.
Please note: all itineraries are given as a guide only. Actual holiday content may vary according to the judgement of your guide, and elements beyond our control (eg weather).
More Holiday Information:
Accommodation Guapi Assu Bird Lodge provides homely and comfortable accommodation, and is well equipped for our group. The Lodge is small, with a relaxed and informal atmosphere and is set against a fantastic backdrop of forested mountains.
Food: Meals are delicious local dishes freshly prepared
Walking: Please note that whilst walking is not strenuous, most birding will be along forest trails or wide tracks, which can be rough underfoot. Be prepared for leisurely walks of up to 5k, with some steep inclines. An average level of fitness is required.
Weather: Most of the trails at REGUA are at a relatively low altitude and therefore the climate is warmer than higher up in the mountains. Between October and March the temperature is hot (average temp 28°C) and rain is frequent.
Insects: Mosquito's can be quite annoying near the wetland in the evening. Take care to bring a good quality insect repellent. When choosing insect repellent, the most effective are those containing at least 35% of the active ingredient diethyltoluamide. Care must be taken to avoid getting the repellent onto optical equipment, which may be damaged. Consult your doctor if you think you may be allegic to this type of product.
Group size: is restricted to 12 clients maximum.
Flights: are by scheduled British Airways flights direct from London Heathrow to Rio de Janeiro.. We may be able to offer flight arrangements from another airport and/or or quote without flights so you can make your own arrangements. If you wish to add an extension either before or after your holiday, please contact us and we will be happy to arrange this for you.
Bird Photography: Opportunities are good.
What's included in your holiday price:
*return scheduled flight from London Heathrow – Rio de Janeiro, Brazil (via Paris), airport taxes, transfers from and to airports as appropriate.
* full-board accommodation at lodge (as detailed), picnic lunches
* ground transportation, National Park entry fees
* The Heatherlea Pre-Flight Service offers everything you need at the airport, including hotels, car parking, airport lounges, regional flights, and upgrades. Let Heatherlea take the strain! Pre-flight airport hotel and lounge included free of charge, subject to terms and conditions. Read more....
What's not included in your holiday price:
* holiday insurance, optional tips to local guides/other staff, drinks, and other personal expenses.
Why choose Heatherlea for your birding and wildlife holiday in the Americas?
Our overseas holidays are planned with care to offer great birding and wildlife, led by capable Leaders who really look after you. Every holiday is run the 'Heatherlea Way', and we hope our Overseas Adventures remind you of the quality and care so many of you enjoy in Scotland. That means rewarding and exciting days in the field, and good quality accommodation and meals, with a real flavour of the country we are visiting. Heatherlea always seek to include the personal touches that make all the difference.
Heatherlea holidays are not 'dawn to dusk' expeditions. Our less-intensive approach is ideal for those who want to relax whilst experiencing the best wildlife watching, and wherever possible we organise early or late activity on an optional basis. We also take sensible breaks when in very hot places and regular comfort breaks on every holiday whenever possible. All itineraries are planned carefully around the best wildlife opportunities, and you won't miss out on memorable wildlife, whilst enjoying relaxed, informal days that are great fun.
The really important part of any wildlife holiday is the experience for you, our valued customer. Heatherlea invest in many things to offer you the best possible service;
We have been organising birding and wildlife holidays for over 30 seasons, and have a highly experienced and capable office team. We also offer a telephone and email service outside normal office hours.
Heatherlea overseas holidays have a maximum of 12 clients per trip, putting the emphasis on personal service, and helping you get the best possible experience.
Our holidays often include things which others might invite you to pay yourself, for instance Departure Taxes and tips to hotels.
All elements of our holidays are sold under our own licence, ATOL 6113. Under 'Flight-Plus' legislation it is a legal requirement of any tour operator to hold an ATOL licence for the supply of any overseas holiday where a flight is involved, if that holiday includes either overseas accommodation and/or car hire. It can be a criminal offence for an operator to book flights as part of a package without an ATOL licence. Heatherlea also hold full Tour Operator Insurance for your added protection.
Heatherlea is your complete wildlife holiday provider. Our 'Back Office' team can organise all your pre-flight and other travel needs. Our specialists will help you book the right services, at the best price. Book holiday extensions through us, and your ATOL protection is extended further. We don't charge extra for this service.
Heatherlea is a limited company, registered in Scotland, and registered to pay VAT (applies to all holidays within the European Union).
Free Bird Guide

FREE copy of Birds of Brazil with every room booked on this holiday.