NEW!

Ecuador: Birding, Wildlife and Culture
An exciting tour of the cloudforest, paramo and headwaters of the Amazon!
Prices:
£4795 PP, £395 single supplement. Deposit £1000
Dates:
12 Jun - 29 Jun 2018
More Info

Leader Andres Trujillo with another from the Heatherlea team with more than nine clients.
Maximum group size 12.
Departures from London Heathrow.
Pre-flight airport hotel and lounge are INCLUDED
This unique itinerary has been carefully designed to offer exciting and rewarding wildlife watching, combined with a little time in Quito enjoying cultural aspects, to give a fully rounded holiday. The focus is mainly on birdlife, including such iconic species as Andean Condor and Cock-of-the-Rock. We also include time to seek some special mammals including Spectacled Bear, and enjoy a relaxing day at the end of our itinerary in the capital, Quito.
About 1600 bird species have been recorded on mainland Ecuador, and on this holiday we expect a birdlist of around 400. Some of our key targets are unforgettable and truly iconic: huge Andean Condor, spectacular and colourful Cock-of-the-Rock, strange-looking Oilbird and incredible Long-wattled Umbrellabird, and we hope for very good views of all of these. Our days will be filled with new species from many families, and you will see many fascinating and brightly-coloured birds, including perhaps over 40 species of hummingbird alone. We will seek to maximize our list whilst birding at a gentle pace on a non-intensive itinerary, enjoying the whole experience of being in this wonderful country. You will travel from snow-covered mountain peaks and high 'páramos' (unique mountain moorlands), down through Andean valleys and many gradations of temperate and subtropical forest as we visit key habitats and iconic locations of this world famous bioregion, including Milpe Bird Sanctuary, Antisana Ecological Reserve, San Isidro and Wildsumaco.
We also target a couple of key mammals, looking especially for Spectacled Bear, the only bear native to South America, and the largest land carnivore in the southern Americas. We also have good chances to see Olinguito, or 'Kitty Bear', a mammal of the raccoon family, which was only discovered in 2013.
We stay in very comfortable hotels and lodges throughout, often with hummingbird feeders just feet away offering superb views. Photography is definitely a consideration, and in many places you will appreciate the opportunities presented even from hotel bedrooms, verandahs and breakfast tables! Transfers by comfortable coach will take two hours or less between most lodges, with two drives of around four hours each being the longest. These journeys can of course be delayed by wildlife considerations! We also include a day to allow an appreciation of the capital city Quito, including a brief tour of the old colonial centre, and an optional theatre performance on the final evening featuring traditional dancers and musicians. This is a lovely way to relax at the end of the holiday before returning to Heathrow the following day.
You will be led by Heatherlea Guide Andres Trujillo, a highly experienced Ecuadorian guide and veteran of Heatherlea holidays in Ecuador. Kevin Shaw or another from our team will join the trip with nine or more clients.
Should you wish to continue to the Amazonian rainforest and/or the Galapagos Islands, please ask for details, we will be delighted to arrange an extension for you on a personal basis.
Outline Itinerary
Enjoy your complimentary pre-flight overnight hotel before your holiday begins. Full details from our office!
Day 1: Tuesday 12th June - Fly Heathrow to Quito
After relaxing in our complimentary VIP Airport Lounge, we fly from Heathrow to Quito via Madrid. On arrival we meet our Guide Andres Trujillo, and transfer to our Hotel, a journey of around 45 minutes. After a long flight, we enjoy dinner and an overnight stay on one of Quito's finest hotels, Hotel Finlandia.
Day 2: Wednesday 13th June - Quito – Yanacocha Reserve - Bellavista
Early in the morning we travel northwest of Quito, crossing the western slopes of the Andes range heading towards the Tandayapa valley. En-route we stop at Yanacocha Reserve, home to a very rare hummingbird, Black-breasted Puffleg. This bird is never easy to see, but worth the effort if we find it! Here we also hope to see iconic Sword-billed Hummingbird, Great Sapphirewing, Purple-backed Thornbill, Rufous Antpitta, Barred Fruiteater, Bar-bellied Woodpecker, Masked Flowerpiercer, Glossy Flowerpiercer, Shining Sunbeam, Hooded and Scarlet-bellied Mountain-Tanagers, Giant Conebill, Pearled Treerunner and many more - what a start to the first full day! We head on via Tandayapa towards Bellavista Lodge in the cloud forest and unwind with some time to rest. After an excellent dinner we offer an optional search for the first new carnivore species discovered in the western hemisphere for 35 years, Olinguito. Overnight for two nights at Bellavista Lodge.
The OLINGUITO is a mammal of the raccoon family, which lives in montane forests in the Andes of western Colombia and Ecuador. The species only described for the first time in 2013. It is a small mammal (weight around 900 grams), resembling a cross between a slender domestic cat and a romanticized American black bear.The species name neblina is Spanish for fog or mist, referring to the cloud forest habitat of the Olinguito.
The Olinguito is an 'omnivorous frugivore', mainly eating fruits (such as figs), but also insects and nectar. It is thought to be solitary, nocturnal, and moderately reclusive. Olinguitos appear to be strictly arboreal. The species is not considered to be immediately at risk, though perhaps over 40 percent of its potential range has been deforested.
Day 3: Thursday 14th June - The magical Cloudforest, Bellavista Lodge
We have a full day to enjoy Bellavista Lodge and its surroundings, where 350 bird species have been recorded. Bellavista occupies a unique location above the forest canopy, and the 360-degree view from the dome allows you to gaze upon the rugged peaks of Pichincha and Cotacachi in the distance. You can also sit on your private balcony and observe the magical activity of the forests, where bromeliads, orchids, hummingbirds, tanagers, toucans and antpittas all vie for our attention, enough to satisfy any dedicated naturalist! Possible species include Plate-billed Mountain-toucan, Golden-headed Quetzal, Crimson-rumped Toucanet, Violet-tailed Sylph, Broad-billed Motmot, Strong-billed Woodcreeper, White-tailed Tyrannulet, Turquoise Jay, Chestnut-crowned Antpitta, White-sided and Masked Flowerpiercer, Masked Trogon, and more. We also have a second chance for Olinguito, should we need it.
Day 4: Friday 15th June - Bellavista - Maquipucuna Reserve
After an early breakfast our guide will drive us to Maquipucuna Lodge where we walk the trails close to the Lodge to observe some of the amazing birds of the cloudforest, such as Golden-headed Quetzal, Crimson-rumped Toucanet, Violet-tailed Sylph, Broad-billed Motmot, Palm Tanager, Golden Tanager, Orange-billed Sparrow, Andean Solitaire, Masked Trogon and many others.
Along the different trails it is possible to follow the footprints of incredible animals, including Long-nosed Armadillo, Collared Peccary, Andean Puma, Andean Tapir, Andean Coati, Dwarf Deer, Opossums, Mountain Paca and Andean Porcupine. Spectacled Bear have been coming here on a 15-18 month cycle, and we have timed our trip to give us the best chance as they roam the trees of this private reserve to eat the fruits of the Aguacatillo tree (a kind of Avocado). An exciting day in the cloudforest! After a superb dinner we have the option of a night walk looking for nocturnal mammals.
Maquipucuna Reserve is located in the heart of Ecuador's cloudforest, it is a great place to experience exotic species especially hummingbirds, and flowers in bloom such as orchids and bromeliads. Maquipucuna is not only a Reserve but also a foundation that is protecting this forest and helping the people of the area obtain economic alternatives to improve their way of life and to avoid the destruction of the cloudforest. Overnight Maquipucuna Lodge for two nights.
SPECTACLED BEAR
The Spectacled Bear, also known as the Andean Bear, is the last remaining Short-faced Bear (subfamily Tremarctinae) in the world, and indeed is the last surviving species of bear native to South America. It is currently classified as 'vulnerable' because of habitat loss.
Spectacled Bear is a mid-sized bear, technically the largest land carnivore in South America, although as little as 5% of its diet is composed of meat. Overall, its fur is blackish in color, though bears may vary from jet black to dark brown to even a reddish hue. The species typically has distinctive beige or ginger-coloured markings across its face and upper chest, though not all have "spectacle" markings. The pattern and extent of pale markings are different on each bear, and OKindividuals can be readily distinguished. Compared to other living bears, this species has a more rounded face with a relatively short and broad snout.
The species is found almost entirely in the Andes Mountains. Its best habitats are in humid to very humid montane cloud forests. Generally, the wetter these forests are the more food types there are that can support bears. Spectacled bears are one of four extant bear species that are habitually arboreal, and their continued survival has depended mostly on their ability to climb even the tallest trees. They usually retreat from humans, and once up a tree, they may build a platform, perhaps to aid in concealment, as well as to rest and store food. Although Spectacled Bears are solitary and tend to isolate themselves to avoid competition, they are not territorial. They have even been recorded feeding in small groups at abundant food sources.
Day 5: Saturday 16th June - Maquipucuna Reserve and its surroundings
We have a full day to continue birding in the area of Maquipucuna Lodge and its surroundings. We will also learn about the incredible Cloudforest and its plants and animals, including the epiphytes, orchids and many medicinal plants used by local people. We also have another chance for Spectacled Bear, hopefully with the opportunity for photographs. we return to the lodge for lunch and in the afternoon after a break go birding again. For those who wish, we may visit the local community projects to protect the area, such as the orchid's production in vitro, or the Trapiche location where they make a kind of alcoholic beverage from sugar cane.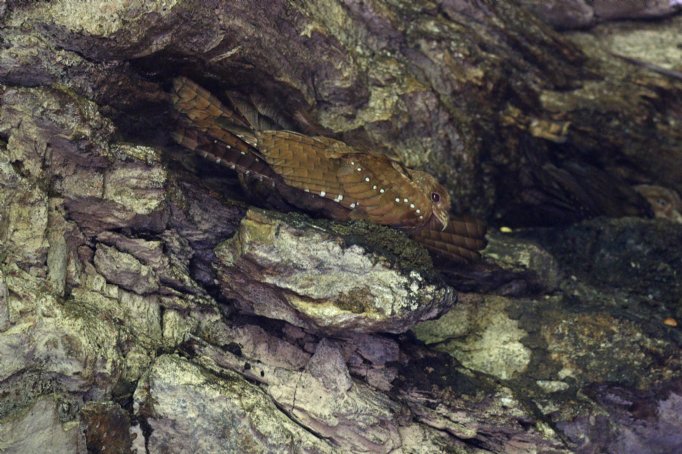 Day 6: Sunday 17th June - Maquipucuna - The Oilbird Reserve – Mindo
This morning we enjoy breakfast while again watching the hummingbird feeders, where Collared Inka, Speckled Hummingbird, and Purple-bibbed White-tip are just some of the possible species. We may have a little more time for the amazing trails here, before leaving for Mindo. En-route we stop at El Chontal to look into the famous Los Tayos Cave, actually a deep, dark ravine where as many as 100 Oilbirds make their home. We have a packed lunch during our journey, arriving late afternoon at Sachatamia Lodge for dinner and the first of our three overnights here.
Day 7: Monday 18th June - Rio Silanche Reserve – Milpe Reserve
After an early breakfast we drive to Rio Silanche, a tropical lowland reserve that covers 70 hectares (175 acres). Here there is incredible species diversity, especially from its 15-metre high observation tower that puts you eye-to-eye with awesome mixed foraging flocks. This important site is situated in low foothills, and is one of the last remaining accessible primary forest remnants in this key area, home to many important Choco and Tumbesian endemic birds, including Dusky Pigeon, Purple-chested Hummingbird, Little Woodstar, Choco Trogon, Double-banded Graytail, Stub-tailed Antbird, Slate-throated Gnatcatcher, Scarlet-breasted Dacnis, Scarlet-and-white Tanager, Blue-whiskered Tanager, Gray and Gold Tanager, Rose-faced Parrot, Blue-headed Parrot, Maroon-tailed Parakeet, White-bearded Manakin, Scarlet-thighed Dacnis, Chestnut-mandibled Toucan, Black-headed Tody-flycatcher, Slaty-capped Shrike-vireo, and many others.
In the afternoon we visit Milpe Bird Sanctuary, a reserve considered by Birdlife International as an 'Important Bird Area', it has 62 hectares (155 acres) at an altitude of 1020-1150 m, and includes two small rivers that converge at the bottom of a steep, forested valley. It is located along an all-weather road that many local birders consider one of the finest sites in all of Ecuador. Here 247 species have been found including many of the most spectacular Choco endemic species, including Plumbeous Forest-falcon, Moss-backed Tanager, Glistening-green Tanager, Chocó Trogon, Choco Toucan, Club-winged Manakin, Indigo-crowned Quail-Dove, Double-banded Greytail, Fulvous-vented Euphonia, Emerald and Scarlet-and-white Tanagers and the near-threatened Blue-whiskered Tanager.
Day 8: Tuesday 19th June - Mindo: The search for the Umbrellabird! – Rio Blanco.
Early in the morning we depart to Los Bancos to look for the incredible Long-wattled Umbrellabird, a rare and hard-to-see species. As well as being a superb bird in its own right, it is the flagship bird of this habitat, with a huge number of other scarce species associated with it. We spend the morning here, followed by a packed lunch out on the reserve.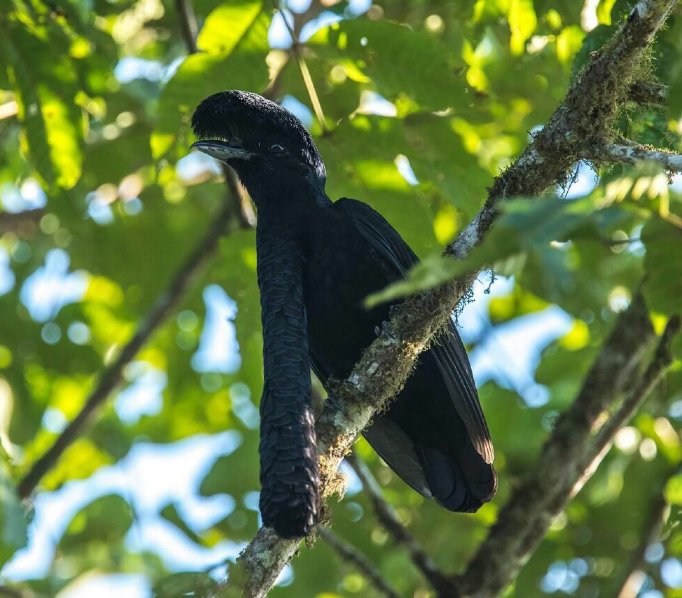 We move on for a short stop at the Mirador del Río Blanco, a place that offers an incredible view of the valley and where we can find many different tanagers and hummingbirds, such as tiny Green Thorntail and beautiful Green-crowned Brilliant. We return to Sachatamia Lodge where we can rest or take a short walk around the lodge to search for rare birds such as Giant and Scaled Antpittas, Choco Toucan, Scaled Fruiteater, Tanager Finch and Club-winged Manakin. Other birds here include Golden-headed Quetzal, Toucan Barbet, Masked Trogon, Golden-naped Tanager, Beryl-spangled Tanager, Strong-billed Woodcreeper, Black and White Owl, Wattled and Sickle-winged Guans, Bronze-winged Parrot, Sparkling Violet-ear, Andean Emerald, Booted Racket-tail and the spectacular Long-tailed Sylph and Violet-tailed Sylph. Sachatamia hosts a wide range of hummingbirds, and we recommend you spend some time around the feeder areas here, which can be absorbing for both birders and photographers.
Day 9: Wednesday 20th June - Cock-of-the-Rock at Mindo - Quito
Early in the morning we head out to the famous Paz de las Aves Refuge where we will have the opportunity to enjoy one of the world's most amazing birding experiences, an Andean Cock-of-the-Rock lek, where during the breeding season, the males produce a special sound and perform acrobatics to impress the females.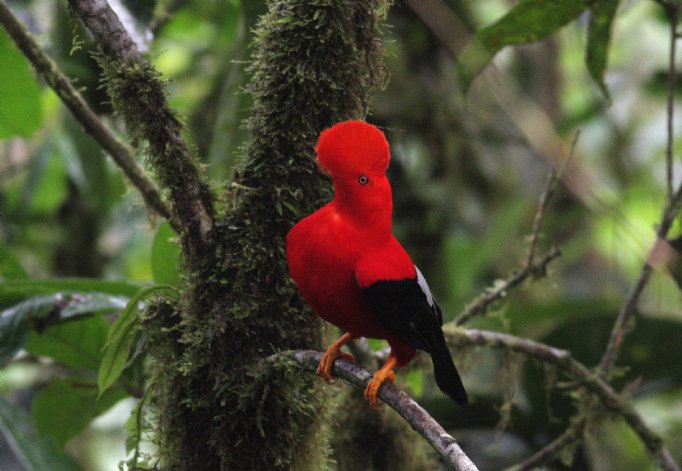 Besides this iconic bird we may see four species of Antpitta here: Giant, Moustached, Ochre-bellied and Yellow-breasted. This experience is memorable, as our local guide tempts the birds with mealworms, a now famous spectacle! We also visit a feeding station to see Black-chinned and Blue-winged Mountain-Tanagers, Toucan Barbet, Dusky Piha, Sickle-winged Guan, Crimsom-rumped Toucanet, and many more. We return to the Lodge of this reserve to enjoy a typical local breakfast, then continue birding for Ocellated Tapaculo, Yellow-vented Woodpecker, Powerful Woodpecker, Crimsom-mantled Woodpecker and Orange-breasted Fruiteater. We return to Sachatamia Lodge where we take our lunch and in the afternoon return to Quito, where we stay in the comfortable Airport Garden Hotel, which is convenient for our next day's departure.
Day 10: Thursday 21st June: Quito - Antisana & Antisanilla Reserves – Papallacta Hot Springs
After breakfast we travel to Antisana Ecological Reserve, visiting Mica Lake to see Silvery Grebe, Andean Teal, Andean Ruddy Duck, Yellow-billed Pintail, Andean Coot and others including Aplomado Falcon, Andean Gull, Andean Lapwing and Carunculated Caracara. Here we have an excellent chance to see majestic Andean Condor and other birds including Black-chested Buzzard-Eagle, Variable Hawk, Black-faced Ibis, Paramo Ground Tyrant, Paramo Pipit, Sedge Wren, Baird's Sandpiper, Cinereous Harrier, Bar-winged and Stout-billed Cinclodes, Shining Sunbeam, Red-rumped Bush-Tyrant, Giant Conebill and Spectacled Whitestart.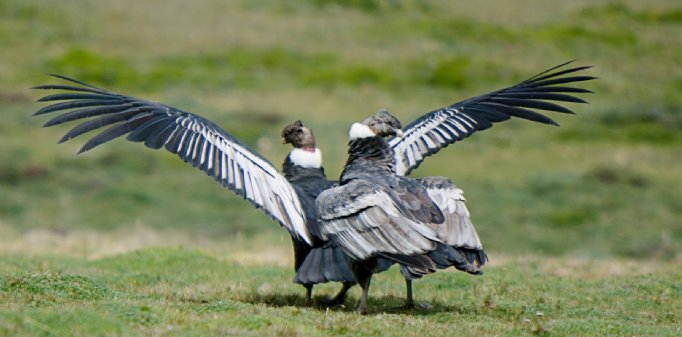 After a packed lunch we visit the private Antisanilla Reserve, located on the western slopes of the magnificent Antisana Volcano at an altitude range from 3300m to 4200m. This is an important habitat for Andean Condor, Spectacled Bear, Mountain Tapir, Puma and Andean Fox. Other birds include Ecuadorian Hillstar, Variable Hawk, Aplomado and Peregrine Falcons, Carunculated Caracaras, Andean Gull and others.
Moving on to Papallacta, we have a full afternoon to enjoy birding the trails, or rest and enjoy the excellent thermal springs and Spa. Dinner and overnight at Termas de Papallacta.
Day 11: Friday 22nd June: Cayambe Coca Ecological Reserve – San Isidro Lodge
After breakfast we visit the Papallacta region that is part of Cayambe - Coca Ecological Reserve. This protected area has an approximate area of 400,000 hectares (1 million acres) composed mainly of páramo, primary forests, rivers and lagoons. lt is considered one of the foremost protected areas of biodiversity in Ecuador. The paramo, considered a carbon deposit, collects and regulates water flow. The unique habitats of Cayambe – Coca reserve holds special Andean birds such as: Rufous-bellied Seedsnipe, Giant Conebil, Masked Mountain-Tanager and from enormous Andean Condor to tiny Sword-billed Hummingbird. During the day we walk the trails of this area, one of the most pristine parts of the Ecuadorian Highlands. We then return to the lodge to take lunch, and then to San Isidro Lodge where we will seek specialties such as Black-chested Fruiteater, Long-tailed Antbird, White-bellied Antpitta, San Isidro Owl, Chestnut-breasted Coronet, Long-tailed Sylph, Barred Antthrush and little-known Peruvian Antpitta. In the afternoon we will be birding close to the Lodge, and after dinner have the option of a nocturnal walk for night birds including Andean Potoo, Rufous-bellied Nighthawk, Rufous-banded and Mottled Owls. Overnight San Isidro Lodge for two nights.
Day 12: Saturday 23rd June: San Isidro Lodge trails
Today we have a full day birding around the lodge. Some of the regular species include Montane and Olive-backed Woodcreepers, Golden-crowned Flycatcher, Rufous-crowned Tody-flycatcher, Black-billed Peppershrike, Inca Jay, Bluish Flowerpiercer and Subtropical Cacique. After this, we visit Antpitta feeders, where we will hope to see White-bellied Antpitta only a few feet away, and maybe even very rare Peruvian Antpitta.
At dusk we head out to look again for Andean Potoo (rare, but sometimes staked-out), Rufous-bellied Nighthawk (almost every dawn and dusk around the cottages) and Rufous-banded and Mottled Owls. Return to the lodge for dinner and overnight at San Isidro Lodge.
Day 13: Sunday 24th June - San Isidro Lodge and its surroundings – Wildsumaco Lodge
After breakfast we say goodbye to San Isidro and head towards Wildsumaco Lodge. En route we visit the Loreto Road, officially known as the Jondachi-Hollín-Loreto-Coca Road, famous for its birding opportunities. Some notable targets include Dark-breasted Spinetail, Ash-browed Spinetail, Montane Foliage-gleaner, Lined Antshrike, Foothill Antwren, Olivaceous Greenlet, Yellow-whiskered Chlorospingus, and Bronze-green Euphonia.
Next we visit Narupa reserve, which protects a large block of eastern Andean foothill forest. Narupa has a growing list of birds, standing currently at over 300 species. Five globally threatened species have been recorded, including its flagship species, the Cerulean Warbler, a long-distance migrant that breeds in eastern North America and spends the boreal winter in northwestern South America.
In the afternoon we visit the Cordillera de Los Huacamayos where we walk through one of the specialised birdwatching trails. Here it is possible to see many different birds, and we look for Black-billed Mountain-toucan, White-bellied Antpitta, Spillman's Tapaculo, Bicolored Antvireo, Greater Scythebill and very local White-rimmed Brush-finch amongst others. Late afternoon we arrive at Wildsumaco Lodge where we have dinner and stay for two nights.
Day 14: Monday 25th June - Wildsumaco Wildlife Sanctuary
Today we explore the trails of Wildsumaco Wildlife Sanctuary, which is located on a ridge in the foothills of the Eastern Andes close to Sumaco National Park and Napo Galeras National Park. The Lodge is at about 1400m (4600 ft), and the reserve ranges from 1200 to 1500m (3900 to 4900 ft) with an incredible panoramic view of the Rio Pucuno Valley and the Andes beyond.
Wildsumaco holds a key location between the Andean Foothills and the Amazon, and the Sumaco area has one of the highest birdlists in the world. A wonderful mix of cloud forest species, foothill specialties, and typically Amazonian birds share Wildsumaco's lush subtropical rainforest with a myriad of other animals. Many of the birds here are rare, endangered, or very difficult to see elsewhere. Some of the species include Grey-tailed Piha, Blue-rumped Manakin, Coppery-chested Jacamar, Military Macaw, Buff-breasted Tody, Blackish Rail, Tropical Screech Owl, Black-banded Crake and Chestnut-crowned Gnateater. Short-tailed Antthrush and Wing-banded Wren often sing, while more uncommon species like Grey-throated Leaftosser and Plain-backed Antpitta are seen occasionally. The very rare Yellow-throated Spadebill has a territory along the Piha Trail and at any time endangered Military Macaw or rare Spot-winged Parrotlet may fly by, or Black Hawk-Eagle soar overhead.
Day 15: Tuesday June 26th: Travel day from Wildsumaco to Quito
After breakfast we have another opportunity to enjoy Wildsumaco before we make the return journey to Quito, five hours in total but broken with stops for birding to search for rare Orange-breasted Falcon and Cliff Flycatcher, and to enjoy our packed lunch. In the afternoon we arrive in Quito, where we will return to the excellent Hotel Finlandia for our final two nights.
Day 16: Wednesday June 27th: Quito - A day of history and culture
Today we explore the delights of Ecuador's capital city, one of the most beautiful cities of South America. Colonial Quito is a labyrinth with treasures made by artisans of every trade, still reminiscent of 450 years ago, even though it is a small island surrounded on all sides by a fast-growing modern city. The integrity of colonial Quito was assured in 1978 when the United Nations declared the city a World Heritage Site, and there are narrow cobblestone streets lined with whitewashed walls over which the steeples and towers of historic churches loom. There is a famous corner where we can sample packages of roasted peanuts and sweet toasted corn covered by panela (unrefined cane sugar) and chocolate.
We walk through the Main Plaza, the Government Palace, the Cathedral and some of the most important churches built around the 16th and 17th centuries, and visit "La Ronda Street", one of the most famous bohemian neighbourhoods with handicrafts, sweet factories, etc. After a full morning experiencing the delights of the city, we drive to El Panecillo Hill for a delicious lunch with an amazing view of Quito.
In the afternoon you may choose to rest, or optionally visit the gallery of one of the most famous artists in Ecuador – Oswaldo Guayasamin. The museum exhibits an excellent sample of pre-Columbian, colonial and contemporary art from the private collections of this famous Ecuadorian artist.
After an early dinner, you may choose to join us at Casa de La Cultura Theater, to enjoy the Folkloric Ballet Jacchigua. This is a show with 90 dancers, musicians and Ecuadorian technicians, who give a spectacular display of Ecuador's customs and traditions.
Day 17: Thursday June 28th: Quito to London Heathrow
After breakfast we transfer Quito Airport for our flight home.
Day 18: Arrive London Heathrow
morning, Friday June 29th
More Holiday Information:
Accommodation: is in comfortable hotels and lodges. All accommodation is en-suite.
Food: many regional specialities exist in Ecuador. Food is good and to European tastes.
Walking: Walking will be generally easy, on marked paths and trails, and you should expect around a couple of miles each day. An average level of fitness is required. We may have to walk slightly further to see antpittas, though this is optional. It is possible we may have to take a walk of around three miles on Day 6 to see Long-wattled Umbrellabird, though we have more than one chance to see this extraordinary bird.
Weather: will be mostly hot, though it is sometimes overcast, and humid after showers. Temperatures will be mostly between the 15C and 27C. In mid-afternoon, the weather is pleasant and good for birding.
Insects: Mosquitoes, and ticks can be a problem in some areas. A good insect repellent is
recommended, though some areas are pest-free.
Group size: is restricted to 12 clients maximum.
Flights: are by scheduled airline from London Heathrow. We may be able to offer flight arrangements from another airport and/or or quote without flights. If you wish to add an extension either before or after your holiday, please contact us and we will be happy to arrange this for you.
Bird Photography: Opportunities are good.
Your leader:
Andrés Trujillo Agudelo is a highly experienced Ecuadorian tour guide, with a comprehensive knowledge of the birds, mammals and other wildlife of his homeland. Andres has been employed as a naturalist guide for many years, leading trips for Heatherlea in the areas covered by this holiday and also the Ecuadorian Amazon. Andres has worked for many south American companies as resident Bird Tour Leader, and we are delighted to welcome him back to Heatherlea once again.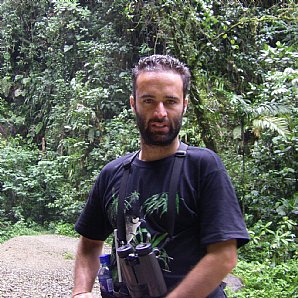 Kevin Shaw or another from our team will join the Group with nine or more clients.
What's included in your holiday price:
* return scheduled flight London Heathrow – Quito - Heathrow.
* full-board accommodation at hotels and lodges, picnic/lodge lunches
* ground transportation, National Park entry fees
* incidental tips including mealtimes, and the services of your leaders.
* departure tax from Ecuador, incidental tips, and the services of local guides.
* The Heatherlea Pre-Flight Service offers everything you need at the airport, including hotels, car parking, airport lounges, regional flights, and upgrades. Let Heatherlea take the strain! Pre-flight airport hotel and lounge included free of charge, subject to terms and conditions. Read more....
What's not included in your holiday price:
* holiday insurance, optional tips to local guides, drinks, and other personal expenses.
WHY CHOOSE HEATHERLEA?
Our overseas holidays are planned with care to offer great birding and wildlife, led by capable Leaders who really look after you. Every holiday is run the 'Heatherlea Way', and we hope our Overseas Adventures remind you of the quality and care so many of you enjoy in Scotland. That means rewarding and exciting days in the field, and good quality accommodation and meals, with a real flavour of the country we are visiting. Heatherlea always seek to include the personal touches that make all the difference.

Heatherlea holidays are not 'dawn to dusk' expeditions. Our less-intensive approach is ideal for those who want to relax whilst experiencing the best wildlife watching, and wherever possible we organise early or late activity on an optional basis. We also take sensible breaks when in very hot places and regular comfort breaks on every holiday whenever possible. All itineraries are planned carefully around the best wildlife opportunities, and you won't miss out on memorable wildlife, whilst enjoying relaxed, informal days that are great fun.

The really important part of any wildlife holiday is the experience for you, our valued customer. Heatherlea invest in many things to offer you the best possible service;
* We have been organising birding and wildlife holidays for over 27 years, and have a highly experienced and capable office team. We also offer a telephone and email service outside normal office hours.
* Heatherlea overseas holidays have a maximum of 12 clients per trip, putting the emphasis on personal service, and helping you get the best possible experience.
* Our holidays often include things which others might invite you to pay yourself, for instance Departure Taxes and tips to hotels.
* All elements of our holidays are sold under our own licence, ATOL 6113. Under 'Flight-Plus' legislation it is a legal requirement of any tour operator to hold an ATOL licence for the supply of any overseas holiday where a flight is involved, if that holiday includes either overseas accommodation and/or car hire. It can be a criminal offence for an operator to book flights as part of a package without an ATOL licence. Heatherlea also hold full Tour Operator Insurance for your added protection.
* Heatherlea is your complete wildlife holiday provider. Our 'Back Office' team can organise all your pre-flight and other travel needs. Our specialists will help you book the right services, at the best price. Book holiday extensions through us, and your ATOL protection is extended further. We don't charge extra for this service.
Please note: all itineraries are given as a guide only. Actual holiday content may vary according to the judgement of your guide, and elements beyond our control (eg weather).