NEW!

Costa Rica in September - Birding, Whales, Turtles and more!
Classic birding plus Humpback Whale migration and nesting turtles
| | |
| --- | --- |
| Destination | |
| Focus | |
| Max Group Size | 12 |
This brand new holiday offers wonderfully varied and exciting wildlife watching, featuring whales and turtles in addition to the classic range of mammals, reptiles and exceptional birding opportunities which make Costa Rica such a special place. We enjoy the added highlights of watching Humpback Whales with their calves on their southerly migration down The Pacific Coast, the spectacle of thousands of raptors migrating southwards through the country, and the chance to see nesting Green and Hawksbill Turtles on the sandy beaches of the Caribbean Coast, together with the opportunity to see key resident birds in this incredible country.
The September 'Green Season' can be wet, but it rarely rains for long, even on the Pacific Coast. Indeed ticos - the locals - often claim that it is the best time of year to visit their country as it is so vibrant, fresh and alive compared to the dry season. There are also fewer tourists, which means the whole country feels even more tropical and friendly than usual! It is the only time for the spectacle of raptor and whale migration, and also nesting turtles. Due to the explosion of greenery and plant life and the rainforests being in full bloom, many birds and animals are also more active at this time.
The main theme follows our highly successful and long-running Classic, Classic Plus, and Birders Tours, with the addition of some time on the Pacific Coast. In the Ballena Marine National Park, we take a whale-watching boat to view mighty Humpback Whales, which pass through these waters with their young during autumn. In the neighbouring Dominical area, we look for birds not found on our other itineraries including Yellow-billed Cotinga (a species endemic to Costa Rica and Panama), and have more chances to see a variety of other birds including Fiery-billed Araçari, King Vulture, Elegant Tern, Tawny-winged Woodcreeper, Costa Rican Swift, Olivaceous Piculet, Panama Flycatcher, Yellow-crowned Tyrannulet, American Oystercatcher and Riverside Wren.
The second main addition to other itineraries is some extra evening entertainment as we search for nesting turtles along the sandy Caribbean beach, under the moonlit skies at Tortuguero National Park. Both Green Turtle and (less commonly) Hawksbill Turtle come ashore on the narrow sandy stretch of coastline at Tortuguero to lay eggs in the warm sand, and we hope to witness at least one of these species returning to the place of their hatching to continue the cycle. Another remarkable experience!
This is added to the exciting birding at Tortuguero, as we slip silently through the dense mangroves among sloths and monkeys amidst the array of birdlife; the unforgettable Arenal Volcano which provides many brightly-coloured upland forest birds, and the mystical cloud forests which are home to the fabulous Resplendent Quetzal amongst many other avian delights. Costa Rica is a wildlife paradise!
Birding highlights are too numerous to mention – every few days we will dip into a new habitat with an almost completely different set of birds. We will probably see over 300 species - an impressive list for a tour which is still predominately run at relaxed pace. Many of these species might be hummingbirds, with other tropical families well represented including many trogons, toucans, aracaris, motmots, doves, woodpeckers, woodcreepers, ant-shrikes, ant-thrushes, ant-vireos, tanagers, raptors, vultures, parrots, macaws, flycatchers, warblers, herons, waders and many other families.
This holiday is a relaxed 'autumn wildlife highlights' trip, with plenty of time to watch, enjoy and photograph the birds and other wildlife. Indeed we can take time to study anything we come across in this biodiversity hotspot, be it thousands of Leaf-cutter Ants across our path, or a Tamandua high in the trees above us! We enjoy excellent food and accommodation throughout, and travel through this small country in a roomy, comfortable, air-conditioned bus with clear glass throughout – great for use as mobile hide and to avoid those sudden downpours!
Enjoy your complimentary pre-flight overnight hotel before your holiday begins. Full details from our office. Read more about our Pre-flight Service here!
Day 1 - Saturday 10th September - London to San José
After relaxing in our complimentary VIP Airport Lounge, we will fly from London to San José where our guide Paco will meet us and take us to our hotel. Depending on our arrival time we may be able to relax with a birding walk in the lovely gardens. This is a good place to see Blue-crowned Motmot, Rufous-capped Warbler, Hoffman's Woodpecker, Buff-throated Saltator and our first kiskadees, parakeets, tanagers and hummingbirds; we have a list of more than 60 species seen in this garden over the years! Our flight may have a late afternoon or evening arrival in which case we will just relax and have dinner, though if the weather is suitable we may offer an owling excursion looking for both Bare-shanked and Tropical Screech Owl. Overnight Hotel Bougainvillea, San José.
Days 2 & 3 - Sunday 11th and Monday 12th September - Tortuguero National Park
The next morning we begin as we mean to go on, with an early start to look for Cabani's Ground Sparrow (now endemic to Costa Rica, previously a subspecies known as Prevost Ground Sparrow), and White-eared Ground Sparrow, before travelling by bus and then an exciting boat journey to Tortuguero National Park on the Caribbean coast. Here we explore the rich labyrinth of waterways which, at this time of year, offer excellent wildlife viewing. The area boasts 320 bird species, including Agami Heron, Great Potoo, Sungrebe, Olive-crowned Yellowthroat, Purple-throated Fruitcrow, Black-headed Tody Flycatcher, Black-crowned Antshrike, Cinnamon Woodpecker, White-fronted Nunbird, and all six species of kingfishers belonging to the Americas. We may also see sloth, caiman, iguanas, poison-dart frogs, freshwater turtles, basilisk lizards, the Honduran White Tent-making Bats, and three monkey species. Come evening, we enjoy another highlight of the holiday as we wander along the moonlit sandy beach looking for nesting Green and Hawksbill Turtles. Two nights at Laguna Lodge, Tortuguero.
Day 4 - Tuesday 13th September - Tortuguero to the Sarapiqui region
This morning we explore the grounds of Laguna Lodge, checking the beach for waders and seabirds and the hotel grounds for passerines. The gardens are very good for manakins, doves, raptors, woodpeckers, woodcreepers and a variety of hummingbirds on the flowers. September is also the peak period for autumn raptor migration, when vast numbers of falcons, hawks and vultures head south from their northerly breeding grounds. In the right conditions, we may see thousands of birds drifting overhead including Turkey Vulture, Broad-winged Hawk and Swainson's Hawk. After breakfast we return upriver to our bus, travelling via road to the Saripiqui region of the Caribbean lowlands. We arrive at our lodge in time for lunch and spend the afternoon exploring the wildlife-rich riparian zone along the banks of the Sarapiqui River. This rainforest region at the base of the Caribbean slope is well-known for hosting the greatest diversity of tropical flora and fauna. Here Sunbittern, Black-faced Grosbeak and Gray-necked Wood-Rail are just a few of the inhabitants. This is the most likely spot on the trip to see Great Green Macaw, an endangered species that depends on the Dipteryx tree for feeding and nesting. Also lurking in the forest are Two-toed and Three-toed Sloth, three species of monkey, and peccaries. Three nights at Selva Verde Lodge.
Days 5 & 6 - Wednesday 14th and Thursday 15th September - La Selva Biological Station
We spend the next two days at La Selva Biological Station run by the Organization for Tropical Studies, a highlight of the tour. The station is one of the most famous tropical research facilities in the world, and here we will see an outstanding abundance of wildlife. La Selva is home to more than 470 bird species, more than 500 butterflies, 55 snakes, and 120 mammals. We also look for Rufous Motmot, trogons, caciques, Purple-throated Fruit Crow, Slaty-breasted Tinamou, Little Tinamou, Lattice-tailed Trogon, Lanceolated Monklet, Pied Puffbird, Sunbittern, Snowcap, Crested Owl, Slaty Spinetail and Snowy Cotinga among many others. Animals here are not camera shy, and we might see peccaries, agoutis, coatis, sloth, and monkeys. An unforgettable couple of days! Whilst in the area, we may also visit the Cinchona Hummingbird Garden and Cope's Garden, where White-tipped Sicklebill (one of the most desired hummers in Costa Rica) can be seen.
Days 7 & 8 - Friday 16th and Saturday 17th September - Arenal Observatory Lodge
We spend two nights here, enjoying breathtaking views of the jungle-covered Arenal Volcano, often providing great photo opportunities. This is a birding and wildlife hotspot, and the stunning natural beauty will astound you. Extensive trails at the lodge allow for tremendous opportunities to view Crimson-collared Tanager, White Hawk, Lovely Cotinga, Rufous-winged Tanager, Black and Yellow Tanager, Ocellated Antbird, Dull-mantled Antbird, Ornate-Hawk Eagle, Purplish-backed Quail-Dove, Brown-billed Scythebill, Great Antshrike, White-throated Crake, Uniform Crake, Black-crested Coquette, Striped-Owl, Brown-hooded Parrot, and Golden-olive Woodpecker, along with an array of colourful hummingbirds and three species of toucan. One night we may go owling in search of Black and White, Mottled, and Striped Owl in the open fields below the lodge. Two nights at Arenal Observatory Lodge.
Day 9 - Sunday 18th September - Arenal to The Central Pacific Lowlands
We leave the volcano behind us and head south during the morning to the hills and lush forests of Cerros de Turrubares in the Central Pacific region. Our eco-lodge and its extensive grounds have been described as 'a paradise where you can indulge your passions while discovering the genuine natural wonders of Costa Rica'. In the afternoon, we will indulge our passions by exploring the bird-rich trails through the forest, hoping to see Scarlet Macaw, Tiger Heron, and a host of other species including raptors, trogons, doves, parrots and euphonias. Two nights at Macaw Lodge.
Day 10 - Monday 19th September - Carara National Park and the Tarcoles River
Today we explore the Carara National Park, a unique climatological zone where the ecosystem of the humid southern coastal region joins the drier climate of the northern Pacific area, becoming a rich meeting ground for species from both. In another highlight of the holiday, we hope to find Orange-collared Manakin at the lek. This is also a great location to see antbirds, up to five different species of trogon, Rufous-tailed Jacamar, Black-striped Woodcreeper, Ruddy-tailed Flycatcher, Golden-crowned Spadebill, Streak-chested Antpitta, Ruddy Quail Dove, Black-faced Ant-thrush, Long-tailed Woodcreeper, Crane Hawk, Red-capped Manakin and Slate-headed Tody Flycatcher, and even Royal Flycatcher. We will also take time to visit Playa Azul which hosts Grey-cowled Wood-Rail, Yellow- crowned Night-Heron, Red-crowned Woodpecker, Melodious Blackbird, Bare-throated Tiger-Heron, Spectacled Owl, and many waders. In the afternoon we take a private birding boat trip on the Tarcoles River, looking at the mudflats and mangroves. This is an amazing place for shorebirds and waterbirds as well as parrots, orioles, macaws and owls. We expect an impressive variety of water birds and raptors, including Roseate Spoonbill, several species of heron, Anhinga, kingfishers, Crested Caracara, Black Hawk and Lesser Nighthawk to name a few. Endemic or near-endemic birds here include Mangrove Hummingbird, Mangrove Cuckoo, Mangrove Warbler and Mangrove Vireo as well as Rufous-necked Wood-Rail, Panama Flycatcher and Northern Scrub Flycatcher. We will probably also experience excellent views of Giant Crocodiles as we travel through the mangroves.
Day 11 & 12 - Tuesday 20th and Wednesday 21st September - The Pacific Coast and Humpback Whales
We travel south along the Pacific coast where we will spend the next day and a half in the Dominical area, just north of the unique Ballena Marine National Park. Ballena is the Spanish word for whale, and the park gets its name from its location on the north-south migration route of the Humpback Whale. We take a whale-watching boat to see one of these beautiful creatures heading south with its young. The area is known for its coastal habitats and rich marine life, and we explore the nearby forests, home to howler monkey, white-faced monkey, iguana, basilisk lizard and other reptiles, as well as excellent birdlife including Fiery-billed Araçari, Yellow-billed Cotinga (a species endemic to Costa Rica and Panama), King Vulture, Grey-cowled Wood-Rail, Elegant Tern, Tawny-winged Woodcreeper, Smooth-billed Ani, Scaled Pigeon, Striped Owl, Costa Rican Swift, Olivaceous Piculet, Panama Flycatcher, Yellow-crowned Tyrannulet, American Oystercatcher, Riverside Wren, and a variety of waders. Two nights at Los Cusingos Lodge.
Days 13 and 14 - Thursday 22nd and Friday 23rd September - The Paramo and Savegre Cloudforest
We take the short drive into the upland cloudforest area, home of the iconic Resplendent Quetzal. Other birds include eye-catching Fiery-throated Hummingbird, Black-and-yellow Silky-flycatcher, Large-footed Finch, Black-billed Nightingale-Thrush, Sooty Robin, and Sooty-capped Bush-Tanager. We also visit Cerro de la Muerte, approximately 3500m up in the Paramo - the scrubby and heathy habitat above the treeline. There are few birds here, but those found will be endemic or near-endemic, such as Volcano Junco, Peg-billed Finch and Volcano Hummingbird. Nestled in a quaint, wooded valley, we will explore the gardens, riparian highland habitats, and old growth tropical oak cloud forests surrounding our lodge, which may include Flame-coloured Tanager, Collared Trogon, Torrent Tyrannulet, Volcano Hummingbird, and Scintillant Hummingbird. Rarities here include Silver-throated Jay, Ochraceous Pewee, Ochraceous Wren, Zeledonia (Wrenthrush), Unspotted Saw-whet Owl, Costa Rican Pygmy Owl, Bare-shanked Screech Owl, Elegant Euphonia, Mountain Thrush, Sooty Thrush, Golden-browed Chlorophonia, Black & Yellow Silky-Flycatcher, Long-tailed Silky-Flycatcher, Barred Parakeet, Timberline Wren and Silver-fronted Tapaculo. Birds on the feeders include Magnificent Hummingbird, Acorn Woodpecker and Yellow-thighed Finch. Great birding! Two nights at Savegre Lodge.
Day 15 - Saturday 24th September - Savegre to San José
We spend the morning exploring the misty highland cloud forest reserve at the Finca Mirador de Quetzales. One of the most sought-after birds of any trip to Costa Rica must surely be Resplendent Quetzal, a bird that many consider the most beautiful in tropical America. We have excellent chances of this bird today! We then return to San José, stopping for a birding lunch en-route. Overnight Hotel Bougainvillea.
Day 16 - Sunday 25th September - Flights to London
Depending on the flight times, we may be able to look for some of the harder to find species around the hotel in the morning, such as Ferruginous Pygmy Owl, Rufous-browed Peppershrike, Canivet's Emerald and Rufous-capped Warbler before we transfer to the airport for departing flights. We may arrive in London on the morning of Day 17 (Monday 26th September).
Please note: all itineraries are given as a guide only. Actual holiday content may vary according to the judgement of your guide, and elements beyond our control (eg weather).
What's included in your holiday price:
scheduled return flights between London and San José, airport taxes,
ground and boat transportation as outlined including all transportation in Costa Rica in a modern and spacious air-conditioned vehicle,
accommodation and all meals, including breakfast, lunch and dinner. Water is provided in the vehicle each day. Our guides also provide cold slices of mango and pineapple in very hot places!
the services of your leaders.
entrance fees to parks and reserves, and tips to hotels and restaurants.
departure taxes
The Heatherlea Pre-Flight Service offers everything you need at the airport, including hotels, car parking, airport lounges, regional flights, and upgrades. Let Heatherlea take the strain! Pre-flight airport hotel and lounge included subject to terms and conditions. Read more..
Free Field Guide! 'The Birds of Costa Rica' by Richard Garrigues and Robert Dean, is included in your holiday price. One copy per room booked.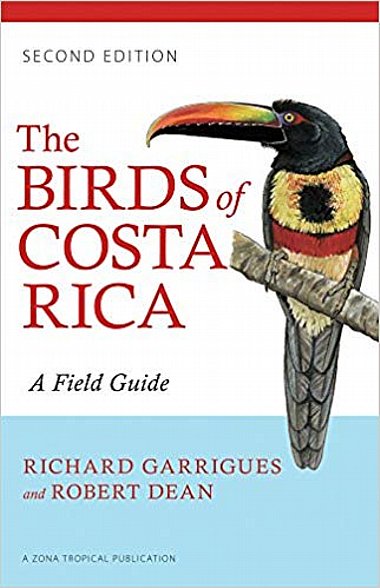 What's not included in your holiday price:
personal insurance, personal expenses including drinks ordered at the lodges, visa costs where necessary, optional tips to the driver and local guide, and any other costs not specified as 'included'.
More holiday information
Accommodation is in hotels or lodges with all rooms en suite. Some of the lodges are remote, and have simple-style rooms. All are spacious, have en-suite facilities, and are very comfortable to a good standard.
Food is usually served as a buffet, with a wide choice. Vegetarian and other diets are welcome. Food is generally excellent. We encourage you to try locally grown tropical fruits, including banana, pineapple, watermelon, mango and payaya, and we hope to offer you a selection of lesser known Costa Rican fruits, purchased directly from local sellers, washed and prepared for your delectation!
Walking is generally light/moderate. There may be some uphill track and road walking, though generally an average level of fitness is required.
Weather will be mixed. September is 'Green Season' in Costa Rica, which means the landscape is verdant and every plant is in bloom, but when it rains - it really rains! Temperatures will mostly be warm, with the Pacific side of the country experiencing the most precipitation. In the more lowland locations the weather can be hot and humid, whereas at altitude, it can be cool (especially at night) and wet.
Insects There are biting insects, though not usually as a major problem.
Group size is restricted to 12 clients maximum.
Flights are from London. We may be able to offer flight arrangements from another airport and/or or quote without flights so you can make your own arrangements. If you wish to add an extension either before or after your holiday, please contact us and we will be happy to arrange this for you.
Your Leaders:
Kevin Shaw
Kevin and wife Caryl founded Heatherlea in 1991. Kevin's personal ambition is to participate in every Heatherlea holiday in our itinerary, at least twice!
During the next couple of years Kevin will be personally checking detail in a number of overseas locations, and joining holidays both home and abroad for part or all of the itinerary.
Kevin is usually around most weeks at The Mountview Hotel in Nethy Bridge when not leading overseas or in Scotland, working with our office team behind the scenes to make sure you get what you deserve – the best birding holiday possible!
Esteban Biamonte
Esteban is an excellent, experienced Costa Rican guide who has led for us on many tours. A biologist with a masters in bird conservation, Esteban has participated in various bird research and conservation programs, such as the designation of Costa Rica's Important Bird Areas (IBAs). He is an active member of Unión de Ornitologos de Costa Rica and of the World Wetland Network, representing them at events such as 2008 Wetland Convention or Ramsar meeting and the 2010 Convention on Biodiversity meeting.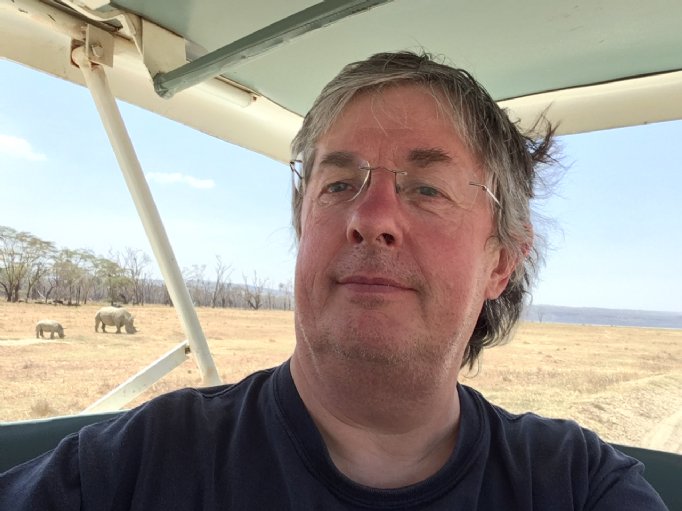 Kevin Shaw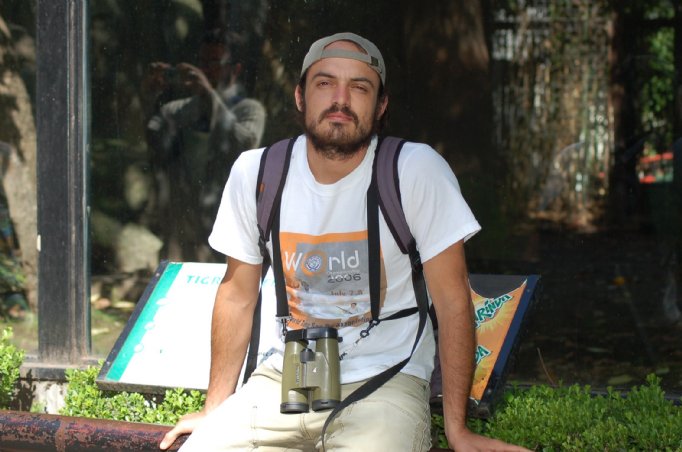 Esteban Biamonte
Why choose Heatherlea for your birding and wildlife holiday in the Americas?
Our overseas holidays are planned with care to offer great birding and wildlife, led by capable Leaders who really look after you. Every holiday is run the 'Heatherlea Way', and we hope our Overseas Adventures remind you of the quality and care so many of you enjoy in Scotland. That means rewarding and exciting days in the field, and good quality accommodation and meals, with a real flavour of the country we are visiting. Heatherlea always seek to include the personal touches that make all the difference.
Heatherlea holidays are not 'dawn to dusk' expeditions. Our less-intensive approach is ideal for those who want to relax whilst experiencing the best wildlife watching, and wherever possible we organise early or late activity on an optional basis. We also take sensible breaks when in very hot places and regular comfort breaks on every holiday whenever possible. All itineraries are planned carefully around the best wildlife opportunities, and you won't miss out on memorable wildlife, whilst enjoying relaxed, informal days that are great fun.
The really important part of any wildlife holiday is the experience for you, our valued customer. Heatherlea invest in many things to offer you the best possible service;
We have been organising birding and wildlife holidays for over 30 seasons, and have a highly experienced and capable office team. We also offer a telephone and email service outside normal office hours.
Heatherlea overseas holidays have a maximum of 12 clients per trip, putting the emphasis on personal service, and helping you get the best possible experience.
Our holidays often include things which others might invite you to pay yourself, for instance Departure Taxes and tips to hotels.
All elements of our holidays are sold under our own licence, ATOL 6113. Under 'Flight-Plus' legislation it is a legal requirement of any tour operator to hold an ATOL licence for the supply of any overseas holiday where a flight is involved, if that holiday includes either overseas accommodation and/or car hire. It can be a criminal offence for an operator to book flights as part of a package without an ATOL licence. Heatherlea also hold full Tour Operator Insurance for your added protection.
Heatherlea is your complete wildlife holiday provider. Our 'Back Office' team can organise all your pre-flight and other travel needs. Our specialists will help you book the right services, at the best price. Book holiday extensions through us, and your ATOL protection is extended further. We don't charge extra for this service.
Heatherlea is a limited company, registered in Scotland, and registered to pay VAT (applies to all holidays within the European Union).