Yellowstone
Birds and mammals in Yellowstone
Prices:
2019 Prices TBC £0 PP, no single supplement. Deposit £1500
Dates:
20 Jul - 1 Aug 2019
More Info

Heatherlea Guide Ian Ford, plus experienced local guide.
Max 12 guests.
Flights from London Heathrow.
Pre-flight airport hotel and lounge are INCLUDED.

NB Because of large pre-payments to hotels, the deposit for this holiday is higher than for most other Heatherlea holidays. Final payment will be requested at an earlier date for the same reason. Full details with your booking confirmation.
This is a tremendous tour of both Yellowstone and Grand Teton National Parks, as we visit spectacular locations to see a fantastic range of birds and mammals. This relaxed and non-intensive holiday gives you the chance to experience this marvellous place in all its grandeur. Visiting three States (Utah, Wyoming and Montana), you will enjoy a comprehensive tour of all the key places, and have an excellent opportunity to see wolves, both bear species, beaver and much, much more including a wide range of bird species. You will love the open spaces and vistas, where your expert guide will help you focus on nature amidst a real feeling of solitude.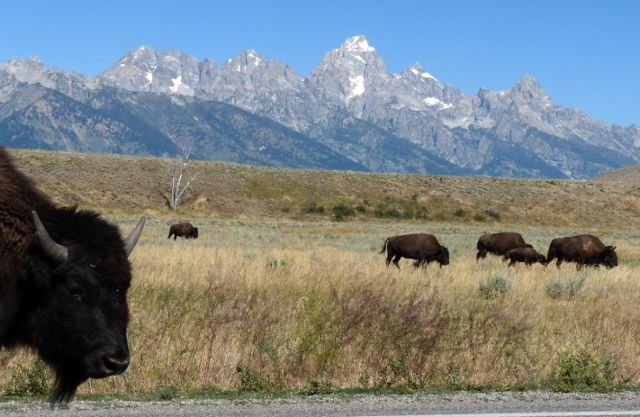 Summer is a time of abundance in Yellowstone, and we should see high numbers of mammals every day. Gray Wolf, Black and Grizzly Bear, American Bison at the rut (we are here at the peak time for this), Red Fox, Coyote, Pronghorn Antelope, Bighorn Sheep, Elk, Moose, Mule Deer, White-tailed Deer, River Otter, American (Pine) Marten, American Beaver, American Badger – no wonder Yellowstone has been compared to a safari in Africa! Our recent holiday produced excellent sightings of wolves and both bear species, something not guaranteed by any means, but much more likely with expert guidance - see our Trip Report!
While Yellowstone is best recognized for its mammals, birds are spectacular too, and we plan to find many classic species such as Trumpeter Swan, White-faced Ibis, Ruffed and Dusky Grouse, American Three-toed Woodpecker, Western Tanager, Black-headed Grosbeak, Bald Eagle, Golden Eagle, Steller's Jay, Sandhill Cranes with growing young, Wilson's Phalarope, Eared (Black-necked) Grebe, Red-naped Sapsucker, Red-breasted Nuthatch, Cordilleran Flycatcher, Mountain Bluebird, Clark's Nutcracker, Barrow's Goldeneye, American Dipper, Western Tanager, Lazuli Bunting, Ospreys almost daily…. There is a long birdlist!
We explore the geyser basins, where 25% of the world's major geysers are clustered in a scenic two mile long valley. We take a boardwalk trail through the basin, watching Old Faithful (the most famous) and other geysers including perhaps Riverside, which arches over the Firehole River when in eruption, or Grand, which jets to almost 200 ft high.Other geological highlights include the Lamar and Hayden Valleys, the dramatic Upper and Lower Falls of the Yellowstone River, and a great birding raft trip on the Snake River. We also visit the 10,000-foot mountain pass that crosses the great Beartooth Plateau to see some of North America's finest scenery.
Unlike most Yellowstone itineraries, we include a major birding spectacle at the Great Salt Lake, where wetlands of worldwide importance are critical for migrating shorebirds. You should see many tens of thousands of Eared (Black-necked) Grebe, American Avocets and Wilson's Phalarope amongst many more waders; over a million birds seen on our last trip! We then navigate a circular route to Yellowstone via Jackson and the spectacular Grand Teton National Park en route. A tremendous safari of the wildlife of the American west!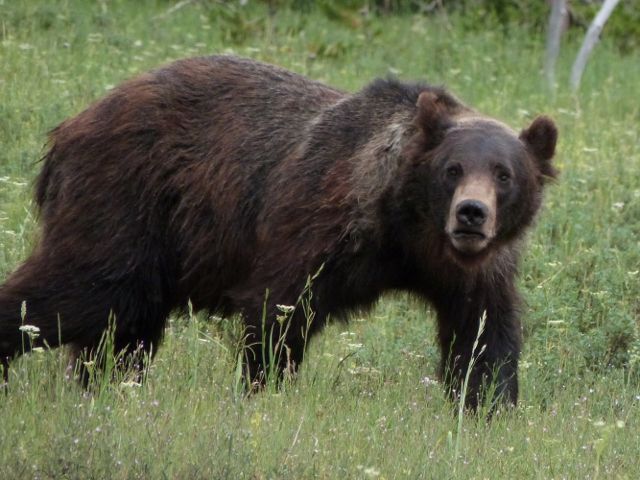 Outline Itinerary
Enjoy your complimentary pre-flight overnight hotel before your holiday begins. Full details from our office!
DAY 1: Sat 20 July Salt Lake City, Utah
We meet at Heathrow airport, and once checked in your guide, Ian Ford, will accompany the group to our comfortable airport lounge where we can relax before boarding our flight.
Flying into Salt Lake City is a great experience, as we pass over many of the high peaks of the Rocky Mountains and arrive to a wide, fertile valley framed by mountains on both sides. We meet our experienced local guide and rest from our travels, awakening to fantastic scenery and birding! Accommodation Hilton Garden Inn. (D)
DAY 2: Sun 21 July Antelope Island State Park / Bear River National Wildlife Refuge
Large shallow lakes fill a valley surrounded by mountains, and we start our birding at the spectacular Antelope Island causeway, birding at a leisurely pace on a road that bisects the Great Salt Lake. We should see tens of thousands of Wilson's Phalarope and Eared Grebe (perhaps half a million of each on our last visit), along with resident Black-necked Stilt and American Avocet, Marbled Godwit and Long-billed Dowitcher. This is shorebird heaven, a vast inland sea rich with brine shrimp; an excellent place for resident species to breed, and for migrants already returning from the Arctic to refuel. August sees peak migration through the Salt Lake wildlife refuges, and Peregrine hunt the large flocks. On nearby Antelope Island we look for Chukar Partridge.
We have lunch and a short break, then drive north to expansive freshwater marshes formed by the emptying of the Bear River into the Great Salt Lake. Concentrations of waders and waterfowl at this refuge can exceed the imagination. We may also find secretive Virginia Rail, Sora Rail, Marsh Wren and possibly Short-eared Owl.
Driving along the back roads of the refuge, with mountain vistas all around, we look for White-faced Ibis as well as American White Pelican, California and Franklin's Gulls, Caspian Tern, and a variety of herons, egrets, American Avocet and Black-necked Stilt. We may also see Sharp-shinned Hawk, Belted Kingfisher, Common Nighthawk, Common Yellowthroat, Yellow-headed Blackbird, and both Western and Clark's Grebes. The highlight on our last trip was beautiful California Quail. After a full day we relax in our hotel (Hilton Garden Inn). (B,L,D)
DAY 3: Mon 22 July Bear Lake NWR / Montpelier
Today we head towards the Grand Teton National Park, stopping for a night en route in a small town in Idaho near Bear Lake National Wildlife refuge, where bird activity is at its prime in the twilight hours. We travel a scenic route through the lush habitat of Logan Canyon, Utah and then over a high mountain pass with superlative views and close-up time with hummingbirds, to Montpelier. Here we have a a chance to bird at Bear Lake National Wildlife Refuge, with its mix of open water, freshwater marsh and grassland habitats. American Bittern, our first Bald Eagles, and a variety of passerines including grosbeaks, chickadees, sapsuckers, Cedar Waxwing and finches will soon become commonplace. Overnight Clovercreek Inn, Montpelier, Idaho (B,L,D).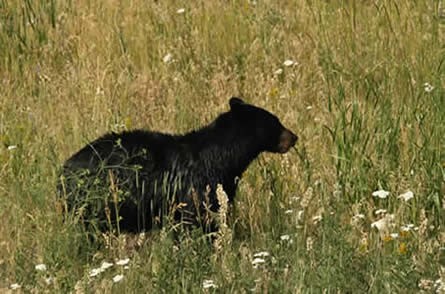 Day 4 and 5: Tue 23 & Wed 24 July Montpelier/Jackson/Grand Teton National Park
We leave Montpelier after breakfast, birding en route as we drive to Jackson, Wyoming. Our route follows the Snake River through Afton, driving through the striking Hoback Canyon. Just outside this classic western town, we walk a short boardwalk trail through a marsh of the National Elk Refuge, where Yellow-headed Blackbird and Marsh Wren scold. Northern (Hen) Harrier can be seen here too. Trumpeter Swan may have cygnets this time of year, and with luck we may find Canvasback, Redhead, Green-winged Teal and other ducks. Just beyond the refuge we get our first long view of the Grand Teton Mountains, perhaps the most spectacular range in the Rockies, rising abruptly from the valley floor, towering 5000 feet or more over the landscape, displaying their jagged crestline. We have two full days to explore the Grand Teton National Park, considered to be amongst the top National Parks in the US for watching birds – perhaps in part for its background scenery! Here we search for Ruffed and Dusky Grouse, American Three-toed Woodpecker, beautiful Western Tanager, Black-headed Grosbeak and a host of western wood warblers. Just outside our lodgings, tall conifer trees attract Olive-sided Flycatcher, Gray Jay, Cassin's Finch and Red Crossbill. A short walk along the lakeshore often reveals MacGillivray's Warbler, Western Warbling Vireo, or Osprey over the waters. Atop Signal Mountain we have a 360-degree view of magnificent mountains and a good chance of finding Green-tailed Towhee in the sagebrush, and along the conifer forest edge, Dusky Grouse. One evening we take a scenic raft trip on the Snake River (not energetic), where we hope to encounter American Beaver, Moose and nesting Bald Eagle. We also venture into historic Jackson Hole, known for its fine restaurants and shops, nightly rodeo and western flair. We spend the next two nights in this area (Motel 6). (B,L,D)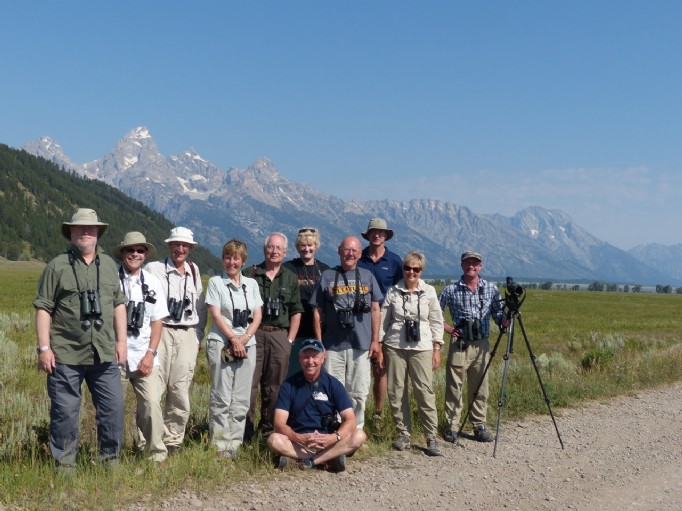 DAY 6: Thu 25 July Grand Tetons/Yellowstone National Park
This morning we walk a short way looking for MacGillivray's, Yellow-rumped and Orange-crowned Warblers and Common Yellowthroat in the willows, and in the adjacent forest Hammond's and Dusky Flycatchers, Mountain Bluebird, Mountain Chickadee and Ruby-crowned Kinglet.
We then continue our drive north, crossing scenic Teton Pass, along the west side of Yellowstone. Near a rushing river with a wide and spectacular waterfall, we watch American Dipper, and search for woodpeckers including Common Flicker, Hairy, and Northern Three-toed. Belted Kingfisher frequents the river, and in one area tall mixed conifer forest is especially good for Western Tanager, Red Crossbill, Pine Siskin and possibly Pine Grosbeak. This is the wetter side of the Park and forests are lush and green. Our accommodations this night are in The Days Inn, West Yellowstone and we enjoy dinner in a western restaurant. (B,L,D)
DAY 7: Fri 26 July Yellowstone National Park/Old Faithful and Madison River
Today we enjoy one of the main highlights of the holiday, time at the unforgettable 'Old Faithful' National Park. We check times posted for the eruption of 'Old Faithful', and spend half a day in the basin, hopefully witnessing at least two Old Faithful eruptions. Other geysers are lovely as well, as are hot springs, which are every colour of the rainbow!
Later in the day we enjoy wildlife viewing for Bald Eagle and Elk along the Madison River, a lush corridor through the park that leads us back to West Yellowstone for the night. Tonight is a free night in this fun town which has a wide selection of shops and restaurants, so we turn you loose for dinner at your leisure (you can of course eat with your guides if you wish). (B,L)
DAY 8: Sat 27 July
Yellowstone National Park/Norris Geyser Basin/Swan Lake Flats/Mammoth/Lamar
Today we travel to the northeast corner of Yellowstone, passing to the Lamar Valley via thermal basins, forests and meadows, including those of Mammoth Hot Springs. Mammoth Hot Springs is the lowest elevation site in the park where we enjoy a picnic lunch. Here we look for Mountain Bluebird, Townsend's Solitaire, and the beautiful Lazuli Bunting. Throughout the day, we visit places which look as great as they sound; Swan Lake Flats, Norris Geyser Basin (hottest in the park), Gibbon Falls, and the Madison River at one of the Three Forks of the great Missouri. There is a lush canyon, often filled with herds of American Elk and Bison, all with young, lounging in the summer sun. Great Blue Heron sometimes fish the stream; with luck we'll see Cinnamon Teal, Sandhill Crane and Tree Swallows. Lodgings for the next three nights in The Silver Gate Lodge, and tonight we have a group dinner at a favorite local restaurant. (B,L,D)
DAY 9: Sun 28 July Lamar Valley, Yellowstone
We have a full day to explore the Lamar Valley and scenic Tower Falls. We hope to observe Mountain Goat, Mule Deer, American Elk, Bighorn Sheep, Pronghorn and American Bison, which all have young at this time of year, and all are wary of possible predators. We may find Gray Wolf activity here, as several of the packs are found in or near this valley. Enjoy some sightseeing around midday, when the animals are less active. With luck we may find the Gray Wolf's little brother Coyote hunting, travelling, and possibly feeding young. In the afternoon we explore a small mountain town, where several residents put out hummingbird feeders – we expect Rufous and Broad-tailed Hummingbird here. Accommodation at the Silver Gate Lodge, MT and dinner at your leisure tonight. (B,L)
DAY 10: Mon 29 July Beartooth Plateau/Evening Wildlife Drive
Today we venture up to the magnificent high country of the Beartooth Plateau, just outside Cooke City. This extraordinary drive is one the most scenic in North America, and a wonderful way to access the tundra without a long, arduous climb. If we can tear our eyes away from the stunning views of both the Beartooth and Absaroka Mountain ranges, we're likely to see alpine birds such as Black- and Gray-crowned Rosy Finches, American Pipit, Horned Lark, Merlin, Northern Goshawk, and more. Clark's Nutcrackers, Yellow-bellied Marmot and a herd of Rocky Mountain Goats frequent the rest stop at Rock Creek. Those who wish to eat early can join us as we go back out into the Lamar Valley at dusk, when wildlife is most active. Accommodation for a third night at the Silver Gate Lodge, Montana. (B,L)
DAY 11: Tue 30 July Cooke City/Dunraven Pass/Upper and Lower Falls of the Yellowstone/Lake
After breakfast we start our drive to Yellowstone Lake, stopping en route to see the Upper and Lower Falls of the Yellowstone River, perhaps the most beautiful in the American west. The falls have become an iconic image, famous subjects for artists and photographers alike. With luck we may see River Otter in the pools above or below the falls, and Bald Eagle and Osprey can be spotted circling in the area. To get there, we head up and over the Dunraven Pass (2700 metres) after passing through the wildlife rich Lamar Valley. Near Tower Falls we find good area to look for Prairie Falcon, Clark's Nutcracker and Northern Goshawk. Peregrines often nest on the cliffs near Tower Falls, and can be active in the area. This is a good area to watch for Black Bear with growing cubs. Red-naped Sapsucker, Brown Creeper, Red-breasted Nuthatch and Cordilleran Flycatcher are often found in this area.
We keep a keen eye open for Grey Wolf and both bear species, and often see them on this day. To be in prime wildlife viewing hours, we have a simple dinner at Canyon, and then pass through the Hayden Valley at dusk, before checking in to our accommodation by Yellowstone Lake. Overnight Canyon Lodge, Yellowstone National Park. (B,L,D)
DAY 12: Wed 31 July Yellowstone National Park
Today we enjoy one of the main highlights of the holiday, time at the unforgettable 'Old Faithful' National Park. We check times posted for the eruption of 'Old Faithful', and spend half a day in the basin, hopefully witnessing at least two Old Faithful eruptions. Other geysers are lovely as well, as are hot springs, which are every colour of the rainbow!
Later in the day we might enjoy a final view of Grizzly or Black Bear as we pass south through the park, returning to Jackson Hole via the spectacular Grand Tetons. This day will give you a real chance to remember the wonderful mountian scenery of this special area, and in the evening we enjoy a celebration dinner in the historic town. Accommodation in The Virginian Lodge, Jackson. (B,L,D)
DAY 13: Thur 1 August
Fly home to UK from Jackson Hole, arriving at London Heathrow on the morning on Day 14 (Fri 2 August). (B)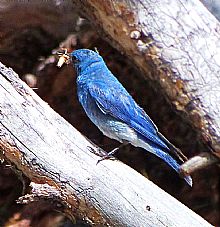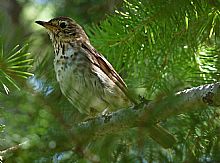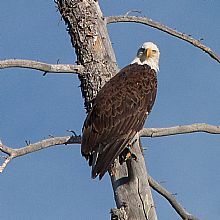 More Holiday Information:
Accommodation is in hotels or lodges with all rooms en suite. All are spacious, have en-suite facilities, and are very comfortable to a good standard.
Food full-board accommodation at hotels and lodges (as specified) including picnic lunches. Vegetarian and other diets are welcome.
Walking is generally light/moderate. There may be some uphill track and road walking, though generally an average level of fitness is required.
Weather Summer can be very hot, 80 - 90 degrees Fahrenheit, particularly during the Salt Lake City part of the holiday. Despite the daytime readings, summer evenings are cool. Night time temperatures average between 30 and 40 (0-10 C) but may drop into the low 20s (5 C). As with many western regions, summer afternoon thunderstorms are common.
Insects There are biting insects, though not usually as a major problem.
Group size is restricted to 12 clients maximum.
Flights return scheduled flights from London – Salt Lake City, Jackson Hole - London. We may be able to offer flight arrangements from another airport and/or or quote without flights so you can make your own arrangements. If you wish to add an extension either before or after your holiday, please contact us and we will be happy to arrange this for you.
Visa Travellers are required to obtain authorisation (known as ESTA) before arriving at the airport and can apply online. The application process should take around 20 minutes, and authorisation is normally granted immediately but may take up to 72 hours. Once granted, authorisation is valid for two years. At the time of writing the Esta application charge is $14.

What's included in your holiday price:
* return scheduled flight from London – Salt Lake City, Jackson Hole - London, airport taxes, transfers from and to airports (where appropriate).
* ground transportation as outlined in a modern and spacious air-conditioned vehicle.
* accommodation and all meals (as specified), including breakfast, lunch and dinner.
* the services of your leaders.
* national Park entry fees
* The Heatherlea Pre-Flight Service offers everything you need at the airport, including hotels, car parking, airport lounges, regional flights, and upgrades. Let Heatherlea take the strain! Pre-flight airport hotel and lounge included free of charge subject to terms and conditions. Read more..

What's not included in your holiday price:
* personal insurance, drinks and other personal expenses, esta costs where necessary, optional tips to the local guide, hotel/restaurant staff, and any other costs not specified as 'included'.
* three dinners at your leisure on days 7, 9, & 10 as detailed in the above itinerary.
WHY CHOOSE HEATHERLEA?
Our overseas holidays are planned with care to offer great birding and wildlife, led by capable Leaders who really look after you. Every holiday is run the 'Heatherlea Way', and we hope our Overseas Adventures remind you of the quality and care so many of you enjoy in Scotland. That means rewarding and exciting days in the field, and good quality accommodation and meals, with a real flavour of the country we are visiting. Heatherlea always seek to include the personal touches that make all the difference.
Heatherlea holidays are not 'dawn to dusk' expeditions. Our less-intensive approach is ideal for those who want to relax whilst experiencing the best wildlife watching, and wherever possible we organise early or late activity on an optional basis. We also take sensible breaks when in very hot places and regular comfort breaks on every holiday whenever possible. All itineraries are planned carefully around the best wildlife opportunities, and you won't miss out on memorable wildlife, whilst enjoying relaxed, informal days that are great fun.
The really important part of any wildlife holiday is the experience for you, our valued customer. Heatherlea invest in many things to offer you the best possible service;
* We have been organising birding and wildlife holidays for 27 seasons, and have a highly experienced and capable office team. We also offer a telephone and email service outside normal office hours.
* Heatherlea overseas holidays have a maximum of 12 clients per trip, putting the emphasis on personal service, and helping you get the best possible experience.
* Our holidays often include things which others might invite you to pay yourself, for instance Departure Taxes and tips to hotels.
* All elements of our holidays are sold under our own licence, ATOL 6113. Under 'Flight-Plus' legislation it is a legal requirement of any tour operator to hold an ATOL licence for the supply of any overseas holiday where a flight is involved, if that holiday includes either overseas accommodation and/or car hire. It can be a criminal offence for an operator to book flights as part of a package without an ATOL licence. Heatherlea also hold full Tour Operator Insurance for your added protection.
* Heatherlea is your complete wildlife holiday provider. Our 'Back Office' team can organise all your pre-flight and other travel needs. Our specialists will help you book the right services, at the best price. Book holiday extensions through us, and your ATOL protection is extended further. We don't charge extra for this service.
PICTURE CREDITS
Many thanks to Peg Abbott and friends for pics, including:
Evening Grosbeak, American Avocet, Ruffed Grouse, www3.sympatico.ca/beck.tony ,
American Dipper courtesy of Carol Rivchun.
Trumpeter Swan www.trumpeterswansociety.org
Photo of Peg, Coyote eating Ground Squirrel and most scenic pics courtesy of Peg Abbott/Naturalist Journeys.
Bald Eagle, Great Grey Owl by Ian Ford
Less good pics by Kevin Shaw
Please note: all itineraries are given as a guide only. Actual holiday content may vary according to the judgement of your Leader, and elements beyond our control (eg weather).
Please note: all itineraries are given as a guide only. Actual holiday content may vary according to the judgement of your guide, and elements beyond our control (eg weather).