Belize and the Yucatan Peninsula
Outstanding Central American birding plus stunning Mayan archaeological sites.
Free Bird Guide

FREE copy of Birds of Mexico with every room booked on this holiday.
Belize has potential to become one of the most important birding & wildlife destinations in the Caribbean. Covering an area about the size of Wales, though with a population of just 0.3 million people many of whom live in small rural settlements, the country is largely unspoilt. Belize has a rich variety of wildlife, partly because of its strategic location between both North and South America, and also because it hosts a wide range of climates and habitats. This is a superb environment for wildlife, home to around 570 bird species, many interesting mammals, and innumerable butterflies, moths, orchids and bromeliads. Belize is the only English-speaking country in Central America, and provides a fascinating opportunity for British birders and wildlife enthusiasts.
For birders, there are many Yucatan and Belizean endemics on this tour, such as Yucatan Woodpecker, White-browed Wren, Black Catbird, Rose-throated Tanager, Blue Bunting, Orange Oriole, Yucatan Parrot, Yucatan Vireo, Yucatan Jay and Yucatan Flycatcher, with chances of Yucatan Bobwhite, Yucatan Poorwill and Yucatan Nightjar. Regional endemics include Ruddy Crake, Wedge-tailed Sabrewing, Yellow-winged Tanager, Stub-tailed Spadebill and Couch's Kingbird. Whilst their is some inevitable overlap with other countries in Central and Southern America, Belize remains one of the best countries to catch up with hard-to-see species such as Orange-breasted Falcon, Azure-crowned Hummingbird, Rufous-capped Warbler, Great Tinamou, Solitary Eagle, Crested Eagle and the oddly-adorned Ocellated Turkey.
The country has a diverse mix of primary and secondary forest, and much of the landscape is covered by lush forest, interspersed with cultivated areas and small villages. There are several National Parks and other protected areas (covering around 40% of the land area), plus some prime Mayan archaeological sites, making Belize a fascinating destination for birding, wildlife and culture. NB Those not interested in the cultural aspects won't be wasting time, there is good birding everywhere!
We also spend time birding the region around Puerto Morelos, on the Yucatan peninsula, part of Mexico. This allows us to seek some special birds not found in Belize.
We stay in a number of different locations, allowing us to explore as many of the country's diverse habitats as possible. There are many rewarding landscapes, from the Caribbean coast and its mangrove swamps and lagoons, to the savanna grasslands of the coastal plains, to broadleaved forests, and the wooded highlands in Cayo district which contain a mix of pine and oak. Each contains its own distinctive avifauna.
Possible highlights of the trip:
Birds & wildlife near the Caribbean shores in Puerto Morelos Mexico
Mayan ruin sites of La Milpa & Lamanai & Pook's Hill
Our boat tour in the mangroves at Crooked Tree, Belize
Birds & wildlife at the Biosphere Maya at La Milpa
The primary and secondary forests at Pooks Hill & at La Milpa
The visits to the Tapir Mountain & Mountain Pine Ridge reserves
Caribbean seashore & Bacalar Bay, Mexico
Sian Kaan Biosphere Reserve, Mexico
The sheer array of other wildlife and habitats
This trip is excellent for butterflies, and whilst our sightings will be incidental rather than a key focal point, you should see many interesting butterflies, including three species of Blue Morpho, Monarch, Striated Queen, Tropical Milkweed, Banded and Ruddy Dagger-wing Short-lined Kite Swallowtail, Guatemalan Dark Kite Swallowtail. The sulphurs, whites and yellows from the Pieridae family are well represented, including White-angled Sulphur, Yellow-angled Sulphur, Little Yellow, Mimosa Yellow, Tailed Orange, Orange-barred Sulphur, Cloudless Sulphur and Painted White. Other butterflies of note might include;
Mexican Cycadian, Red Rim, Tiger Heliconian, Orion Cecropian, Malachite, Confused and Rusty-banded Groundstreaks, Tiger-eye Hairstreak, Pearly Leafwing, Potrillo Skipper, Gray, Variable and Guatamalan Cracker, Yojoa Scrub-Hairstreak, Ceraunus Blue, Julia Heliconian, Stoplight Catone, Carolina Satyr, Orange-spotted Skipper, Banner Metalmark, Gaudy Patch, Brown Longtail, Pale-banded Crescent, Crimson Patch and Dina Yellow.
Day 1: Sunday 15th November - Flight from London Gatwick to Cancun (Mexico)
On arrival we make the short transfer to Puerto Morelos, where we stay for two nights.
Day 2: Monday 16th November - Puerto Morelos
Today travelling will be kept to a minimum as we dedicate a full birding day around Puerto Morelos to seek several endemics such as Yucatan Woodpecker, Yucatan Jay, Yucatan Vireo, Yucatan Parrot, Rose-throated Tanager, Black Catbird, Orange Oriole and more.
It is possible to find many other interesting birds on tranquil trails in dry tropical forests, including White-browed and White-bellied Wren, Blue Bunting, Ferruginous Pygmy Owl, Green Jay, Gartered and Black-headed Trogon, Northern Bentbill and Stub-tailed Spadebill. Out of the forest and into scrubby areas and open fields we will look for colourful birds including Painted Bunting, Vermillion Flycatcher, Northern Cardinal, Olive-backed Sparrow and Turquoise-browed Motmot, just to mention a few. A relaxing introduction to Central American birding! Overnight Puerto Morales
Day 3: Tuesday 17th November - Travel day from Yucatan to Belize
Today we travel from the northern part of the Yucatan peninsula to Belize, a driving distance of around four hours, broken by some short birding stops en-route. After crossing the border, we pause at a good restaurant to enjoy our first light Belizean lunch. We travel through some lowland marshes and agricultural fields managed by Memmonite communities, finally crossing some rolling hills and ending up at an area close to the Guatemalan and Mexican border. Our accommodation here is at a secluded lodge in the middle of the jungle on private protected land, with a beautiful, flower-filled natural garden surrounded by tropical primary and secondary forest.
After checking in we stretch our legs in the garden with stunning Slaty-tailed Trogon, Keel-billed Toucan and various hummingbird species on offer. Overnight La Milpa (for three nights)
Days 4 and 5: Wednesday 18th and Thursday 19th November - Rio Bravo and La Milpa
We are surrounded by the huge Rio Bravo Conservation area, the largest terrestrial protected area in the country, comprising close to 5% of Belize's land surface. This is a magical place with lots to discover, especially now that scientists have collected data about mammals (over 70 species) and birds, but invertebrates are still not fully registered, with many species not formally described. All hunting is prohibited, so there is a good chance to see many birds, including groups of the colourful regional endemic Ocellated Turkey and Great Curassow at close quarters. Due to protection, natural hunters are thriving here, building healthy populations of several cats including Puma/Mountain Lion, Jaguar, Jaguarundi, Margay & Ocelot. We have a good chance to find at least the footprints, but with some luck during an evening tour we might get a glimpse of one of these cats or at least a Grey Fox. Deppe's Squirrel is an interesting regional endemic which we should see in the daytime.
We spend our mornings in the huge open garden checking the bushes, hummingbird feeders and the canopy of surrounding trees. After a tasty lunch, one day we make an interesting journey to the third largest Mayan Archeological site, La Milpa, an ancient Mayan city within the Three River region of northwest Belize. The original Mayan city was huge and important in its time, with the Main Plaza alone covering 18,000 square metres, making it one of the largest in the entire Maya region. Nowadays just a few ruins can be seen, though there are long-term archaeological projects, and La Milpa has evolved as the centre of archaeological research in the Rio Bravo area. The La Milpa Archaeological Site is only one of at least sixty such sites found in the Rio Bravo area, just a few miles jeep journey through secondary and primary tropical forests from our rooms. Birding opportunities are excellent at the site, which is densely covered by tropical jungle. We will enjoy forest birding, and have a good chance to see rare butterflies and perhaps even mammals. Sought-after species here include Crested Eagle, hard-to-find Tody Motmot, whistling Thrushlike Schiffornis and the sometimes surprisingly tame, otherwise elusive Great Tinamou.
The edge of clearings is a great place to look for birds working trunks and vines, such as Smoky-brown, Black-cheeked, Golden-olive, Chestnut-coloured, Lineated and Pale-billed Woodpecker, all common in the area. In the garden or nearby we should find Baltimore, Orchard & Black-cowled Oriole, Melodious & Red-winged Blackbird, Grey-throated Chat, several Tanager species, Slaty-tailed Trogon, Montezuma Oropendola and a long list of warblers & vireos.
Later during the day as temperature rises, raptor activity will be stronger. It should be easy to pick a circling adult King Vulture, and we search for White-tailed, Swallow-tailed & Plumbeous Kite. Hawks are also represented strongly by White, Grey, Great Black & Short-tailed Hawk. We hope to compare Black & Ornate Hawk-Eagles, both nesting in the area. There is a good chance to see spectacular Blue Morpho butterfly with the rare White and Brown Morpho also possible. Both nights we stay at La Milpa.
Day 6: Friday 20th November - Travel from La Milpa to Lamanai and on to Crooked Tree
If we have not found most of our ornithological targets so far, we may remain at this great location awhile to search for Crested Guan or a Great Curassow. We can complete our list of more than a dozen species of Hummingbirds too, and will may see Long-billed or Western Long-tailed Hermit, Stripe-throated Hermit, Scaly-breasted Hummingbird, White-necked Jacobin, Purple-crowned Fairy, White-bellied Emerald and Rufous-tailed Hummingbird.
Finally, we have to say goodbye to this enchanting place and start a full day tour to Lamanai, the most famous Mayan Ruin in Northern Belize. The driving distance is about 60kms, some of which is on a bumpy road, and we make slow and careful progress on a road which is really good for birds! Usually a 'short stop' for a perched raptor turns into a long stop, such is the bird diversity here, with a great range of birds, often in exciting mixed flocks.
When we arrive at Lamanai it will be instantly obvious that once it was a very important centre for the Mayans, a busy city for more than 3000 years till the arrival of the Spanish. Now this is one of the biggest and best excavated Maya sites in Northern Belize, located in Orange Walk District, South of Orange Walk Town. The name of Lamanai was recorded by early Spanish missionaries and was documented over a millennium earlier in Maya inscriptions as 'Lam'an'ain'. In Yucatec Mayan this means "submerged crocodile". The ruins overlook the New River Lagoon which is rich in Morelet's Crocodiles, and it is not too hard to see the origin of the name! Lamanai is renowned for its exceptionally long occupation spanning three millennia, beginning in the Early Pre-classic Mayan period and continuing through the Spanish and British Colonial periods into the 20th century. Unlike most Classic-period sites in the southern Maya lowlands, Lamanai was not abandoned at the end of the 10th century AD.
The ruins are known both for their impressive architecture and their marvellous setting, surrounded by dense rainforest. Beside the ruins there is a small museum describing culture, history and general life. Most of the buildings are still not restored, but from the top of the High Temple you have an incredible canopy view. The surrounding giant trees offer food and perches for exotic species, such as Collared Aracari, Keel-billed Toucan, White-fronted, Red-lored, Yellow-lored and Yucatan Parrot.
Several species to look for on tree-trunks and branches include Acorn, Red-vented, Golden-fronted, Lineated & Pale-billed Woodpecker, plus Northern Barred and Ivory-billed Woodcreeper. If we can find an ant-swarm then it will easy to see Red-throated and Red-crowned Ant-tanagers, Grey-hooded Tanager and perhaps even Mexican Antthrush as well. Other colourful species include Buff-throated Saltator, Blue Bunting, Black-cowled Oriole, and Blue-crowned and Diademed Motmot. There can be a good selection of butterflies at Lamanai, and this may be the first place where we hear the incredible voice of Yucatan Black Howley Monkey, one of the world's loudest animals!
Late afternoon, after about a three-hour drive from Lamanai we arrive at Birds Eye View Lodge, at Crooked Tree.
Day 7 - Saturday 21st November - Crooked Tree
After breakfast we go out on a boat trip to discover a huge array of waterbirds. Birds should be everywhere, including Great Blue, Little Blue, Green and Tricoloured Herons, Black-crowned and Yellow-crowned Night-heron, Snowy, Great and Cattle Egret with chances of more elusive species including Agami Heron, Bare-throated Tiger Heron and Boat-billed Heron. At the edges among vegetation we will look for Grey-necked Wood Rail, Purple Gallinule, Common Moorhen, Northern Jacana, Least Bittern and Ruddy Crake, and perhaps rare Sungrebe, while on the open water American Coot, American Wigeon, Blue-winged Teal, Lesser Scaup, Northern Shoveler & Pied-billed Grebe are all possible.
Kingfishers include Amazon, Green, Belted and Ringed, plus perhaps we can find American Pygmy Kingfisher. It will be easy to spot larger birds if they are around, including American White Pelican and luminous pink Roseate Spoonbill, but the real scarcity to look for is Jabiru, a local breeder.
We may also add many of the following species to our list: Limpkin, White and Glossy Ibis, Anhinga, Southern Lapwing, Wood Stork, Black-bellied Whistling Duck, Black-necked Stilt, Solitary, Least and White-rumped Sandpiper and Lesser Yellowlegs. We check the sky for raptors including Black-collared Hawk, Snail Kite, Common and Great Black Hawk, Grey Hawk, Grey-headed Kite, Black, Turkey and Lesser Yellow-headed Vulture, Peregrine Falcon, Roadside Hawk, White-tailed Hawk, Snail Kite, and Osprey. At the bushy edges we look for Blue-grey Gnatcatcher, Prothonotary Warbler and Yellow Warbler.
Aside from butterflies and birds, the sanctuary's rich wildlife includes crocodiles, monkeys, turtles and Black, Brown and Green Iguana, while Basilisk Lizards can be spotted as they run across smaller bodies of water. Overnight at Birds Eye View Lodge at Crooked Tree.
Day 8: Sunday 22nd November - Crooked Tree and Mountain Pine Ridge
During our last morning at Crooked Tree we offer birding close to our accommodation at a scrubby, savannah-type habitat to find such interesting birds as American Redstart, Hooded Oriole, Indigo Bunting and Groove-billed Ani. We also seek Vermillion and Fork-tailed Flycatcher, Aztec/Olive-throated Parakeet, Yucatan Jay, Yucatan Woodpecker, Boat-billed Flycatcher, Canivet's Emerald, Grace's Warbler and Red-winged Blackbird.
Later, we leave this flat area and travel towards the hilly region of the Cayo district, in southwest Belize, in the forested and undulating Mountain Pine Ridge area. A straight drive without stopping and birding would be about two hours, though alongside some of the dirt-roads we stop to check out flowery bushes and sunny roadside places, great for hummingbirds. Our accommodation is at a beautiful location in a valley from where you have an armchair view of not just the lush forests around the hills, but also various species at the garden feeders. Overnight Mountain Pine Ridge
Day 9: Monday 23rd November - Mountain Pine Ridge
Today we spend a full day at different parts of the Mountain Pine Ridge Reserve. During the day we visit the famous 1000 foot waterfall, one of the largest in Central America. It is not just a perfect place to cool down a bit, but also a breeding area for the otherwise scarce Orange-breasted Falcon. This is also a good site to look for other raptors, such as a circling Solitary Eagle or spectacular King Vulture.
Mountain Pine Ridge is also home to bird species such as Azure-crowned Hummingbird, Black-cheeked Woodpecker, Golden-hooded Tanager, Yellow-backed & Yellow-tailed Oriole. Red-lored Parrot and Mealy Parrot, and we might hear our first Scaly-throated Foliage-gleaner. Black-headed Siskin is quite localised here, and we also seek Hepatic Tanager, Green Jay, Ovenbird, Scaled Pigeon, Rusty Sparrow, Rufous-capped Warbler and with some luck we might find a roosting Stygian Owl as well. Overnight Mountain Pine Ridge.
Day 10: Tuesday 24th November - Mountain Pine RIdge toTapir Mountain
After a full morning's birding we say goodbye to this enchanting area and travel lower to the Tapir Mountain Biosphere Reserve at the foothills of the Maya Mountains. Again, the travelling distance is not excessive, a little over an hour, though as usual we stop on the way wherever we find good birding. Our next destination is another amazing site, Pook's Hill, where we arrive during the afternoon with enough time to discover the surroundings of our beautiful, Mayan style lodge premises. Overnight Pook's Hill Lodge at Tapir Mountain.
Day 11: Wednesday 25th November - Pook's Hill
Pook's Hill is another private nature reserve with around 300 acres of jungle with a river and its own Mayan archaeological site. The area is just about 20kms west of the capital city Belmopan, but it is almost a different world with primary and secondary tropical forest all around. The small local Mayan site contains ruins of temples, a small square (called a plazuela), a midden, a banquet hall and some burial sites. What's more, the site is just a few steps away from your comfortable Mayan-style rooms.
This is a perfect birding area: it has dense primary and secondary forests, clearings, creeks and rivers running right through it. This diversity of habitats makes Pook's Hill Nature Reserve ideal for dozens of birds, including many sought-after species such as Spectacled Owl and Agami Heron.
Other possible birds in primary and secondary forests can include Tody Motmot, Royal Flycatcher, Agami Heron, Black-headed Trogon, Black-cowled & Orchard Oriole, Grey-headed Tanager, Black-throated Shrike-Tanager, White-vented Euphonia, Thick-billed Seed-Finch, Green-backed Sparrow, Black-faced Grosbeak, Yellow-tailed Oriole, Chestnut-headed Oropendola, Slaty-breasted Tinamou, Grey-headed Kite, White-tailed Kite, White-tailed Hawk, Crested Eagle, Black-and-White Hawk Eagle, Black Hawk-Eagle, Ornate Hawk-Eagle, Orange-breasted Falcon, Purple Martin, White-breasted Wood-Wren, Nightingale Wren, Band-backed Wren, Spot-breasted Wren, Blue-winged Warbler, Prothonotary Warbler, Worm-eating Warbler, Kentucky Warbler, Mourning Warbler, Ochre-bellied Flycatcher, Sepia-capped Flycatcher, Slate-headed Tody-Flycatcher, Eye-ringed Flatbill, Stub-tailed Spadebill, Ruddy-tailed Flycatcher, Couch's Kingbird, Thrush-like Schiffornis, White-winged Becard, Black-whiskered Vireo, Yucatan Vireo, Tawny-crowned Greenlet, Green Jay, Ruddy Crake, Ruddy Quail-Dove, Brown-hooded Parrot, Striped Cuckoo, Pheasant Cuckoo, Least Pygmy-Owl, Lesser Swallow-tailed Swift, Rufous-breasted Spinetail, Buff-throated Foliage-gleaner, Scaly-throated Leaftosser, Dusky Antbird and Black-faced/Mexican Antthrush and everyone enjoys Keel-billed Toucan, Collared Aracari and Emerald Toucanet. Overnight Pook's Hill Lodge at Tapir Mountain.
Day 12: Thursday 26th November - Travel day from Pook's Hill to Sian Kaan
After a last enjoyable morning around Pook's Hill Lodge we travel back to the Belizean/Mexican border, a 120 mile journey which takes around three hours. We then continue to the north, back towards the Yucatan Peninsula. We enjoy a late lunch in the early afternoon at the beautiful Bacalar Bay at the Caribbean Seaside, where we hope to have close views of hunting Snail Kite and other birds. This will be a picture-postcard scene. Later in the afternoon we travel another 90 minutes north towards the Sian Kaan Reserve.
Our accommodation is on the edge of a local Mayan town, very close to the southern border of the protected area, so we will have easy access. If weather allows we may try for Yucatan Poorwill and Yucatan Nightjar after dinner - our best chance of these nightbirds. Overnight Sian Kaan Biosphere reserve.
Day 13: Friday 27th November - Sian Kaan and flight home
The entrance road to Sian Kaan Reserve offers many Yucatan endemic birds and rarities, plus a wide variety of butterflies. Typical birds here include Wedge-tailed Sabrewing, Canivet's Emerald, Yucatan Woodpecker, Rufous-breasted Spinetail, Mexican Antthrush, Yucatan Flycatcher, Grey-collared Becard, Ridgway's Rough-winged Swallow, Yucatan Jay, White-browed & White-bellied Wren, Black Catbird, Yellow-winged and Rose-throated Tanager and Blue Bunting. we also have chances to see King Vulture, Ocellated Turkey, Singing Quail, Yucatan Bobwhite, Ruddy
Crake, Yucatan Parrot.
Depending on the flight schedule, we travel back to Cancun through Tulum and Playa del Carmen, birding on the way if time permits, finally departing to London in the evening with an overnight flight.
Day 14: Saturday 28 November Arrive back at London Gatwick
Please note: all itineraries are given as a guide only. Actual holiday content may vary according to the judgement of your guide, and elements beyond our control (eg weather).
What's included in your holiday price:
return scheduled flight from London – Cancun - London, airport taxes, transfers from and to airports (where appropriate).
full-board accommodation at hotels and lodges (as detailed), all food
ground transportation, National Park and heritage site entry fees
The Heatherlea Pre-Flight Service offers everything you need at the airport, including hotels, car parking, airport lounges, regional flights, and upgrades. Let Heatherlea take the strain! Pre-flight airport hotel and lounge included subject to terms and conditions. Read more....
Free Field Guide! - 'Birds of Mexico and Central America' by Ber van Perlo is included in your holiday price. One copy per room booked.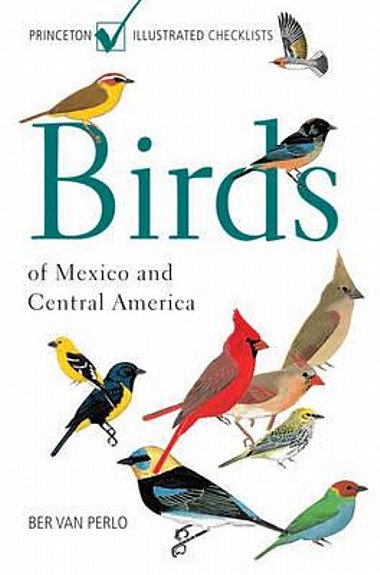 What's not included in your holiday price:
holiday insurance, optional tips to local guides/other staff, drinks, and other personal expenses.
More holiday information:
Daily Routine: As with most tropical locations, we make the best of cooler weather, with pre-breakfast and post-breakfast often providing the best wildlife watching of the day. We tend to stop about midday, taking lunch at one and heading out about three for a few hours. Every day will be slightly different due to travelling times and weather but we all give formal briefings each night for the day ahead and run through our wildlife sightings on a checklist too.
Accommodation: is in comfortable hotels and lodges. All rooms are en-suite. Some lodges are relatively simple, chosen for their views and access to the best onsite wildlife and archaeological sites. Most places have air-conditioning or fans. At Pine Ridge the only electricity is in the lounge, lighting in the room is via gas lamps.
Food: There are many regional specialities throughout the tour and food is simple but tasty. Breakfast is usually fruit, with cooked eggs and the central American staple of rice and beans. Midday meals are lighter and more snack based such as tacos, quesadillas and guacamole. Dinner is an excellent three-course meal. Vegetarians should enjoy the food, though vegans and those with lactose or gluten intolerances may find choice limited.
Water: Bottled water is provided throughout the tour and we carry a supply on the bus at all times. Tap water is generally not drinkable.
Walking: the Yucatan landscape is flat. Belize is more undulating but walking is generally light/moderate. An average level of fitness is required. There are some steps/stairs at some of the ruins.
Weather: will be mostly hot, dry and sunny, though it is sometimes overcast and humid after showers, which can occur anywhere and at anytime, as is typical of the tropics. Temperatures will mostly be between 18C and 31C. In mid-afternoon, temperatures are pleasant and ideal for birding.
Insects: Biting insects are expected at a few sites, and a good insect repellent is recommended. There are also snakes in some sunny dry areas away from the paths, and general caution is advised.
Group size: is restricted to 12 clients maximum.
Flights: are by scheduled airline from London Gatwick. We may be able to offer flights from another airport or quote without flights. If you wish to add an extension either before or after your holiday, please contact us and we will be happy to arrange this for you.
Bird Photography: Opportunities are good in most areas, with excellent light and close, colourful and tame subjects.
Transport: we travel throughout in a large American van or Mercedes Sprinter or equivalent.
Your leaders: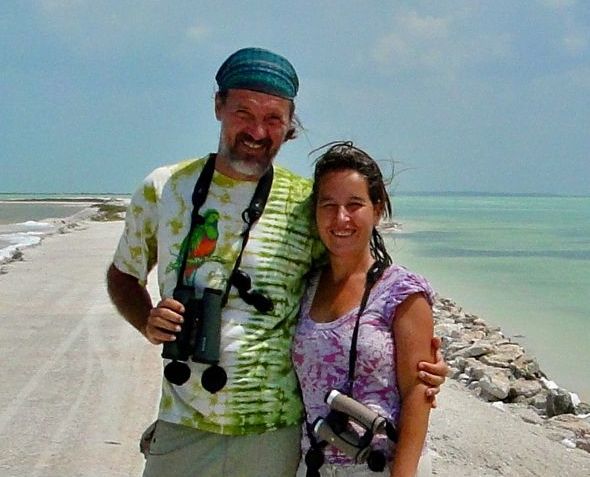 Gabor and Andrea
Our leaders will be Gabor Orban and his wife Andrea, who have lived in this area since 2006. Gabor has guided many birding tours in Mexico and Belize, and Andrea, our cultural guide, has led hundreds of cultural tours throughout the region.
Why choose Heatherlea for your birding and wildlife holiday in the Americas?
Our overseas holidays are planned with care to offer great birding and wildlife, led by capable Leaders who really look after you. Every holiday is run the 'Heatherlea Way', and we hope our Overseas Adventures remind you of the quality and care so many of you enjoy in Scotland. That means rewarding and exciting days in the field, and good quality accommodation and meals, with a real flavour of the country we are visiting. Heatherlea always seek to include the personal touches that make all the difference.
Heatherlea holidays are not 'dawn to dusk' expeditions. Our less-intensive approach is ideal for those who want to relax whilst experiencing the best wildlife watching, and wherever possible we organise early or late activity on an optional basis. We also take sensible breaks when in very hot places and regular comfort breaks on every holiday whenever possible. All itineraries are planned carefully around the best wildlife opportunities, and you won't miss out on memorable wildlife, whilst enjoying relaxed, informal days that are great fun.
The really important part of any wildlife holiday is the experience for you, our valued customer. Heatherlea invest in many things to offer you the best possible service;
We have been organising birding and wildlife holidays for over 30 seasons, and have a highly experienced and capable office team. We also offer a telephone and email service outside normal office hours.
Heatherlea overseas holidays have a maximum of 12 clients per trip, putting the emphasis on personal service, and helping you get the best possible experience.
Our holidays often include things which others might invite you to pay yourself, for instance Departure Taxes and tips to hotels.
All elements of our holidays are sold under our own licence, ATOL 6113. Under 'Flight-Plus' legislation it is a legal requirement of any tour operator to hold an ATOL licence for the supply of any overseas holiday where a flight is involved, if that holiday includes either overseas accommodation and/or car hire. It can be a criminal offence for an operator to book flights as part of a package without an ATOL licence. Heatherlea also hold full Tour Operator Insurance for your added protection.
Heatherlea is your complete wildlife holiday provider. Our 'Back Office' team can organise all your pre-flight and other travel needs. Our specialists will help you book the right services, at the best price. Book holiday extensions through us, and your ATOL protection is extended further. We don't charge extra for this service.
Heatherlea is a limited company, registered in Scotland, and registered to pay VAT (applies to all holidays within the European Union).
Trip Reports
Free Bird Guide

FREE copy of Birds of Mexico with every room booked on this holiday.