NEW!

Cuba including Havana
Fantastic birding plus a night in the unique capital city
Destination
Focus
2024 Dates
Duration
13 Days
Guides
2024 Price

£4295 pp

£195 single supplement.

Deposit £800

pre-flight airport hotel and lounge are inc.

2026 Dates
Duration
13 Days
2026 Price

Price TBC

Max Group Size
6 per guide
More Info

March 2022 - Exact dates and price TBC
Free Bird Guide

FREE copy of Birds of Cuba with every room booked on this holiday.
Isolated from western countries for more than 50 years, Cuba is now available as a delightful and charming birdwatching destination with Heatherlea. Travellers will have an immediate impression that the country is somewhere 'different', and its people, culture and customs blend to create a relaxed and friendly atmosphere.
Cuba is one of the most important and rewarding Caribbean birding destinations. The island is over 1200km long, and with relatively low population density, is largely quiet and unspoilt. Handily placed for north/south American migration, Cuba also contains a fascinating range of breeding birds, many of which are endemic or near-endemic, and each day will offer new birds and exciting possibilities with 285 species occurring regularly. Around half of the c.26 endemics are endangered, and some of these will be memorable highlights of our tour, including miniscule Bee Hummingbird, rare Fernandina's Flicker, and striking Cuban Trogon, which 'displays all the colours of our national flag'!
We visit as the northward movement of overwintering migrants begins, though before it reaches its peak in April, meaning that many North American migrants are still on the island. The handful of migratory summer residents from South America will have arrived, so our holiday takes place at an excellent time for birding.
Our itinerary gives an opportunity to see a wide range of birds at an easy pace, with walking mostly on flat terrain. We travel through a great variety of landscapes visiting all the major habitats, from lush forests to craggy hills and vast wetlands. There are a couple of long drives, on roads which are generally of good quality and very quiet, though we break to go birding and also sometimes for lunch en-route. The holiday is focused upon birding, though incidental opportunities for photography are good, and the cultural aspects are well worth noting as we enjoy ourselves in this lovely country.
Your holiday will be led by Gerard Gorman, an experienced Heatherlea Leader in Cuba. Here jobs are clearly defined, so we will also travel with a local courier and a driver. In most destinations we will also be joined by a local birding guide, who will be closely briefed so we concentrate on the species we haven't yet covered. These experts often make the difference when searching for elusive and rare species, and the best guides are in great demand.
On this itinerary the focus is clearly upon birding, though on this holiday we have organised the last night in Havana, so you can spend some time enjoying this unique city. A brief sightseeing tour is included, though you will also have some free time here. We make space for Havana by staying just three nights (rather than four nights as on other itineraries) in the Zapata area.
Cuba is becoming increasingly popular as the country welcomes western tourists, and should you wish an extension at the end of the holiday so you can spend more time here, we will be happy to arrange this for you.
A few important points about the way Heatherlea 'do' this holiday:
* Cuba is becoming popular these days many birding companies. Heatherlea have successfully organised this trip several times, so we already know our way around a country which can be very 'different'! Experience is important here.
* We have good relationships with our contacts in Cuba, especially local birding guides, who can be essential for some endemic species!
* Don't forget our unique Pre-flight Service, which gives you an overnight airport hotel, VIP Airport Lounge pass, and the field guide to the Birds of Cuba. Not only does this save you money, but also time, as Heatherlea organise everything for you.
Day 1: Thur 21 March 2024
After relaxing in our complimentary Airport Lounge, we fly from London to Havana International Airport, where local tour guide and driver will meet us, and remain with us for the duration of the trip. We transfer to Soroa in the Sierra del Rosario, a short drive west of the city, where we stay overnight.
Days 2 & 3: Fri 22 & Sat 23 March
Birding begins in the vicinity of our hotel, and we will be joined by the first of several local expert guides, all of whom are good quality birders with excellent local knowledge. We will begin to see speciality birds and endemics quite quickly. Cuban Green Woodpecker, Cuban Oriole and Cuban Blackbird are widespread, and we may also find Cuban Pygmy Owl in these early days of the holiday. Birds we might see today from the trails include West Indian Woodpecker, Bare-legged Owl, Cuban Grassquit, and migrants such as Black-throated Warbler and Red-legged Honeycreeper. Other species might include Stripe-headed Tanager, White-eyed Vireo, Zenaida Dove, and perhaps Key West Quail Dove.
Next we travel to La Guira National Park where we expect to be joined by a second local birdwatching expert, who will have staked out some key species. This is an area of steep limestone hills and crags, covered in a lush mixture of semi deciduous and pine forest, and provides an excellent introduction to Cuban birds. In this area Great Lizard Cuckoo, Giant Kingbird, Cuban Solitaire, Olive-capped Warbler, Cape May Warbler, Cuban Tody, West Indian Woodpecker and Cave Swallow can be found, as well as Cuban Trogon, chosen as the national bird. Accommodation at El Mirador, San Diego de los Banos for two nights.
Days 4 - 6: Sun 24 - Tue 26 March
This morning we travel about 5 hours southeast to Playa Larga, near to the Bay of Pigs on the Caribbean coast. This is one of the richest birding areas on the island, and a wide range of important habitats, mostly within the confines of the Cienaga de Zapata National Park, are within easy reach. Mangrove swamp, thick scrubland, salt pans and coasts will be explored over the next four days to look for many of the 200 plus species recorded in this area, including endemic Zapata Wren and Zapata Sparrow, and this is the best place to spot Bee Hummingbird. Numerous other interesting birds include Gundlach's Hawk, Fernandina's Woodpecker, Cuban Green Woodpecker, Greater Antillean Oriole, Cuban Emerald and all four of Cuba's species of stunning Quail Dove. We have an idyllic location on the edge of the Caribbean Sea, in a quiet hotel development which features large, private bungalows with plenty of space. Birding in the hotel grounds can be very rewarding, with Cuban Parrot, Killdeer, Palm Warbler, Brown Pelican and Cuban Green Woodpecker just some of the species found around our accommodation at Playa Larga Hotel, where we stay for three nights. Lunch by the Caribbean at Playa Larga!
Days 7 & 8: Wed 27 & Thur 28 March
Transfer to Camaguey. An early start for the long transfer to the historic city of Camaguey in south-central Cuba. We will be birding along the way, and the following day are joined by another expert local birder at Sierra Najasa, an area of open forests, rocky outcrops and palm groves south of Camaguey. Here we seek two of the rarer endemics, Giant Kingbird and Cuban Palm Crow, plus globally endangered Plain Pigeon, as well as Cuban Parrot, Rose-throated Parrot and Cuban Parakeet. Two nights at Gran Hotel, a splendid relic of colonial architecture.
Days 9 & 10: Fri 29 & Sat 30 March
We transfer to Cayo Coco, a coral island situated off the north coast of Cuba, linked by a long causeway to the mainland. Relatively recently this area was a wilderness, but now the island is slowly becoming developed for tourism with a choice of upmarket all-inclusive resort hotels. It is the variety of habitats that makes Cayo Coco, the causeway and nearby islands so special, for not only will we find long sandy beaches but also jungle, large mudflats and mangrove-fringed ponds. Ponds can be particularly productive, and we may see West Indian Whistling Duck, Blue-winged Teal, Roseate Spoonbill, Caspian and Royal Tern, Laughing Gull, Brown Pelican, Sora Rail and many wader species at close quarters if we connect with concentrations of birds. The following day we go out with an expert local guide to look for the many species to be found on the island, and should also see Oriente Warbler, Cuban Gnatcatcher and many water birds including Red-breasted Merganser, Roseate Spoonbill and large flocks of Greater Flamingos. Many migratory birds are attracted to this area and specialities only found here in Cuba include Mangrove Cuckoo, Thick-billed Vireo and Bahama Mockingbird. Two nights at Tryp Cayo Coco Hotel, an excellent and welcome venue at the end of our holiday.
Day 11: Sun 31 March
After breakfast we make our way back to Havana, by a leisurely road transfer. We should arrive at our Hotel in this most idiosyncratic of cities by late afternoon.
Day 12: Mon 1 April
After breakfast we take a sightseeing trip around the capital with our Courier, after which you have some free time in the city. You might like to enjoy the architecture and 'local colour' of the streets, promenade along the seafront where you can do some birding, or shop in the markets and squares. Cigars and Rum are popular purchases! Lunch is at your leisure, before our transfer to the airport for our evening flight back to the UK.
Day 13: Tue 2 April
Arrive back in the UK
Please note: all itineraries are given as a guide only. Actual holiday content may vary according to the judgement of your guide, and elements beyond our control (eg weather).
What's included in your holiday price:
return scheduled flight from London – Havana - London, airport taxes, transfers from and to airports (where appropriate).
Tourist Card. A tourist card is compulsory for entry to Cuba. Heatherlea make the arrangements for you, and the cost is included in your holiday price.
Departure Tax. Paid in local currency (CUC25pp), this tax is compulsory. Heatherlea organise this for you, and the cost is included in your holiday price.
full-board accommodation at hotels and lodges (with the exception of lunch on the final day), picnic lunches
ground transportation, National Park entry fees
incidental tips including mealtimes, and the services of your leaders.
The Heatherlea Pre-Flight Service offers everything you need at the airport, including hotels, car parking, airport lounges, regional flights, and upgrades. Let Heatherlea take the strain! Pre-flight airport hotel and lounge included subject to terms and conditions. Read more....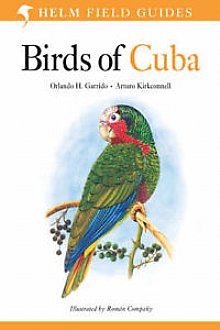 FREE! 'Birds of Cuba' by Orlando Garrido and Arturo Kirkconnell, Helm is included in your holiday price.
What's not included in your holiday price:
holiday insurance
optional tips to local guides/other staff
drinks with meals
lunch on the final day
other personal expenses.
More holiday information:
Accommodation is in comfortable hotels and lodges. All accommodation is en-suite. Please note that accommodation is allocated by ground agents and may vary from stated hotels.
Food: many regional specialities exist in Cuba. Caribbean and Spanish dishes have been blended into a cuisine which prominently features fish and fruit. Three courses are typical. Cuban rum is famous, and cocktails are expertly mixed and relatively inexpensive!
Walking: is generally light/moderate. An average level of fitness is required.
Weather: will be mostly hot, dry and sunny, though it is sometimes overcast, and humid after showers. Temperatures will be between 15C and 25C. In mid-afternoon, temperatures are pleasant and ideal for birding.
Insects: Chiggers, mosquitoes, and ticks can be a problem in some areas. A good insect repellent is recommended, though some areas are pest-free.
Group size: is restricted to 12 clients maximum.
Flights: are by scheduled airline from London Gatwick with Virgin Atlantic. We may be able to offer flight arrangements from another airport and/or or quote without flights so you can make your own arrangements.
Bird Photography: Opportunities are good.
Your leaders
Gerard Gorman: An experienced leader, and recognised author of many titles about birds of Eastern Europe, we are delighted to have Gerard leading our holiday in Cuba once again.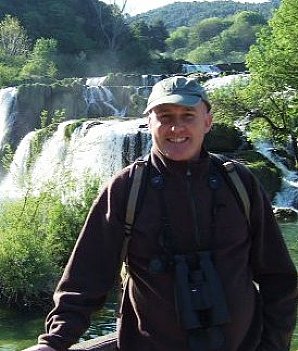 Local guides: we will be accompanied throughout by a courier and a driver, and in most locations will also have the services of an expert local birding guide. The ratio of 'guides' to 'clients' will be very favourable!
Why choose Heatherlea for your birding and wildlife holiday in the Americas?
Our overseas holidays are planned with care to offer great birding and wildlife, led by capable Leaders who really look after you. Every holiday is run the 'Heatherlea Way', and we hope our Overseas Adventures remind you of the quality and care so many of you enjoy in Scotland. That means rewarding and exciting days in the field, and good quality accommodation and meals, with a real flavour of the country we are visiting. Heatherlea always seek to include the personal touches that make all the difference.
Heatherlea holidays are not 'dawn to dusk' expeditions. Our less-intensive approach is ideal for those who want to relax whilst experiencing the best wildlife watching, and wherever possible we organise early or late activity on an optional basis. We also take sensible breaks when in very hot places and regular comfort breaks on every holiday whenever possible. All itineraries are planned carefully around the best wildlife opportunities, and you won't miss out on memorable wildlife, whilst enjoying relaxed, informal days that are great fun.
The really important part of any wildlife holiday is the experience for you, our valued customer. Heatherlea invest in many things to offer you the best possible service;
We have been organising birding and wildlife holidays for over 30 seasons, and have a highly experienced and capable office team. We also offer a telephone and email service outside normal office hours.
Heatherlea overseas holidays have a maximum of 12 clients per trip, putting the emphasis on personal service, and helping you get the best possible experience.
Our holidays often include things which others might invite you to pay yourself, for instance Departure Taxes and tips to hotels.
All elements of our holidays are sold under our own licence, ATOL 6113. Under 'Flight-Plus' legislation it is a legal requirement of any tour operator to hold an ATOL licence for the supply of any overseas holiday where a flight is involved, if that holiday includes either overseas accommodation and/or car hire. It can be a criminal offence for an operator to book flights as part of a package without an ATOL licence. Heatherlea also hold full Tour Operator Insurance for your added protection.
Heatherlea is your complete wildlife holiday provider. Our 'Back Office' team can organise all your pre-flight and other travel needs. Our specialists will help you book the right services, at the best price. Book holiday extensions through us, and your ATOL protection is extended further. We don't charge extra for this service.
Heatherlea is a limited company, registered in Scotland, and registered to pay VAT (applies to all holidays within the European Union).
Trip Reports
Free Bird Guide

FREE copy of Birds of Cuba with every room booked on this holiday.