Guide's Diary Autumn 2022
A wonderful birding autumn with Heatherlea!
As the birding world continues to return to normal service, Heatherlea are busier than ever, both at home and abroad. A kaleidoscope of fantastic birding and brilliant adventures were the theme! Book your 2023 Autumn tour with Heatherlea now!
UK update by Mark Warren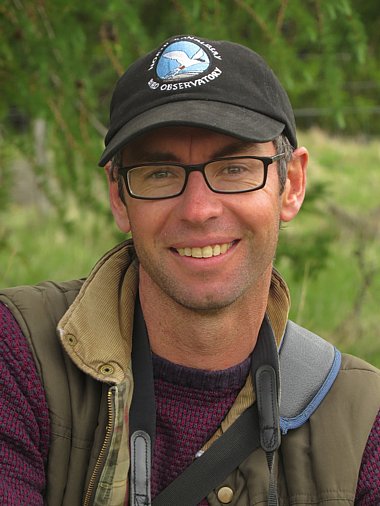 For birdwatchers across the UK, autumn can be an exciting time and especially so here in the Highlands and Islands of Scotland. With three coasts to choose from, plus hills and the Cairngorm mountains birding is extremely varied, and often we are spoilt for choice! With holidays on the Shetlands, Orkneys and Outer Hebrides as well as here at our HQ in Nethy Bridge there is a great variety to choose from, and keen birders and those with a more general interest will be spoilt for choice.
In truth, migration in Scotland actually begins in late July as post-breeding flocks of wildfowl, waders, gulls and terns begin to build. Among commoner waders, Black-tailed Godwit, Ruff and Greenshank were all especially numerous, while the first rarity of the second half of the year was a Sabine's Gull found by Mike and the 'Orkneys in High Summer' group in mid-July. Hot on the heels on a jaunt down to the Angus/Perthshire coast came drake Surf Scoter, Ruddy Shelduck and Great White Egret in just two hours, not to mention superb mammal experiences with Pine Marten and Beaver. Closer to home, local Crested Tit and Crossbills of various (dis)guises appear to have enjoyed good breeding seasons, while the local Black-throated Diver pair have offered delightful views with their two young. Sadly, the eagles have fared less well after cool weather in early spring, but on a positive note Hen Harrier and Short-eared Owl have both done well in Orkney and the Hebrides respectively.
By August, it was seabirds to the fore, the unprecedented numbers of Sooty Shearwater the main talking point. Our early-autumn tour of North Ronaldsay got lucky when some 500 passed in just a few hours, a tally you wouldn't imagine beatable until our Easy Walking tour logged a conservative 700 crossing the Minch. A Great Shearwater among them was a super bonus, while the Minch has proved a real hotspot for cetaceans with some exceptional Minke Whale sightings, with Orca, Fin and Humpback Whale also recorded. An unseasonal adult Woodchat Shrike was found out in the wilds by Holly and her bespoke American group, arguably bird of the month and just goes to show what might be out there! Much more familiar (to our American friends at least) was the Pectoral Sandpiper she found on the Moray Coast two days later – talk about a lucky streak! North Ronaldsay was clearly the place to be later in August, easterly winds bringing a nice selection of scarcities to the island. Mike and his early-autumn group again profited scoring sightings of Wryneck, Red-backed Shrike, Wood Warbler, American Golden Plover and Little Ringed Plover, the latter the rarest of the lot in the Orkney archipelago!
The spell of easterly winds continued into September, Mark and our Autumn Migration group really hitting the jackpot with migrants and rarities seen on both the east and west coasts. Featuring were a stunning female Brown Shrike, no fewer than three Red-backed Shrike, Melodious Warbler, Common Rosefinch plus Redstart, Pied Flycatcher, and common warblers in good numbers. Birds were everywhere, while out west the Minch delivered again with eight Great Shearwater on the crossings. With such a roll call, many clients are already rebooking for 2023! On the home front Pink-footed Geese have started to arrive with large skeins flying high overhead most mornings. Some have even been seen overhead as we watched Ptarmigan in the mountains. Nearctic waders often feature this month, and we scored on two consecutive days. Firstly, Jenna and the Outer Limits group finding a juvenile Buff-breasted Sandpiper on Lewis, followed by Chris and the North Ronaldsay group with a lovely Long-billed Dowitcher. Other successes from this North Ron trip included Nightjar and more brilliant seawatching, with more Great Shearwater seen.
Being based in Shetland for two weeks at the end of September has its advantages, Holly's first group enjoying Citrine Wagtail, Wryneck, Barred, Yellow-browed, Wood and Western Bonelli's Warbler to name but a few. More details in our next roundup!
After such a good early autumn, the latter half of September and October would have to be pretty special to keep up… and it certainly was, weather system after weather system from both east and west producing top quality birding all over Scotland, while some of our English tours profited in style too!
We finished our tours in Shetland, and with birding as far north as you can go in the UK, our second, late-September tour led by Mark and Holly enjoyed at least one rarity daily. Top billing went to a late afternoon Swainson's Thrush, although the rarest bird (and Heatherlea's entire autumn) may actually have been a Homeyer's Great Grey Shrike, a likely first for Britain identified retrospectively. With a supporting cast including King Eider, Surf Scoter, Wryneck, Woodchat and Red-backed Shrike, Blyth's Reed, Barred and Yellow-browed Warbler, Hornemann's Arctic Redpoll and Common Rosefinch, this was a wonderfdul tour, and Shetland will always be a favourite for Heatherlea clients. Also in September, Lewis and Harris really came up trumps for our Outer Limits group, guides Chris and Dave barely believing their own eyes when a superb white-morph Gyr flew over their heads and perched on a hillside! An epic raptor for sure, and with Leach's Petrel, masses of Sooty Shearwaters and the world's second largest mammal – a Fin Whale also featuring, there were plenty of 'write-ins´ on the weekly checklist!
Still in the west, a massive wildfowl passage took place during our Autumn trip for birders to the Outer Hebrides, Ian's group enjoying large numbers of Whooper Swan and Barnacle Geese in particular. A Ring-necked Duck was a nice rarity from the west, with point blank views of Grey Phalarope, Lapland Bunting and one of the only Long-tailed Skuas of the autumn too. A few weeks later in the Inner Hebrides it was thrushes at the fore, and Ian was again on fine form discovering Jura's first Goshawk for ten years as it mobbed a Golden Eagle on our October Islay & Jura tour. In Mainland Scotland our local tours operating out of the Mountview Hotel were as busy as ever, our two Highland & Skye groups seeing the return of winter visitors including Slavonian Grebe, Scaup, Long-tailed Duck and Velvet Scoter on the Moray coast. Skye as ever produced fine views of both eagles and otters, a Mediterranean Gull was unexpected and it was nice to see Ptarmigan in the west coast hills again. The Highland Black Grouse leks have been well attended throughout and the rollcall from visits to Aberdeenshire on our Highland Autumn Birding tours included Pectoral Sandpiper, Temminck's and Little Stint, Great White Egret, Marsh Harrier and Smew, the latter discovered by Jenna and her group.
Some of Heatherlea's newest tours are in England, and this autumn every one of our groups struck lucky with some star birds. Our Cornwall group was another to see a Long-billed Dowitcher (after one in Orkney in September) with Grey Phalarope, Woodchat Shrike and Cattle Egret also featuring. For many, including guide Toby it was the close Balearic Shearwaters on our boat trip, a species rarely seen in Scotland which was the highlight. Joined by Barry on the Isles of Scilly the following week, our group really hit the jackpot on the island of Bryher when news broke of a Blackburnian Warbler, and it was only five minutes away! An absolute stunner, without doubt the finest looking bird of the entire autumn, meaning a dozen very happy clients (and two guides), maybe Toby and Barry should buy a lottery ticket! Aside from this uber rarity, the beautiful archipelago produced plenty of other fine birds including Swainson's Thrush (our second of the autumn), Wilson's Snipe, Radde's Warbler, Wryneck, Common Rosefinch and Cory's and Great Shearwaters aplenty on a pelagic trip. Meanwhile in Lancashire, Turtle Dove is a species we are rarely lucky to see these days and a Lesser Yellowlegs and Long-billed Dowitcher brought a Nearctic feel to the tour, the latter a great find by Holly and our group. What a wonderful autumn!
Where will YOU go birding in 2023?
Overseas update by Holly Page
Mainland Ecuador 12 Sept – 24 Sept 2022
Pete Cosgrove led a group to Ecuador in early autumn and saw an incredible 393 bird species, with at least another six potential splits based on east and west slope differences where we saw both forms/species. A straw poll at the airport on the way home resulted in the selection of 25 different highlights and is testament to the huge variety of ornithological trip highlights. Of these, top were: San Isidro Owl, the Antpitta bonanza (see the trip report!), Cock of the Rock lek, displaying Blackish Rails, Paradise Tanager and Umbrellabird.
In the last hour of the trip the group had an experience which was described as 'like scoring a goal in the last minute of the cup final'! On the way back into Quito our driver drove slowly over a mountain road and then suddenly saw something that made him stop the minibus - just above us on a slope was a Spectacled Bear! The immature (but independent) bear was feeding on spiky succulent bromeliads. The excitement of the group and general sense of euphoria soon drew a crowd of over 100 people as numerous cars, buses and trucks stopped to see what the fuss was about. For many locals this was the first time they had ever seen a live, wild bear and they too were excited and delighted to use our telescope!
Galapagos Islands 25 Sept - 3 Oct 2022
Pete continued his adventure in South America on the Galapagos, with 64 species of bird and a few potential island splits for armchair ticks in the future. Highlights included Darwin's Flycatcher, Waved Albatross, Darwin's finches, Flightless Cormorant, Galapagos Penguin and Giant Tortoises. The experience of the trip was undoubtedly our special time on the unspoilt island of Espanola. And the comic moment of the trip was provided by Sealions participating in the half triathlon. Read the full trip report.
Peru: Birding and Machu Picchu 15 Oct – 29 Oct 2022
Our next trip to South America during this autumn took us to Peru. As in previous years the endemics, mixed species flocks, colourful tanagers and excellent cuisine were the highlights.
The trip got off to a great start with incredible looking Inca Tern with its Poirot-esque moustache and Humboldt Penguins on our first day! Endemic species seen included Coastal Miner, Rusty-fronted Canastero, Creamy-crested Spinetail, Eastern Bearded Mountaineer, Urubamba Antpitta and Peruvian Piedtail.
Of course Machu Picchu and the amazing Inca Culture of Cusco added to the rich tapestry of the Peruvian experience. Read the full trip report
Costa Rica 'Classic Plus' 29 Oct - 16 Nov and 5 Nov - 23 Nov 2022
Our unique 'Classic Plus' tours are always popular, as they offer a few extra days which are always well spent! Both tours this autumn were incredibly successful with dozens of iconic neotropic species being seen very well. Group highlights included great views of Resplendent Quetzal, both Scarlet and Great Green Macaws plus many different hummingbird species. On the animal front, leaping Kinkajous and gauntlet-running Green Turtle hatchlings stole the show. Great local guides and excellent accommodation and food contributed as always to these unforgettable holidays! Read the full trip report
New Zealand 7 Nov – 28 Nov 2022
Led by Mark Warren, this was our first foray to the remote, mountainous group of islands of New Zealand. Covering birdlife of both South and North Island the trip included many memorable moments, as the group managed to see the majority of the country's endemics including New Zealand Bellbird, Kaka, Kea, Rifleman and three species of Kiwi. Mammals included Sperm, Fin and Bryde's Whales, plus Common Bottlenose, Short-beaked Common and Dusky Dolphins. The experiences on Stewart and Kapiti Islands were incredibly popular with the group. Our next New Zealand tour is scheduled for October 2024. Contact our office to register your interest.
Kenya Ultimate Birding Tour 27 Nov – 11 Dec 2022
Our last overseas tour of the year was led by Ian Ford with a massive 438 species of bird seen plus four heard only. Some of the highlights of the tour included a variety of birds especially the displaying Widowbirds, Verreaux's Eagle Owl, Crowned Eagle, Pygmy Falcon and stunning beauties such as Three-banded Courser, Cinnamon-chested Bee-eater and Golden-breasted Starling. The incredible red underwings of the Black-billed Turaco overhead were unforgettable. A wide range of mammals were seen too with a bull Elephant in the dark, an Elephant herd at the mud pool, three races of Giraffe, Hippos, Hyenas and 'active' Lions being the most popular. The boat trips were universally popular for the richness of water and land birds, and favourite places included The Ark, Samburu and birding in the Kakamega Forest. Many clients commented on the positive image we had of Kenya from all the villages full of locally grown food, and all the friendly Kenyan people we met, as well as the rich variety of landscapes in this beautiful country. This was enhanced by the passion of local guides working hard within their communities, together with all the information about their country and its incredible wildlife. Read the full trip report. Read full trip report.