Go GREEN with Heatherlea!
UPDATE March 2018
HEATHERLEA 'HELPING TO TURN THE PLASTIC TIDE'
We are determined to play our part in reducing plastic waste both at home and overseas.
At Mountview Hotel in Nethy Bridge;
our meals and picnics are free from disposable plastic. We don't use plastic spoons, forks, single use drinks bottles, plates or yoghurt cartons. All utensils are reusable.
our organic kitchen garden, now in its 19th season, means negligible food miles to your plate. We grow a large amount of our produce right here in the hotel garden in the most sustainable manner. See below!
Around the Scottish islands and in England;
all our partner hotels are being asked to signup to the same policy, and not to give us small plastic bottles, single-use plastic sandwich boxes, or plastic utensils. Here are a few of the responses received so far!
'A fair coincidence to receive your email just as we were talking as a team about taking steps to reduce the amount of plastic we use! We have already switched out things like plastic straws for paper ones and plastic water bottles for glass. We will also be switching out our plastic wrapped toiletries for more eco-friendly alternatives. Plastic waste is a very important issue, particularly on an island like ours; the amount of plastic that washes up on our beaches is terrible. We are really excited to do our bit for the environment in helping reduce waste and are encouraged by seeing companies like yourselves taking great initiatives also.
Elsie, Unexplored Orkney
'This is excellent! I am so glad you are taking a stance on this important issue especially here in Scilly where recycling has been sorely lacking compared to the rest of the UK. We now use bio degradable & non plastic items for the packed lunches. We have banned all flavoured yogurts in favour of natural yogurt at breakfast. In addition we don't use portioned jams or butters at all and refill sauce bottles. The same applies to rooms, we have re fillable shampoo and liquid soaps, all Paraben & micro plastic free.
I do a bit of beach cleaning every morning on my way to work to help in that regard and make sure no cigarette butts get left anywhere where birds can find them!
If there is anything else you can think of that we could do better, please do let me know and we will be very happy to help fight the war on plastics! '
Carol, Isles of Scilly.

'Yes we agree, we have passed the details on to our head Chef.'
Geraldine, Orkney
'We share your aspiration to reduce waste, especially plastics, and will endeavour to follow the measures below'.
Alison, North Ronaldsay
Around the world;
our new reusable water bottles are available so we can avoid using small single-use plastic bottles. Available for £7.95 each from Heatherlea, + £2 p&p.
partner hotels are being asked to supply water in large containers so it can be decanted into reusable bottles.
more policies to encourage wildlife tourism in overseas countries coming soon, including our new idea 'Complementary Tips' - ask our office for more detail!
We are genuinely passionate about Scotland, the wider world, and the need to protect our environment. By choosing Heatherlea for your birding holiday, you help us make a contribution.
Our Environmental Policy at Mountview Hotel, Nethy Bridge
At Heatherlea we are committed to reducing our impact on the environment. We aim to ensure that the business is minimising the harmful effects and maximising the beneficial influences our activities have.
Our measures include:
Promote responsibility for the environment within the organisation and communicate and implement this policy at all levels within the workforce;
Minimise waste by reduction, re-use and recycling methods;
Conserve energy, water and other resources where possible;
Make sure reasonable steps are taken to prevent incidences of pollution;
Comply with all relevant environmental legislation, regulation and other requirements;
All printed material including Brochures and Mini-Brochures are certificated as recyclable;
Identify and provide appropriate training advice and information for staff and encourage them to develop new ideas and initiatives;
Make sure appropriate resources are provided to meet the commitments of this policy;
Promote and encourage involvement in local environmental initiatives/schemes.
To contribute financially to projects local to the areas that we visit (ie. schools, etc.)
To run our office in as energy-efficient a manner as possible.
To purchase, where possible, local produce.
Avoid single-portion plastic pots of jam, butter etc where possible.
It is our aim to encourage and develop a passion for wildlife and wild places amongst our customers (many of whom are novices, trying this form of holiday for the first time), and the conservation of them.
HEATHERLEA Recycling Point
Our recycling point, located at the side of the building, helps reduce our waste to a minimum. All collected waste is delivered to Granish Recycling Centre near Aviemore where the recycling process takes place within a sorting building. Please help us by using the point to recycle where possible. You can put the following in our green recycling bin:
Paper/Card/Newspapers/Plastic/Cans/Tins/Textiles
The HEATHERLEA Kitchen Garden
As soon as we moved to the Mountview Hotel in 1998, Caryl began growing our own produce. Over the years we have grown a vast amount of food, and during your stay you can expect to sample some of these from our garden;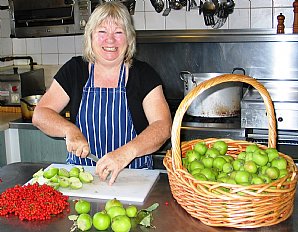 Mange-tout peas, sugar snap peas, tomatoes, swiss chard, courgettes, garlic, pak choi cabbage, broccoli, curly kale, lovage, tarragon, thyme, fennel, landcress, rocket, sage, lemon balm, ginger mint, applemint, spearmint, cos, freckles, lollo rosso, green salad bowl and red salad bowl lettuces.
Caryl is an accomplished jam maker, and you might sample strawberry, damson, worcesterberry, rowan jelly, apple jelly, marmalade, and lemon curd.
From the local forests we gather bilberries, and local mushrooms include chanterelle, porcini, and blewits.
Our composting bin is well established, and takes our vegetable and fruit waste (also egg shells, tea bags etc).
Not only does this help reduce food miles, our salads and vegetables taste great and keep you healthy too!
We also support local food suppliers, reducing food miles and supporting eco-friendly businesses.
……………………………………………………………………………………………………………………………………
HEATHERLEA BURSARY
The Heatherlea Bursary in Biological Sciences at Lancaster University is in its twelfth year in 2018. This means that a deserving student chosen by the University will receive financial aid from Heatherlea. This year's student is employed by English Natural Heritage, and is also a keen birder!
We are of course very pleased to make this small contribution to the cause of Environmental Science.