Covid 19 Update
GOING FORWARD WITH HEATHERLEA - updated 24 March 2021
we are currently planning ro re-open in Scotland from 26 April. Please pay balances when they become due for all holidays, your money is protected and we hope to operate all advertised tours! Read more details of how we plan to operate here.
Thanks to everyone for your wonderful support throughout the year. Here are a couple of comments from clients;
Dear Kevin, Thanks for your email and very kind offer, I will do as you suggest and wait until nearer the time. I believe the balance for the trip is due at the end of this month so I'm happy now to go ahead and pay this, knowing that I will have the option to transfer. It would be good to have a chat again in a few weeks time. Thanks very much again for your help and consideration on this. Kind regards, Ms PH
Thanks for getting back to us so quickly. What we are going to do is set up the 5 year planner and just put our names down for everything as the Christmas season present to ourselves! Our best wishes to everyone at Heatherlea. We'll get through this and get back to some great birding. Love you all 🎅
Mr and Mrs NP
Thanks to Heatherlea for transferring our booking to next year. We are very conscious that this will have been a difficult year for all of you but you have given an outstanding level of service throughout. We consider it a great privelege to have enjoyed two holidays (Norfolk and Outer Hebs) with you both of which surpassed our expectations. We'd like to express particular thanks to Ian, Mark and Toby for the successful trips and to Emma for the way she dealt with the difficult "Hogmanay" call. We're already looking forward, with crossed fingers, to next years trips. Happy Solstice from Glastonbury!
Mr and Mrs IH
....................
Looking further forward, see our Brochures for 2021/22, you can read them on our homepage. Here you can plan ahead without obligation on tours around the world through till 2025. If you want to register your selection via our Holiday Planner, we will keep you updated as tours fill and details are confirmed.
May we wish you a safe and happy spring, we look forward to welcoming you somewhere around the world as soon as possible!
Kevin, Caryl, Emma, Caroline, Lindsay, Jolene, Fleur and all the Heatherlea Team
............
updated 31 October 2020
Should any tour be cancelled by us for any reason, you are entitled to a full refund or transfer to another departure. Should you be unable to attend any tour because of your local restrictions, we will be both sympathetic and flexible, and seek to transfer your booking to another, later holiday. There will be no admin charge for this service.
We know how vital it is for all our guests and staff to feel safe, and in response to Covid19, we have established new practices and procedures to modernise for the 'new normal', and to make sure we deliver high standards of service at all times. In doing this, we are guided by advice from the Scottish and UK Governments, as well as from Wild Scotland (the trade association for activity and nature-based operators in Scotland). This is of course a vitally important development to the Heatherlea service.
Welcome back to Scotland's wide-open spaces! - August 2020
We are pleased to confirm Mountview Hotel has earned the accreditation 'We're Good to Go', and our home in beautiful Nethy Bridge is open. As many of you know, our Hotel is small and very private; with three large public rooms, and extensive covid precautions in place, we will keep the building secure for our clients and staff. This means our Restaurant/Bar is closed to non-birding clients until further notice. We are effectively operating as an exclusive Birding Holiday Centre, restricted for the exclusive use of our birding clients, yet with all the comforts of a small, licenced Hotel. We are also in arrangement with partner hotels throughout the region to extend covid precautions wherever you travel with us.
In Scotland, Heatherlea have a wealth of holiday choice in 2021 both here at Mountview and around the Highlands and Islands, please contact us for up-to-the-minute status of all departures. Until further notice, our minibuses will carry a maximum of five passengers each, with everyone guaranteed a free seat next to them. Please see our 'Short Break' and 'Birders Blast' pages for 'welcome back' special prices! If you are booked on a tour here in Scotland, please continue as normal unless we contact you, by making your balance payment when due, and rest assured if we need to cancel, then your money will be protected 100% by either re-allocation or refund. Should you be unable to attend a UK holiday which has not been cancelled by Heatherlea, our normal terms and conditions apply, though as above we will be both sympathetic and flexible, and try to reallocate your booking if we can.
Here is some recent feedback from our clients;
Ms AB, Short Break, Aug 2020
'Thank you so much for a most enjoyable Short Break. The organisation and thought put into making this trip safe both in the hotel and while out birding was exceptional. Sanitiser always available, socially distanced dining and small group size all contributed to our being able to relax and enjoy ourselves. I thoroughly recommend joining Heatherlea for a trip to remember in this time of the "new normal". Sincere thanks to Mark for his guiding, Emma and Fleur for answering all our questions, housekeeping for looking after us and for all the lovely food. You have an exceptional team Kevin. See you in May 2021, best wishes and virtual hugs!'.
Ms JS, Outer Limits Adventure, Sept 2020;
'Good morning Kevin and all at Heatherlea. Following the trip last week, I would just like to thank to you all (and especially the guides, Ian and Holly) for a successful and enjoyable trip. Given the very varied weather over the week, the guides were flexible and used their local knowledge to ensure the opportunity to maximise the birds seen. I would also like to add that I was very impressed and comfortable with the arrangements that you all put in place at Mountview and in the field, in response to Covid-19 restrictions and how this was explained before and during the holiday. I look forward to seeing you again in the future. Regards and best wishes'
......................................
As part of our re-opening preparations, we were delighted to welcome Edward Mountain, Member of the Scottish Parliament, to Mountview Hotel on Friday 14th August. Mr Mountain took a great interest in Heatherlea, and said:
'I'm delighted to see Heatherlea and Mountview Hotel resume operations in a covid-responsible manner, and to meet so many of their friendly and capable team today. Whether it is wildlife watching or exploring the great outdoors, our region is ensuring safe tourism can happen so that visitors can return with peace of mind. I am passionate about supporting the recovery of our tourism sector in the Highlands and I will continue to press the Scottish Government to address the challenges Highland tourism businesses face.'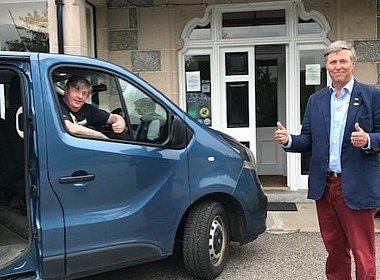 Heatherlea fully intend to forge into the future stronger than ever. Our current motto is 'thrive, not survive'!
We look forward to taking you birding again!