Covid 19 Update - January 2022
Welcome back to Scotland's wide-open spaces!
We are now fully open in Scotland and the rest of the UK, and planning to reopen soon in the rest of the world. If you are booked, please pay balances for all holidays when they become due, your money is protected and we expect to operate all advertised tours!
Should any tour be cancelled by us for any reason, you are entitled to a full refund or transfer to another departure. Should you be unable to attend any UK tour because of your local restrictions, we will be both sympathetic and flexible, and seek to transfer your booking to another, later holiday. There will be no admin charge for this service.
For our overseas tours, we are in regular contact with our many friends and agents worldwide, and while some countries are coping surprisingly well, it will unfortunately be some time before international birding tours return to normality. We want to put our customers first, and minimise the number of holidays that need to rearranged or refunded due to cancellation. Heatherlea have therefore decided not to offer any overseas holidays before March 2022 at the earliest. Please see our Latest News page for further information.
Heatherlea Covid 19 Policy
We know how vital it is for all our guests and staff to feel safe whilst with Heatherlea. In response to Covid19, we have revisited our practices and procedures to make sure we deliver high standards of service at all times. At Mountview Hotel we have earned the accreditation that 'We're Good to Go' and ready to welcome guests.
This is what you can expect on your Heatherlea holiday in the UK: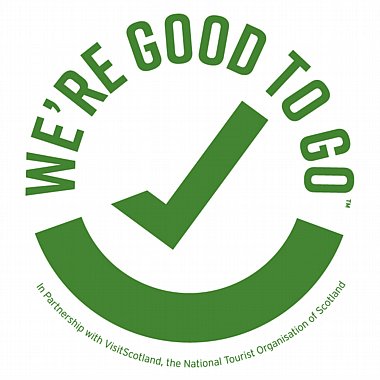 Before your arrival at Mountview Hotel in Scotland:
You will receive a copy of our Covid19 Policy and procedures so that you are fully informed and can see the measures we are taking. We will require you to confirm that you are symptom free and have not come into contact with anyone testing positive for Covid -19 and have not been contacted by Test & Trace, within 14 days before arrival date.

In line with Scottish government advice, we are advising that guests take a lateral flow test prior to your trip but this is not a legal requirement and you will still be allowed to travel on this holiday if you choose not to take the test. Further advice can be found on the Scottish Government website. If you are travelling from England and wish to take a test, please click here for more info.

We have developed appropriate Risk Assessments for all parts of the Heatherlea and Mountview Hotel operation. This has enabled us to make sure staff are fully trained and up to date on new practices. PPE is available for all staff.

Your room will be deep cleaned and sanitised to a high standard.
On arrival:
We will again require you to confirm you are symptom free and have not come into contact with anyone with Covid19 within the past 14 days.
Housekeeping standards at the Mountview have never been higher with emphasis being placed on high risk areas for extra cleaning and attention. During your stay,Oguest rooms will not be serviced, to reduce risk of transmission. Guests can request a change of towels at any time.
Room keys will be sanitised and left in your room door prior to arrival.
During your stay:
Hand Sanitiser is provided in all guest bedrooms and in public areas of the hotel. We request that you also bring your own supply for personal use.
Dining space in our hotel has been adapted to maintain social distancing whilst allowing guests to enjoy their dining experience. There will still be ample opportunity for a review of the day and birdlist.
Our hotel and restaurant remains closed to non-residents with the exception of Heatherlea birding clients. This maximises your safety within a 'Heatherlea Bubble'.
In the field:
Our minibuses take a maximum of seven clients per vehicle. We request that face coverings be worn whilst inside the minibus.
Our minibuses will be thoroughly cleaned and sanitised at the end of each day.
As always, lunch will be enjoyed in the outdoors, and you will be given a personally labelled lunch box and cup to use. Hand sanitiser will be available in the minibuses at all times and we ask you to bring your own too.
When your Heatherlea holiday involves staying overnight away from the Mountview Hotel, we'll provide you with full details of measures our partners are taking with respect to Covid19.
For the safety of other guests, staff and our local community, we politely request that all guests follow current Scottish Government Covid19 guidelines at all times.
Thank you!
(Please be aware this policy is subject to change and update without notice).