Spain - From Pyrenees to Ebro Delta
A tremendous birding tour from mountain top to the marshes of the Ebro Delta. Expect around 170 species including many of the most sought after Iberian specialities
Prices:
£2295 PP, £200 single supplement. Deposit £300
Dates:
11 Jun - 21 Jun 2019
More Info

Heatherlea Guide: Cristian Jensen, plus another from our team with more than 7 clients.
Max group size 12 clients.
Departures from London Gatwick - other regional departures may be available, please contact us for further details.
Pre-flight airport hotel and lounge are INCLUDED.

This unique and exciting holiday includes much of Spain's best birding as we combine the high Pyrenees with the steppes of central Spain and the lowlands of the Ebro delta. This allows us to target a much wider range of specialities than most other Spanish birding holidays. Key birds in the Pyrenees are Wallcreeper, Lammergeier, Golden Eagle, both Choughs, Citril Finch, Black Woodpecker, Alpine Accentor, Bonelli's Eagle and much more. In the steppes we seek Great and Little Bustard, both Pin-tailed and Black-bellied Sandgrouse, the elusive Dupont's Lark, Lesser Kestrel, Roller, Bee-eater, Little Owl, Great Spotted Cuckoo, Calandra Lark and Hoopoe amongst many others. The Ebro Delta will be teeming with birds, including Greater Flamingo, Glossy Ibis, Little Bittern, Audouin's Gull, Collared Pratincole and many waders, herons and shorebirds with great views of breeding colonies. With all the special birds from the magnificent scenery of the high mountain tops to the flatlands of the delta, this holiday is a great exploration of Spanish birdlife at a relaxed pace.



This is a 'four centre' holiday, as we begin in Aragon then tour the best birding areas of the Pyrenees, steppes and wetlands before flying home from Barcelona. Our first night is spent at Loporzano near Huesca, then we travel north to relax for three nights high in the mountains north of Hecho. Next we move south to the vast plains of Monegros for our steppes experience. After three nights here, we head for the Ebro delta for a further three nights close to the Mediterranean. A grand tour of the south-east corner of Spain, full of birdlife, rich scenery and a wide variety of beautiful habitats, this relaxed holiday is a real treat!
Outline Itinerary
Enjoy your complimentary pre-flight overnight hotel before your holiday begins. Full details from our office.
Day 1: Tue 11 Jun Arrival and transfer to Loporzano
After a relaxing introduction to the holiday in our VIP Airport Lounge, we fly from London Gatwick to Barcelona, then drive directly to our hotel, with birding around the nearby Guara Mountains if time allows. Dinner and overnight in the village of Loporzano.
Day 2: Wed 12 Jun Local Birding and the Hecho Valley
Local birding to see Egyptian Vulture, Black Wheatear, Spectacled Warbler, Tawny Pipit, Rock Sparrow, Bonelli's Warbler, Subalpine Warbler and Orphean Warbler. Later we transfer to the Hecho valley in the Pyrenees. Afternoon birding in the Hecho Valley might include our first sightings of Lammergeier, Egyptian Vulture, Golden Eagle, Red Kite, Black Woodpecker, Dipper, Grey Wagtail, Alpine Chough and Cirl Bunting. Dinner and overnight in Siresa.
Day 3: Thu 13 Jun The Pyrenees
Today we awake in the shade of the mighty Pyrenees. Around us Black Redstart and Red-backed Shrike are nesting, immense Griffon Vulture and the occasional Egyptian Vulture soar around the sheer cliffs above our hotel, Red-billed Chough cross the valley, and imperious Lammergeier often float effortlessly right above our heads. With two special Wallcreeper sites just a short trip away, we are in exactly the right place for a wonderful day birding in the Hecho valley. Our morning watch for Wallcreeper is a highlight, and we should also see Citril Finch and other mountain specialities. In the afternoon, a walk in Selva de Oza gives good chances of Lammergeier, Red-billed and Alpine Choughs, Yellowhammer. Also Marmot, Chamois and 3 to 6 species of orchids. Dinner and overnight in Siresa.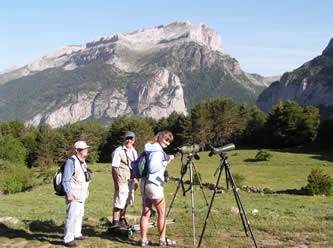 Day 4: Fri 14 Jun Roncal Valley
Birdwatching in the spectacular Roncal Valley high in the Pyrenees, where we will again look for many of the species above, with special attention paid to Alpine Accentor, Yellow-billed Chough, Rock Bunting and Water Pipit. Orchids and butterflies will also feature in this part of the holiday as we explore right up to the French border. Alpine Swift, Blue Rock Thrush and Crag Martin are all found locally, whilst above us Short-toed Eagle and Golden Eagle are usually seen amongst the rafts of Griffons, perhaps with the occasional Goshawk and Honey Buzzard. Overnight again in Siresa.
Day 5: Sat 15 Jun The Plains of Aragon
On Thursday we head south through the plains of Aragon for a complete contrast, birding during our drive with chances of Rock Thrush, Crested Tit, Rock Bunting, Dartford Warbler, and Cirl Bunting. Dinner and overnight in hotel in Monegros, with chances of Black Wheatear, Black-eared Wheatear, Crested Lark, Spotless Starling and Tawny Pipit.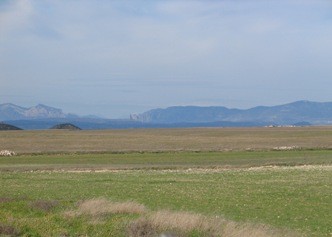 Day 6 and 7: Sun 16 Jun and Mon 17 Jun The Steppes of Monegros
Early morning watch for the rare and elusive Dupont's Lark on one morning. The rest of our time will spend birding the steppes of Monegros. Birds may include Great Bustard, Little Bustard, Black-bellied and Pin-tailed Sandgrouse, Montague's Harrier, Stone Curlew, Little Owl, Bee-eater, and Roller. The birding here is truly superb, and this should be a great day in a special place! Dinner and overnight in hotel in Monegros.
Day 8: Tue 18 Jun The Ebro Delta
Transfer to the Ebro Delta, with birdwatching en-route. We arrive in the northern part of the delta, where migratory birds are awaiting us. We seek Little Bittern, Collared Pratincole, Gull-billed Tern, and Great Reed Warbler. Also Greater Flamingo, Great Egret, Glossy Ibis, and Red-crested Pochard amongst many others. Our bird list should be comfortably over 150 species by now! Dinner and overnight in the Ebro Delta.
Day 9: Wed 19 Jun Els Ports
Birdwatching in the mountains of Els Ports, where we may see various raptors as well as Blue Rock Thrush, Rock Bunting, and also the rare Spanish Ibex. we pay a visit to the Vulture Feeding Station with good opportunities to take photos of Griffon and Egyptian Vultures at perhaps 10-20 metres from your camera. Dinner and overnight in the Ebro Delta.
Day 10: Thu 20 Jun Ebro Delta
Bird watching in the southern part of the delta. We expect to see Avocet, Audouin's Gull, Slender-billed Gull, Gull-billed Tern, Whiskered Tern, Lesser Short-toed Lark, and Iberian Reed Bunting. Penduline Tit are also possible. In the evening we will go and see Bonelli's Eagle and Eagle Owl. Dinner and overnight in the Ebro Delta
Day 11: Fri 21 Jun Llobregat Delta
Birding in Llobregat Delta if time allows; marsh terns, waders, herons and shorebirds can be expected, followed by transfer to Barcelona and an afternoon flight to London Gatwick.
More Holiday Information:
Accommodation is in rural, family run hotels or guest houses with all rooms en suite.
Food Breakfast is typical of Spain, consisting of a roll with jam and cheese. Fruit juice and tea or coffee is also available. Picnic lunches will be purchased by your guide, and will include a variety of local produce plus soft drinks. Evening meals are generally local dishes, which are very good but sometimes simple. Food is usually plentiful. Vegetarian and other diets are welcome.
Walking is generally easy, on paths and tracks. We will usually drive to key birdwatching spots. Most birding is done close to our vehicle, though we will need to walk to see high mountain species, and some exertion will be required in mountain environments. If we need to walk in high places to see particular species, we will go slowly and perhaps split the group so some can stay at lower levels. There will be the option to stay close to the minibus, should anyone wish to go back.
Weather There can be surprising variations in temperature in the Pyrenees. Direct sunlight can send the temperature soaring above 30C, though mid 20'sC is more usual. Minimum temperatures will be about 15C (although it can sometimes drop lower), and the winds can be cool. In June the steppes are manageable at around 30C, if the mercury rises much higher we will take sensible cover! On some occasions, particularly when we are waiting at a Wallcreeper sight, the weather may become very cold in the shade.
Insects There may be biting insects, though not usually as a major problem.
Group size is restricted to 12 clients maximum.
Flights are by scheduled airline, from London Gatwick - Barcelona. We may be able to offer flight arrangements from another airport and/or or quote without flights so you can make your own arrangements. If you wish to add an extension either before or after your holiday, please contact us and we will be happy to arrange this for you.
What's included in your holiday price:
* scheduled return flights between London Gatwick and Barcelona, airport taxes,
* ground transportation as outlined including all transportation in Spain in a modern and spacious air-conditioned vehicle,
* accommodation and all meals, including breakfast, lunch and dinner.
* the services of your leaders.
* The Heatherlea Pre-Flight Service offers everything you need at the airport, including hotels, car parking, airport lounges, regional flights, and upgrades. Let Heatherlea take the strain! Pre-flight airport hotel and lounge included free of charge subject to terms and conditions. Read more....
What's not included in your holiday price:
* personal insurance, drinks and other personal expenses, and any other costs not specified as 'included'.
WHY CHOOSE HEATHERLEA?
Our overseas holidays are planned with care to offer great birding and wildlife, led by capable Leaders who really look after you. Every holiday is run the 'Heatherlea Way', and we hope our Overseas Adventures remind you of the quality and care so many of you enjoy in Scotland. That means rewarding and exciting days in the field, and good quality accommodation and meals, with a real flavour of the country we are visiting. Heatherlea always seek to include the personal touches that make all the difference.
Heatherlea holidays are not 'dawn to dusk' expeditions. Our less-intensive approach is ideal for those who want to relax whilst experiencing the best wildlife watching, and wherever possible we organise early or late activity on an optional basis. We also take sensible breaks when in very hot places and regular comfort breaks on every holiday whenever possible. All itineraries are planned carefully around the best wildlife opportunities, and you won't miss out on memorable wildlife, whilst enjoying relaxed, informal days that are great fun.
The really important part of any wildlife holiday is the experience for you, our valued customer. Heatherlea invest in many things to offer you the best possible service;
* We have been organising birding and wildlife holidays for 27 seasons, and have a highly experienced and capable office team. We also offer a telephone and email service outside normal office hours.
* Heatherlea overseas holidays have a maximum of 12 clients per trip, putting the emphasis on personal service, and helping you get the best possible experience.
* Our holidays often include things which others might invite you to pay yourself, for instance Departure Taxes and tips to hotels.
* All elements of our holidays are sold under our own licence, ATOL 6113. Under 'Flight-Plus' legislation it is a legal requirement of any tour operator to hold an ATOL licence for the supply of any overseas holiday where a flight is involved, if that holiday includes either overseas accommodation and/or car hire. It can be a criminal offence for an operator to book flights as part of a package without an ATOL licence. Heatherlea also hold full Tour Operator Insurance for your added protection.
* Heatherlea is your complete wildlife holiday provider. Our 'Back Office' team can organise all your pre-flight and other travel needs. Our specialists will help you book the right services, at the best price. Book holiday extensions through us, and your ATOL protection is extended further. We don't charge extra for this service.
* Heatherlea is a limited company, registered in Scotland, and registered to pay VAT (applies to all holidays within the European Union).
Please note: all itineraries are given as a guide only. Actual holiday content may vary according to the judgement of your guide, and elements beyond our control (eg weather).