NEW!

Northern Portugal and North-east Spain
Brilliant birding in an unexplored corner of Iberia
Prices:
£1795 PP, £160 single supplement. Deposit £300
Dates:
18 May - 25 May 2019
More Info

Leaders: One from the Heatherlea team with an experienced local guide
Max group size 12 clients.
Flights from London
Pre-flight airport hotel and lounge are INCLUDED.
This brand new tour explores the North-eastern corner of Iberia, rough and remote, with excellent birding and spectacular landscapes. The Douro River canyon, sheltered by granite walls over 100m high, hosts one of the richest Iberian bird communities, including Bonelli's, Golden, Booted and Short-toed Eagle, Griffon and Egyptian Vulture, Black Stork, Azure-winged Magpie, Red-billed Chough, Woodchat Shrike, Golden Oriole, Bee-eater, Hoopoe, Alpine Swift, Red-rumped Swallow, Spectacled, Subalpine, Orphean, Melodious and Bonelli's Warbler, Black Wheatear, Rock Sparrow, Hawfinch and Cirl Bunting. We also visit Montesinho Nature Park, for a good list of mountain passerines including Red-backed Shrike, Water and Tawny Pipit, Wryneck, Dipper, Rock Thrush, Crossbill, Rock and Ortolan Bunting. One day we cross into Spain, to explore a flat area of brackish lagoons, grassland and dry alfalfa, home to one of the largest Great Bustard populations in the Iberian Peninsula, around 2500 individuals. There are many other steppe specialities including Montagu's Harrier, Lesser Kestrel, Little Bustard, Stone Curlew, Black-bellied Sandgrouse, Great Spotted Cuckoo, and Calandra, Short-toed and Thekla Lark, Collared Pratincole, Red-crested Pochard and other ducks, Whiskered and Gull-billed Terns. First class birding in beautiful landscapes, plenty of sunshine and tasty local wines and cuisine!
We are pleased to offer this holiday in conjuction with our friends at the Portuguese Society for the Study of Birds (SPEA). This is an Environmental not-for-profit organization whose mission is to support research and conservation of wild birds and their habitats, by promoting sustainable development for the benefit of future generations.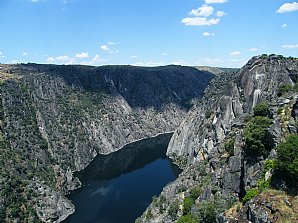 Outline Itinerary
Day 1 – Saturday 18th May: London Gatwick to Porto
Morning flight to Porto International Airport. After arrival at Porto we will drive three hours to Miranda do Douro, in the Douro Internacional Nature Park. Depending on the time we bird the area around the hotel for our first birds of the tour. Overnight in Miranda de Douro for four nights.
Day 2 – Sunday 19th May: Douro
Today we explore the Douro cliffs not far from Miranda. We visit the villages of Vale d'Águia and Cércio and investigate trails between the patchwork of small fields, stone walls and woodlots until we reach the top of cliffs overlooking the river. We should see many Griffon and Egyptian Vulture, and Black and Red Kite, plus Black Stork, Golden, Booted and Short-toed Eagle, Peregrine, Hobby and Red-billed Chough, will be possible throughout the day. Birding will also include many other birds, with targets including Great Spotted Cuckoo, Bee-eater, Hoopoe, Alpine Swift, Red-rumped Swallow, Subalpine and Orphean Warbler, Golden Oriole, Southern Great and Woodchat Shrike, Serin, Hawfinch, and Corn, Cirl and Rock Bunting. After-dinner we will walk in Miranda for Scops Owl and European Nightjar.
Day 3 – Monday 20th May: Penedo Durão & Aldeadávila
We drive one hour to the southern part of the park. In the morning we will explore the Penedo Durão, a mixture of vineyards, olive groves and spectacular rocky outcrops, looking for special passerines of the area including Spectacled Warbler, Black-eared Wheatear, Blue Rock Thrush, Rock Sparrow and particularly Black Wheatear. In the afternoon we return north via the Spanish side, where we look for Bonelli´s Eagle and Azure-winged Magpie in the area of Aldeadávila.
Day 4 – Tuesday 21st May: Villafáfila Lagoons
Today we make a drive of around an hour and half into Spain near Benavente for one of the undoubted highlights of the holiday, as we explore the Villafáfila Lagoons Nature Reserve, a dry-grassland area that holds a large numbers of Great Bustard. Besides this fantastic bird, we will look for Montagu's Harrier, Lesser Kestrel, Little Bustard, Stone Curlew, Colared Pratincole, Black-bellied Sandgrouse, Calandra, Short-toed and Thekla larks. Picnic by the lagoon, with a chance for Red-crested Pochard and other ducks, Whiskered and Gull-billed terns.
Day 5 – Wednesday 22nd May: Boat trip on the river and Montesinho
In the morning we take a boat trip into the river from Miranda Douro. We will experience the views of the cliffs from below, with a possibility to spot Egyptian Vulture and Black Stork nests, and many other birds too. After the boat trip we return to the hotel to collect our luggage, and drive north to Bragança. After checking into our second hotel, we will explore the southwest corner of Montesinho Nature Park, in the Maçãs river valley. Here we look for Wryneck, Woodlark, Redstart, Melodious and Bonelli's Warbler, Golden Oriole, Rock Sparrow, Hawfinch and Cirl Buntings, and should also see a range of butterflies. Overnight in Bragança for three nights.
Day 6 – Thursday 23rd May: Montesinho
Today we explore the eastern part of the Montesinho Nature Park, the Lombada Plateau, near the villages of Rio de Onor and Guadramil. Special birds will include Montagu's and Hen Harrier, Tawny Pipit, Common Wheatear, Dartford and Bonelli´s Warbler, Raven, Crossbill, Rock and Ortolan Bunting. Besides birds, there will also be many reptiles, amphibians and butterflies, and large mammals found in this area include Otter and Wolf.
Day 7 – Friday 24th May: Lama Grande
We spend this day exploring the central, and highest, part of the park, around 1500m high, from the Montesinho village to the old station of Lama Grande. We search mainly for mountain birds, including Tawny and Water Pipit, Rock Thrush, Bluethroat, Dipper, Red-backed Shrike, Raven and Rock Bunting. Above França village we look for Golden Eagle, Goshawk and Peregrine. Again, we should enjoy a range of butterflies and subalpine flowers.
Day 8 – Saturday 25th May: Return to Porto for return flight home
A two and half hour drive back to Porto International Airport. If time allows, we will make a short visit to the Alvão Nature Park for butterflies and flowers.
More Information
Accommodation is in comfortable hotels with all rooms en-suite.
Food Breakfast is typical of Portugal, consisting of a roll with jam/cheese/ham. Fruit juice and tea or coffee are also available. Lunches are usually picnic style in the field. Evening meals are generally local dishes, which are good but often quite simple. Vegetarian and other diets are welcome.
Walking is generally light/moderate. There may be some uphill track and road walking, though generally an average level of fitness is required.
Weather Typically, temperatures will range from 15c in the early morning to perhaps 25c in the heat of the day. Sunshine should be plentiful, but cloud and rain are possible. Cold weather, with temperatures as low as 5c, are rare but possible.
Insects biting insects may be encountered, though not usually as a major problem.
Group size is restricted to 12 clients maximum.
Flights are by scheduled airline, from London Gatwick. We may be able to offer flight arrangements from another airport and/or or quote without flights so you can make your own arrangements. If you wish to add an extension either before or after your holiday, please contact us and we will be happy to arrange this for you.
Your Leaders:
Mark Warren
Mark Warren joined our team in 2016, with many Heatherlea customers having already reaped the rewards from his widespread knowledge of migration and enthusiastic attitude. After guiding our Portugal tour in 2017, Mark is looking forward to your company on this holiday again in 2018!
Hugo Sampaio
Hugo Sampaio joins the Heatherlea team in 2016. After finishing his degree in Biology at the University of Coimbra in 2006, Hugo has since worked with SPEA studying and monitoring birds across Spain, Portugal and the Azores. He has guided extensively across the region and we look forward to having Hugo's expertise on this holiday.
What's included in your holiday price:
* return scheduled flight from London Gatwick – Porto, airport taxes, baggage and hand luggage up to airline included limit.
* airport transfers, ground transportation, accommodation and meals as specified.
* the services of a Heatherlea leader and local guide.
* The Heatherlea Pre-Flight Service offers everything you need at the airport, including hotels, car parking, airport lounges, regional flights, and upgrades. Let Heatherlea take the strain! Pre-flight airport hotel and lounge included free of charge subject to terms and conditions. Read more...
What's not included in your holiday price:
* travel to and from departure airport before and after holiday, in-flight meal, baggage above airline included limit.
* incidental tips, expenses of a personal nature including drinks and personal insurance.
WHY CHOOSE HEATHERLEA?
Our overseas holidays are planned with care to offer great birding and wildlife, led by capable Leaders who really look after you. Every holiday is run the 'Heatherlea Way', and we hope our Overseas Adventures remind you of the quality and care so many of you enjoy in Scotland. That means rewarding and exciting days in the field, and good quality accommodation and meals, with a real flavour of the country we are visiting. Heatherlea always seek to include the personal touches that make all the difference.

Heatherlea holidays are not 'dawn to dusk' expeditions. Our less-intensive approach is ideal for those who want to relax whilst experiencing the best wildlife watching, and wherever possible we organise early or late activity on an optional basis. We also take sensible breaks when in very hot places and regular comfort breaks on every holiday whenever possible. All itineraries are planned carefully around the best wildlife opportunities, and you won't miss out on memorable wildlife, whilst enjoying relaxed, informal days that are great fun.

The really important part of any wildlife holiday is the experience for you, our valued customer. Heatherlea invest in many things to offer you the best possible service;
* We have been organising birding and wildlife holidays for more than 25 seasons, and have a highly experienced and capable office team. We also offer a telephone and email service outside normal office hours.
* Heatherlea overseas holidays have a maximum of 12 clients per trip, putting the emphasis on personal service, and helping you get the best possible experience.
* Our holidays often include things which others might invite you to pay yourself, for instance Departure Taxes and tips to hotels.
* All elements of our holidays are sold under our own licence, ATOL 6113. Under 'Flight-Plus' legislation it is a legal requirement of any tour operator to hold an ATOL licence for the supply of any overseas holiday where a flight is involved, if that holiday includes either overseas accommodation and/or car hire. It can be a criminal offence for an operator to book flights as part of a package without an ATOL licence. Heatherlea also hold full Tour Operator Insurance for your added protection.
* Heatherlea is your complete wildlife holiday provider. Our 'Back Office' team can organise all your pre-flight and other travel needs. Our specialists will help you book the right services, at the best price. Book holiday extensions through us, and your ATOL protection is extended further. We don't charge extra for this service.
* Heatherlea is a limited company, registered in Scotland, and registered to pay VAT (applies to all holidays within the European Union).
Please note: all itineraries are given as a guide only. Actual holiday content may vary according to the judgement of your guide, and elements beyond our control (eg weather).