Jamaica
An exciting birding exploration of this bird-rich Caribbean island covering endemics, regional specialities and North American migrants.
Prices:
£2995 PP, £215 single supplement. Deposit £800
Dates:
13 Jan - 21 Jan 2019
More Info

Heatherlea guide Gerard Gorman and local guides, joined by Kevin Shaw. Max group size 12.
Direct flights from London Gatwick
Pre-flight airport hotel and lounge are INCLUDED

Please note we are now accepting bookings for our next visit, Sun 13 - Mon 21 January 2019. Prices are expected to be similar to 2018. Leader will again be Gerard Gorman, accompanied by another from our team with more than six clients.
Jamaica is an excellent destination for the UK birder, with the largest number of endemic birds (28) of any Caribbean island, a good list of regional specialities, and wintering passerines from North America now beginning to move north. We have every chance of rounding-up all the endemics, plus many Caribbean speciality species, and many migrant warblers and other passerines. It should be noted that some of the endemics can be 'difficult', and your chances are best with experienced birding guides. We should amass a total of over 100 species, including many new to those who haven't birded this part of the world.

We enjoy the island from a single base, staying for six nights at a historic and remarkably beautiful 1600-acre property located on the north coast. The large size of this eco-resort means there is a diversity of habitats here, including a large dam and reservoir, fresh water ponds, mangrove swamps, streams, forests, pastures and coastline. All are accessed directly by trails from the estate house, and with so much unspoilt habitat, it isn't surprising that most endemics have been recorded here. This is also a good base from which to bird all the key locations on the island. Your Leader(s) will work closely with experienced local guides, who will accompany us for at least half of our days in the field.
Endemic birds in the immediate vicinity include Jamaican Mango, Jamaican Spindalis, Jamaican Vireo, Jamaican Woodpecker, and Jamaican Tody, and within a short walk we will add many more, perhaps seeing half of the island's endemics including Jamaican Lizard-Cuckoo, Jamaican Becard, Sad Flycatcher, and White-chinned Thrush on the first day. A wide range of endemic sub-species including Barn Owl, Jamaican Potoo and Olive-throated Parakeet may be readily seen, and Caribbean specialities including Jamaican Oriole and Greater Antillean Bullfinch can also be found around the grounds.

We enjoy birding at elevation in the Blue Mountains, where Jamaican Blackbird, Blue Mountain Vireo and beautiful Crested Quail Dove will be among our targets, and also in the John Crow Mountains, where we search particularly for Black-billed Streamertail. Night birding is optional but rewarding, with Jamaican Owl and Northern Potoo our key targets, and coastal birding should add tropicbirds, frigatebirds, shorebirds, and herons to our list.

Jamaica is a lush tropical island with excellent food and a vibrant culture, which we will enjoy as we go. Watch out for fresh local fruit juice (organically grown on the estate), local pastries and fruit, the famous Blue Mountain Coffee, and traditional local Jamaican dishes at breakfast, lunch and dinner.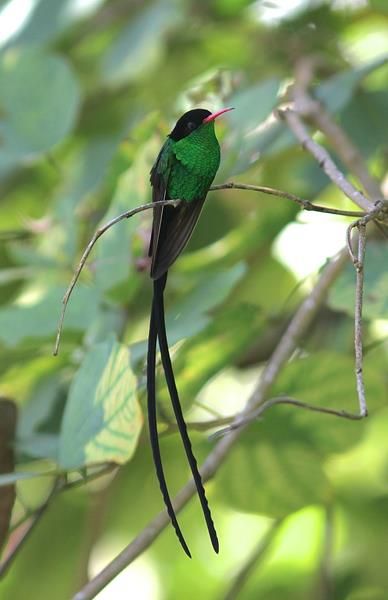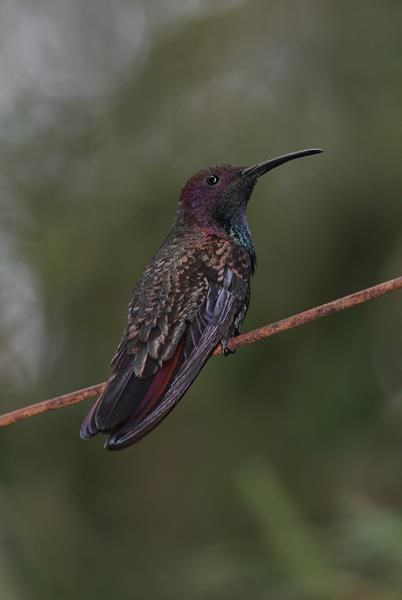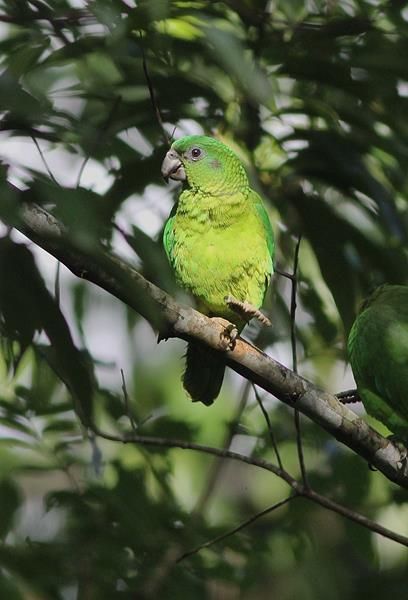 In March 2017, Kevin and Caryl visited Jamaica (someone has to do it!), to 'recce' the birding possibilities, and check all the accommodation, food and transport. We were delighted with everything we found, including the skilled local Guides and our hostess Elaine, who looked after us so well. We are sure Heatherlea clients will love Jamaica!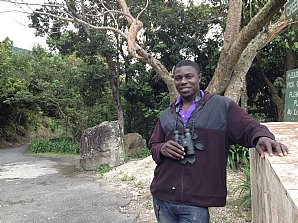 Local Guides Dwayne (top) and Roger (bottom), Kevin and Elaine, and some of the local scenery!
Outline Itinerary
Enjoy your complimentary pre-flight overnight hotel before your holiday begins. Full details from our office!
Day 1: Sun 14 January 2018
After relaxing in our complimentary airport lounge, we fly London Gatwick to Montego Bay. Arriving late evening, we transfer to a comfortable airport hotel for our first night.
Day 2: Mon 15 January 2018
After breakfast we drive to our main base for the holiday, Green Castle Estate.This is the perfect base, set back from the main road, well away from the main tourist routes. The estate is characterised by its extensive network of trails, which contain many of our target birds, excellent accommodation and food, and fabulous views across the bay towards the Blue Mountains and the gleaming Caribbean Sea. On arrival, you'll be welcomed with a chilled scented towel and fresh local fruit juice (organically grown on the Estate), and we begin with lunch and some easy introductory birding in the excellent estate grounds. Our first endemic species will almost certainly be seen today, with Jamaican Mango, Orangequit and Red-billed Streamertail regular visitors to feeders and trees immediately adjacent to our accommodation. Six nights at Green Castle Estate House. www.gcjamaica.com
Day 3: Tues 16 January 2018
Today we make the first of two full day trips away from the Estate, leaving early for The Blue Mountains., which rise to a height of over 7000 feet and are located around 90 minutes away. We spend time at the Hardware Gap area, looking for Jamaican Blackbird, Blue Mountain Vireo and, if we are lucky, beautiful Crested Quail Dove. We should see many species at this site, perhaps including American migrants such as Black-throated Blue, Adelaide, Worm-eating, Chestnut-sided and Black and White Warbler. There will be a packed breakfast and lunch, and perhaps a break for Blue Mountain Coffee, with the chance to purchase some of this world famous coffee to take back home. The afternoon will be spent birding a little further up the road enjoying more of Jamaica's bird life before the journey back to Green Castle. Birding here is easy, as we walk on roads and good quality tracks, with largely primary forest beginning right at the road edge.
Day 4: Wed 17 January 2018
Dawn is around 6am, and most mornings there will be optional early birding, which we strongly recommend; the climate is hot, and bird activity is greatest at the beginning of the day. Tea and coffee are available pre-breakfast, and we explore exciting trails immediately adjacent to our accommodation, looking to add to our list of endemics each time we sally forth. After our full Jamaican breakfast, we continue birding here, exploring trails a little further away, visiting freshwater pools and birding for migrant waders, pelicans and frigatebirds at the coast.
Targets include a large number of endemics and endemic sub-species (Barn Owl, Jamaican Potoo, Northern Jacana, Olive-throated Parakeet), and Caribbean specialities such as Vervain Hummingbird, Jamaican Oriole and Greater Antillean Bullfinch. Lunch is at the Estate House, followed by more birding around the estate, where 171 species have been recorded.
Day 5: Thurs 18 January 2018
A second early start, with refreshments before departure with packed breakfast. Today we drive to the foothills of the John Crow Mountains, to an area known as Ecclesdown Road, which has good numbers of endemics. The bird we are particularly looking for is Black-billed Streamertail, endemic to this small region. For the remainder of the day, we are birding in a variety of habitats, looking for Jamaican Crow, Jamaican Blackbird, Jamaican Oriole, Jamaican Becard and Arrow Headed Warbler. As we return, we may visit Happy Grove or Frenchmans Cove, where White-tailed Tropicbird are frequently seen.
Day 6: Fri 19 January 2018
Another local day, to explore another section of our 1600-acre site, and again, pre-breakfast birding should be rewarding. Today we may visit the pools, Davey Hill, the Tower areas or the coast. We may take trails to the Orchid Ginger Farm, or the Reservoir/Dam, birding as we go. Birds may include Red-billed Streamertail, Jamaican Tody, Jamaican Vireo, White-Chinned Thrush and Rufous-tailed Flycatcher to name but a few. We may take a picnic lunch, or return to the Estate House for lunch. In the afternoon we head to the coast, stopping at various points to walk and look for shorebirds such as White-tailed Tropicbird, Magnificent Frigatebird, Yellow-crowned Night Heron, Least Sandpiper, Semi-palmated Plover and Spotted Sandpiper. After dinner we have another chance for night birding to look for Jamaican Owl and Northern Potoo, an endemic Jamaican sub-species and a potential 'split' in the future.
Day 7: Sat 20 January 2018
By this part of the holiday we should be in 'round-up' mode, and may enjoy a morning birding tour to Vinery, a hilly area not far away. Alternatively we may target specific species should they have eluded us so far! In the afternoon we continue to round up anything which might still be outstanding.
Day 8: Sun 21 January 2018
The final morning can be spent relaxing or birding around the gardens or trails, or perhaps enjoying the excellent 40-ft swimming pool, before we leave for Montego Bay and our departure flight, arriving London in the morning of Mon 22 January.
More Holiday Information
Accommodation six nights at the Green Castle Estate, a historic and remarkably beautiful 1600 acre property located on the north coast of Jamaica. All rooms are en-suite. One night on arrival at a comfortable hotel close to the airport.
Food is usually served as a set meal featuring excellent home cooking in the local style. Vegetarian and other diets are welcome.
Walking is generally light/moderate, though there are some trails where a level of exertion is required. There will be some uphill track and road walking, and trails can be in poor condition in places. You need an average level of fitness for this holiday.
Weather will be mixed. Mostly the temperature will be warm, with the possibility of rain. In some locations the weather is hot and humid, in others hot and dry, and at altitude can be cool and wet.
Insects There are biting insects, though not usually as a major problem. You should bring insect repellent.
Group size is restricted to 12 clients maximum.
Flights are direct from London Gatwick. We may be able to offer flight arrangements from another airport and/or or quote without flights so you can make your own arrangements. If you wish to add an extension either before or after your holiday, please contact us and we will be happy to arrange this for you.
Your Leaders
Gerard Gorman is an experienced leader in the Antilles/Caribbean, having birded and led extensively in Jamaica, Cuba, Puerto Rico, Dominican Republic and Guadeloupe. Gerard is a respected and well-recognised author of many birding books, and we are delighted to appoint him as Leader for this holiday in Jamaica.

Kevin Shaw: Owner and guide with Heatherlea around the world, Kevin visited Jamaica in 2017 to establish this trip, and enjoyed the birding, accommodation and food so much, he managed to get himself onto the tour in 2018!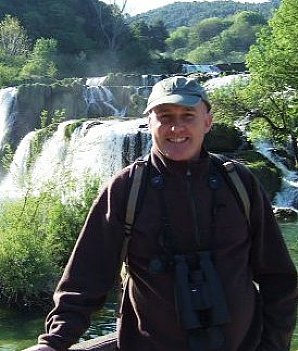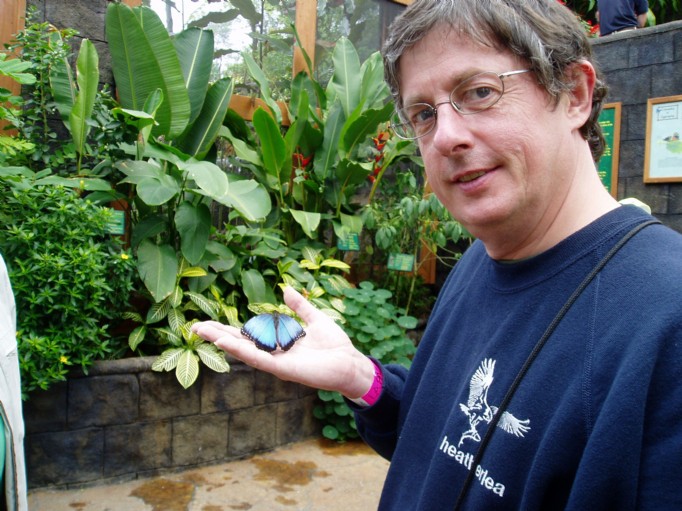 Gerard and Kevin
What's included in your holiday price:
* scheduled return flights between London Gatwick and Montego Bay, airport taxes, and all transfers.
* ground transportation by a modern and spacious air-conditioned vehicle. Local transfers at Greencastle might be via smaller vehicles.
* accommodation and all meals, including breakfast, lunch and dinner.
* the services of your leaders.
* entrance fees to parks and reserves, and tips to hotels and restaurants.
* local taxes
* The Heatherlea Pre-Flight Service offers everything you need at the airport, including hotels, car parking, airport lounges, regional flights, and upgrades. Let Heatherlea take the strain! Pre-flight airport hotel and lounge included, subject to terms and conditions.

FREE! 'Birds of Jamaica' by Ann Haynes-Sutton, Audrey Downer, Robert Sutton is included in your holiday price.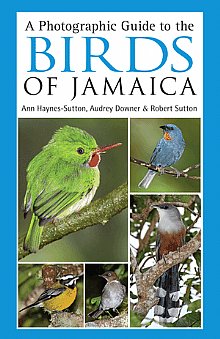 What's not included in your holiday price:
* personal insurance, personal expenses including drinks ordered, optional tips to the driver and local guides, and any other costs not specified as 'included'.
WHY CHOOSE HEATHERLEA?
Our overseas holidays are planned with care to offer great birding and wildlife, led by capable Leaders who really look after you. Every holiday is run the 'Heatherlea Way', and we hope our Overseas Adventures remind you of the quality and care so many of you enjoy in Scotland. That means rewarding and exciting days in the field, and good quality accommodation and meals, with a real flavour of the country we are visiting. Heatherlea always seek to include the personal touches that make all the difference.
Heatherlea holidays are not 'dawn to dusk' expeditions. Our less-intensive approach is ideal for those who want to relax whilst experiencing the best wildlife watching, and wherever possible we organise early or late activity on an optional basis. We also take sensible breaks when in very hot places and regular comfort breaks on every holiday whenever possible. All itineraries are planned carefully around the best wildlife opportunities, and you won't miss out on memorable wildlife, whilst enjoying relaxed, informal days that are great fun.
The really important part of any wildlife holiday is the experience for you, our valued customer. Heatherlea invest in many things to offer you the best possible service;
* We have been organising birding and wildlife holidays for over 27 years, and have a highly experienced and capable office team. We also offer a telephone and email service outside normal office hours.
* Heatherlea overseas holidays have a maximum of 12 clients per trip, putting the emphasis on personal service, and helping you get the best possible experience.
* Our holidays often include things which others might invite you to pay yourself, for instance Departure Taxes and tips to hotels.
* All elements of our holidays are sold under our own licence, ATOL 6113. Under 'Flight-Plus' legislation it is a legal requirement of any tour operator to hold an ATOL licence for the supply of any overseas holiday where a flight is involved, if that holiday includes either overseas accommodation and/or car hire. It can be a criminal offence for an operator to book flights as part of a package without an ATOL licence. Heatherlea also hold full Tour Operator Insurance for your added protection.
* Heatherlea is your complete wildlife holiday provider. Our 'Back Office' team can organise all your pre-flight and other travel needs. Our specialists will help you book the right services, at the best price. Book holiday extensions through us, and your ATOL protection is extended further. We don't charge extra for this service.
Please note: all itineraries are given as a guide only. Actual holiday content may vary according to the judgement of your guide, and elements beyond our control (eg weather).