Fuerteventura
Relaxed winter birding with some spectacular species
Prices:
£0 PP, no single supplement. Deposit £300
Dates:
25 Jan - 30 Jan 2019
More Info

Leader: Mark Warren, joined by Scott O'Hara with more than 7 clients.
Max group size: Max.12 clients
Departure from London Gatwick, morning flight.
Regional departures may be available, please ask for details.
Pre-flight airport hotel and lounge are INCLUDED.
Fuerteventura is the second largest of the Canary Islands and has an arid desert-like landscape with an impressive volcanic, mountainous interior. Known locally as Viejo Pais Canario or 'the old country', Fuerteventura might be seen as a cheap and convenient alternative to the North African mainland, and though the birdlist is short, bustards, sandgrouse and coursers offer spectacular birding with a distinct feel of Morocco.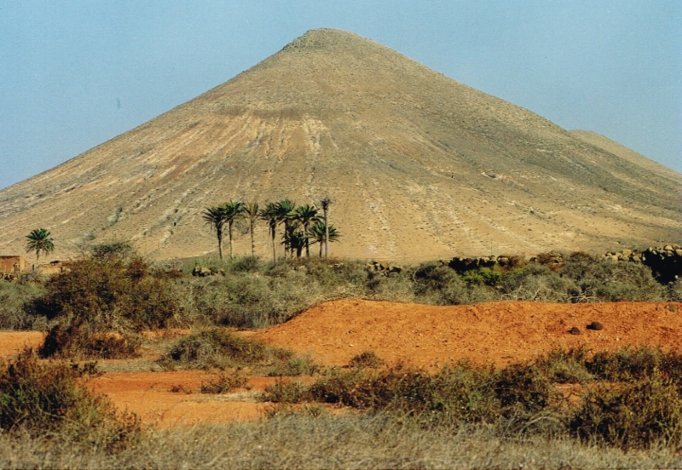 On this short break we spend an exciting few days here, discovering the avian life of the barrancos, key coastal locations, and the arid desert interior. We focus on a handful of key species whilst also finding overwintering birds and individuals on very early migration. High on our list is Houbara Bustard, which at this time of year conduct an impressive breeding display, turning themselves 'inside-out' whilst strutting around spectacular desert scenery. Fuerteventura is a good destination for those wishing to see endangered Houbara, they are easier here than in many other places, and by using our vehicle as a hide, we hope for close-up views of this impressive display - these pics were taken on our January 2015 visit, when we enjoyed approx 10 sightings.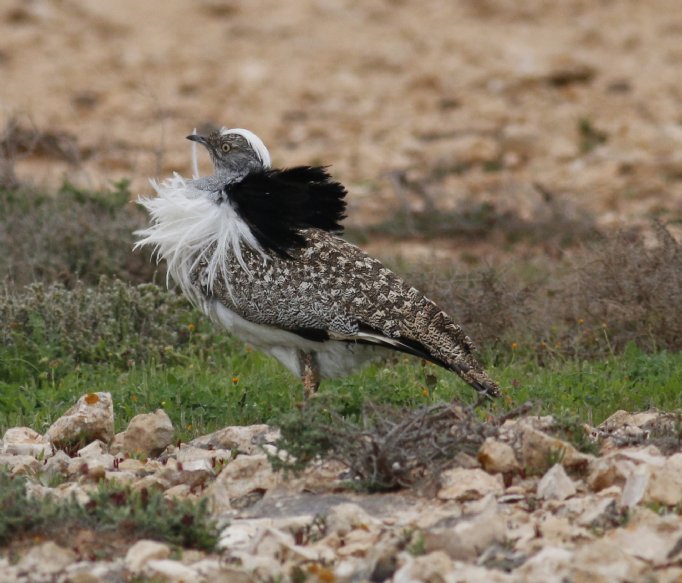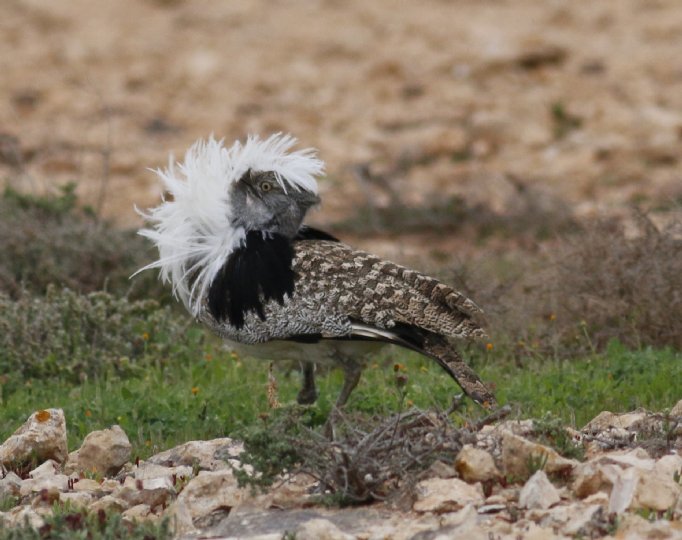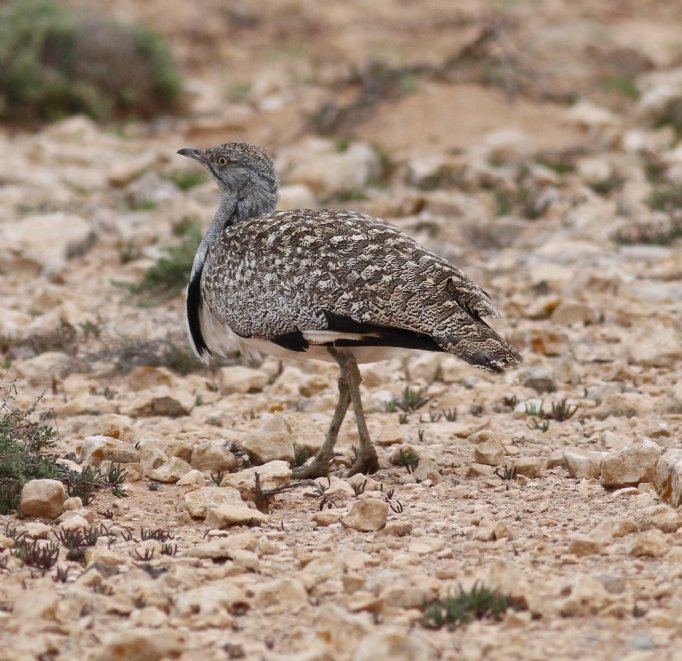 Beautiful Cream-coloured Courser is also present in this semi-arid landscape, and because we are here so early in the season, there is usually little or no heat-haze, often allowing us exceptional views. We might see several birds running around in pairs, often standing upright to peer across the plains, and sometimes the birds scuttle close to our vehicles, allowing good photographic opportunities.


The island's only endemic bird, Fuerteventura Chat, with only around 1,000 pairs in existence, is another important species. We hope to find these attractive 'stonechats' perching and perhaps singing at the top of thorny scrub vegetation in a few select ravines and slopes.
Other key birds include Barbary Partridge, Barbary Falcon, Black-bellied Sandgrouse, Plain Swift, Egyptian Vulture, Trumpeter Finch, Lesser Short-toed Lark, African Blue Tit (degener), and Canaries-endemic Berthelot's Pipit. Spanish Sparrow, Hoopoe, Whimbrel, Spoonbill, Lesser Short-toed Lark, Stone Curlew and Laughing Dove are among other birds of interest. Introduced species include Monk Parakeet and Red-vented Bulbul.

Our species list will be boosted by coastal birding, with Cory's Shearwater and passage waders including Kentish Plover, and the possibility of over-wintering vagrants from both east and west. Recent examples include Olive-backed Pipit, Yellow-browed Warbler, White-rumped Sandpiper and Ring-necked Duck. On our 2015 holiday we were fortunate to find this superb adult Yellow-billed Stork trying to hide in the dunes, a tropical African species which only occasionally occurs here, demonstrating that just about anything can turn up!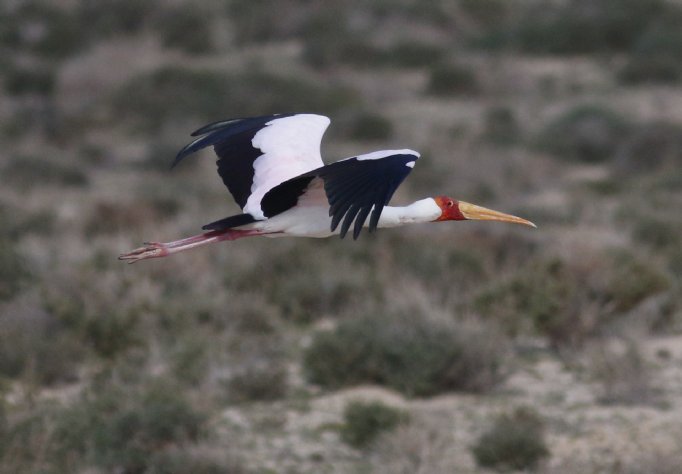 This is a low-intensity holiday, with a leisurely breakfast each day in our comfortable hotel, followed by a full day in the field. Birding is easy, and mostly close to our transport, though some optional short walks will be available. If you want relaxed birding, pleasantly warm days, a gentle pace and the chance to see some exceptional European birds at close range, this short break is probably right for you!
Outline Itinerary
Enjoy your complimentary pre-flight overnight hotel before your holiday. Full details from our office!
Day 1
After relaxing in our airport lounge, we fly Gatwick to Fuerteventura and transfer by minibus to our excellent hotel, just 40 minutes away. Located in a peaceful small town in the interior, our hotel has spacious and comfortable rooms, with large private bathrooms and a swimming pool. Food is excellent, with a wide choice of local cuisine at both breakfast and dinner; we know from experience that Heatherlea clients will love it here! After settling in we head out to a local plain to look for Houbara Bustard in an area designated as a reserve for these splendid birds. Overnights near Puerto del Rosario in a family run hotel with a real flavour of the island.
Day 2
Today we will be investigating fresh water pools and scrapes around Los Molinos Dam, which can turn up some good vagrants. White-rumped Sandpiper and Ring-necked Duck have over wintered here in the past, but our main focus will be on the more likely species including Ruddy Shelduck and Black-winged Stilt. This is a good area for stunning Cream-coloured Courser and possibly Black-bellied Sandgrouse, coming to drink at the reservoir. We will also keep an eye open for elusive Barbary Partridge and endangered and declining Egyptian Vulture. Depending on progress with these birds we may spend the remainder of the day here, or further north looking for migrants. This is also a good area for Stone Curlew.


Day 3
We head south to the Peninsula Del Jandia today, with seabirds and waders on our mind. The coast here can see good numbers of Cory's Shearwater and Yellow-legged Gull (possibly of the form atlantis) and the coastal areas can hold good numbers of passage waders notably Kentish Plover. These are good areas for Lesser Short-toed Lark and endemic Fuerteventura Chat, and Barbary Falcon can occur anywhere along the peninsula.
Day 4
Today we head into the spectacular mountain interior of the island with many of the species already mentioned to be found, but our primary target is the local race of Blue Tit (degener), the 'North African' subspecies with a white wingbar, a stunning, distinctive looking bird which can be found in the trees and bushes at Betancuria. Later we descend the spectacular mountain roads to spend the afternoon at Barranco del la Torre where we seek Trumpeter Finch, Spectacled and Sardinian Warbler, Berthelot's Pipit and have another chance for Fuereteventura Chat. We also visit Salinas del Carmen for waders and egrets, a pleasant change of habitat.
Day 5
We can't leave without a short walk through the impressive desert habitat at El Jable Dunas National Park with its Sahara-sized sand dunes! Although birds here are limited we should get close views of Berthalot's Pipit in any areas of scrub. We will then head to the north of the island looking for Southern Grey Shrike, Hoopoe, Lesser Short-toed Lark and flocks of Trumpeter Finch while keeping a look out for Pallid Swift to test our identification skills as we try to pick out a Plain Swift.
During later days we revisit some of the sites we have been to earlier, trying to "clean up" any gaps in our list and to find newly arrived rarities. In recent years a small flock of Olive-backed Pipit and numbers of Yellow-browed Warbler have been over wintering, so we will seek these out before returning to the Los Molinos area, where the fresh water can see a regular turnover of migrant birds.
Day 6
Some early birding if time allows before we return to the airport and our flights to the UK.
More Holiday Information:
Accommodation: is in a very comfortable hotel with all rooms en suite. Our groups love this hotel!
Food: Typical Spanish food to a very good standard, and with a wide choice. Vegetarian and other diets are welcome.
Walking: The holiday is not strenuous. Walking can be described as generally very easy, on roads, paths and tracks. Most birding is done close to our vehicle, and even on the longest walks we are never far from the minibuses, should anyone wish to go back.
Weather: Typically, temperatures will range from 10 - 20ºC in the "heat" of the day. Sunshine should be plentiful, but wind, clouds, and rain are possible. Cold weather is unlikely but possible. Fuerteventura can frequently be windy.
Insects: biting insects are not expected, though there are a few mosquitos at this season.
Group size: is restricted to 12 clients maximum.
Flights: are by scheduled airline, from London Gatwick. We may be able to offer flight arrangements from another airport and/or or quote without flights so you can make your own arrangements. If you wish to add an extension either before or after your holiday, please contact us and we will be happy to arrange this for you.
What's included in your holiday price:
* return scheduled flight from London Gatwick – El Matorral Airport, Fuerteventura, airport taxes, baggage and hand luggage up to airline included limit.
* airport transfers, ground transportation, accommodation and meals as specified.
* the services of Heatherlea leaders.
* The Heatherlea Pre-Flight Service offers everything you need at the airport, including hotels, car parking, airport lounges, regional flights, and upgrades. Let Heatherlea take the strain! Pre-flight airport hotel and lounge included free of charge subject to terms and conditions. Read more....
What's not included in your holiday price:
* travel to and from departure airport before and after holiday, in-flight meal, baggage above airline included limit.
* incidental tips, expenses of a personal nature including drinks and personal insurance.
WHY CHOOSE HEATHERLEA?
Our overseas holidays are planned with care to offer great birding and wildlife, led by capable Leaders who really look after you. Every holiday is run the 'Heatherlea Way', and we hope our Overseas Adventures remind you of the quality and care so many of you enjoy in Scotland. That means rewarding and exciting days in the field, and good quality accommodation and meals, with a real flavour of the country we are visiting. Heatherlea always seek to include the personal touches that make all the difference.
Heatherlea holidays are not 'dawn to dusk' expeditions. Our less-intensive approach is ideal for those who want to relax whilst experiencing the best wildlife watching, and wherever possible we organise early or late activity on an optional basis. We also take sensible breaks when in very hot places and regular comfort breaks on every holiday whenever possible. All itineraries are planned carefully around the best wildlife opportunities, and you won't miss out on memorable wildlife, whilst enjoying relaxed, informal days that are great fun.
The really important part of any wildlife holiday is the experience for you, our valued customer. Heatherlea invest in many things to offer you the best possible service;
* We have been organising birding and wildlife holidays for 27 seasons, and have a highly experienced and capable office team. We also offer a telephone and email service outside normal office hours.
* Heatherlea overseas holidays have a maximum of 12 clients per trip, putting the emphasis on personal service, and helping you get the best possible experience.
* Our holidays often include things which others might invite you to pay yourself, for instance Departure Taxes and tips to hotels.
* All elements of our holidays are sold under our own licence, ATOL 6113. Under 'Flight-Plus' legislation it is a legal requirement of any tour operator to hold an ATOL licence for the supply of any overseas holiday where a flight is involved, if that holiday includes either overseas accommodation and/or car hire. It can be a criminal offence for an operator to book flights as part of a package without an ATOL licence. Heatherlea also hold full Tour Operator Insurance for your added protection.
* Heatherlea is your complete wildlife holiday provider. Our 'Back Office' team can organise all your pre-flight and other travel needs. Our specialists will help you book the right services, at the best price. Book holiday extensions through us, and your ATOL protection is extended further. We don't charge extra for this service.
* Heatherlea is a limited company, registered in Scotland, and registered to pay VAT (applies to all holidays within the European Union).
Please note: all itineraries are given as a guide only. Actual holiday content may vary according to the judgement of your guide, and elements beyond our control (eg weather).