NEW!

Finland Winter Photographers' Tour
| | |
| --- | --- |
| Prices: | £4795 PP, £125 single supplement. Deposit £500 |
| Dates: | 22 Jan - 29 Jan 2020 |
Overview
NEW! Finland Winter Photographers' Tour
Join Heatherlea Guide and top nature photographer Rob Jordan on this exciting new tour, with the accent firmly on photography. With only five clients maximum and two experienced photographer-guides, the tour features a high level of personal attention. Our friends in Finland have spent a great deal of time in preparation, researching habits, feeding birds and devising exceptional opportunities in a variety of locations and habitats. There's a special emphasis on eagle photography, with two days dedicated to these dramatic raptors so rarely seen at close range! The Finnish snow-scape provides an incredible setting to manipulate light and gain superb shots both of birds and the wild surroundings.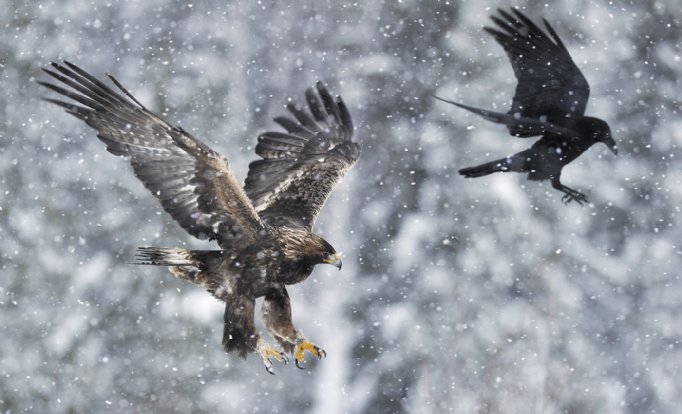 Highlights include;
A day in a heated hide photographing Golden Eagles. Eagles have been fed at this site for over a decade and the activity at this time of the year is usually very good with up to ten individuals visiting daily. There will be other birds visiting the feeder in front of the hide, perhaps Great-spotted Woodpecker, Eurasian Jay and Crested Tit.
Depending on the year, wintering Great Grey and Hawk Owls can be found hunting in open fields. If they are not available this year, we use forest feeder hides for Goshawk, Yellowhammer, Crested Tit, Willow Tit and Great-spotted Woodpecker. Many other species might include Black Woodpecker, Siberian Jay and Willow or Siberian Tit.
A visit to a beautiful, narrow cascade river site, where there should be good opportunities to get close range images of Dippers chasing each other and explore a different setting.
At a specialist Siberian Jay feeder, we enjoy a picnic lunch while waiting for our quarry to arrive which usually doesn't take long; these cheerful birds offer great photography!
We cannot guarantee any species on this tour, though our expert guides will do their utmost to ensure the best possible chances. Landscape photography opportunities are all around and we also visit a Reindeer farm where we feed and take close-up images of semi-domestic Reindeer. If there are signs of Northern Lights, we make the effort to see and photograph them in surroundings dark enough for night images.
Itinerary
Day 1: Wed 22 January 2020 – Arrival in Finland
On arrival at Oulu airport we will meet our guide and drive for less than an hour to check into our first base. There may be time to explore before dinner and we can also consider night photography, as will be done every evening if there is a chance of Northern Lights. We stay for our first two nights at the renowned Villa Finnature, in Muhos, near Oulu.
Day 2: Thurs 23 January 2020 - Eagle Photography
Taking an early breakfast (but not too early this time of year) we position ourselves at sunrise in the Eagle Hide for the day. This spacious hide is well designed and very comfortable for a day's session: comfy office chairs, heating and two shooting openings per photographer give excellent chances to focus on the most important target - the eagles! Other feeders for passerines just outside the hide could attract Great Spotted Woodpecker, Eurasian Jay, Crested Tit, Northern borealis Willow Tit and finches. But it's the raptors we've come for and our local guides have made huge efforts to maintain feeding of the wintering Golden Eagle population for over a decade. Several individuals can be present together and we'll witness and hopefully photograph much more than the usual soaring birds as territorial squabbles unfold. A fantastic day at close quarters with these powerful birds!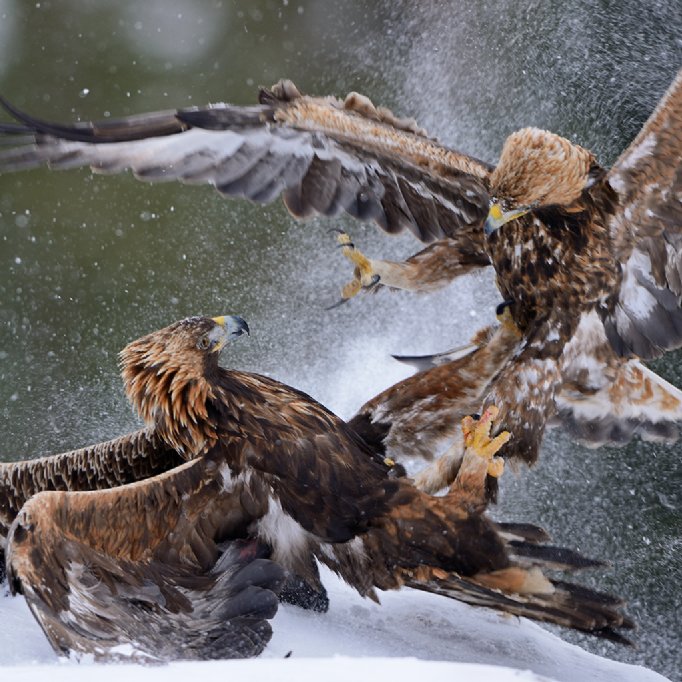 Day 3: Fri 24 January 2020 - Northern Owls and forest species
Most of today will again be spent locally around Oulu, and if either Hawk Owl or Great Grey Owl are present we will make every effort to search for them. The nomadic, wandering nature of these hunters mean they cannot be guaranteed but in good vole years individuals can be faithful to winter feeding territories giving better chances. A good alternative and equally worthy for photographers can be found at specialist forest feeding hides and our Finnish colleagues have several where species such as Goshawk, Crested and Willow Tit and finches perhaps including Yellowhammer may be encountered. While touring the forests there's always a chance of finding something unplanned such as a scarce woodpecker or in influx years Pine Grosbeak – you just never know! Late afternoon we relocate north-east to Iso-Syote on the edge of the Syote National Park with one eye on night conditions in the hope of an Aurora.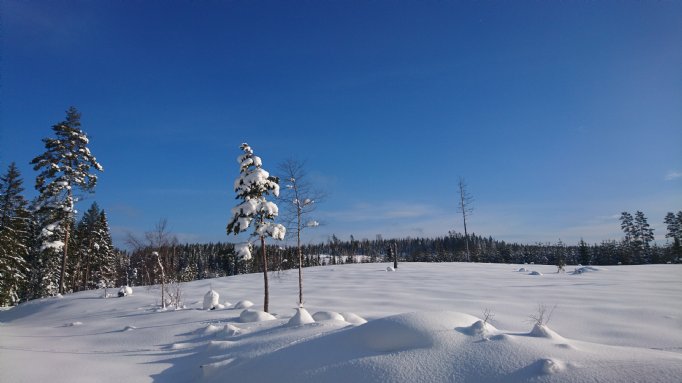 Day 4: Sat 25 January 2020 - Iso-Syote Fjell
Our focus will be on landscape photography, with the option to capture the sun rising over beautiful winter scenes of trees loaded with heavy snow. We then spend time at a Reindeer farm where we can feed and take close pictures of the semi-domestic herd. If interesting birds, especially owls are available in the area or nearby we'll spend time searching for them. Lunch with a twist will be taken at nearby Taivalkoski at the oldest known store in Finland before driving to one of the most famous birding destinations in the country, Kuusamo. We checkin for a four night stay in the beautiful log cabins of Chalet Aurora at Oivangin Lomkartano in Kuusamo
Day 5: Sun 26 January 2020 – Kuusamo area
Kuusamo, close to the Russian border, and the surrounding area are likely to give another excellent chance for northern Owls. If wintering, they may be seen and photographed hunting effortlessly by day over open ground or in forest clearings and local knowledge will be paramount if we're to find them. The area also holds pairs of the Scandinavian form (Black-bellied) of Dipper and where water flows freely we'll spend time with them, also visiting spectacular landscapes during the day such as Kuntivaara fjell and Kayla. We return to our accommodation in beautiful log cabins where the Northern Lights may be photographed if active from just outside the front door!
Day 6: Mon 27 January 2020 – Golden Eagles take two!
A second opportunity with these magnificent beasts as we spend the day in heated hides within the Oulanka National Park. While waiting for the resident pair to come into feed, smaller feeders can attract other birds with Black Woodpecker. Siberian Jay and Siberian Tit among the range of possibilities. This hide in Oulanka can be fantastic - many birds visit and the day usually flies by. Usually many Siberian Jays visit the feeder during the day and they offer a great and beautiful target to practice for flight shots. A sudden appearance of a Black Woodpecker, and the busy tits on the smaller feeders - there are rarely dull moments in this hide!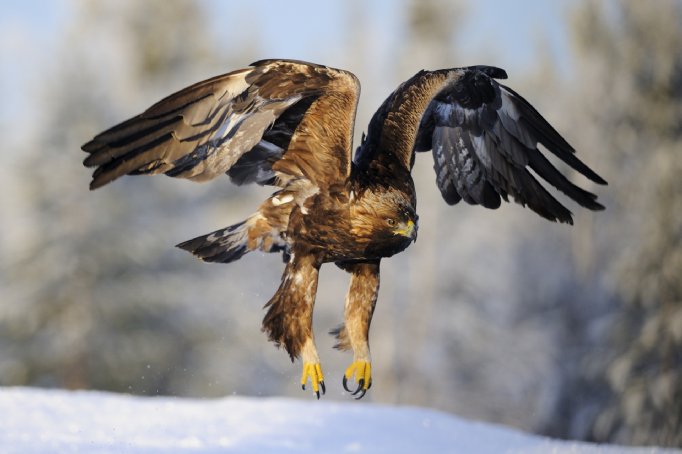 Day 7: Tues 28 January 2020 – Riisitunturi National Park
After breakfast we drive out to the most famous of all winter landscapes in Finland. Deep within the Riisitunturi National Park we walk with snowshoes (or along a ready-made path if preferred) through hilly terrain and snowy forest. The landscape and snowy scenes are breath-taking and the atmosphere eerie as it feels like we're on the edge of the world. Time will also be allocated to a Siberian Jay feeding site where we enjoy a picnic lunch as these cheerful birds come in for theirs! A great photo opportunity with other forest species likely to feature too.
Day 8: Wed 29 January 2020 – Kitka River and Departure
Sadly our final day, but there will be one last chance to fill up the memory cards with a visit to the free-flowing Kitka river. Picturesque winter scenery and an old restored mill provide interest and (Black-bellied) Dippers can be found here too – will we get that perfect last shot!? Dragging ourselves away we must now leave this wonderful country and head home via Kuusamo airport.
Please note: all itineraries are given as a guide only. Actual holiday content may vary according to the judgement of your guide, and elements beyond our control (eg weather conditions and availability of bird species quoted. We cannot guarantee any of the quoted species, but our expert guides will do their utmost to ensure best possible photography opportunities during the tour.
Please also be aware that this is specifically a photography tour, and so some Finnish bird specialities which occur may not be looked for. Heatherlea lead several trips to Finland catering for a variety of interests so please also see our Finland, spring birding and/or our NEW! Finland and Northern Norway holidays. Also please see Sweden in Winter for birders.
Trip Information
Accommodation is in comfortable hotels, guest houses and log cabins with all rooms en suite.
Food Breakfast is continental style. Fruit juice and tea or coffee is usually available. Picnic lunches will be provided by your guide, and will include a variety of local produce plus soft drinks. Evening meals are generally local dishes; Finnish ingredients match that of food just about anywhere else. Meat dishes may include beef, chicken and pork and fish features prominently on Finnish menus – naturally enough for a country that boasts over 60,000 lakes and over 2,850 miles of seashore. Berries and mushrooms, the bounty of the country's seemingly endless forests, are also vital elements. Vegetarian and other diets are welcome.
Walking is generally light/moderate. There will be some uphill track and road walking, though generally an average level of fitness is required.Bring good snow boots, eg Kamik, Sorel or similar. Hiking shoes are not adequate in snowy and cold conditions!
Weather The weather will mostly be cool or cold. You should bring plenty of warm and waterproof clothing and good quality waterproof boots or wellies. Average temperature range at this time of year could range from -10 to 10°C.
Insects Biting insects are not expected.
Group size is restricted to 5 clients maximum.
Flights are by scheduled airline, from London Heathrow or Edinburgh.
Photography Opportunities for good photographic images will be given priority. A number of good quality, often heated hides will be available for use, ideal for photographers of mixed abilities, with our expert Rob on hand to assist and advise. There will of course be times and chances to observe and enjoy wildlife without cameras, so it is recommended you also bring binoculars.
Your Guides
Rob Jordan has been a Heatherlea guide since 2013 in Scotland and also overseas, in both Mallorca and the Camargue. An experienced and skilled photographer and a big lover of Eagles, Rob is looking forward to leading this photo tour to Finland. Rob will be joined by a local guide.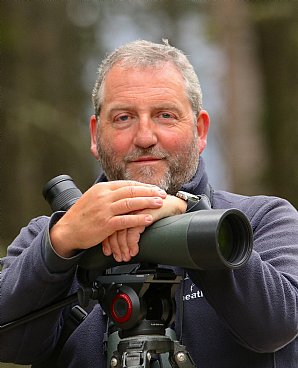 Rob Jordan
What's included in your holiday price:
• scheduled return flights between London Heathrow and Oulu/Kussamo via Helsinki, including all airport taxes.
• ground transportation as outlined including all transportation in Finland in a modern air-conditioned vehicle.
• accommodation and all meals, including breakfast, lunch and dinner.
• the services of your leader/s.
• entrance fees to parks and reserves, and tips to hotels and restaurants.
• The Heatherlea Pre-Flight Service offers everything you need at the airport, including hotels, car parking, airport lounges, regional flights, and upgrades. Let Heatherlea take the strain! Pre-flight airport hotel and lounge included free of charge subject to terms and conditions.
What's not included in your holiday price:
• personal insurance, most alcoholic drinks and other personal expenses, optional tips to the driver and local guide, and any other costs not specified as 'included'.
WHY CHOOSE HEATHERLEA?
Our overseas holidays are planned with care to offer great birding and wildlife, led by capable Leaders who really look after you. Every holiday is run the 'Heatherlea Way', and we hope our Overseas Adventures remind you of the quality and care so many of you enjoy in Scotland. That means rewarding and exciting days in the field, and good quality accommodation and meals, with a real flavour of the country we are visiting. Heatherlea always seek to include the personal touches that make all the difference.
Heatherlea holidays are not 'dawn to dusk' expeditions. Our less-intensive approach is ideal for those who want to relax whilst experiencing the best wildlife watching, and wherever possible we organise early or late activity on an optional basis. We also take sensible breaks when in very hot places and regular comfort breaks on every holiday whenever possible. All itineraries are planned carefully around the best wildlife opportunities,and you won't miss out on memorable wildlife, whilst enjoying relaxed, informal days that are great fun. The really important part of any wildlife holiday is the experience for you, our valued customer.
Heatherlea invest in many things to offer you the best possible service;
• We have been organising birding and wildlife holidays for 27 seasons, and have a highly experienced and capable office team. We also offer a telephone and email service outside normal office hours.
• Heatherlea overseas holidays have a maximum of 12 clients per trip, putting the emphasis on personal service, and helping you get the best possible experience.
• Our holidays often include things which others might invite you to pay yourself, for instance Departure Taxes and tips to hotels.
• All elements of our holidays are sold under our own licence, ATOL 6113. Under 'Flight-Plus' legislation it is a legal requirement of any tour operator to hold an ATOL licence for the supply of any overseas holiday where a flight is involved, if that holiday includes either overseas accommodation and/or car hire. It can be a criminal offence for an operator to book flights as part of a package without an ATOL licence. Heatherlea also hold full Tour Operator Insurance for your added protection.
• Heatherlea is your complete wildlife holiday provider. Our 'Back Office' team can organise all your pre-flight and other travel needs. Our specialists will help you book the right services, at the best price. Book holiday extensions through us, and your ATOL protection is extended further. We don't charge extra for this service.
• Heatherlea is a limited company, registered in Scotland, and registered to pay VAT (applies to all holidays within the European Union).
Please note: all itineraries are given as a guide only. Actual holiday content may vary according to the judgement of your guide, and elements beyond our control (eg weather).