NEW!

Faroe Islands
Birds, whales, plants and geology amidst incredible coastal scenery
| | |
| --- | --- |
| Destination | |
| Focus | |
| 2023 Dates | |
| Duration | 8 Days |
| Guides | |
| 2023 Price | Price TBC |
| 2024 Dates | |
| Duration | 8 Days |
| Guides | |
| 2024 Price | Price TBC |
| Max Group Size | 8 |
The Faroe Islands lie in the north Atlantic, approximately halfway between Norway and Iceland. Their closest neighbours are the northern and western isles of Scotland, and Faroe's remote location, rugged and rocky terrain, volcanic geology, coastline dominated by cliffs and fascinating history makes this an exceptional place to visit.
A bucket-list destination for many travellers, the incredible scenery, seabirds, distinctive wildflowers and interesting geology makes this archipelago of north Atlantic islands a naturalist's gem. Distances are small and the road network is good so we'll be out and about enjoying the islands' natural history for much of our time. Our island hopping takes us to ten islands and allows us the chance to immerse ourselves in all that Faroe has to offer. These remote islands have only a few different breeding birds but we expect great views of those that are there and anticipate recording 40 to 50 species
This holiday focuses on the birdlife of the islands, but with more than a passing glance towards the history and culture of the people here, who are mainly of Norse, but with some Celtic, descent, and the dramatic geology of the islands. Overwhelmingly volcanic in origin the islands' provide some of the most dramatic coastal scenery to be found anywhere. Our itinerary is non-intensive, but don't underestimate the ability of the Faroes to delight and entrance – this is a lovely, relaxing holiday.
Please note this is a destination we visit infrequently, trips will likely be bi-annual, so plan well ahead for the Faroes!
Enjoy your complimentary pre-flight overnight hotel before your holiday begins. Full details from our office! Read more about our Pre-flight Service here!
Day 1: Mon 17 July 2023 - Arrival
Travel from Edinburgh on the direct flight to Vágar, Faroe Islands. It's about an hour's drive to Tórshavn, the capital on the island of Streymoy where we'll settle into our hotel and discuss the days ahead. We'll no doubt encounter the Faroese national bird on the way - breeding Oystercatcher are everywhere! Overnight Hotel Føroyar for seven nights.
Day 2: Tues 18 July - Eysturoy
We explore the island of Eysturoy and take a lovely walk near Gjógv on the north coast of the island. We'll see our first Puffin and no doubt encounter Arctic Skua as they patrol the cliffs. The scenery is magnificent and we can look across to the island of Kalsoy across the sound. There are some interesting wildflowers in the area and we'll look for Heath Spotted Orchids on the grassy slopes.
Day 3: Wed 19 July - Klaksvik
We travel to Klaksvík on the island of Bordoy through the undersea tunnel that connects the two islands. There we'll catch our ferry to the island of Kalsoy and explore this gem of Faroe. We will see Black Guillemot as we sail, there is a chance of Harbour Porpoise in the sound and we'll no doubt see Arctic Tern and Arctic Skua too. Trøllanes near the island's northern point is worthy of exploration and to learn about the geology of these north Atlantic Islands. There will be time on our return to make quick visits to the islands of Vidoy and Kunoy, where we look for breeding Merlin amidst the heavily glaciated coastal landscapes.
Day 4: Thurs 20 July - Mykines
Our destination today is the island Mykines and to get there we shall take the ferry from Sørvágar on the island of Vágar. Mykines is justly famous for its Puffin colonies and we expect great views of this charismatic species. The cliffs are incredible and a leisurely two hour walk along the cliff tops with the seabirds and drinking in these amazing coastal landscapes will be a highlight. Aside from the breeding auks, we will encounter Fulmar, Gannet, Arctic Skuas and be on the lookout for moorland breeding Golden Plover and Dunlin. Stunning geology and some lovely wildflowers complement a wonderful day.
Day 5: Fri 21 July - Nólsoy
The island of Nólsoy is just across the sound from Tórshavn and we'll take the short ferry crossing there for a morning's visit. We encounter the by now familiar wildlife as we take a short walk around the island and learn about its large Storm Petrel colony. Our afternoon will be spent at Kirkjubøur on the southern tip of Streymoy, a historic location in the story of the Faroe Islands. There, the Faroe subspecies of Wren may be seen among the rocks and ruins of St Magnús's cathedral.
Day 6: Sat 22 July - Suðuroy
Suðuroy is the southernmost of the islands and today, we take the large ferry to reach it. The crossing offers good seawatching, with the chance of a cetacean or two as we sail. Once again, the landscapes are spectacular and an enjoyable walk near the southernmost cliffs is a great way to spend our time on the island. There is excellent plant life here, and we search for endemic Faroese Lady's-mantle as we stroll. On the northern shores of the island we may well encounter some waders on passage including Turnstone, Knot and Sanderling.
Day 7: Sun 23 July - Western Streymoy
Our destination today is Western Streymoy, and we begin with a visit to Saksun and walk along the valley floor towards the sea to look for Great Skua which breed. Later we visit Vestmanna and take a boat trip beneath the towering sea cliffs for good views of Guillemot colonies from the sea.
Day 8: Mon 24 July - Depart
There's time to explore Tórshavn before heading to the airport for our return flight.
Please note: all itineraries are given as a guide only. Actual holiday content may vary according to the judgement of your guide, and elements beyond our control (eg weather).
What's included in your holiday price:
scheduled return flights between London and Vága Floghavn, airport taxes, ground transportation as outlined in the Faroes.
accommodation and all meals, including breakfast, lunch and dinner.
boat trips and entrance fees as specified
the services of your leader.
The Heatherlea Pre-Flight Service offers everything you need at the airport, including hotels, car parking, airport lounges, regional flights, and upgrades. Let Heatherlea take the strain! Pre-flight airport hotel and lounge included free of charge subject to terms and conditions. Read more...
What's not included in your holiday price:
personal insurance, drinks and other personal expenses, optional tips, and any other costs not specified as 'included'.
More Holiday information:
Accommodation is in a comfortable hotels/guest houses with all rooms en suite,
Food Breakfast is surprisingly good given the limited availability of local produce. Cold meats and cheese are usually offered, with ample bread and preserves. Fruit juice and tea or coffee are also usually available. Evening meals are generally local dishes, which are good but often quite simple. Chicken, fish and very lean lamb are common. Picnic lunches are included.
Walking is not strenuous, though a reasonable level of fitness is required for those who wish to do everything offered. Leisurely walking, very occasionally over moderately rough terrain, is the main physical requirement.
Weather Be prepared for wet weather, but also possibly warm conditions. We will be spending time on windswept coasts; it is therefore vital to have suitable clothing and equipment. The temperature can change quickly, so layered clothing is recommended. Average temperatures in July are around 12c.
Insects biting insects are possible in a few places. Please bring a good insect repellent.
Group size is restricted to 12 clients maximum.
Flights are by scheduled airline, from London. We may be able to offer flight arrangements from another airport and/or or quote without flights so you can make your own arrangements. If you wish to add an extension either before or after your holiday, please contact us and we will be happy to arrange this for you.
Your Leader
Andy Jones has been leading Heatherlea tours in Iceland and the Faroes for many years, and has taken groups of birdwatchers, geologists, whale-watchers and botanists to both countries since the 1990's. His all round knowledge of the islands' natural history and geology is highly regarded, and he is the ideal Leader for this holiday.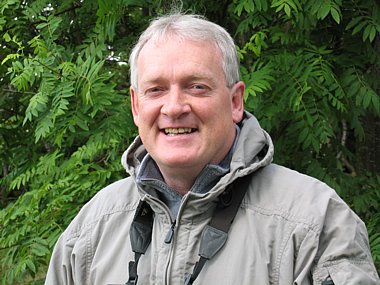 Why choose Heatherlea for your birding and wildlife holiday in Europe?
Our overseas holidays are planned with care to offer great birding and wildlife, led by capable Leaders who really look after you. Every holiday is run the 'Heatherlea Way', and we hope our Overseas Adventures remind you of the quality and care so many of you enjoy in Scotland. That means rewarding and exciting days in the field, and good quality accommodation and meals, with a real flavour of the country we are visiting. Heatherlea always seek to include the personal touches that make all the difference.
Heatherlea holidays are not 'dawn to dusk' expeditions. Our less-intensive approach is ideal for those who want to relax whilst experiencing the best wildlife watching, and wherever possible we organise early or late activity on an optional basis. We also take sensible breaks when in very hot places and regular comfort breaks on every holiday whenever possible. All itineraries are planned carefully around the best wildlife opportunities, and you won't miss out on memorable wildlife, whilst enjoying relaxed, informal days that are great fun.
The really important part of any wildlife holiday is the experience for you, our valued customer. Heatherlea invest in many things to offer you the best possible service;
We have been organising birding and wildlife holidays for over 30 seasons, and have a highly experienced and capable office team. We also offer a telephone and email service outside normal office hours.
Heatherlea overseas holidays have a maximum of 12 clients per trip, putting the emphasis on personal service, and helping you get the best possible experience.
Our holidays often include things which others might invite you to pay yourself, for instance Departure Taxes and tips to hotels.
All elements of our holidays are sold under our own licence, ATOL 6113. Under 'Flight-Plus' legislation it is a legal requirement of any tour operator to hold an ATOL licence for the supply of any overseas holiday where a flight is involved, if that holiday includes either overseas accommodation and/or car hire. It can be a criminal offence for an operator to book flights as part of a package without an ATOL licence. Heatherlea also hold full Tour Operator Insurance for your added protection.
Heatherlea is your complete wildlife holiday provider. Our 'Back Office' team can organise all your pre-flight and other travel needs. Our specialists will help you book the right services, at the best price. Book holiday extensions through us, and your ATOL protection is extended further. We don't charge extra for this service.
Heatherlea is a limited company, registered in Scotland, and registered to pay VAT (applies to all holidays within the European Union).