NEW!

Costa Rica: Ultimate Birdwatching and Wildlife
A 22-night extravaganza of birdwatching and other wildlife
More Info

Experienced local leader, joined by Heatherlea guide Toby Green with over 7 clients.
Max group size 12 clients.
Direct from London Gatwick on a morning flight.
Pre-flight airport hotel and lounge are INCLUDED.
We have been birding Costa Rica for many years, and it is one of our favourite and most popular overseas destinations. This holiday is a response to demand from clients who want to maximise their experience in this wonderful country. Our exclusive 22-night birding and wildlife tour covers not only the best sites of the north of Costa Rica, but also some new places in the south in just one trip!
This 'Ultimate' itinerary is similar to our 15-night 'Classic Tour', but with the addition of seven extra nights, enabling us to include three new lodges in rewarding new places. In the Dominical area, we look for birds not available on our other itineraries including Yellow-billed Cotinga. Our second new location is on the outskirts of Golfito, bordering on the Piedras Blancas National Park where we are surrounded by dense lowland rainforest, a great area for many new birds. The third new site is Las Cruces Biological Station, where the gardens and surrounding rainforest attract many birds exclusively found in the southern part of Costa Rica. Please also check our 'Classic Tour - Plus', which offers an 18-night tour.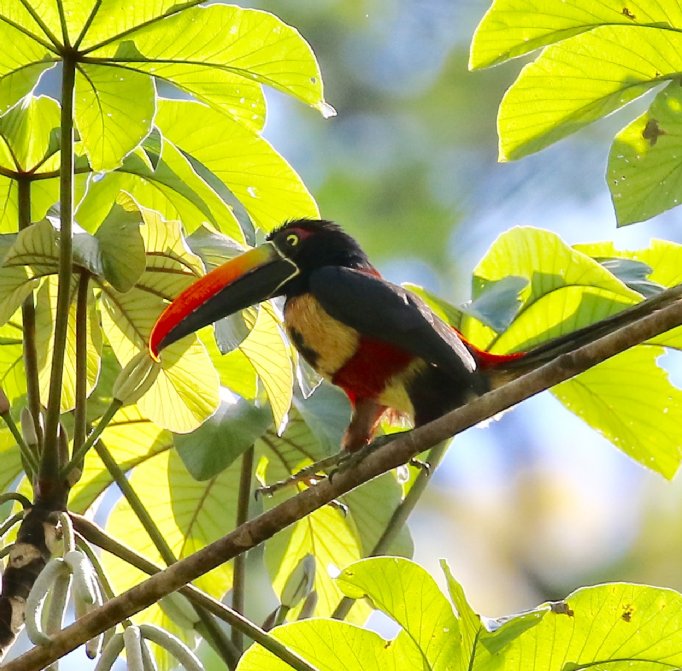 All these places are added to the spectacular wildlife experiences contained in our other tours; you will experience exciting birding at Tortuguero, as we slip silently through the dense mangroves; unforgettable Arenal Volcano provides many brightly coloured upland forest birds, and the cloud forests south-east of San Jose are home to Resplendent Quetzal amongst many other avian delights. A full three weeks in this birdwatching and wildlife paradise!
Birding highlights are too numerous to mention – every few days we will dip into a new habitat with an almost completely different set of birds. We will probably see over 400 species and if there are many sharp and keen birders in the group this could be as high as 470 – an impressive list for a tour which is still predominately run at relaxed pace. A tenth of our birdlist might be hummingbirds, with other tropical families well represented including many trogons, toucans, aracaris, motmots, doves, woodpeckers, woodcreepers, ant-shrikes, ant-thrushes, ant-vireos, tanagers, raptors, vultures, parrots, macaws, flycatchers, warblers, herons, waders and many other families.
This holiday is not an intensive 'birders trip' – hunting all the extreme rarities and endemics of Costa Rica would be exhausting and frustrating at the same time – some Costa Rican birds are only seen once every few years, often in dense impenetrable rainforest. Instead this is a relaxed 'highlights' trip, with plenty of time to watch, enjoy and photograph the birds and wildlife. Indeed we can take time to study anything we come across in this biodiversity hotspot, be it thousands of Leaf-cutter Ants across our path, right up to a Tamandua high in the trees above us! We will enjoy excellent food and accommodation, and take optional breaks in the heat of the day. We travel through this small country in a roomy, comfortable, air-conditioned bus with clear glass throughout – great for use as mobile hide!
Outline Itinerary
Day 1: Saturday 20th January - Flight from London Gatwick - arrive into San Jose
We enjoy our free pre-flight hotel at Gatwick airport before meeting up in the terminal to make the most of our complimentary airport lounge. Our direct flight takes us straight to San Jose, right in the heart of Costa Rica. We will be warmly welcomed by our local guide and driver and escorted to our hotel. If there is any daylight left we will take a wander in the lovely gardens to recuperate from our long day of travel. This is a good place to see White-eared Ground-sparrow, Blue-crowned Motmot, our first hummingbirds, and maybe even Prevost's Ground-sparrow. Overnight San Jose.
Days 2 & 3: Sunday 21st and Monday 22nd January - Tortuguero
This morning (and every morning for the rest of the trip!) there will be an optional birding walk around the hotel grounds for an hour or so before breakfast. We have recorded over 70 species in the hotel gardens here, and usually see 30 or so during this first birding foray! After breakfast we pack up and drive out of the Central Valley to the Caribbean lowlands, a journey of a few hours with plenty of open country birds and raptors as we go. We then leave the bus behind and travel by boat to the amazing Tortuguero National Park on the Caribbean. Here we will explore the rich labyrinth of waterways which will afford us excellent wildlife viewing. The area boasts 320 bird species, including Tiger Herons, Agami Heron, White-fronted Nunbird, and all six species of kingfisher belonging to the Americas. Along with birds, we may also see Neo-tropical River Otter, sloth, caiman, iguanas, poison-dart frogs, fresh-water turtles, Basilisk Lizard, the Honduran White Tent-making Bat, and three species of monkey that frequent the banks.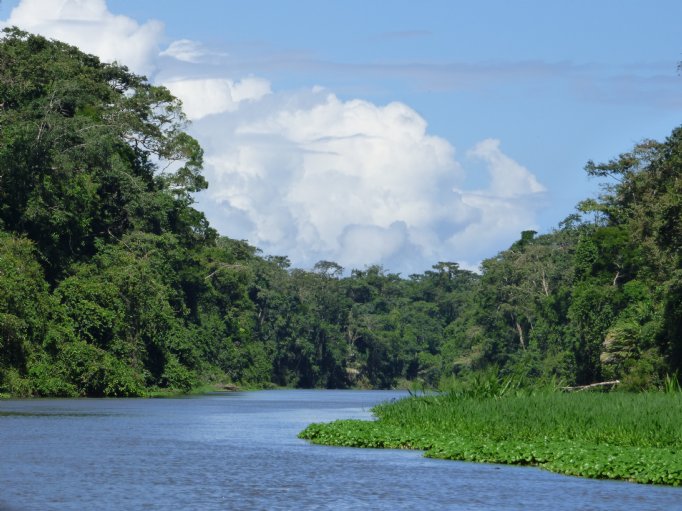 Aside from a few short walks around the grounds, all excursions here are by boat - a small and uncovered vessel just for our group, allowing access into the narrowest of channels - usually where the scarcest wildlife is found! With at least four extended boat trips, we should draw up a healthy list of birds and other wildlife, with surprises guaranteed. Views are often so close that binoculars are only needed for detail - the photographic opportunities are simply incredible! Tortuguero itself is often listed as the trip highlight for many - we start our adventure with a bang! Two nights at Laguna Lodge, Tortuguero National Park.
Day 4: Tuesday 23rd January - Tortuguero to Selva Verde
One final exciting boat trip at Tortuguero before we pack up and leave by boat, back to our bus an hour upstream. From here we return to the main road, looking for raptors and open country species as we go. We have seen Great Black-Hawk, White Hawk and both Mississippi and Swallow-tailed Kites here as well as many other species – King Vulture is a regular! We continue on to Selva Verde Lodge in the tropical lowlands of Sarapiqui. Here we spend the afternoon exploring the wildlife-rich riparian zone along the banks of the Sarapiqui River, within the grounds of the lodge itself. This rain forest region at the base of the Caribbean slope is well known for hosting the greatest diversity of tropical flora and fauna – many species of plant and invertebrate remain unclassified. Here Sunbittern, Black-faced Grosbeak, and Grey-necked Wood-Rail are a few of the inhabitants of the area, and this is the most likely spot on the trip to see Great Green Macaw, an endangered species that depends on the Dipteryx tree for feeding and nesting.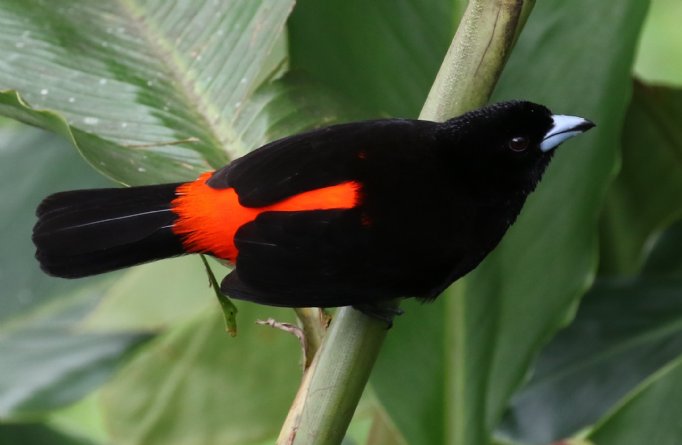 The river itself holds many waterbirds, with Buff-rumped Warbler, Northern Waterthrush, Black Phoebe and four species of Kingfisher possible – a key target for our stay though is the Sunbittern – it may take some effort to find this skulking bird! Also lurking in the forest (often right above our cabins) are Two and Three-toed Sloth, 3 different species of monkey (especially Howler), and peccaries. Overnight at Selva Verde Lodge
Day 5 & 6: Wednesday 24th and Thursday 25th January - La Selva Biological Station
We spend the next two days at La Selva Biological Station run by the Organization for Tropical Studies (OTS). The station is among the four most famous tropical research facilities in the world, and the research undertaken here is key to our understanding of the richest wildlife habitats on earth. The station is home to more than 420 bird species, more than 500 species of butterflies, 55 species of snakes, and 120 species of mammals. A vast variety of different species of trees can be seen in the arboretum too!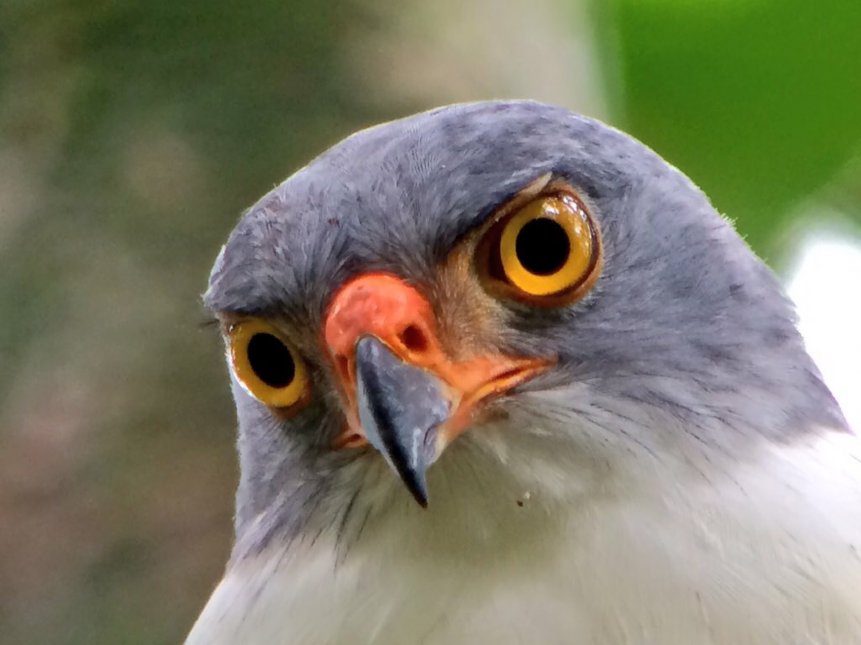 Three species of Tinamou inhabit La Selva, and we usually connect with at least one of these. We will also look for Rufous Motmot, trogons, caciques, Purple-throated Fruit Crow, and Snowy Cotinga among many others, including various manakins, Ant-shrikes and raptors too. Animals here are not camera shy, so there will be ample photo opportunities. Peccaries (wild pig), Agoutis, Coatimundi, sloths, and monkeys frequent the area, all of which makes for unforgettable days. We will have the opportunity of two morning and two afternoon sessions here – the afternoon sessions are a little hotter and trickier – but new birds are expected on every excursion. Some guests enjoy the mornings here and then stay with the fruit feeders at Selva Verde lodge for the afternoon – good birding whatever you choose! The range of possible birds in this area is far too big to list and it is best to appreciate the diversity and mixed flocks with an open notebook! Every single walk in this incredible place is different and like Tortuguero, you will probably not wish to leave when the time inevitably comes! Two further nights at Selva Verde (three in total)
Days 7 & 8: Friday 26th and Saturday 27th January - Arenal Volcano National Park
We will enjoy a pre-breakfast around the grounds at Selva Verde before packing up and heading to the Caribbean foothills, a journey which will takes a few hours through open countryside. We spend two nights at the Arenal Observatory Lodge, which offers breathtaking views of the jungle-covered Arenal Volcano. Its activity levels fluctuate, and currently (Feb 2017), the volcano is mostly dormant. A glance at the map shows why this is such a birding and wildlife hotspot, right at the tip of the Caribbean foothills and with a mix of both Pacific and Caribbean wildlife. The extensive trails at the lodge allow tremendous opportunities to view such stunning species as Crimson-collared Tanager, White Hawk, Brown-hooded Parrot, and Golden-olive Woodpecker, along with an array of colourful hummingbirds, and both species of Toucan. One night we will go owling in search of Black-and-White Owl and Mottled Owl, in the open fields, below the lodge.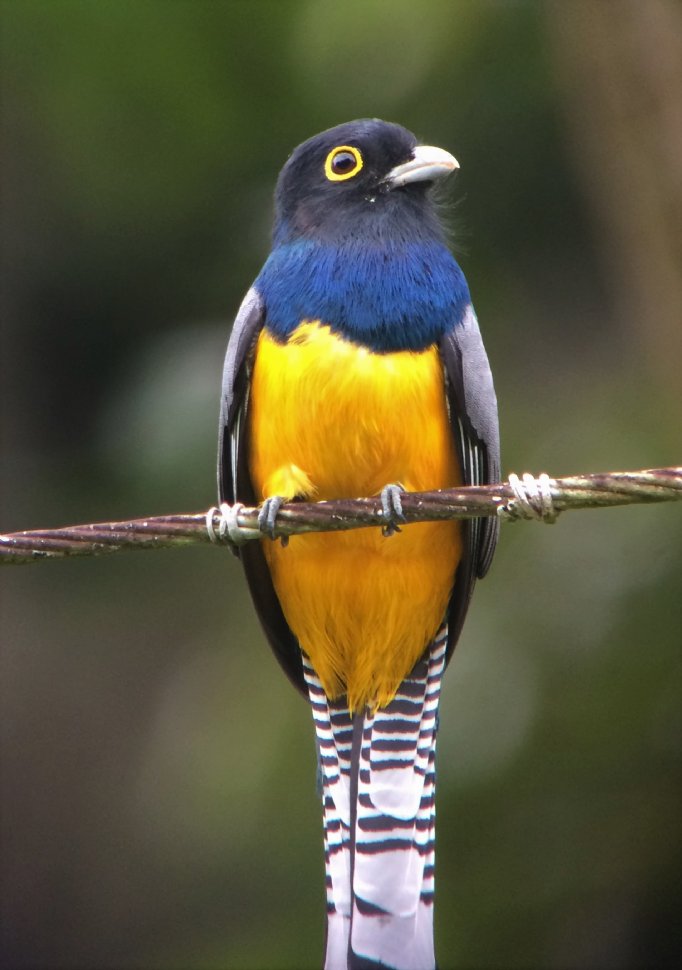 This is a wet spot throughout the year, so we may have to be patient with the weather. If wet, the fruit feeders will keep us entertained as we watch from the shelter of the building – alternatively there is a spa and jacuzzi to take a rest from birding for a few hours! Mammal watching is good here too, with Tamandua, Tayra, Coati and even Margay seen frequently. Two nights at Arenal Observatory Lodge.
Day 9: Sunday 28th January - Guanacaste region
After breakfast we travel to Guanacaste to explore the tropical dry forests, marshlands, estuaries, and mangroves characteristic to the northern Pacific region. As we head west the landscape gets drier and drier, and more open and flat too. Our local guides are crucial here, as they know where the seasonal pools are still wet, this is where the birds are! This is an ideal place to see water birds, raptors, and other species found only in this zone. In the wetlands, we are likely to see Snail Kite, Wood Stork, Roseate Spoonbill, Boat-billed Heron, Black- crowned Night-Heron, Limpkin, and several species of kingfisher. Walking through the semi-deciduous forest, we may see Turquoise-browed Motmot, Long-tailed Manakin, and several species of parrot, oriole, cuckoo, trogon, jay, and owl. While in the area, we will visit an area famous for nesting Jabiru, a huge stork, now endangered and seen in only a few places.
If the conditions are right during our stay we can visit the Gulf of Nicoya and a few saltpans – superb for waders if we are lucky. Likely species include Western, Least, Semi-palmated and Stilt Sandpipers, Wilson's, Semi-palmated and Grey Plovers and Short-billed Dowitcher, Willet and Lesser Yellowlegs, amongst several other species. On the coast here we also see pelicans, Marbled Godwits, Black Skimmers, Surfbird, terns and gulls – this is an underwatched spot and great for rarities! Overnight at Ensenada Lodge.
Day 10: Monday 29th January - The Tarcoles River
We spend a last few hours at La Ensenada (where we hope to pick up specials such as Spot-breasted Oriole, White-lored Gnatcatcher and Pacific Screech Owl) before heading south to the Tarcoles river area. We check-in to our hotel for lunch, and head out mid-afternoon. In the afternoon we enjoy a two-hour mangrove boat ride along the Tarcoles River with a local guide. This can be a highlight of the tour for many, and we will not only be impressed by giant American Crocodiles that inhabit the riverbanks but also by the variety of shorebirds, water birds, and raptors. Our birdlist today could be as high as 100 species, and rarities include Mangrove Warbler, Panama Flycatcher, Mangrove Cuckoo, Mangrove Hummingbird, Mangrove Vireo, Pygmy Kingfisher and any numbers of gulls, terns or waders in the roosts – we must check carefully! Overnight at Hotel Villa Lapas.
Days 11 & 12: Tuesday 30th and Wednesday 31st January - Carara National Park
We spend the next two days exploring the Carara National Park, a unique climatological zone where the ecosystem of the humid southern coastal region joins the dry climate of the northern Pacific area, becoming a rich meeting ground for species from both regions. This is another of the highlights of the tour, and we hope to find Orange-collared Manakin dancing at their lek. This is a great location to spot antbirds, up to five different species of trogon, Rufous-tailed Jacamar, and even Royal Flycatcher. We will also take time to visit Playa Azul where we look for Gray-necked Wood-Rail, Yellow-crowned Night-Heron, Red-crowned Woodpecker, Melodious Blackbird, Bare-throated Tiger-Heron, Pacific Screech-Owl, Spectacled Owl, and many species of shorebird. Two further nights at Hotel Villa Lapas (three in total).
Day 13: Thursday 1st February - Travel day to Savegre and the Paramo
We start to head back towards San Jose and climb up significantly in altitude – it will be noticeably cooler here, though the sun remains strong. We travel to Cerro de la Muerte, stopping for lunch en route. We will spend the afternoon exploring the misty highland cloud forest reserve at the Paraiso de Quetzal, where up to 20 pairs of quetzals have been seen, as well as Fiery-throated Hummingbird, Black-and-yellow Silky-flycatcher, Large-footed Finch, Black-billed Nightingale-Thrush, Sooty Robin, Sooty-capped Bush-Tanager, Peg-billed Finch to name a few. Almost all of these are range restricted and limited by altitude.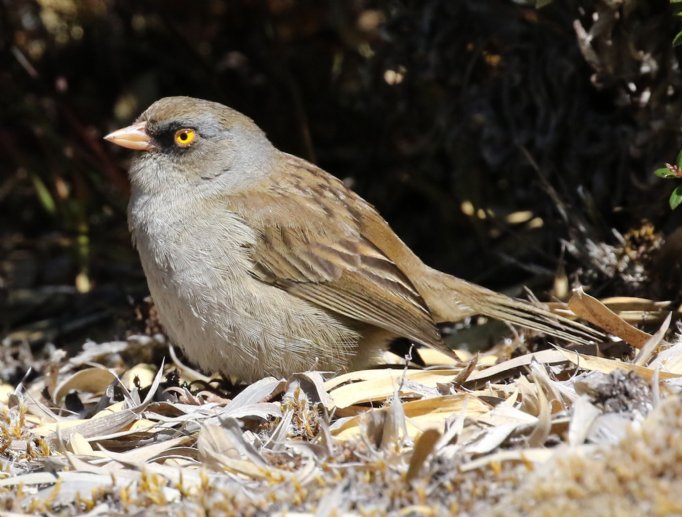 Before heading to our lodge for dinner, we also visit the Paramo habitat at approximately 3500m above sea level in search of the Volcano Junco – only found on the scrubby heath at this height. We will overnight at the Savegre Mountain Lodge, nestled in a quaint highland valley nearby. As we arrive we are sure to notice the feeders – busy with hummingbirds such as Green Violet-ear, Magnificent, Volcano and Scintillant hummingbirds. The fruit feeders should have Flame-coloured Tanager, Tennessee Warbler, Yellow-thighed Finch and Acorn Woodpecker – what a start in this wonderful place. Overnight Savegre.
Day 14: Friday 2nd February - Savegre
Today we spend the day exploring the gardens, riparian highland habitats and old growth tropical oak cloud forests surrounding the Savegre Mountain Lodge. Walking through the gardens and along the Savegre river, we can hope to see Flame-throated Warbler, Collared Trogon, Torrent Tyrannulet, Volcano Hummingbird, and Grey-tailed Mountain Gem, among many others. Some of the other species we will seek include Black-faced Solitaire, Spotted Wood-Quail, Buffy Tuftedcheek, Emerald Toucanet, Golden-browed Chlorophonia, Ochraceous Wren, Ornate Hawk-Eagle, and of course Resplendent Quetzal. Many North American migrants winter here, with Wilson's Warbler, Black-throated Green Warbler, Black-and-White Warbler, Rose-breasted Grosbeak, Tennessee Warbler and American Redstart all common around the grounds. A second overnight at Savegre Mountain Lodge.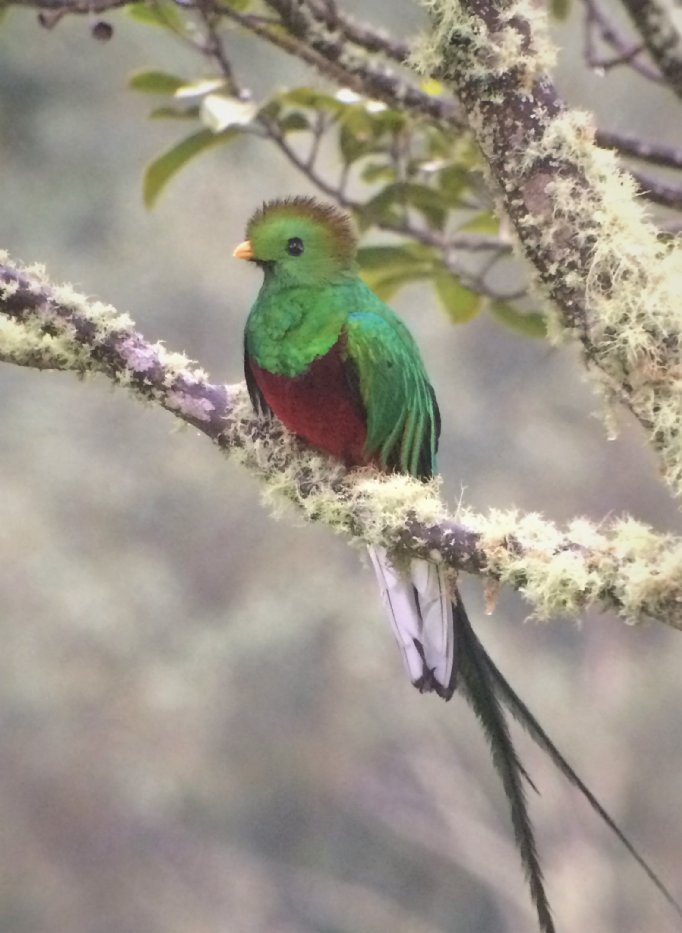 Days 15 & 16: Saturday 3rd and Sunday 4th February - Piedras Blancas National Park
We continue south towards the Panama border, heading to Esquinas Lodge on the outskirts of Golfito where we will spend the next two days. The lodge is surrounded by dense lowland rainforest, bordering on the Piedras Blancas National Park. This is a great area to look for Ruddy-breasted Seedeater, Red-breasted Blackbird, Black-cheeked Ant-Tanager (endemic), Baird's Trogon, Fork-tailed Flycatcher, Blue-crowned Manakin, Brown-chested Martin, Scrub Greenlet, and Thick-billed Euphonia among many others. We might even spot Pearl Kite and Uniform Crake. Two nights at Esquinas Lodge.
Days 17 & 18: Monday 5th and Tuesday 6th February - Las Cruces Biological Station
Today we head inland to Las Cruces Biological Station, home to the Robert and Katherine Wilson Botanical Garden, run by the Organization for Tropical Studies. The station boasts an impressive collection of tropical and subtropical plants from around the world, including rare and endangered species from Costa Rica. Among the 1000 genera and 212 plant families represented at the station there is an astounding compilation of ferns, aroids, bromeliads, gingers, heliconias, marantas, and palms. The gardens and surrounding rainforest attract a wide variety of birds, many of which are exclusively found in the southern zone of the country. Some of our target birds while at the station include: Turquoise Cotinga, Fiery-billed Aracari, Masked Yellowthroat, Marbled Wood-Quail, Garden Emerald, White-bellied Emerald, Charming Hummingbird, Olivaceous Woodcreeper, Speckled Tanager, Thrushlike Schiffornis, Golden-naped Woodpecker, and Pale-breasted Spinetail. If we are lucky we may see Crested Oropendola and Wattled Jacana. Two nights at Las Cruces Biological Station.
Day 19: Wednesday 7th February - Dominical Region
Today we continue along the Pacific coast where we will spend the next day and a half in the Dominical area, just north of the unique Ballena Marine National Park. Ballena is the Spanish word for whale and the park gets its name because of its location on the north-south migration path of the Humpback Whales, although these animals are unlikely during our visit. The area is also known for its rich marine life and coastal terrestrial habitats. We will explore the nearby forests, home to Howler Monkeys, White-faced Capuchins, Iguanas, Basilisk lizards and other reptiles, as well as excellent birdlife including Fiery-billed Araçari , Yellow-billed Cotinga (a species endemic to Costa Rica and Panama), King Vulture, Grey-necked Wood-Rail, American Oystercatcher, Elegant Tern, a variety of shorebirds, Tawny-winged Woodcreeper, Smooth-billed Ani, Scaled Pigeon, Striped Owl, Costa Rican Swift, Olivaceous Piculet, Panama Flycatcher, Yellow-crowned Tyrannulet, and Riverside Wren. Two nights at La Cusinga Lodge.
Day 20: Thursday 8th February - Travel day back to San Jose
After a morning at La Cusigna we head towards San Jose, to check in to our hotel on the outskirts. Overnight San Jose.
Day 21: Friday 9th February - Birding the Central Valley
Today we head out and cover some of the birding spots within an hour of San Jose - Overnight San Jose
Day 22: Saturday 10th February - Transfer to the airport for flight home
Depending on flight time, we should have several hours to bird in the hotel grounds or on a nearby walk – a great way to wrap up our trip. We will have our final round-up and go through our individual highlights – there will be many no doubt. After our last lunch we head through to the airport for our flight home.
Day 23: Sunday 11th February - Arrive back in the UK
Daily routine
Every day will start with pre-breakfast birding at first light. This is of course optional, though we usually record a good number of species. We take our time with breakfast (usually a buffet) and give plenty of time to get organised for the morning outing. We head out around 8.30am or so for 3 hours. The walking is of a slow pace, with frequent stops for birds and all manner of natural history. The trails are mostly easy on flat or slightly sloping ground and trails. The morning session is typically the most productive for all of our locations – one not to be missed. We return in time for lunch, usually followed by a siesta until 3 or 3.30pm – guests are of course free to continue birding in the meantime, but most appreciate the down time to process photos, nap or go for a swim to cool off. The afternoon session is usually from 3 - 5.30pm and although generally quieter than the morning, the light is often better and we almost always see new things. We usually then have an hour to freshen up, before meeting for the birdlist over drinks. The checklist takes around 30 minutes, and is of course optional. We then have dinner and brief everyone for the plan for the next day. Every few nights there will be an optional excursion for an hour before bed to look for Nighthawks, Owls, Potoo or mammals, moths, lizards, frogs – depending on where we are. We encourage guests to make the most of their holiday – some people are at every minute of every excursion, many pace themselves and take more rests. Your Heatherlea guide and local guide will be present throughout to help and of course answer any questions you may have.
Your Leaders:
Toby Green is an experienced Heatherlea Leader both at home and abroad, and Toby has led several trips for us in Costa Rica. Toby will be joined by an expert local Leader (to be announced) on this holiday!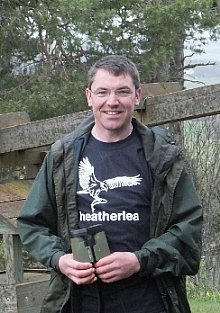 Toby Green
More Holiday Information:
Accommodation is in hotels or lodges with all rooms en-suite. Some of the lodges are remote, and have simple-style rooms. All are spacious, have en-suite facilities, and are very comfortable to a good standard.
Food is usually served as a buffet, with a wide choice. Vegetarian and other diets are welcome.
Walking is generally light/moderate. There may be some uphill track and road walking, though generally an average level of fitness is required.
Weather will be mixed. Mostly the temperature will be warm, with the possibility of rain. In some locations the weather is hot and humid, in others hot and dry, and at altitude can be cool and wet.
Insects There are biting insects, though not usually as a major problem. A good repellent is advised, especially for walks in humid, closed canopy forest.
Group size is restricted to 12 clients maximum.
Optics and photography: Binoculars are essential, and a camera is worthwhile. Photographic opportunities are plentiful, though it is important to remember that this is a wildlife watching trip, with viewing for the whole group being the priority, especially in closed canopy situations where the field of view is narrow. Telescopes are useful – especially in open situations such as hotel grounds, the coast and roadside birding. However much of our birding is in closed canopy forest, where it is challenging to find the birds and with such narrow fields of view may be frustrating. Your guides will always carry a scope each and will set them up for your viewing.
Flights are direct from London Gatwick. We may be able to offer flight arrangements from another airport and/or or quote without flights so you can make your own arrangements. If you wish to add an extension either before or after your holiday, please contact us and we will be happy to arrange this for you.
What's included in your holiday price:
* scheduled return flights between London Gatwick and San José, airport taxes,
* ground and boat transportation as outlined including all transportation in Costa Rica in a modern and spacious air-conditioned vehicle,
* accommodation and all meals, including breakfast, lunch and dinner. Water is provided in the vehicle each day. Our guides also provide cold slices of mango and pineapple in very hot places!
* the services of your leaders.
* entrance fees to parks and reserves and tips to hotels and restaurants.
* departure taxes, currently USD29.
* The Heatherlea Pre-Flight Service offers everything you need at the airport, including hotels, car parking, airport lounges, regional flights, and upgrades. Let Heatherlea take the strain! Pre-flight airport hotel and lounge included subject to terms and conditions.
What's not included in your holiday price:
* personal insurance, personal expenses including drinks ordered at the lodges, visa costs where necessary, optional tips to the driver and local guide, and any other costs not specified as 'included'.
WHY CHOOSE HEATHERLEA?
Our overseas holidays are planned with care to offer great birding and wildlife, led by capable Leaders who really look after you. Every holiday is run the 'Heatherlea Way', and we hope our Overseas Adventures remind you of the quality and care so many of you enjoy in Scotland. That means rewarding and exciting days in the field, and good quality accommodation and meals, with a real flavour of the country we are visiting. Heatherlea always seek to include the personal touches that make all the difference.
Heatherlea holidays are not 'dawn to dusk' expeditions. Our less-intensive approach is ideal for those who want to relax whilst experiencing the best wildlife watching, and wherever possible we organise early or late activity on an optional basis. We also take sensible breaks when in very hot places and regular comfort breaks on every holiday whenever possible. All itineraries are planned carefully around the best wildlife opportunities, and you won't miss out on memorable wildlife, whilst enjoying relaxed, informal days that are great fun.
The really important part of any wildlife holiday is the experience for you, our valued customer. Heatherlea invest in many things to offer you the best possible service;
* We have been organising birding and wildlife holidays for over 27 years, and have a highly experienced and capable office team. We also offer a telephone and email service outside normal office hours.
* Heatherlea overseas holidays have a maximum of 12 clients per trip, putting the emphasis on personal service, and helping you get the best possible experience.
* Our holidays often include things which others might invite you to pay yourself, for instance Departure Taxes and tips to hotels.
* All elements of our holidays are sold under our own licence, ATOL 6113. Under 'Flight-Plus' legislation it is a legal requirement of any tour operator to hold an ATOL licence for the supply of any overseas holiday where a flight is involved, if that holiday includes either overseas accommodation and/or car hire. It can be a criminal offence for an operator to book flights as part of a package without an ATOL licence. Heatherlea also hold full Tour Operator Insurance for your added protection.
* Heatherlea is your complete wildlife holiday provider. Our 'Back Office' team can organise all your pre-flight and other travel needs. Our specialists will help you book the right services, at the best price. Book holiday extensions through us, and your ATOL protection is extended further. We don't charge extra for this service.
Please note: all itineraries are given as a guide only. Actual holiday content may vary according to the judgement of your guide, and elements beyond our control (eg weather).