Ghana
| | |
| --- | --- |
| Destination | |
| Focus | |
| Max Group Size | 10 |
This is a full 10-day tour of Ghana, not so concerned with a huge list of species, but still taking in the best birding parts of the country. The itinerary includes the famous Kakum Forest, where we shall spend three nights. Without doubt one of the highlights will be a visit to the canopy walkway suspended some 30 metres above the forest floor, allowing eye-level views of some tricky canopy birds. We then move on to some important forest near Assin Fosu to look for what is probably the most sought after bird in Ghana, the wonderful Yellow-headed Picathartes. Here we hope to enjoy close views of these magical forest birds returning to roost. The next day we shall travel to the arid north and Mole National Park famous for its Elephants. Here we shall spend three nights to enjoy the wealth of wildlife available. Numerous birds of prey shall keep us busy here and as dusk falls the fantastic Standard-winged Nightjar should perform! Our tour then concludes back in Accra where we have time to visit Sakumono Lagoon. A great holiday for those who have never been birding in Ghana before.
Key Species:
Yellow-headed Picathartes, Pel's Fishing Owl, Greyish Eagle Owl, Black Bee-Eater, Red-throated Bee-Eater, Standard-winged Nightjar, Rufous-sided Broadbill, Black-casqued Hornbill, Abyssinian Ground Hornbill, Long-tailed Glossy Starling, and Long-tailed Hawk.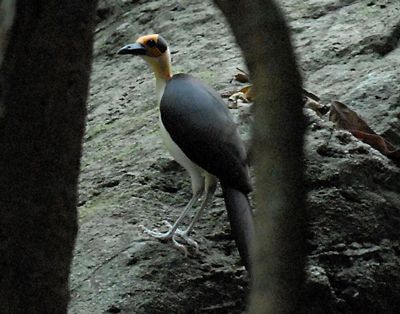 Yellow-headed Picathartes, endemic to the Upper Guinea forests of West Africa, is a much sought-after bird. Threatened by extinction, and categorised on the IUCN Red List as' Vulnerable', its strange appearance belies its status as a very large passerine, probably an ancient basal offshoot from the passerine evolutionary tree. Colonial nesters, they build cup-shaped mudnests attached to cave walls and rock overhangs, usually close to a steam in order to obtain building material. Their populations are highly fragmented as a result of these rather specific requirements. Forest cover in their range is being destroyed at an unsustainable rate and the populations are dwindling. Picathartes spend their days hopping and bounding along the forest floor, foraging for insects and snails. Very little is known of their behavior as they are incredibly shy birds, disappearing at the first signs of disturbance. However, around their colonies they seem to lose fear, perching close to observers to preen, sometimes ignoring people and at other times displaying great curiosity.

DAY 1:
We fly London Heathrow to Accra. We arrive in the evening and transfer to an excellent beach hotel for a good night's sleep.
DAYS 2 - 4 : KAKUM NP
We set off reasonably early and head along the Cape Coast, birding en-route and reaching our main destination the Kakum Forest NP, in the afternoon. Kakum Forest is a fantastic reserve crammed full of many great birds many of which can be tough to see. However we have exclusive access (on two mornings and one evening) to the canopy walkway suspended some 30 metres above the forest floor, offering the best chance of the great species that live here. Specialities that we hope for include the gentle giants of the forest with both Yellow-casqued and Black-casqued Hornbills and maybe even endemic Brown-cheeked Hornbill. Fantastic White-crested Hornbill, with its unmistakable long tail will be high on many people's target lists , as will beautiful Long-tailed Hawk. Yellow-billed Turacos will flash crimson wings as they fly below us, Rosy Bee-Eaters will hawk above the clearings, the amazing Blue Cuckoo-Shrike should give itself away by its song and colourful Malimbes will entertain us in the vine tangles. The distinctive song of Sharpe's Apalis should lead us to this endemic, and we may see stunning Fire-bellied Woodpecker too. The possibilities are endless from the walkway, with very rare species such as Congo Serpent Eagle being seen on occasions as well as common but no less stunning species including Blue-throated Roller. Monkeys can also be seen from the walkway with both Lesser Spot-nosed Monkey and even Black and White Colobus! An experience to remember!
Other key species on the numerous forest trails include highly elusive Kemp's Longbill, Forest Robin, Rufous-sided Broadbill, Chocolate-backed Kingfisher, White-tailed Alethe and numerous skulking birds including Little Grey Greenbul, Cameroon Sombre Greenbul, Icterine Greenbul and Golden Greenbul to name but a few! Also the hulking and notoriously skulking Green-tailed Bristlebill is high on the list of targets. An evening visit to Kakum during our stay will hopefully allow us to find some of the nocturnal specialities of the park, including highly sought after Brown Nightjar and beautiful Fraser's Eagle Owl. Nocturnal mammals are also possible, including elusive Pel's Anomalure, a species of Giant Squirrel.
We also visit the Cape Coast and other fragmented forest areas during our four-day stay in the Kakum area, where we hope to increase our species further. Other highlights are sure to include some commoner species, including Grey Kestrel, Woodland Kingfisher, Piping Hornbill, Lesser Striped Swallow, Common Gonolek and White-throated Bee-Eater as well as highly prized species such as stunning Black Bee-Eater, near endemic Buff-throated Sunbird, Fraser's Forest Flycatcher and Red-thighed Sparrowhawk.
DAY 5: ASSIN FOSU
After a final morning in Kakum, we head for a "must see" species and perhaps the most desired bird species of any trip to Ghana - the fantastic Yellow-headed Picathartes. However, beforehand we stop at a river en-route to search for some key birds, namely Rock Pratincole, White-throated Blue Swallow and with luck the African Finfoot.
After lunch we make our way to a small village and begin our walk into the forest where a breeding colony of Yellow-headed Picathartes can be found. We shall spend time searching the vines and forest floor for these unique and amazingly shy birds before leaving them as they return to their nests inside caves to roost before dark. Overnight in Assin Fossu.
Day 6: ABOABO & BOBIRI
In the morning we visit the Aboabo section of the Kakum NP, an open forest with some remnant large trees. The forest road is a superb birding site where we hope to find some quality species. Noisy groups of Red-billed Helmetshrikes are possible along with Hairy-breasted Barbet or stunning Yellow-billed Barbet. Hornbills are a speciality here too, and we try to obtain good views of White-crested Hornbill in more open areas of forest with easier viewing. However, it is elusive Black Dwarf Hornbill that is the real prize, along with its cousin Red-billed Dwarf Hornbill. This is a good place to see unmistakable Long-tailed Hawk with its outrageously long tail, and Tit-Hylia, one of Africa's smallest birds! Other species include: Blue-headed Wood-dove, Levaillant's, Klaas's and African Emerald Cuckoo, Yellowbill, Yellow-spotted, Naked-faced and Hairy-breasted Barbets, Speckled Tinkerbird, Buff-spotted Woodpecker, Red-tailed and Icterine Greenbuls. Grey-headed Bristlebill, Western Nicator, Finsch's Flycatcher-thrush and much more!

Dependent on time, during the late afternoon we may visit Bobiri Forest, famous for its abundance of butterflies as well as quality birds. This is an excellent area during the late afternoon as the temperature cools. The list of birds here is similar to that of Aboabo and Kakum, but it is always good to maximise your chances of such quality species such as Chocolate-backed Kingfisher, Narina Trogon, Red-billed Dwarf-Hornbill and Red-thighed Sparrowhawk. Night in Kumasi.
Days 7 -9: MOLE NP
We set off from Kumasi fairly early as we make the long journey north to Mole National Park. It will be mostly a day of travel, but it worth it as we leave the Upper Guinea Forests behind us and enter the Guinea Savannah Belt. As the habitat begins to change we will begin to encounter many different birds such as Grasshopper Buzzard, the exceptionally beautiful Blue-bellied Roller, dazzling Scarlet-chested Sunbird and classic wooded savannah species Yellow-fronted Tinkerbird and White Helmetshrike. We hope to arrive at the park by the early evening where our Hotel is situated in a prime position, nestled on top of an escarpment overlooking a waterhole. This shall be our base for the next three nights.
Mole has so many quality species and our first morning shall be an exciting one! Of course it is not just birds that are found in Mole, it is famous for its Elephants, that we see just metres from our rooms overlooking the waterhole. Other mammals we should see from our viewpoint include Common Bushbuck, Kob, Defassa Waterbuck and Common Warthog. The lodge itself is a superb place to begin birding. We will check any puddles for drinking Seedeaters, and will hopefully find a good mix of species. These may include: Lavender Waxbill, Red-cheeked Cordon-bleu, Red-billed and Bar-breasted Firefinche, Pin-tailed and Long-tailed Paradise Whydahs, Chestnut-crowned Sparrow-Weaver, Northern Grey-headed Sparrow and Yellowfronted Canary. Later in the morning we venture out below the rocky escarpment to find family groups of Stone Partridge, Double-spurred Francolin White-fronted Black Chat and Cinnamon-breasted Bunting.
There are many targets in the near vicinity of the lodge and we shall try to find some of the specialities of the area. No doubt the giant and prehistoric looking Abyssinian Ground Hornbill shall be at the top of many people's wish lists as well as highly desireable Oriole Warbler, stunning Long-tailed Glossy Starling and Red-billed Hornbill. Dependent on the rainfall and the amount of standing water, we may be lucky and find one of the best prizes in the whole of Mole, the simply cracking Pel's Fishing Owl that sometimes roost in the trees close to the waterhole.
During the next three days we spend time exploring the different areas within the Mole NP searching out savannah specialities, many of which are very colourful, like lime-and-yellow Bruce's Green Pigeon or the stunning Violet Turaco. Other species in the park include: Rose-ringed Parakeet, Blue-breasted and Grey-headed Kingfishers, Red-throated and Northern Carmine Bee-eaters, Abyssinian, Purple, Broad-billed and Blue-bellied Rollers, Bearded Barbet, Violet-backed, Green-headed, Pygmy, Beautiful and Splendid Sunbirds, Orange-breasted and Grey-headed Bushshrikes,Greater Blue-eared, Lesser Blue-eared and Purple Glossy Starlings.
Target species in these woodlands include Vinaceous Dove, Green Wood Hoopoe, Black Scimitarbill, Greater and Lesser Honeyguides, Fine-spotted, Grey and Brown-backed Woodpeckers, Fanti Saw-wing, Red-shouldered Cuckooshrike, Yellow-throated Leaflove, African Thrush, Senegal Eremomela, Northern Crombec, Yellow-bellied Hyliota, Northern Black, African Blue, European, Pied and Swamp Flycatchers, White-crowned Robin-Chat, Brown-throated Wattle-eye, Senegal Batis, Blackcap and Brown Babblers, White-winged Black Tit, Spotted Creeper, African Golden Oriole, Northern Puffback, Yellow-billed Shrike, Brubru, Red-headed Weaver, Black-faced and Black-bellied Firefinches and Brown-rumped and Cabanis's Buntings.
Raptors are a real treat and you are literally spolt for choice with many possibilities. Regularly encountered species include White-backed, White-headed and Hooded Vultures, Short-toed, Beaudoin's and Brown Snake Eagles, Bateleur, Lizard Buzzard, Wahlberg's and Martial Eagles, Ayres's and African Hawk-Eagles, Lanner Falcon and African Hobby.
Finally, we spend at least one night searching for some of the nocturnal species that can be found in the park. Greyish Eagle Owls are often in the near vicinity of the hotel as is Freckled Nightjar. However, the real start of the show will hopefully be the performance from a male Standard-winged Nightjar as it dances down the Mole airstrip!Note: as this region becomes very hot during the day, there will be opportunities to relax around the hotel during the hottest part of the day and make use of the swimming pool!
Day 10:
We shall have one last early morning birding session in Mole before we take the long journey south back to Kumasi. Night Kumasi

Day 11: SAKUMONO LAGOON
We make our journey back to the coast where we spend our last afternoon in Ghana exploring Sakumono Lagoon for a nice selection of water birds including Black Heron, African Spoonbill, Glossy Ibis, Marsh Harrier and African Wattled Lapwing to name just a few. We shall be on high alert for vagrants too as in recent years this wetland has become a hotspot for nearctic waders with Pectoral Sandpiper and American Golden Plover being recorded in the last few years. Terns fly in to roost in large flocks containing Royal Terns and the odd surprise, whilst Yellow-throated Longclaw can be found in the accompanying grasslands.
We then drive back to Accra where we have day rooms to freshen up and take a shower in time for dinner, and prepare for an evening transfer back to Accra airport for our flight.
Day 12:
We arrive back in London Heathrow on the morning of Tuesday 21 January.
Note: This is a flexible itinerary which may be adjusted to allow for changes in arrival and departure times, weather conditions and other related factors.
Please note: all itineraries are given as a guide only. Actual holiday content may vary according to the judgement of your guide, and elements beyond our control (eg weather).
Accommodation Hotels are clean but basic, all en-suite most with a/c or sometimes fans. Note: Hotel in Assin Fosu is basic though still clean, but choice is limited.
Food is Food is good, with a choice of Western or local dishes.
Walking is mostly easy going thorughout. The walk to the Picathartes site takes around an hour at slow pace. At Mole NP most birding is in close proximity to the vehicle. WALK TO KAKUM CANOPY WALKWAY: This involves climbing around 50 steps through a wide forest trail, followed by a further 500 metres on relatively flat terrain through a well worn forest trail. WALK TO PICATHARTES: This walk is mostly on flat terrain on a narrow forest trail and is approximately 1 mile maximum (one way). The final 50 metres involves a fairly steep hill to where we watch and wait for the birds to arrive at their roost site.
Weather will be hot & humid in the south and dry & hot in the north. Some rain mainly in small bursts in the afternoon. Hot and Humid conditions can make some of the above a little more demanding than usual, so a reasonable level of fitness is required.
Insects There are biting insects, precautions are advised. Before traveling consult your doctor about suitable anti-malarial medication, and on arrival take adequate precautions against mosquito bites.
Group size is restricted to 10 clients maximum.
Flights are by scheduled airline, from either London Heathrow. We may be able to offer flight arrangements from another airport and/or or quote without flights so you can make your own arrangements. If you wish to add an extension either before or after your holiday, please contact us and we will be happy to arrange this for you.
Your Leaders:
Chris Townend is a very experienced Heatherlea Guide having led many trips for us in Europe and Scotland. Chris has travelled throughout Europe, North and South America and his favourite continent, Africa, all following his birding interest, as well as wildlife and conservation. A popular guide, Chris will join the group at London Heathrow. Chris will be joined by a local guide.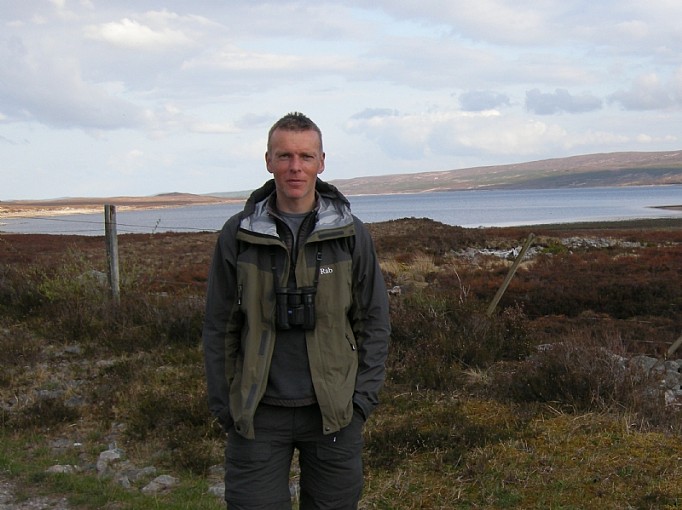 What's included in your holiday price:
* Scheduled return flights between London and Accra, airport taxes.
* Accommodation in en-suite rooms, all meals and water
* entrance fees
* ground transportation in an air-conditioned vehicle
* the services of leaders Chris Townend + local guide.
* Pre-flight airport hotel and lounge included subject to terms and conditions.

What's not included in your holiday price:
* personal insurance.
* drinks with meals and other personal expenses.
* visa costs (approx £50)
* optional tips to driver and local guide, and any other costs not specified as 'included'.
Why choose Heatherlea for your African wildlife holiday?
Our overseas holidays are planned with care to offer great birding and wildlife, led by capable Leaders who really look after you. Every holiday is run the 'Heatherlea Way', and we hope our Overseas Adventures remind you of the quality and care so many of you enjoy in Scotland. That means rewarding and exciting days in the field, and good quality accommodation and meals, with a real flavour of the country we are visiting. Heatherlea always seek to include the personal touches that make all the difference.
Heatherlea holidays are not 'dawn to dusk' expeditions. Our less-intensive approach is ideal for those who want to relax whilst experiencing the best wildlife watching, and wherever possible we organise early or late activity on an optional basis. We also take sensible breaks when in very hot places and regular comfort breaks on every holiday whenever possible. All itineraries are planned carefully around the best wildlife opportunities, and you won't miss out on memorable wildlife, whilst enjoying relaxed, informal days that are great fun.
The really important part of any wildlife holiday is the experience for you, our valued customer. Heatherlea invest in many things to offer you the best possible service;
We have been organising birding and wildlife holidays for over 30 seasons, and have a highly experienced and capable office team. We also offer a telephone and email service outside normal office hours.
Heatherlea overseas holidays have a maximum of 12 clients per trip, putting the emphasis on personal service, and helping you get the best possible experience.
Our holidays often include things which others might invite you to pay yourself, for instance Departure Taxes and tips to hotels.
All elements of our holidays are sold under our own licence, ATOL 6113. Under 'Flight-Plus' legislation it is a legal requirement of any tour operator to hold an ATOL licence for the supply of any overseas holiday where a flight is involved, if that holiday includes either overseas accommodation and/or car hire. It can be a criminal offence for an operator to book flights as part of a package without an ATOL licence. Heatherlea also hold full Tour Operator Insurance for your added protection.
Heatherlea is your complete wildlife holiday provider. Our 'Back Office' team can organise all your pre-flight and other travel needs. Our specialists will help you book the right services, at the best price. Book holiday extensions through us, and your ATOL protection is extended further. We don't charge extra for this service.
Heatherlea is a limited company, registered in Scotland, and registered to pay VAT (applies to all holidays within the European Union).