Fair Isle in Autumn for birders
Enthralling Autumn birding on the best rarity hunting destination in Europe
| | |
| --- | --- |
| Prices: | £1695 PP, £75 single supplement. Deposit £200. 2020 prices TBC. |
| Dates: | 7 Oct - 14 Oct 2019, 5 Oct - 12 Oct 2020 |
| More Info | |
Overview
Fair Isle lies almost exactly halfway between Sumburgh at the tip of mainland Shetland and North Ronaldsay in Orkney, and is Britain's most isolated inhabited island. The island's track record of attracting rare and unusual migrants has no equal in Britain, and it even has its own endemic sub-species, the Fair Isle Wren!
With the intense concentration of birders on this tiny island, it is hardly surprising that Fair Isle enjoys such a reputation for migrants and rarities. Our days are spent exploring, perhaps with an optional pre-breakfast walk to check for overnight arrivals, as migrants are blown in daily. According to the weather we may head to the crofts of the south, or more sheltered areas in the north. Birds can turn up anywhere, and we find and identify our own, and of course liaise with other birders during five full days.
We stay at the new Observatory Lodge, which has comfortable en-suite accommodation. There is a licensed lounge and the dining room is a convivial place offering large portions of delicious home-cooked meals with freshly-baked bread and home bakes. A comprehensive bird-log is held every evening.
This holiday is frequently combined with Shetland Birders tour, making it the autumn birding trip of a lifetime! This is one of the most exciting birding destinations in the UK, and everyone should visit Fair Isle at least once!
Your holiday begins at Sumburgh on Shetland, where your Heatherlea guide will meet you. Our office team will be very happy to arrange any extra services you might need, such as flights from Aberdeen - Sumburgh, and food and accommodation before your holiday begins.
Price includes flight Shetland – Fair Isle and return.
Price excludes flight from Aberdeen, which Heatherlea can arrange at cost. Allow c.£200.
Please note this holiday in 2019 is a day longer!
Itinerary
Day 1 Monday 7 October
We expect to gather mid-morning, though Heatherlea will liaise with you regarding exact timings before you travel. It is likely you will need to reach Shetland the previous day, as connecting flights can be delayed by bad weather, and flights on Sunday morning may not be as per timetable. If time allows, we will round-up any migrants in the south Shetland area, before flying to Fair Isle and settling in.
Day 2 - 6 Tuesday 8 - Sunday 13
Every day will differ, and we aim to cover all corners of this special place. We will spend our time wandering around the island, which is about 3 miles long by 1.5 miles wide. Fair Isle is Britain's most isolated and remote inhabited island, divided geographically into two parts: the higher moorland areas and cliffs in the north, and the flatter, more sheltered and fertile land in the south.
Bird migration has been consistently monitored here since 1948, with very little change in methods. A whole island census is carried out every day by the Warden, Assistant Warden and Seabird Monitoring Officer, who rotate the 3 census areas (north, south-east, south-west) on a daily basis. Your Heatherlea Guide will liaise with staff before deciding which way to strike out each day, though of course the major thrill here lies in finding our own rare birds.
The great birding starts often before even stepping outside, as the Wardens complete a walk around the Heligoland traps to see what birds they can safely trap. All trapped birds are brought back to the Obs ringing room, so you may see a Blyth's Reed Warbler or Long-eared Owl at close quarters before putting your boots on!
The daily census takes at least three hours to complete every day, and covers all the favoured habitats of migrant birds. Special attention is given to patches of cover, stone dykes, ditches, gardens and even steep cliffs. There are no secrets to finding birds on Fair Isle – common and rare migrants are found EVERYWHERE and ANYWHERE. Any migrant birds that are seen are recorded, and the results discussed at Bird Log in the evening at 9.30pm. This is the official record of migrant birds, with the Warden recording all sightings in the Log book, whilst having the final say on the totals that have been reported, to minimise double counting.
Autumn migration is well underway by the time we visit, and October is the traditional month for seeing good numbers of common migrants and rarities! 'Fair Isle specials' seen during this month can include Pechora Pipit, Olive-backed Pipit, Pallas's Grasshopper Warbler, Great Snipe, Yellow-breasted Bunting and Lanceolated Warbler. Fair Isle does rely heavily on the weather to produce large falls of birds, but as many visitors will know, anything can turn up at any time………!

Day 7 Monday 14 October
A last chance to bird the island before our flight back to Shetland, where the holiday officially ends. Heatherlea will be more than happy to organise your flight back to Aberdeen, and if you have left your vehicle at our Hotel in Nethy Bridge, travel from Aberdeen to Nethy is included in your holiday price.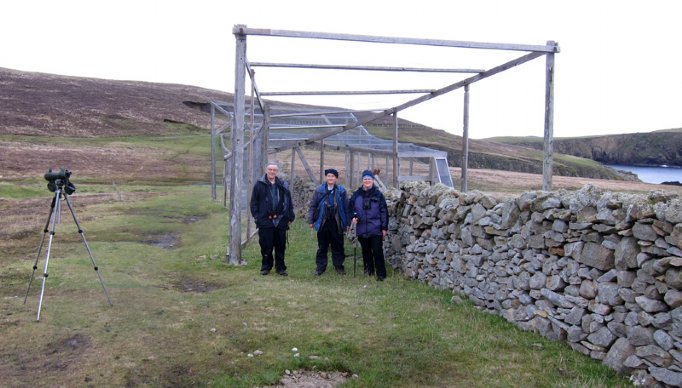 This holiday can be combined with:
MAINLAND SCOTLAND
Highlands and Skye in Autumn.
SCOTTISH ISLAND ADVENTURES
Shetland in Autumn for birders.
Trip Information
Expect a wide variation in weather conditions, which can be totally wild and unpredictable. Sunshine, rain and strong winds are all possible, and you will probably experience a bit of everything. Biting insects are not expected. Please bring wellies or fully waterproof walking boots, fully waterproof clothing and a small rucksack. You will need a good level of mobility to enjoy this holiday to its maximum extent, as we are often on our feet for most of the day, breaking for a wonderful sit-down lunch at the Obs in the middle of the day. We take things at a slow pace, though will cover many miles of walking on road and through fields each day. We aim to cover all corners of the island during our stay, including the north, which is rough and rugged. Our planned excursions are on good trails, though rare birds are often found in inconvenient locations, involving several gates and stiles to be climbed or long and steep walks in exposed locations, often peering down gullies and into ditches. The Observatory run a famous "Red Flag" system where rare bird news is quickly disseminated and transport may be provided to the closest road access to the rarity, though there still may be a distance to walk as there is only one road! All of these exciting excursions are optional and the Obs and its extensive library are a great place to relax if you wish to sit out any parts of the birding.
What's included in your Fair Isle holiday price
• Six nights comfortable en-suite accommodation at Fair Isle Observatory. A limited number of single rooms are available. All rooms are en-suite. Full details with your joining pack.
• Full Scottish breakfast and dinner from Saturday evening till Friday morning, sit down buffet lunch or packed lunch daily.
• Return flights Shetland - Fair Isle
• Guidance from a professional Group Leader.
What's not included in your Fair Isle holiday price
• Travel to and from Shetland. Heatherlea can arrange these at cost, please ask on booking.
• Insurance, drinks and other items of a personal nature.
WHY CHOOSE HEATHERLEA FOR YOUR SCOTTISH ISLAND ADVENTURE?
Heatherlea is THE company for top quality birding holidays in Scotland, chosen by more and more birders each year. Relax and enjoy first-rate birding with Scotland's best guiding team, as we do all the planning! Our fully inclusive guided holidays concentrate on the real experience, and we take time to ensure that each of our guests enjoys everything we do. Above all, we make it our business to show key wildlife to you.
These popular holidays are carefully designed to explore the beautiful and wildlife-rich Scottish islands and far west coast. Many itineraries are unique, designed to give you the best of island wildlife at the best time of year. All are run at a leisurely pace, though we might move a little faster when rare migrants and vagrants are in our sights!
We have been organising birding and wildlife holidays for over 25 seasons, and have a highly experienced and capable team. We also offer a telephone and email service outside normal office hours.
This holiday has a maximum ratio of 7 clients per guide, putting the emphasis on personal service, and helping you get the best possible experience.
Heatherlea are Mainland Scotland's FIRST '5-Star Wildlife Experience!' This is the highest available grading, classified as 'exceptional' by visitScotland.
Single guests are never expected or invited to share.
Our holidays often include things which others might invite you to pay yourself, for instance packed lunch and tips to hotels.
Heatherlea hold full Tour Operator Insurance for your added protection.
Heatherlea is a limited company, registered in Scotland. We are also registered to pay VAT, which is included in your holiday price as quoted on this page.
Once your holiday is confirmed in writing by us, we promise not to surcharge the price for any reason.
Enjoy an excellent birding and wildlife holiday with Heatherlea.
Mainland Scotland's FIRST '5-Star Wildlife Experience!'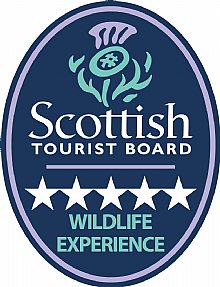 'Exceptional'
Visit Scotland
Please note: all itineraries are given as a guide only. Actual holiday content may vary according to the judgement of your guide, and elements beyond our control (eg weather).