NEW!

South-east China
Spoon-billed Sandpiper and much more!
| | |
| --- | --- |
| Destination | |
| Focus | |
| 2026 Dates | |
| Duration | 11 Days |
| Guides | |
| 2026 Price | Price TBC |
| Max Group Size | 12 |
Arguably the world's most desirable and fantastic wader, Spoon-billed Sandpiper has fascinated ornithologists for generations since its remote breeding grounds in NE Russia were first discovered almost 140 years ago. This is one of the most endangered birds in the world, and its population has been in free-fall during the first decade of the present century, but may now have stabilised due to intensive conservation action across many countries. Many organisations have been involved in Spoon-billed Sandpiper research and conservation and we are now beginning to see the fruits of such efforts. Without such concerted action, Spoon-billed Sandpiper would now be on the cusp of global extinction. Instead, conservation action has made a substantial difference to Spoon-billed Sandpiper, their habitats and other threatened birds suffering similar threats.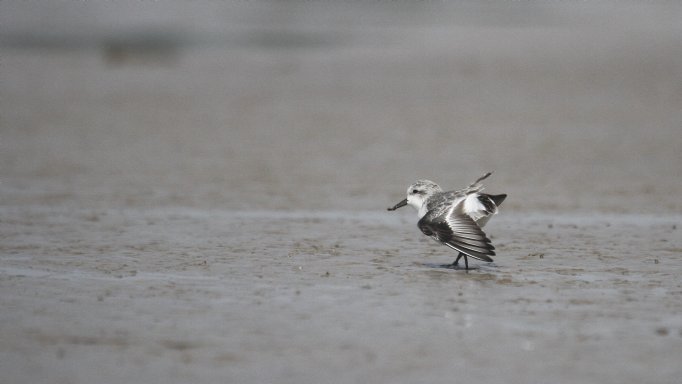 This tour has been designed with Spoon-billed Sandpiper as our principle target, and away from the breeding grounds, perhaps the best place to see this bird is on migration between mid-August and mid-October in China. Recent surveys have revealed up to 150 Spoon-billed Sandpipers using the Yellow Sea coast in Jiangsu Province, just north of Shanghai. This unique Heatherlea trip aims to visit this area during peak migration when we hope to see Spoon-billed Sandpiper, Nordman's (or Spotted) Greenshank, Great Knot, Chinese Egret, Saunder's Gull and a whole host of other exciting waterbirds. This time of year also coincides with Eastern Palearctic passerine migration and the coastal bushes and marshes can (depending upon the weather) be full of exciting songbirds, that would elicit chartered helicopters/planes were they appear on Shetland or Scilly! The rest of our trip will be focussed on inland sites, where many Chinese specialists will be our targets.
This is very much a special birders trip and will directly help to save Spoon-billed Sandpipers directly through supporting the work of the conservation bodies involved (a donation will be made with each booking) and also by demonstrating the value of responsible Spoon-billed Sandpiper tourism in China itself.
We stay in three centres ideally placed with birding in mind, though should you wish to stay on afterwards and take in some Chinese cultural highlights, then we are happy to arrange this for you.
Enjoy your complimentary pre-flight overnight hotel before your holiday begins. Full details from our office! Read more about our Pre-flight Service here!
Day 1: Tue 15 September 2026 - Depart from UK
After relaxing in our complimentary VIP Airport Lounge, we depart the UK on an overnight flight to Shanghai.
Day 2: Wed 16 September - Arrival & transfer to Tiaozini
We arrive in Shanghai (Pudong) Airport, where we are met by our local guide, and transfer to Tiaozini approximately 10km away, where we have a look around if time allows. Birds we might encounter throughout this early part of the tour include Falcated Duck, Yellow Bittern, Intermediate Egret, Pied Harrier, Grey-headed Lapwing, Oriental Turtle-Dove, Black-capped Kingfisher, Lesser Coucal, Pacific Swift, Chinese Grosbeak, Ashy Minivet, Chinese Blackbird, Asian Azure-winged Magpie, Japanese White-eye, Yellow-browed, Meadow and Black-faced Bunting and Crested Myna. Overnight for four nights at Green Tree Inn in Dongtai City.
Day 3-5: Thur 17 - Sat 19 September - Tiaozini area
The Tiaozini wetlands are an essential stopover for millions of migratory birds, and the area was recently designated a World Heritage site because of its importance in the avian world. We begin our tour here, where birds are now heading south after breeding in Eastern Siberia, immediately searching for our key target, Spoon-billed Sandpiper, at one of the most easily accessed and reliable sites in the world for this iconic bird. These dates offer the best tides at Tiaozini during September, and this is the key migration period for the species, so a very exciting visit is in prospect! We will need to be patient, there are a lot of birds to sift through, though our local guide will have the latest news. Other shorebirds of great interest might include Lesser and Greater Sandplover, Far Eastern Curlew, Great Knot, Broad-billed, Sharp-tailed and Terek Sandpiper, Pacific Golden and Kentish Plover, Red-necked and Temminck's Stint, Grey-tailed Tattler and perhaps even Asiatic Dowitcher, Nordmann's Greenshank, White-faced (Swinhoe's) Plover and Black-faced Spoonbill. We will bird the high tide during the mornings, and later in the day spread our sights to other coastal and wooded areas, with particular attention on migration. Our hotel is ideally placed for us to investigate this fabulous site.
Day 6-7: Sun 20 - Mon 21 September - Yancheng area
We make a transfer of about two hours to Yancheng, where we will be looking for migrants and regular local birds. This is the Nature Reserve for Red-Crowned Crane wintering in southern China and the main habitat are wet-lands, reed beds and small woods. It is unlikely cranes will be present during our visit, though we expect a good list of resident and migrant birds such as Reed Parrotbill, Lesser Cuckoo, Amur and perhaps Japanese Paradise-Flycatcher, Lanceolated, Radde's, Dusky and Two-barred Warbler, Daurian Starling, Chestnut, Little and Meadow Bunting. Blue-and-white and Elisae's Flycatcher, and Japanese Grosbeak, in addition to species already named above. We stay overnight at local Qingshan Hotel which is very close to the birding area.
Day 8: Tue 22 September - Yancheng & transfer to Shanghai
Last birding at Yancheng then drive back to Shanghai and onward to the Nanhui area where we stay overnight for two nights at Home Inn, Nanhui.
Day 9: Wed 23 September - Nanhui
We have most of two days at Nanhui, an area of marshes and reed beds, where there are a number of interesting birds, particularly stunning endemic Reed Parrotbill and Marsh Grassbird (Japanese Swamp Warbler). Among other birds here we may see Japanese Sparrowhawk, Amur Falcon, Pacific Swift, Chinese Penduline-Tit, Manchurian Bush-Warbler, Vinous-throated Parrotbill, Narcissus Flycatcher and Pallas's Reed Bunting amongst many other possibilities. A local migrant hotspot might yield Siberian Blue Robin, Japanese and Chestnut-flanked White-eye, Chinese Grosbeak or Eastern Crowned Warbler.
Day 10: Thur 24 September - Nanhui and transfer to Shanghai
After spending most of this day at Nanhui wetlands and forest, we drive back to Shanghai Pudong Airport for our final overnight in China.
Day 11: Fri 25 September - Departure to the UK
After breakfast we depart back to UK.
Please note: all itineraries are given as a guide only. Actual holiday content may vary according to the judgement of your guide, and elements beyond our control (eg weather).
What's included in your holiday price:
Price includes:
return scheduled flight from London – Shanghai - London, airport taxes, baggage up to 20kg, hand luggage to 5kg, in-flight meal and ground transportation
accommodation with private en-suite bathroom and meals including breakfast and lunch, evening meal and water during the day.
the services of your Heatherlea leader and professional local guide
the Heatherlea Pre-Flight Service offers everything you need at the airport, including hotels, car parking, airport lounges, regional flights, and upgrades. Let Heatherlea take the strain! Pre-flight airport hotel and lounge included free of charge subject to terms and conditions. Read more....
Field Guide: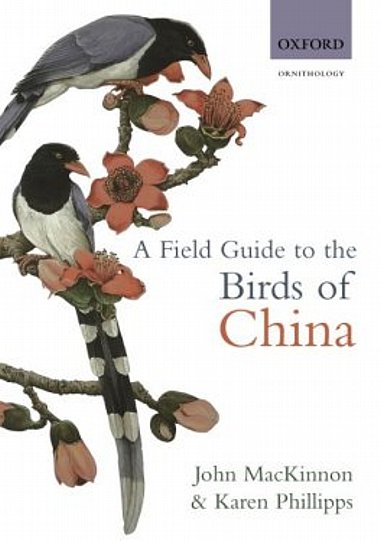 FREE! Field Guide to the Birds of China by John MacKinnon and Karen Phillipps is included in your holiday price.
What's not included in your holiday price:
travel to and from the airport before and after the holiday, baggage above 20kg.
incidental tips, drinks with meals, expenses of a personal nature and personal insurance.
More holiday information:
Accommodation Rooms are comfortable, clean and attractive with en-suite bathrooms.
Food All dinners will be inside hotels or at nearby restaurants. Typically, food is served as a 'help yourself' feast, with a selection brought to the table, perfect for trying a range of different and superb dishes. Food is excellent and will be local Chinese food for the majority of meals. There will be many different dishes of pork, chicken, fish and beef, including famous Sichuan dishes such as sweet and sour pork, kungpao chicken, fried pork with vegetable and many more. There are normally many different choices of vegetable dish. Some of our breakfasts and lunches are taken as picnics out in the field, though we will also take some breakfasts and lunches at our hotels or at restaurants en route. Packed breakfasts include boiled eggs, bread and jam, cake, hot drinks, fruits, nuts and chocolate bar.
Walking is generally light/moderate. There may be some uphill track and road walking, though generally an average level of fitness is required.
Biting Insects Never normally a problem; bring a good repellent just in case.
Clothing and Weather We recommend a mixture of light and warm clothing as temperatures will vary from place to place. Gloves and hat are advised especially when at altitude with daily maximum temperature at around 15C. Chengdu and other lowland areas could reach low 30's Celsius at times with a range of temperatures between the two extremes. Weather may be hot. Please bring waterproof clothing, it hopefully won't be needed but rain is possible at any time.
Your Leaders:
Tang Jun has been guiding birding tours in Chengdu since 1999, and is a very experienced Leader throughout the country. Tang has a particular interest in Pheasants, Parrotbills and Laughingthrushes, three of the key families on our tour, and is also a keen bird photographer, many of his images appearing in Chinese biology handbooks and magazines. He is the main photograph author of "A Field Guide to the Birds of Qinghai & Tibet Plateau" published by China National Geography. Tang's latest book is about the thirteen Pheasant species at Balangshan, one of the key sites of Sichuan birding, and on our 2019 itinerary. The owner of our Chinese agent company, and vice-chairman of Chengdu Birdwatching Society, we are delighted that Tang can join us personally on this tour.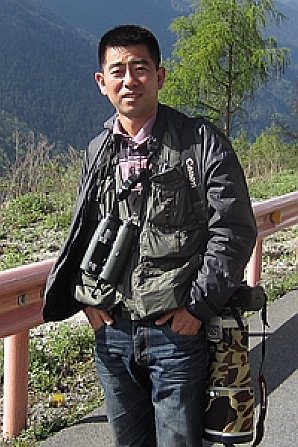 Why choose Heatherlea for your birding and wildlife holiday?
Our overseas holidays are planned with care to offer great birding and wildlife, led by capable Leaders who really look after you. Every holiday is run the 'Heatherlea Way', and we hope our Overseas Adventures remind you of the quality and care so many of you enjoy in Scotland. That means rewarding and exciting days in the field, and good quality accommodation and meals, with a real flavour of the country we are visiting. Heatherlea always seek to include the personal touches that make all the difference.
Heatherlea holidays are not 'dawn to dusk' expeditions. Our less-intensive approach is ideal for those who want to relax whilst experiencing the best wildlife watching, and wherever possible we organise early or late activity on an optional basis. We also take sensible breaks when in very hot places and regular comfort breaks on every holiday whenever possible. All itineraries are planned carefully around the best wildlife opportunities, and you won't miss out on memorable wildlife, whilst enjoying relaxed, informal days that are great fun.
The really important part of any wildlife holiday is the experience for you, our valued customer. Heatherlea invest in many things to offer you the best possible service;
We have been organising birding and wildlife holidays for over 30 seasons, and have a highly experienced and capable office team. We also offer a telephone and email service outside normal office hours.
Heatherlea overseas holidays have a maximum of 12 clients per trip, putting the emphasis on personal service, and helping you get the best possible experience.
Our holidays often include things which others might invite you to pay yourself, for instance Departure Taxes and tips to hotels.
All elements of our holidays are sold under our own licence, ATOL 6113. Under 'Flight-Plus' legislation it is a legal requirement of any tour operator to hold an ATOL licence for the supply of any overseas holiday where a flight is involved, if that holiday includes either overseas accommodation and/or car hire. It can be a criminal offence for an operator to book flights as part of a package without an ATOL licence. Heatherlea also hold full Tour Operator Insurance for your added protection.
Heatherlea is your complete wildlife holiday provider. Our 'Back Office' team can organise all your pre-flight and other travel needs. Our specialists will help you book the right services, at the best price. Book holiday extensions through us, and your ATOL protection is extended further. We don't charge extra for this service.
Heatherlea is a limited company, registered in Scotland, and registered to pay VAT (applies to all holidays within the European Union).