GOING FORWARD WITH HEATHERLEA - updated 14 August 2020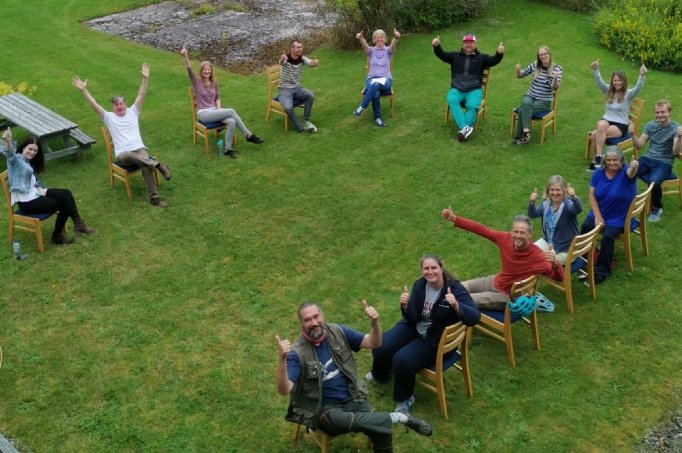 Welcome back to Scotland's wide-open spaces!

We are pleased to confirm Mountview Hotel has earned the accreditation 'We're Good to Go', and our home in beautiful Nethy Bridge is now open, though restricted to the exclusive use of our resident clients. Read our detailed precautions for both hotel and field operations. We are running birding tours from Saturday 15 August.

As part of our re-opening preparations, Heatherlea held an open-air Team Meeting on Thursday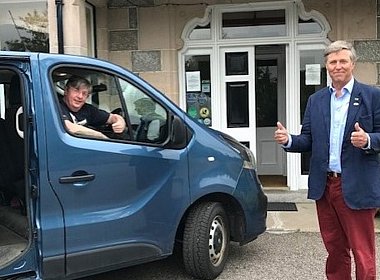 13th August, and were delighted to welcome Edward Mountain, Member of the Scottish Parliament, to Mountview Hotel on Friday 14th August. Mr Mountain took a great interest in Heatherlea, and said:

"I'm delighted to see Heatherlea and Mountview Hotel resume operations in a covid-responsible manner, and to meet so many of their friendly and capable team today. Whether it is wildlife watching or exploring the great outdoors, our region is ensuring safe tourism can happen so that visitors can return with peace of mind. I am passionate about supporting the recovery of our tourism sector in the Highlands and I will continue to press the Scottish Government to address the challenges Highland tourism businesses face."

In Scotland, Heatherlea have a wealth of holiday choice both here at Mountview and around the Highlands and Islands, and we are currently planning to run all scheduled departures. Until further notice, our minibuses will carry a maximum of five passengers each, with everyone guaranteed a free seat next to them. Please contact us for up-to-the-minute status on any departure. Read the detail in our latest ENews, or go directly to our 'Self-Drive', 'Short Breaks' and 'Birders Blast' pages to see our 'welcome back' special prices!
As many of you know, our Hotel is small and very private. With three large public rooms, and extensive covid precautions in place, we will keep the building secure for our clients and staff. Our Restaurant is closed to non-residents until further notice. We are also in arrangement with partner hotels throughout the region to extend covid precautions wherever you travel with us.
If you are booked on a tour here in Scotland during 2020, please continue as normal unless we contact you. This means you should make your balance payment when due, and rest assured if we need to cancel, then your money will be protected 100% by either re-allocation or refund. Should you be unable to attend a UK holiday which has not been cancelled by Heatherlea, our normal terms and conditions apply, though we will be sympathetic and try to reallocate your booking if we can. You may be able to claim back our cancellation charge from your insurer.

Looking forward to 2021 and beyond - NEW BROCHURE... S!
A brand new 'Scotland and rest of the UK 2021/22' Brochure is currently in production, and will be available soon. If you have stayed with us before, you will automatically receive a copy. If not but you would like one, please let us know!
Our new 'Worldwide 2021/22' Brochure is now available online, and 'new horizons and old favourites' is our theme. We are ready and willing to run holidays around the world, though as situations develop we will of course be flexible. Should any tour be cancelled by us for any reason, you will be entitled to a full refund or transfer to another departure. In Scotland in 2021, some tours are already full or close to capacity. Availability is limited, as we know you will understand. Also, with the help of our local agents and friends across the world, we have developed new practices to modernise for the 'new normal', a vitally important development to the Heatherlea service.
To summarise the key points:
* Should we feel a tour is at risk before your balance payment is due, we will contact you to chat through the options.
* If we have to cancel a tour due to FCO Travel Advice, we will either refund you in full within 14 days, or transfer to a different departure. This applies to all tours, anywhere in the world. (Please note that if you choose to cancel your holiday before we officially cancel a tour, our booking conditions will apply, though you may be able to claim back our cancellation charge from your insurer).

NEW! The HEATHERLEA Five-Year Holiday Planner
Our clients are planning ahead more than ever before. To help, we are delighted to introduce our 'Five-year Holiday Planner' (available late-August). This allows you to construct a personal forward diary of Heatherlea holidays, which you can reserve without initial obligation for tours more than one year ahead. When the holiday is one year ahead, or earlier should it become full, you will be invited to pay a deposit in the normal way to secure your booking. Additions, changes and developments to the Planner will be advised every month, so you are fully up to date.
Heatherlea fully intend to forge into the future stronger than ever. We look forward to taking you birding again!
Kevin, Caryl and all the Heatherlea Team
---
Mr Jonny Pott
With deep sadness, I have to report the passing of our dear friend and much-loved Heatherlea Guide, Jonny Pott. Jonny died peacefully in Raigmore Hospital, Inverness, late on the evening of Thursday 16 April, with his family around him.
Jonny had been suffering for some time with an incurable condition which he bore bravely and with great dignity. His optimism for life never departed, and even when retiring from Heatherlea on health grounds earlier this year, his only thought was to return in some role where he could be involved with wildlife and our clients. Very sadly, this was not to be.
My heartfelt sympathies to his family, and to all friends in the wider Heatherlea family, many of whom had known and loved Jonny for years.
Sustained by his strong religious faith, Jonny was an inspiration, not least to those who joined him in enjoyment of our wonderful Scottish natural history. His tales, good humour, and caring personality will always be remembered by everyone who knew him. Jonny was committed to many good works, and his effort for the poor in Haiti is worthy of mention on this saddest of days.
Jonny Pott was perhaps the kindest and most humane person I have ever met. I am privileged to have known him.
Kevin Shaw, 17 April 2020

Addendum 14 August: Our Hogmanay Birding Festival Tues 29 Dec 2020 - Tues 5 Jan 2021 will be held in memory of Jonny. A donation of £100pp will be made to his 'Trees for Life' Grove.
---
Welcome to Heatherlea, your natural destination for wildlife!
Birding & Wildlife Holidays in Scotland and Worldwide
Heatherlea are your natural choice! We specialise in friendly holidays to see birds and mammals in the wild. Our fully inclusive tours include comfortable en-suite hotel accommodation, all food, transport and the services of top quality experienced Leaders. Everything you need!
We have recently launched all our dates and destinations for 2021 holidays, with many exciting new tours in both the UK and further afield. Read all about our tours on this website, and please also see our new 2020/21 Brochure!
Click here to read our 2020/21 Brochure, all holidays now booking!