NEW!

Kenya
A short holiday focused on birding and big game
Prices:
£4295 PP, £495 single supplement. Deposit £800
Dates:
31 Oct - 8 Nov 2019
More Info

Leaders: Pete Cosgrove with local guides
Max group size 12 clients.
Flights from London
Pre-flight airport hotel and lounge are INCLUDED.
Field Guide 'Birds of East Africa' is included (one copy per room).
This exciting short holiday to Kenya offers a tremendous wildlife experience including big game and a large number of African birds. We spend our time in the Rift Valley, visiting key sites including Lake Nakuru, Lake Naivaisha and the famous Nairobi National Park, and hope to find key mammals including Lion, African Elephant, Giraffe (both Maasai and Rothschild's), White Rhino and Black Rhino. Kenya has the second highest bird list for any African country with over 1000 species (one tenth of the world's birds) and we stand a good chance of seeing around 300 species, including the experience of watching huge numbers of flamingos on Lake Nakuru. This short visit does not by any means cover all the wildlife of Kenya, but promises a big selection in a short visit, and everyone who loves wildlife and wild places should find time visit this wonderful country at least once in their lives. Habitats and birds change quickly over short distances, providing the visitor with the chance to see many species with the help of fantastically knowledgeable and friendly local guides in dramatic landscapes.

This is a holiday for everyone, from those who have a general interest in wildlife to the keenest of bird watchers. It has the added benefit of enabling couples/small groups with mixed interests to enjoy the same holiday together, and is ideal for those who do not wish to walk long distances over difficult terrain. Most of the time you will be inside vehicles so that we can get close to wildlife.
A unique aspect of wildlife watching in Kenya is our proximity to most animals and birds. Many species are remarkably approachable and due to the open nature of most habitats, you can expect to see animals and birds very close up. You will often find yourself with the difficult decision of choosing between your binoculars or your camera! Photographic opportunities are exceptional, with a wonderful combination of being close to wildlife and enjoying exceptional light. Kenya is truly a magical place and we must warn you that it casts a spell over many visitors who decide to return time and time again…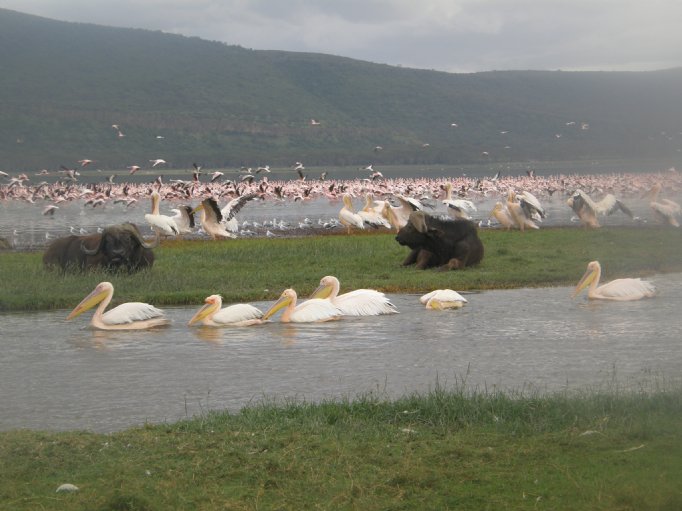 Outline Itinerary
DAY 1 Thurs Oct 31: Depart London Heathrow flying Kenya Airways to Nairobi, arriving the following morning. We may see our first giraffes in the distance as we leave the airport!
DAY 2 Fri Nov 1: Morning arrival in Nairobi, where we will be met by our local guides and transferred to our hotel to freshen up. After a break, we will meet for lunch and briefing, and in the afternoon begin our safari with a half day trip to Nairobi National Park.
This is a small but excellent National Park, Kenya's oldest, located just 7 kilometres from the edge of the Nairobi city centre. The Park extends right up to the city boundary, and offers a great introduction to many East African birds and mammals. We may see Ostrich, Secretary Bird, African Water Rail, Spotted Thick-knee, Black-winged Plover, African Finfoot, Pangani Longclaw, Jackson's Widowbird, Kori Bustard, Hartlaub's Bustard, Saddle-billed Stork, African Yellow White-eye, Common Nightingale, Ruppell's Robin-chat, Northern Pied Babbler, White-tailed Lark, Rufous-naped Lark, Somali Short-toed Lark, Red-throated Tit, Speke's Weaver, Yellow-throated Sandgrouse, Martial Eagle, African Crowned Eagle, Wahlberg's Eagle, African Quail-finch, Zebra Waxbill, Harlequin Quail, Lappet-faced Vulture, Violet Wood-hoopoe, Nairobi Pipit, Grassland Pipit, Siffling Cisticola, Croaking Cisticola and Desert Cisticola.
The park also hosts many wonderful animals, including African Lion, Southern White Rhino, Black Rhino, Leopard, Cape Buffalo and Maasai Giraffe. Watching Giraffes and Ostriches with tower blocks in the distance behind is a wonderful if slightly surreal experience. Overnight Westwood Hotel, Nairobi.
DAY 3 Sat Nov 2: GATAMAIYU FOREST TO NAIVASHA
We start with a brief tour of Kenya's capital city, before heading directly to our first birding destination of the day, Gatamaiyu Forest. This is a pristine highland wet forest that forms the eastern edge of the great Aberdare Ranges Forest. Expected species include Hartlaub's Turaco, Cinnamon Bracken Warbler, Chestnut-throated Apalis, Brown Woodland Warbler, Abbott's Starling, Cinnamon-chested Bee-eater, Brown-chested Alethe, African Hill Babbler, Hunter's Cisticola, Green-headed Sunbird, Malachite Sunbird, Olive Sunbird, Black-fronted Bushshrike, Yellow-bellied Waxbill, Bar-tailed Trogon, White-browed Crombec, White-headed Wood-hoopoe, African Olive Pigeon, Mountain Buzzard and Olive Ibis. Local monkeys and squirrels may be seen also. On our way to the forest, we may make a brief stop-over at a local wetland for waterbirds. We spend the entire morning birding in the forest, and have a picnic lunch before more birding in the afternoon before we head to Lake Naivasha. Travelling 100km (2hrs). Overnight for three nights at Naivasha- Simba Lodge.
DAY 4 Sun Nov 3: LAKE NAIVASHA
Local birding today, as we seek more savannah and bushland birds. The wetland and scrub woodland surrounding the lake is excellent for passerines and we should see several new species. We also visit the lake shore, at some good beach points, where many shorebirds can be seen. Lake Navasha is a wonderful freshwater lake alive with birds and Hippos. In the afternoon, we take a boat ride here to see many waterbirds we will have not seen elsewhere. Expected species include Mosque Swallow, Lyne's Cisticola, Chestnut Sparrow, Abyssinian Wheatear, Nyanza Swift, Mottled Swift, White-fronted Bee-eater, Mocking Cliff Chat, Bearded Woodpecker, Plain-backed Pipit, Giant Kingfisher, Grey-backed Fiscal, Grey-crested Helmet-Shrike, Brimstone Canary, Cape Teal, Pied Avocet, Black Heron, Goliath Heron, Lesser Flamingo, Maccoa Duck, Great White Pelican, Common Greenshank, Ruff, Green Sandpiper, Black-tailed Godwit, Hilderbrandt's Francolin, Arrow-marked Babbler, Black-lored Babbler, African Fish Eagle, Verreaux's Eagle, Tawny Eagle, Osprey, Hybrid Lovebird, Red-throated Wryneck, Golden-breasted Bunting, Buff-bellied Warbler, Grey Crowned Crane, Black Cuckoo and African Hoopoe. Mammals such as Cape Buffalo, Maasai Giraffe, Nile Hippo and White-bearded Wildebeest are common here.

DAY 5 Mon Nov 4: KINANGOP GRASSLANDS and ABERDARE NATIONAL PARK
We leave early for a day trip visit to this highland region, where much of the day will be spent in Aberdare National Park. This Park runs the expanse of a majestic mountain range on the eastern edge of the Rift Valley. and has a great stretch of alpine moorland vegetation, mainly above 3,000m. This great landscape has led to the park's nick-name:- "The Majestic Moorland". There is a thick tropical forest, with deep ravines and dissecting riverine gorges. At certain areas, these rivers form majestic waterfalls, a wonderful sight. Home to many of Kenya's endemic birds, this area promises to be very rewarding. Expected species include Aberdare Cisticola (endemic), Mountain Yellow Warbler, Cinnamon Bracken Warbler, Chestnut-throated Apalis, Brown Woodland Warbler, Abbott's Starling, Scarlet-tufted Sunbird, Malachite Sunbird, Moorland Chat, Black-fronted Bushshrike, Red-fronted Parrot, Yellow-crowned Canary, Yellow-bellied Waxbill, White-headed Wood-hoopoe, African Olive Pigeon, Jackson's Francolin, Mountain Buzzard and Olive Ibis. Many other animals occupy this beautiful place and mammals including African Elephant, Cape Buffalo, Mountain Bongo, and Giant Forest Hog can be expected.

Later in the afternoon, we drive through the Kinangop plateau to find more special birds. We will bird the grasslands, and also wetlands highland water birds. Expected species here include Black-winged Plover, Red-throated Wryneck, Common Quail, Hunter's Cisticola, Levaillant's Cisticola, Wing-snapping Cisticola, Long-tailed Widowbird, Jackson's Widowbird, Angola Swallow, Montane Nightjar, Sharpe's Longclaw (endemic), Mountain Buzzard, Rufous-breasted Sparrowhawk, Red-throated Pipit, Black-tailed Godwit, African Snipe and Lesser Jacana. Travelling 65kms, two hours, some unpaved road.
DAYS 6 - 7 Tues Nov 5 - Wed Nov 6: LAKE NAKURU NATIONAL PARK
Lake Nakuru is one of Africa's famous Rift Valley soda lakes, holding up to a million Lesser and Greater Flamingos. This has been described as "the most fabulous bird spectacle in the world." It really is stunning, though the Lake has many other attractions, not least of which are endangered White Rhino, beautiful Black and White Colobus Monkeys and dangerous Cape Buffalos. Other mammals will be seen, especially herds of grazing herbivores including Plains Zebra and endangered Rothschild's Giraffe. Hippos, reedbuck, waterbuck, black rhino, giraffe, lion, leopard, and bushbuck are present too. Between the lake and the cliffs in the west, large pythons inhabit the dense woodland, and can be seen crossing the roads or dangling from trees.
Despite its flamingo-focused reputation, there are many other avian attractions such as pelicans, ducks, ibises, storks and waders on the shore. The area is full of large raptors, including dozens of Tawny and Steppe Eagles, and more than 400 species of birds have been seen in the park. The lake is surrounded by woodland, which holds many birds and animals not seen elsewhere on our trip. It is particularly good for bee-eaters and rollers, with new species of each likely. Other birds include Woolly-necked Stork, Arrow-marked Babbler, Little Rock-Thrush, Mocking Cliff Chat, White-browed Robin-Chat, Reed Cormorant, Pink-backed Pelican, Pied Avocet, Kittlitz's Plover, Blacksmith Plover, Coqui Francolin, Hildebrandt's Francolin, Black Cuckoo, Levaillant's Cuckoo, African Cuckoo, Grey-crested Helmetshrike, Cape Teal, Brimstone Canary, Hottentot Teal, Red-billed Teal, Dusky Nightjar, Montane Nightjar; with Palearctic water migrants being abundant, including Little Stint, Common Sandpiper, Marsh Sandpiper, Ringed Plover, Little Ringed Plover, Greenshank and Wood Sandpiper. We shall spend most of our remaining days enjoying this great place. Travelling 80kms (1.5hrs) Two overnights at Nakuru- Sopa Lodge.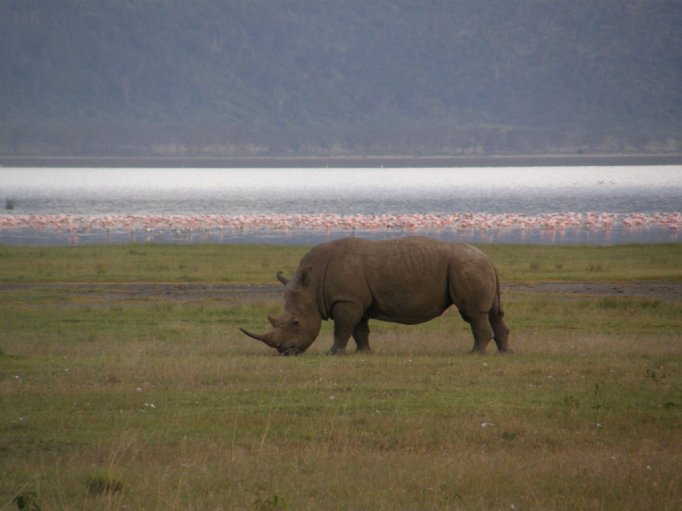 DAY 8 Thurs Nov 7: LAKE NAKURU - NAIROBI
We return back along the Rift Valley a distance of around 160kms (about three hours direct travel) to Nairobi with birding on the way. We arrive back to the comfortable Westwood Hotel, and in the evening enjoy dinner at the spectacular and world famous Carnivore Restaurant, a memorable experience!

DAY 9 Fri Nov 8: NAIROBI - LONDON
We take breakfast at our hotel, and then an airport transfer for the flight home.
YOUR LEADERS
Peter Cosgrove
Peter is a highly experienced leader and very well-travelled overseas birder, with an interest in Africa and Kenya in particular. Of all our local guides, he is the one most noted for finding rarities and spreading the news! Peter will be leading our Kenya trip.
Washington Wachira
Washington has a taste for everything in nature, from the small to the big and everything in between. He is an experienced Safari Guide and was awarded the African Sustainable Tourism Fellowship Award in 2016. Washington is a member of the Kakamega Rainforest Tour Guides Association, and has led many birding trips and expeditions across the entire East Africa. He is a passionate author, and has taken part in many bird related research and conservation projects. He is also an experienced nature photographer and his photos have been featured in many international books and magazines.
Wilson Tiren
Wilson was born in Kenya, and is one of the leading authorities on bird identification and distribution in the Baringo region. Wilson enjoys birding just as he enjoys leading birding tours, and brings vast experience in bird spotting and identification. He has taken part in expeditions to many other parts of Kenya, and his interests span to other aspects of flora and fauna. Wilson is a passionate nature photographer and his passion and jovial mood in the field has made him a clients' favourite.
More Information
Accommodation is in excellent and friendy hotels and lodges, often located in areas with expansive views. Rooms are comfortable, clean and attractive with en-suite bathrooms.
Food is usually plentiful. Breakfasts offer a good choice, with tea, coffee, juice, fruits, pancakes, egg of your choice and other things depending on location. Lunches are often taken at Eco-lodges or somewhere in the bush depending on the day's plan. Evening meals are at the accommodation with a three or four course dinner. Vegetarian and other diets are always available.
Walking is easy throughout, but restricted in the national parks and game reserves. This is no hindrance, as we will be safe and able to get up very close to many animals and birds. It is also important for safety reasons to stay close to if not inside the vehicle – remember we are not top of the food chain here!
Weather will be warm to hot most days although it can sometimes be cool, especially at altitude and in the early mornings. All the sites selected for this holiday are close to water and so should still hold plenty of wildlife at the time of year we are visiting.
Insects There are very few biting insects at this time of the year, but general precautions are advised. Before travelling consult your doctor about suitable anti-malarial medication, and on arrival take adequate precautions against mosquito bites although you may not see any.
Clothing We recommend a mixture of light and warm clothing as temperatures will vary from place to place. Gloves and hat are advised especially when at altitude. Please bring waterproof clothing, it hopefully won't be needed but rain is possible at any time, even in the dry season.
What's included in your holiday price:
Price includes return scheduled flight from London – Nairobi, airport taxes, baggage up to 20kg, hand luggage to 5kg, in-flight meal, airport transfers, the services of your Heatherlea leader and professional local guide, ground transportation, accommodation and meals including breakfast and lunch, evening meal and water during the day. Also included are boat rides, park entrance fees and walk fees. Pre-flight airport hotel and lounge included subject to terms and conditions.
FIELD GUIDE
The Birds of East Africa: Kenya, Tanzania, Uganda, Rwanda, Burundi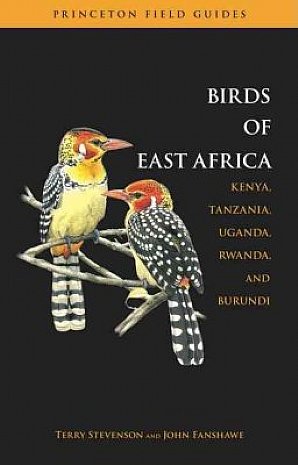 by Terry Stevenson and John Fanshawe is included in your holiday price!
What's not included in your holiday price:
Travel to and from the airport before and after the holiday, baggage above 20kg, incidental tips, drinks with meals, expenses of a personal nature and personal insurance.
WHY CHOOSE HEATHERLEA?
Our overseas holidays are planned with care to offer great birding and wildlife, led by capable Leaders who really look after you. Every holiday is run the 'Heatherlea Way', and we hope our Overseas Adventures remind you of the quality and care so many of you enjoy in Scotland. That means rewarding and exciting days in the field, and good quality accommodation and meals, with a real flavour of the country we are visiting. Heatherlea always seek to include the personal touches that make all the difference.
Heatherlea holidays are not 'dawn to dusk' expeditions. Our less-intensive approach is ideal for those who want to relax whilst experiencing the best wildlife watching, and wherever possible we organise early or late activity on an optional basis. We also take sensible breaks when in very hot places and regular comfort breaks on every holiday whenever possible. All itineraries are planned carefully around the best wildlife opportunities, and you won't miss out on memorable wildlife, whilst enjoying relaxed, informal days that are great fun.
The really important part of any wildlife holiday is the experience for you, our valued customer. Heatherlea invest in many things to offer you the best possible service;
* We have been organising birding and wildlife holidays for 27 seasons, and have a highly experienced and capable office team. We also offer a telephone and email service outside normal office hours.
* Heatherlea overseas holidays have a maximum of 12 clients per trip, putting the emphasis on personal service, and helping you get the best possible experience.
* Our holidays often include things which others might invite you to pay yourself, for instance Departure Taxes and tips to hotels.
* All elements of our holidays are sold under our own licence, ATOL 6113. Under 'Flight-Plus' legislation it is a legal requirement of any tour operator to hold an ATOL licence for the supply of any overseas holiday where a flight is involved, if that holiday includes either overseas accommodation and/or car hire. It can be a criminal offence for an operator to book flights as part of a package without an ATOL licence. Heatherlea also hold full Tour Operator Insurance for your added protection.
* Heatherlea is your complete wildlife holiday provider. Our 'Back Office' team can organise all your pre-flight and other travel needs. Our specialists will help you book the right services, at the best price. Book holiday extensions through us, and your ATOL protection is extended further. We don't charge extra for this service.
Please note: all itineraries are given as a guide only. Actual holiday content may vary according to the judgement of your guide, and elements beyond our control (eg weather).