BIRDFAIR, Rutland August 2016
featuring our Guides from around the world!

From left to right, Emma (Operations Manager), Gerard (eastern Europe, Cuba, Peru ...), Fleur (Operations Assistant), Wilson (Peru), Kevin (Italy, more places ...), Phil (Scotland and many more places), Domingos (Portugal), Gabor (Mexico), Ian (Scotland and many more places), Vision (St Lucia), Newton (Tobago), Leio (India), Toby (front, Scotland and many more places), Mark (rear, Scotland and many more places), Paco (Costa Rica, Panama), Suchit (Nepal), Trausti (Iceland).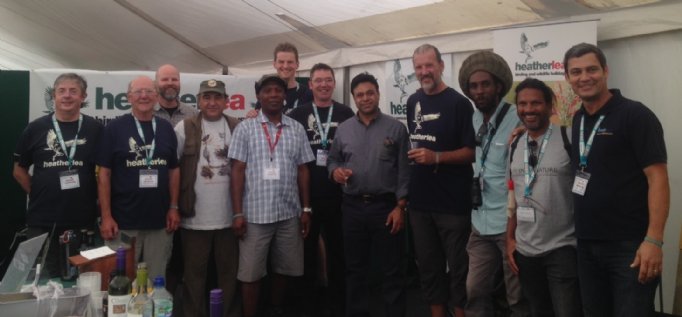 From left to right, Kevin, Ian, Trausti, Josele, Newton, Phil, Toby, Badri, Gabor, Vision, Leio and Paco on Sunday at the Birdfair in 2015!
Thanks to all who joined us at Birdfair to chat about your holiday plans for 2017. We are already looking forward to next year, when Kevin Shaw, Ian Ford, Toby Green, Phil Knott, Mark Warren, Emma McBride and Fleur Warren will all be there to meet up and give you any information you might need.
We are pleased to announce the winner of our 2016 Rutland Birdfair Competition is Mrs C Collingwood. Congratulations on your prize! We look foward to welcoming you on our Birding Bites holiday in the New Year!
Our 10 second place prize winners are - Chris Woods, Jenny.P, Claire Evans, L.Carter, Brogan, C Potter, C Barrett, Pepe Clark, Brian Bishop and Mr S Maclachlan. All of our winners have been notified by email and we look forward to all of you joining us in 2017.
For all of you that were not lucky enough to win on this occassion- thank you for entering and we hope you can join us on a Heatherlea holiday in the near future.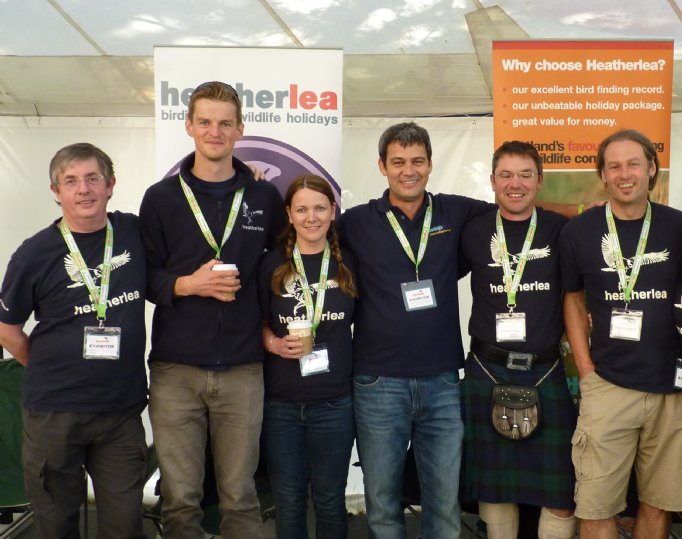 Kevin, Phil, Emma, Paco, Toby and Mike at Birdfair in 2014
.....................................
No appointment necessary, just come along for drinks, nibbles and a chat!

Friday 19 August
Saturday 20 August
Sunday 21 August
IAN FORD
Scotland, Yellowstone, Panama and more

*

*

*

PHIL KNOTT
Scotland, Skyros, Picos and more
*
*
*
TOBY GREEN
Scotland, Goa, Fuerteventura and more
*
*
*

MARK WARREN
Scotland including North Ron, Orkney, Shetland and more

*
*
*
KEVIN SHAW
Scotland, Costa Rica, Po Delta and more
*
*
*
GERARD GORMAN
Cuba, Estonia, Croatia, Jamaica and more
*
*
*
TRAUSTI GUNNARSSON
Iceland
*
*
NEWTON GEORGE
Tobago and Trinidad
*
*
*
LEIO and JENNY de SOUZA
India, Sri Lanka
*
*
*
PACO MADRIGAL
Costa Rica, Panama
*
*
*
SUCHIT BASNET
Nepal
*
*
WILSON DIAZ
Peru
*
*
VISION
St Lucia
*
JOZEF LEESTMANS
Holland, Armenia
*
DOMINGOS LEITAO
Portugal
*
JOSELE SAIZ
Morocco, southern Spain
*
*
*

GABOR ORBAN
Mexico

*
*
ANDRES TRUJILLO and CRIS VITERI
Ecuador
*
*
JARI PELTOMAKI
Finland
*
EMMA McBRIDE & FLEUR WARREN
Operations for all holidays
*
*
*

THANKS FOR COMING!