News from the Field - Autumn 2023
Posted on
This month we caught up with Heatherlea Guides Aidan, Holly, Mark and Mike to see how their recent Autumn trips went....
"One of the Scottish birding calendars most enjoyable weeks, the 'Islay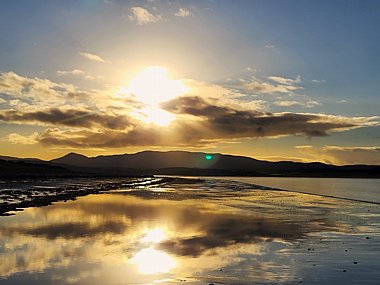 and Jura' trip was a great success again in October, comprising of excellent food, accommodation, friendly islanders, amazing weather, gorgeous scenery, and the endless bounty of wildlife.

It all started upon arrival when we made the pilgrimage to see the long-staying (and exceedingly obliging) Lesser Grey Shrike, and continued with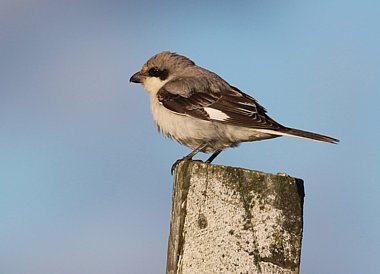 the thousands and thousands of geese (eight species of goose, including most of Greenland's Barnacle and White-fronted Geese populations, and the vagrant Red-breasted and Cackling Geese too!), lots of both eagle species, an elusive Glaucous Gull, daily Hen Harriers, divers, Otter, four species of deer, a wonderful Barn Owl moment, and Britain's most northerly population of Chough. All of this with a constant movement of winter thrush flocks passing through. In the unrivalled world of peaty malt whisky, there was even time for an impromptu visit to a secluded gin distillery! I can't wait for the next trip out there!" – Mike Coleman
Highland Autumn Birding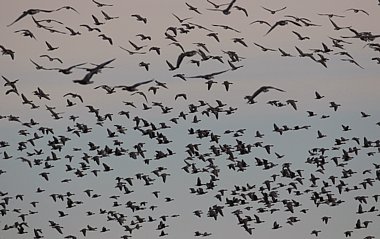 "Having guided two 'Highland Autumn Birding' holidays back to back during the middle of October, I feel like I have truly experienced autumn in the highlands! Crisp sunny days in the field, woodlands filled with beautiful yellow and orange trees and waking up to the snow-capped peaks of the Cairngorm Mountains was very special.

Each week of the holiday gave us incredibly different experiences! On the first week we enjoyed amazingly close views of Long-Tailed Duck, Slavonian Grebe and both Velvet and Common Scoter sheltering in harbours around the coastline, as well as both Storm Petrel and Little Auk only a few metres away. The second week saw a huge influx of Waxwing and the group enjoyed seeing over 100 birds. The lovely weather was a bonus and allowed us to see Ptarmigan at close quarters too! A real highlight on one day of the tour was finding a scarce Black Redstart hiding amongst an amazing finch flock.

A wonderful two weeks with both tours seeing over 115 species of bird. With 1000's of geese, ducks and waders coming in to spend the winter the sight and sound was truly special."– Aidan Branch

Highland Autumn Explorer
"The 'Highland Autumn Explorer' holiday was a brand-new tour for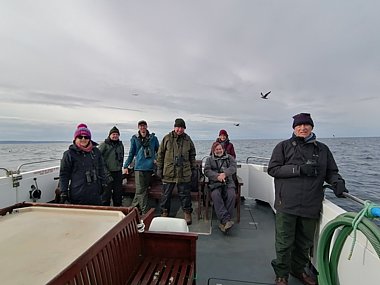 Heatherlea and with our first ever North Sea pelagic, it was certainly one for the adventurous birder. Close views of Sooty & Manx Shearwater, pristine first-winter Little Gull and plenty of common seabirds were among the trip highlights, and we've now secured at least three pelagic trips to add to some of our autumn 2024 tours (more news coming soon!). On the coasts, incoming winter birds were a feature with the first Purple Sandpiper, Long-tailed Duck and Whooper Swans of the autumn, plus the spectacle of thousands of Pink-footed Geese!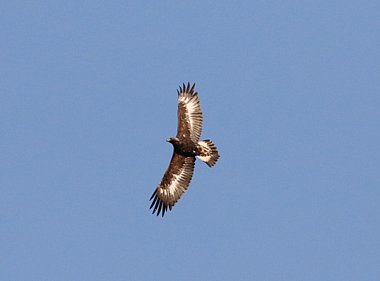 It was a great tour for Highland specialities too, exploring some new places helped us see all four grouse and an impressive tally of raptors. Multiple Hen Harrier, Goshawk and Merlin sightings were a treat while the undoubted highlight and enjoyed by all on tour (including guide Mark) was lifetime views of four incredibly close Golden Eagles flying around together!" – Mark Warren


Lancashire & The Wirral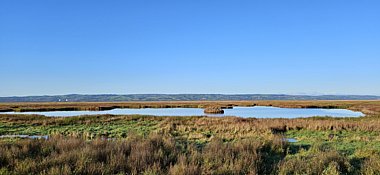 "I love being back in my home county of Lancashire and on this trip, we visited what are arguably some of the best reserves in England in Autumn. On the day of arrival, we only had two hours birding but saw an impressive 51 species! A full day at RSPB Leighton Moss saw the group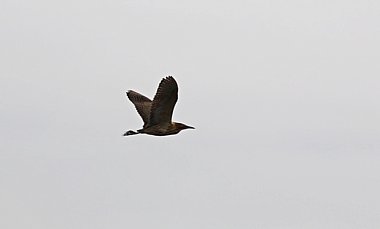 getting great views of a Bittern as it flew past a hide plus a lovely Marsh Tit from just a few feet away. Down towards Southport we had thousands of geese, ducks and swans plus a surprise Green Sandpiper at WWT Martin Mere and, at RSPB Marshside, the incredible spectacle of 1500 Black-tailed Godwit roosting on the saltmarsh at high tide.

The second half of the trip was spent on The Wirral peninsula with its big skies, seemingly endless mudflats and views across to Wales in the west and Liverpool in the east. Egrets featured heavily and it seemed like we saw at least one of Little, Great and Cattle every 10 minutes! With great food, scenery and birds everywhere we went it was a wonderful way to spend an autumn week." – Holly Page