John Picton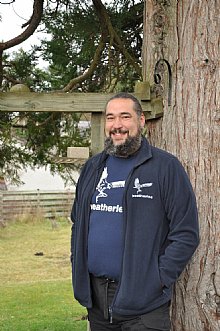 John was born & bred in the Chilterns, and inherited his love of wildlife from his parents, meaning he has been a birder and naturalist since the age of eight.
Family holidays were always based around birding & walking which is how he first came to the Highlands in the early 1980's, fell in love with the place and came back annually until moving here in 2011.
After studying for a Diploma in Ornithology then a BSc (Hons) Degree in Wildlife Ecology, Conservation & Managment, he went on to work with the Forestry Commission as a ranger in the Forest of Dean then as a warden for the RSPB on the Nene Washes Reserve in the Cambridgeshire fens, and was involved with the Corncrake reintroduction there.
He became a full time guide after moving to Strathspey nearly 10 years ago. John is a good all-round naturalist but specialises in birds and mammals, with a particular love of raptors and Pine Martens.
When not guiding he will still be found in the forests of Strathspey walking his wolf-dog and tracking the local wildlife. He also enjoys relaxing with some good rock music, a good film, book or series and watching his beloved Man Utd in action.
Follow this Guide
An exciting birding adventure across the Highlands, including two nights in bird-rich Aberdeenshire!

Prices from £1395 pp

Duration: 8 Days

Resident specialities and winter visitors

Prices from £1295 pp

Duration: 8 Days

Great winter birding around the Highlands with a traditional Scottish Hogmanay

Prices from £1395 pp

Duration: 8 Days