Heatherlea Birding Report 2016
2017 has been another superb birding year here at Heatherlea, right across the Highlands and Islands.2017 has been another superb birding year here at Heatherlea, right across the Highlands and Islands.
Good birds were found right from the off, with our Hogmanay Birding Festival providing American Wigeon, Waxwing and Hawfinches. These same species were seen repeatedly throughout the winter tours, with Green-winged Teal, Snow Geese and Black Duck noted throughout the popular Highland Winter Birding holidays. The majority of these weeks gave us several Iceland and Glaucous Gulls too, right up into the spring.
Our island birding began at the end of April with our trips to North Ronaldsay. The stand-out bird from these trips and for the whole year was the totally unexpected and unprecedented Red-winged Blackbird from North America. This species was new to the UK and to Western Europe! Both of the spring North Ronaldsay trips connected with the Blackbird and both also had good views of White-billed Diver, with the first trip seeing Wryneck and the second trip seeing Red-rumped Swallow too! Our June Orkney Island Explorer traditionally brings us some scarce birds and we had Surf Scoter, Ortolan Bunting and Red-backed Shrike this year – a good haul for one of our more general holidays!
In Shetland our brand new birders tour had a good start, with Semi-palmated Sandpiper, Common Crane, Short-toed Lark and Bluethroat. Toby then continued on to Fair Isle for our first Spring visit there, recording Red-backed Shrike, Red-breasted Flycatcher, Black Redstart, Grey-headed Wagtail, Quail, Rustic Bunting and Red-throated Pipit – classic spring Fair Isle! The Outer Hebrides were quieter this year for rare birds with all of the easterly winds, though great views were had by all groups of Corncrake, displaying Ruff and Red-necked Phalaropes. The last two groups also had Turtle Dove and several white-winged gulls too.
Back in the Highlands we had a good few birds throughout May, June and July, with King Eider, Rose-coloured Starling, Little Ringed Plover, Woodchat Shrike and Honey Buzzards adding extra excitement to our Mountview based tours, with the majority of our spring tours recording good Dotterel and Slavonian Grebe as well as our resident Scottish specials.
Throughout the summer months our attention turns seaward, with many of our ferry crossings, bespoke boat trips and seawatches producing rare seabirds, with good views of Sooty Shearwaters, Sabine's Gull, Leach's and Storm Petrels and scores of commoner species and cetaceans. Our Orkney in High Summer trip and our North Ronaldsay in early-autumn both included Storm Petrel ringing sessions, with guests being able to hold and release these special little birds.
The autumn started with a Pectoral Sandpiper in Aberdeenshire, and was then followed by our run of North Ronaldsay and Orkney holidays. Cumulatively, the September list is impressive with Ring-necked Duck, Sooty Shearwaters, Barred Warbler, Yellow-browed Warbler, Bluethroat, Buff-breasted Sandpiper, Little Bunting, Olive-backed Pipit, Yellow-browed Warbler, Blyth's Reed Warbler, Marsh Warbler, Red-breasted Flycatcher and Ortolan Bunting all recorded, with Red-necked Phalarope and Barred Warbler recorded on our early autumn trip too. Mark's new Unexplored Orkney holiday also found Blyth's Reed Warbler and Lapland Buntings, and saw a Red-breasted Goose too.
Shetland continues to draw the crowds and our two Shetland for Birders trips both delivered some special birds, in between some challenging weather! The two trips recorded Buff-bellied Pipit, Rustic Bunting, Little Bunting, Red-breasted Flycatcher, Yellow-browed Warbler, Parrot Crossbills, Common Crane, Red-throated Pipit, Wryneck, Great Grey Shrike, American Wigeon, Barred Warbler and a very good scattering of commoner migrants, especially Redstarts this year. Dave continued on to Fair Isle and struck gold; Lapland Buntings, White's Thrush, Little Bunting, Black-headed Bunting, Siberian Stonechat, Common Rosefinch, Red-throated Pipit, Jack Snipe and Yellow-browed Warblers and many common migrants too.
Out in the west we had a good few birds on our Hebridean birding holidays with Pomarine Skua and Sabine's Gull, Common Crane, Common Rosefinch, Great White Egret, White-rumped Sandpiper, and Surf Scoter all recorded. We finished our holidays on the west in the Southern Hebrides, with Dave seeing Richardson's Cackling and Todd's Canada Goose on Islay in the thousands of Barnacle Geese.
Back on the mainland we recorded two blue morph Snow Geese and Red-breasted Goose on our new Highland Autumn Birding trip, with two nights in Aberdeenshire giving us plenty of opportunity to find our own birds. Another new holiday was Birding the East Coast in Autumn, seeing American Wigeon and a great range of waders and wildfowl in new birding haunts for us. Our last birding tour of the year was in the Solway Firth, with all of the top targets seen, as well as Ring-necked Duck, Great White Egret and several Willow Tits – a rare and declining species.
Our first British tour outside of Scotland was with Mark to the Scillies, it proved to be a highly successful venture and cemented it into our tour calendar. Rare birds included Little Bunting, Yellow-billed Cuckoo, American Golden Plover, Leach's Petrel, Black Redstarts and a Wilson's Snipe.
2016 Highlights
What a superb year of birding Heatherlea enjoyed around the Highlands and Islands in 2016! Our base here at Mountview Hotel in Nethy Bridge in the heart of the Cairngorms National Park is the perfect location for Scottish birding. We have resident speciality birds nearby, migrants at the coast and inland, and are often very well placed for the fantastic rarities which make Scottish birding doubly exciting, often putting the cap on a perfect day in the field! With 47 consecutive weeks birding based here in the Mountview, we have unbeatable access to all the fabulous birds of the Highlands, and we visit many key islands too, returning to the Mountview after a few days collecting far-flung birds.
We also enjoy dedicated birding holidays on the islands between April and November, with exciting itineraries from remote parts of the Shetlands and Orkneys to equally remote and bird-rich places on the Inner and Outer Hebrides. From Muckle Flugga to Tiree, from St Kilda to Fair Isle and Islay, Heatherlea have Scotland's birding well and truly covered.
Our number and variety of holidays has grown in the last couple of years, as has our Guiding Team, with the addition of more sharp and keen young Guides to our expert team. No wonder we enjoyed a wonderful birding year in 2016!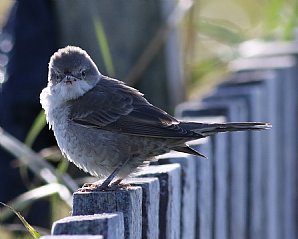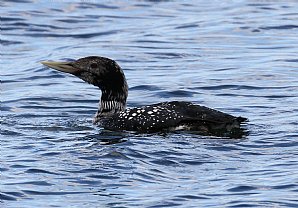 Barred Warbler White-billed Diver

Our birding year started in January with a selection of full week and short-break trips, with some lovely rewards of Little Auk (in good numbers), American Wigeon, Glaucous Gull and Iceland Gull on the coast amid thousands of waders and wildfowl. We began with over 100 species, a number exceeded every single week of the year – you really can come birding in Scotland at any time! As winter moved on, February and March saw us head to the north during 'Highland Winter Birding', featuring Sutherland and Caithness. Our rarity finding record here has been enviable down the years, and the addition of a second night away enabled us to uncover Ring-billed, Bonaparte's, Iceland and Glaucous Gulls. With Green-winged Teals closer to home and Smew we were already building a big yearlist! Towards the end of March our trips started visiting the West Coast, with superb Otter and Eagle views. We often have exceptional field days but this quote from Scott about a day on Mull sums it up nicely:
'Everything about today was breath-taking! We finished with 11 White-tailed Eagle, 10 Golden Eagle, 10 Hen Harrier and 6 Short-eared Owl. Not bad at all!'
The Moray coast continued to produce scarcities, and for three weeks on the bounce we recorded White-billed Diver. Our two 'North Ronaldsay in Spring' holidays both started with White-billed Diver too – a lifer for many and lifetime best views for even the guides. These new North Ronaldsay holidays proved popular with guests, Toby and Mark finding some superb birds on their respective trips, with Rough-legged Buzzard, Bluethroat, Thrush Nightingale and Red-throated Pipit firmly cementing this holiday into our calendar.
During May we also visited the Uists and Barra on our sell-out 'Outer Hebrides in Spring' tours. We usually run three departures here, and this year all featured good birds, with Dotterel, White-winged Tern, Garganey, Common Crane and numerous displaying Ruff. Best bird by a mile though was the American Black-billed Cuckoo that showed for Toby and Dave on North Uist – what a cracker! All of these trips gave good Corncrake views for all guests, indeed all trips to the Inner, Outer and Southern Hebrides in May and June gave good Corncrake views – an enviable record that we are proud of. The only criticism of those trips was that the weather was mostly blue skies and sun – we had a lovely spring! Not so good for the Skua passage which missed the Isles entirely – the price to pay for t-shirt and ice cream birding weather.
June and July are often a bit quieter for scarce birds, but we still managed Great White Egret, Little Gulls, King Eider, Ruff, Red-necked Phalarope, Ring-necked Duck, Common Crane and Yellow Wagtails on our tours around the Highlands and Islands. Our best find in June was by Ian – a singing Icterine Warbler at Laggan as we travelled to the West Coast. It showed well for the next few groups too, what a smart bird! July's best bird was in Aberdeenshire where Mark identified a White-rumped Sandpiper at Loch of Strathbeg. Our other summer rarity highlights include cetaceans, with Mark seeing a stunning pod of Orca in Orkney, and Toby and Jonny seeing a confiding group of Risso's Dolphins on their St Kilda trip, along with a host of other more regular cetaceans.
Our late summer and early autumn trips feature seabirds and boat trips – the west coast is alive! Highlights on 'The Burma Bank' and from the ferry across the Minch included Sabine's Gulls, Skuas, Storm Petrels and Sooty Shearwaters, one trip gave us over 500 Sooties! For those who don't fancy an adventure into the Minch, our 'Orkney in High Summer' holiday gave us a rare opportunity to see Storm Petrels being ringed and released – a rare opportunity to see these birds at close quarters. Our new trip to the Western Isles – 'Outer Hebrides in Early Autumn' – also firmly cemented itself into our list of annual trips, with Toby's group enjoying great views of very rare Western Sandpiper, and finding both Lesser Yellowlegs and American Golden Plover on the same day! Our later Western Isles trips in the form of 'Outer Limits Adventure' trips and 'Outer Hebrides for Birders' trips did well again, with Ian's group seeing an American Yellow-billed Cuckoo. The later birders' trip found Yellow-browed Warbler, Mediterranean Gull, Lapland Bunting and Surf Scoter too, along with all of the special resident birds including Eagles, Hen Harrier, Merlin and Twite.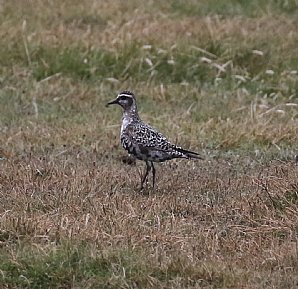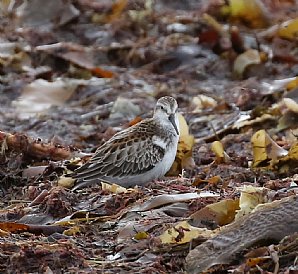 American Golden Plover Western Sandpiper
Our traditional and well established rarity finding 'Birders' trips didn't fail this year either – great birding and good fun was had on all of these weeks. Our 'North Ronaldsay in Autumn' trips have a real emphasis on finding our own birds, with Toby and Mark enjoying Barred Warbler, Lapland Buntings, Common Rosefinch and numerous Yellow-browed Warbler. Mark's group also had a confiding Grey Phalarope at close quarters and the added bonus of a great show of the aurora!

Scottish Northern Lights!
Our birders trips to Shetland have an amazing track record of rarities, and as well as finding our own birds we have the advantage of liaising with scores of other birders working all corners of the archipelago, between us unearthing all sorts of rare and scarce birds. This year our stand-out bird was Lanceolated Warbler, with Brown Shrike and Greenish Warbler close behind. The supporting cast of Bluethroat, Little Buntings, Rose-coloured Starling, Common Crane, Turtle Dove, Hoopoe, Barred and Icterine Warbler, Red-breasted Flycatcher, Olive-backed Pipit and dozens of Yellow-browed Warblers meant everyone went home happy! Many of the birders from the second 'Shetland Birders' week went on to Fair Isle with Dave Pullan. Fair Isle has received less attention in the last few years, though we have always considered it the ultimate birding spot and a 'must visit' site for any birder. It delivered the goods again this year, with Pine Bunting, Red-flanked Bluetail, Pechora Pipit, Dusky Warbler, Bluethroat and both Lapland and Little Buntings. In 2017 we have a new Spring trip to Fair Isle and a spring Shetland Birders trip – who knows what we will find!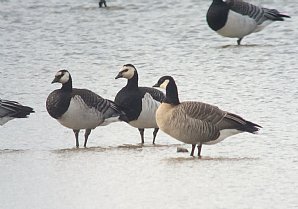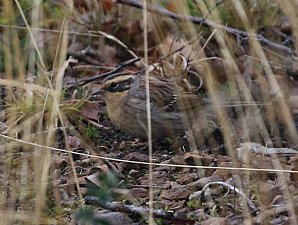 Richardson's Cackling Goose Siberian Accentor
Our birding around the Highlands continued through October and into mid-November, with the Solway Firth being the last Scottish trip of the year. Rare birds continued to be found, with American Black Duck on the West Coast, and at least 6 wild 'Canada type' Geese on Islay featuring at least 3 Richardson's Cackling Goose. Toby's trip to Coll and Tiree had superb Yellow-browed Warblers and a great range of migrants, whilst our November full week and short-break holidays from the Mountview kept on giving too. Our best bird of the year was one of our last – a Siberian Accentor had been found on the Black Isle and Toby and Scott managed to get their November short-break group on to one of the rarest birds ever seen in the Highlands. The supporting cast of Snow Goose, King Eider, American Wigeon and Waxwing meant our year ended with a bang! Our autumn run was helped no end by a great run of Capercaillie sightings on our private estate and fabulous eagles in the glens. Early sightings of these key birds during a holiday gives the guides plenty of time to include birding adventures at traditional rarity hotspots, such as Aberdeenshire and the Moray Coast. Indeed we had a superb run of Capercaillie throughout 2016, with Caper seen on at least 26 full-week holidays, with many short-breaks having great views too. Our private estate accounted for over two-thirds of these sightings, often posing at just a few yards. We were especially delighted to see birds lekking in mid-morning here during a few weeks in spring, viewed safely through scopes at some distance. Crested Tit, Black Grouse and Golden Eagle were recorded every week of the year too – an enviable record.
Victoria's Viewpoint
Victoria Holt is the latest addition to our friendly office team, and many of you have already chatted to her about holiday plans. Victoria joined our Autumn Short Break with Toby, Scott and our guests on 10 Nov 2016. Here's what she thought of the experience!
'Setting off early, our first target was Black Grouse. We found eight males displaying at the lek, which was a first for me. This set the tone for a day packed with nature, and soon after we saw several Crested Tits. In the Heatherlea Private Estate, a wonderful male Capercaillie flew from the ground to a nearby Scots Pine, and sat preening in full view for at least five minutes. Moving on, we saw at least 15 Waxwings, more Red Deer than we could count, four Golden Eagles, a soaring White-tailed Eagle and a stunning Merlin at close quarters. I was especially pleased to see ten large salmon spawning in the shallow waters of a crystal-clear Highland river. It was great fun to join the guides, and to see the excitement of our guests enjoying fabulous wildlife and stunning scenery!'
What will 2017 bring for Heatherlea in Scotland? If it can live up to 2016 we will be delighted! With our exciting range of 'Birders' trips increasing, with new spring dates to Fair Isle and Mainland Shetland, and early Autumn trips to North Ronaldsay we are all set for a great year. Many departures are already sold out so if you are thinking of joining us in 2017 or beyond please get in touch! For up to date sightings on our trips, please keep in touch with our Twitter and Facebook pages.
Here are just a few of our island holidays where rarities can be expected in 2017. There are many more, please roam around our site!
Shetland in Spring for birders
Shetland for Birders in autumn
Outer Hebrides for Birders in autumn