NEW!

Sweden in Spring
A superb Scandinavian birding short break
| | |
| --- | --- |
| Prices: | £1995 PP, £125 single supplement. Deposit £300 |
| Dates: | 1 May - 5 May 2019 |
| Guides | Mark Warren |
Overview
The freshest of air and wide open spaces herald Scandinavia as a stunning part of the world, and here's an exciting new short break to beautiful Sweden, promising outstanding birding on this five-day, four-night trip. Based centrally in the Black River Valley of Vastmanland, our time will be split between Taiga forests, open ground, glorious wetlands and the Baltic coast ensuring varied birding and plenty of species. There should be a real crossover between winter and spring, boosting the range of species on offer, and birding should be varied and absorbing. There are many speciality species, and northern owls and woodpeckers provide many of our top targets. Great Grey, Ural, Tengmalm's, Pygmy, Eagle, Long and Short-eared Owl are all possible plus up to seven species of woodpecker including Black, Grey-headed, Three-toed and Wryneck. Local knowledge is key to find many of these sought after inhabitants of the Boreal zone and we'll be working with experienced local guides throughout.
From late-April and into May, thousands of migrants will be pouring into the area, and breeding birds will be at their stunning best. Slavonian and Red-necked Grebes and Black- and Red-throated Divers are simply wonderful to see at this time. Wildfowl and waders will be plentiful and we hope to see Ruff in breeding plumage, while terns and Little Gulls can be passing through in large numbers. Hundreds of Common Cranes will be settling down to breed, a real sight (and sound) to behold! Grouse will feature and with luck we'll see Hazel Grouse with both Capercaillie and Black Grouse more numerous than in the Scottish Highlands. Other familiar birds from home include White-tailed Eagle, Crossbill (possibly Parrot) and Crested Tit plus subtly different races of Lesser Spotted Woodpecker, Nuthatch and Willow Tit plus beautiful 'caudatus' white-headed Long-tailed Tits. Osprey, Marsh, Hen and occasional Pallid Harrier pass through, while passerines on the move could include Ortolan Bunting and Red-backed Shrike among commoner species. Winter stragglers such as Nutcracker or Hawfinch might be found at feeding stations, or Great Grey Shrike, Rough-legged Buzzard, Golden Eagle or perhaps Taiga Bean Geese – there's excellent potential for a long trip list! And its's not solely about birds, with Elk and scarce butterflies including Camberwell Beauty on offer.
With long days and an ambitious birdlist we will make the most of out time, as we pack plenty into this great new holiday while relaxing into the wonderfully scenic environment.
Itinerary
Day 1: Wed 1 May Arrival and Cranes
Following our morning flight to Stockholm we meet our local guide and will soon be birding. We work our way west, but not too far today; there are plenty of lakes and a number of excellent wetland sites in close proximity to the airport which will get our Swedish experience off to a great start. We'll visit Hjastaviken Reserve for our first sightings of Common Crane, there should be plenty around as many hundreds choose this region for breeding. We may opt to spend several hours here, as there are a host of other possibilities. Slavonian and Red-necked Grebe in summer finery, geese including Taiga Bean, White-fronted and Barnacle with smartly plumaged wildfowl possibly including Garganey and Smew. Ruff will be in summer plumage and we hope to see lekking birds in full display plumage. Green and Wood Sandpiper can be numerous and there's a good chance of seeing beautiful pink-flushed Little Gulls alongside Black Terns. As the afternoon approaches we'll make for Svartadalen in Vastmanland and our accommodation. If weather permits we may offer an evening excursion for Pygmy, Great Grey Owl and/or Eagle Owl.
Day 2: Thu 2 May Woodpeckers and Owls
Today we seek the specialities of the area, our big targets. Woodpeckers are especially vocal and territorial at this time of year, and we have good chances of many of the seven available species. We walk secluded tracks, listening as we go for calling Black and Grey-headed. The first returning Wrynecks should be vocal too, while Three-toed are specialist feeders favouring dying Spruce forests where they seek the larvae of the Spruce Bark Beetle. Local sites in the Black River Valley will be visited, Farna Ekopark perhaps being one of them, with Lesser Spotted (Scandinavian race minor), Great Spotted and Green Woodpecker also known to occur. In the afternoon, we plan to join local ringers to check Ural Owl nest boxes. These have really helped boost the population of this hard-to-find species and it will be a fascinating insight to see the birds at close range and hear about their breeding success. Tengmalm's Owl also use boxes and if any are known we may see them too, while on more than one occasion Tawny and Long-eared Owls have been found taking advantage of a ready-made home! After this busy programme we'll take some rest, with an early dinner so we can make time for a Great Grey Owl sortie. Among the most enchanting of birds, Great Greys take your breath away as they ghost across a field in effortless flight. We'll listen for Pygmy Owl too, searching them out if we can, while Ural or Long-eared Owls could grab our attention. It's worth remembering evening excursions often produce mammals too; Elk, Fox, Pine Marten and maybe even Wolves or Lynx – rare, but it can happen! Whatever we see, it's sure to have been an enthralling day.
Day 3: Fri 3 May: Forest Birding, Raptors and Wetlands
In the morning we head to the woods, using our ears to help find newly arrived migrants. Warblers and Pied Flycatchers will be full of song and we'll visit feeding stations too. Winter may be all but over but these will still be busy with Brambling and Scandinavian race Nuthatch, plus Crested, borealis Willow and caudatus Long-tailed Tits also likely. If we're lucky, Hawfinch and Nutcracker might still be reliant on stations too, as they are during winter. Pygmy Owl can be found during the day, and there are of course chances of woodpeckers again. Goshawk hunt the area intently and we'll keep our eyes and ears open for diminutive Hazel Grouse at all times. The sound of singing Redwing and Fieldfare will be new to many of us, and we should see Tree Pipit on territory. Other birds should include Crossbills, Common Redpoll and Siskin too. Clearings hold singing Woodlark, or maybe a lingering Great Grey Shrike just as the first Red-backed Shrikes are arriving. Later we change habitats visiting wetlands busy with waders including displaying Green Sandpiper, Greenshank and Ruff. Stunning black Spotted Redshank will hopefully be 'in', and there should be a variety of Yellow Wagtail races to investigate. Open ground will be attractive to raptors with White-tailed Eagle, Rough-legged Buzzard, Osprey, Marsh and Hen Harrier all possible and Goshawk well known for leaving the trees to ambush wildfowl! We'll look for terns and gulls again and the eerie sound of calling Black and Red-throated Divers add to the ambience in picturesque surroundings. As daylight fades we'll listen for (and hope to see) booming Bittern, roding Woodcock, drumming Snipe and singing Corncrake and Spotted Crake. Beavers might even put in appearance!
Day 4: Sat 4 May: The Baltic Coast – Uppland/Sodermanland
A change of scenery today as we head to coastal venues just north (Uppland) or south (Sodermanland) of Stockholm. Local bird news will help us plan the day but sea-watching out into the Baltic will give us a number of new species, with sea-duck featuring for the first time. Resplendent Long-tailed Duck, Common and Velvet Scoter, Goldeneye and Common Eider will all be passing through, with rarities to watch out for; both King and Steller's Eider have been recorded here previously. We should also see auks including Black Guillemot, and gulls include migrating Little and Baltic fuscus Lesser Black-backed, and both Arctic and Caspian Tern. Waders will feature too, this time more coastal species such as Purple Sandpiper, Dunlin, Turnstone and Bar-tailed Godwit, all in smart summer dress as they head for their Taiga breeding grounds. White-tailed Eagle and Peregrine patrol the coasts, while there's always the chance of picking up a migrant such as Merlin, Hobby or a passing harrier. Late-afternoon after a great day on the coast we move inland to look for Eagle Owl – often an urban species with known nest sites in the area.
Day 5: Sun 5 May: Grouse, Final Birding and Departure
There's every chance we'll already have seen Black Grouse and Capercaillie but if not, the morning session will target both. Lekking Blackcock are always a firm favourite, and there'll be the chance to visit a known site. Driving and walking forest tracks might see us encounter 'Caper', and also provide another chance to see highly sought-after Hazel Grouse. Spring migrants will have been arriving and building in number all the time and final target birds could include Icterine or Wood Warbler, Red-breasted Flycatcher or even Ortolan Bunting. There will be a last chance to birdwatch at brilliant wetland sites as we make our way to the airport. Many a lasting memory will come away with us from this trip, but a last look at the cranes seems a fitting finale.
Trip Information
Accommodation is in comfortable hotels or guest houses with all rooms en suite.
Food will be traditional Swedish cuisine. Breakfast is continental style, typically consisting of cereal, toast, jam, fruit juice and tea or coffee. Sometimes a hot, cooked option is also available. Picnic lunches will be provided by our hotel, and will include bread, cheese, cold meats, fruit, biscuit/cake and soft drinks. Typical foods in Sweden are black bread, pork, potatoes and dairy products. Evening meals will usually consist of three courses – starter/soup, main dish of meat or fish with salad, rice or potatoes and a dessert. Mushrooms and forest berries often feature. Vegetarian and other diets are welcome.
Walking is generally light/moderate. There may be some uphill track and road walking, though generally an average level of fitness is required.
Weather The climate in Sweden is temperate, characterised by warm summers and fairly severe winters. The weather is often breezy and humid when we visit the Baltic Sea. During our visit, average daily temperatures can range from 5 - 18°C, with early May being one of the more unpredicatable times of the year, as anywhere! Nights can still be rather chilly, and rain is possible. Bring waterproofs in case of showers.
Insects There can be biting insects, but this early in the season it is unlikely. Bring a good mosquito repellent just in case.
Group size is restricted to 12 clients maximum.
Flights are by scheduled airline, from London. We may be able to offer flight arrangements from another airport and/or or quote without flights so you can make your own arrangements. If you wish to add an extension either before or after your holiday, please contact us and we will be happy to arrange this for you.
Your Leader: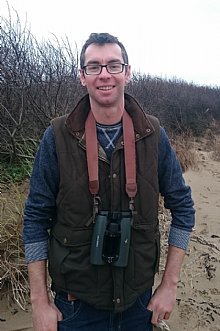 Mark Warren joined our team in 2016, with many Heatherlea customers having already reaped rewards of his widespread knowledge of migration, and enthusiastic attitude. Well known as a Heatherlea 'sharpspotter', with in-depth Scandinavian identification skills, you will see and learn a lot with Mark on this, his fourth trip to Sweden.
What's included in your holiday price:
• scheduled return flights between London and Stockholm airport taxes,
• ground transportation as outlined including all transportation in Sweden in a modern vehicle.
• accommodation and all meals, including breakfast, lunch and dinner.
• the services of your leaders.
• entrance fees to parks and reserves, and tips to hotels and restaurants.
• The Heatherlea Pre-Flight Service offers everything you need at the airport, including hotels, car parking, airport lounges, regional flights, and upgrades. Let Heatherlea take the strain! Pre-flight airport hotel and lounge included free of charge subject to terms and conditions. Read more...
What's not included in your holiday price:
• personal insurance, drinks and other personal expenses, optional tips to the driver and local guide, and any other costs not specified as 'included'.
Why choose Heatherlea for your birding and wildlife holiday in Europe?
Our overseas holidays are planned with care to offer great birding and wildlife, led by capable Leaders who really look after you. Every holiday is run the 'Heatherlea Way', and we hope our Overseas Adventures remind you of the quality and care so many of you enjoy in Scotland. That means rewarding and exciting days in the field, and good quality accommodation and meals, with a real flavour of the country we are visiting. Heatherlea always seek to include the personal touches that make all the difference.
Heatherlea holidays are not 'dawn to dusk' expeditions. Our less-intensive approach is ideal for those who want to relax whilst experiencing the best wildlife watching, and wherever possible we organise early or late activity on an optional basis. We also take sensible breaks when in very hot places and regular comfort breaks on every holiday whenever possible. All itineraries are planned carefully around the best wildlife opportunities, and you won't miss out on memorable wildlife, whilst enjoying relaxed, informal days that are great fun.
The really important part of any wildlife holiday is the experience for you, our valued customer. Heatherlea invest in many things to offer you the best possible service;
We have been organising birding and wildlife holidays for over 25 seasons, and have a highly experienced and capable office team. We also offer a telephone and email service outside normal office hours.
Heatherlea overseas holidays have a maximum of 12 clients per trip, putting the emphasis on personal service, and helping you get the best possible experience.
Our holidays often include things which others might invite you to pay yourself, for instance Departure Taxes and tips to hotels.
All elements of our holidays are sold under our own licence, ATOL 6113. Under 'Flight-Plus' legislation it is a legal requirement of any tour operator to hold an ATOL licence for the supply of any overseas holiday where a flight is involved, if that holiday includes either overseas accommodation and/or car hire. It can be a criminal offence for an operator to book flights as part of a package without an ATOL licence. Heatherlea also hold full Tour Operator Insurance for your added protection.
Heatherlea is your complete wildlife holiday provider. Our 'Back Office' team can organise all your pre-flight and other travel needs. Our specialists will help you book the right services, at the best price. Book holiday extensions through us, and your ATOL protection is extended further. We don't charge extra for this service.
Heatherlea is a limited company, registered in Scotland, and registered to pay VAT (applies to all holidays within the European Union).
Please note: all itineraries are given as a guide only. Actual holiday content may vary according to the judgement of your guide, and elements beyond our control (eg weather).