Specials and Migration, featuring The Burma Bank
A superb week of birding across the Highlands, including our famous boat trip to the Burma Bank looking for rare seabirds and cetaceans!
More Info

Your guide(s) will be a member of the Heatherlea team: Ian Ford, Toby Green, Rob Jordan, Phil Knott, Scott O'Hara, John Picton, Jonny Pott, Dave Pullan, Kevin Shaw or Mark Warren.

Max group size 7 clients per guide.

Featuring fabulous migration around the coastline of northern Scotland and all the special resident birds of the Highlands, this is an absorbing and exciting holiday where anything might turn up! As a very special experience we take a thrilling boat trip to 'The Burma Bank'. We also visit the very best spots on the coast to see migrating waders and passerines. Absorbing birding and a wonderful pelagic boat trip! With all speciality birds found in good numbers, and seabird flocks beginning to build, this is one of the best times to come to Scotland, often recording one of the highest birdlists of the year, frequently over 130 species in a week!
KEY MOMENTS at our Friday round-up - which will be yours?
* That special 'Burma Bank' rarity - maybe Sabine's Gull!
* Shearwaters, skuas and cetaceans on our exciting day in 'The Minch'
* Capercaillie and Black Grouse, perhaps on the same morning!
* Three diver and three scoter species - all in summer plumage
* Golden Eagle above, with roaring stags in the background
Outline Itinerary
DAY 1: Saturday
Arrival, welcome, dinner and briefing. Don't forget our courtesy collection service from Aviemore.
DAY 2: Sunday
Purple heather moors, the gold and red of a Highland autumn in the birchwoods, the deep greens of the ancient pinewoods, this is a lovely time to visit Scotland. Mixed parties in the Caledonian pines contain good numbers of Crested Tit, and Scottish (Parrot) Crossbill form their own noisy flocks, often in dozens. Golden Eagle, Peregrine, Buzzard, Sparrowhawk and Kestrel are the main upland raptors we seek today, though White-tailed Eagle are often seen at this time.
DAY 3: Monday THE 'BURMA BANK'
The 'Burma Bank' is a part of Scotland not known to many. Indeed, other than trawlermen, a few local boat owners and a handful of birders, hardly anyone is aware of its existence, let alone its significance to migrating seabirds. Now Heatherlea have made it possible for you to visit this remote and mysterious place to enjoy its wildlife.
The 'Burma Bank' is an underwater range of hills, running north-to-south in the middle of The Minch, between the Isle of Lewis and the Scottish mainland. Here the water depth rises sharply from around 400 feet to only 70 feet. The strong tidal currents deflect nutrients to the surface here, encouraging a food chain which includes plankton, fish, cetaceans and of course birds. Seabirds spiral from the north of Lewis into the Minch to feed here, and some genuinely pelagic species, rarely observed from British coastal locations, can be seen by visiting birders.
Perhaps our key target is Sabine's Gull, seen regularly here in the past few years. A northern Arctic species, Sabine's is notoriously difficult to see from the British mainland. Sooty Shearwaters, which breed in the south Atlantic, are seen on passage here amongst much commoner Manx Shearwater. Storm Petrel and all four northern skuas, including Long-tailed and Pomarine, are very possible. We may be lucky enough to encounter Great and Balearic Shearwater, Little Gull and Leach's Petrel. Red-necked Phalarope and in the second week Grey Phalarope are possible too. Commoner species will include all British breeding auks, including Black Guillemot and Puffin, perhaps with young (Pufflings), White-tailed Eagle, Gannet, Kittiwake and more.
During our voyage, which lasts around three hours, we will find time to search for available cetaceans and large fish, as we scan the horizons for feeding flurries or for trawlers chumming, and travel quickly between the Burma Bank and available coastlines including the north of Skye and sheltered sealochs off the Scottish mainland. Common Dolphin, Minke Whale, Basking Shark and Common Porpoise are all found regularly in these waters at this time of year. We may even be lucky enough to see Sei Whale, Orca, or rarer dolphin species such as Risso's, White-beaked or White-sided Dolphin.
We travel on a RHIB (Rigid Hull Inflatable Boat), which has the power, speed and strength to take us safely and quickly into the offshore waters where wildlife sightings are best at the time of our travel. Our stable boat will plane across the water at up to 26 knots, and is highly manoeuvrable; similar vessels are used by HM Customs, the Ministry of Defence and the National Lifeboat Institution.
DAY 4: Tuesday
In autumn our private estate woodlands are excellent for both cock and hen Capercaillie, which often show well whilst taking autumn berries. Later we drive to the Moray Firth, to examine the concentrations of seabirds, which make this coastline such a great magnet for birders. Terns, Eider, Goosander and Red-breasted Merganser, Black and Red-throated Divers are all possible on this day. Ospreys can be found fishing till mid-September.
DAY 5: Wednesday
An early (but not too early!) start for the first Black Grouse returning to the lek. Ptarmigan are our target after breakfast, skulking in mountain corries within walking distance of transport. The birds give good sightings once located as they rely upon camouflage more than flight whilst moulting into white winter plumage. Lingering Snow Bunting may also be seen. Lesser Redpoll, Siskin and Red Grouse are also possible on this day.
DAY 6: Thursday
Another great coastal experience, we go north to the Moray Coast or east to Aberdeenshire, depending upon the local birding. Amongst the passing terns, auks and Gannet we watch out for Skuas again. The real focus today will be on waders, with a good range of species expected. Sites could include the Ythan Estuary in Aberdeenshire or Udale Bay on the Black Isle.
DAY 7: Friday
We will use our last day to target any missed species from the past week, with another chance at all of the specials. If we have succeeded in our targets we will again head to the coast, with the guide having the freedom of choice to design the best possible days birding. In previous years we have visited Easter Ross-shire, or any combination of sites on the rich Moray Coastline, which stretches for over 100 miles between Inverness and Rattray Head, with very few birders indeed.
DAY 8: Saturday
Breakfast and departure. Don't forget our courtesy return service to Aviemore.
Please note: all itineraries are given as a guide only. Actual holiday content may vary according to the judgement of your guide, and elements beyond our control (eg weather).
This holiday can be combined with:
MAINLAND SCOTLAND
Highlands and the Uists, Short Breaks, Autumn Migration and Scottish Specials.
SCOTTISH ISLAND ADVENTURES
North Ron in early autumn for birders, Outer Hebrides in early autumn for birders.
More holiday information
Accommodation at Mountview Hotel can be seen here. www.mountviewhotel.co.uk . All accommodation is en-suite unless otherwise advised before your booking is confirmed.
Food There is a choice of evening meal, and vegetarian, vegan and other diets are welcome. Breakfast may be chosen from a full Scottish menu. You don't need flasks for hot drinks.
Walking will be light, although mountain walking for Ptarmigan is a strenuous hike. Guests can opt out of this excursion.
Weather and Clothing Expect a wide variation in weather conditions. Blazing sunshine and rain are equally likely, and you will probably experience a bit of everything. Bring waterproofs, walking boots or shoes and warm clothing. Hat and gloves are essential for the mountain and boat trip, though warm and waterproof suits are provided. Wellies are not required.
Biting insects may be encountered in the evenings or around standing water, please bring a general repellent, just in case.
Group size maximum 7 clients per guide.
Optics. Telescopes will be useful, and you should bring binoculars. We have a limited number of top quality Swarovski binoculars, which you may borrow at no charge (subject to availability). A camera would be useful too!

Getting here is easy!
BY CAR Travel north to Perth. Take A9 signposted Inverness to exit north of Aviemore. Follow signs northeast through Boat of Garten to Nethy Bridge (ten miles). In Nethy Bridge, drive through the village, over the River Nethy, and you will see our sign 200 metres ahead on the right.
BY RAIL Don't forget our courtesy collection service from Aviemore on Saturdays at 16:30 and 19:30, but please let us know at least 48 hours in advance! The best train to Aviemore is the 'Highland Chieftain' on the East Coast Line. This leaves London Kings Cross at 12.00, arriving Aviemore at 19.28. We recommend you connect with this service if possible. Our pickup also works well with the 16:19 arrival from Edinburgh. In general, rail travel via Edinburgh is easier than via Glasgow, where a trip across the city between stations is needed, often followed by a change at Perth. Return trains leave Aviemore at 07.25, 08.29 (fast train to London –recommended), 09.24. 10:27 and 11.23. However we can only make 2 journeys to Aviemore on Saturday morning, so you may be taken to Aviemore a little earlier. Rail enquiries: 0845 7484950, www.nationalrail.co.uk.
BY AIR Flights to Inverness are becoming available all the time, for latest info call our office. Currently direct flights to Inverness are available from: Belfast, Dublin, Amsterdam, Birmingham, Jersey (all Flybe), London Gatwick, London Luton and Bristol (all Easyjet). A new service has just been launched with daily service to London Heathrow with British Airways. Guests arriving in Inverness airport can then take a taxi to Nethy Bridge, or take the Airport Flyer bus to Inverness, from where they can take the train to Aviemore where we can collect you. Our courtesy collection service is on Saturdays at 16:30 and 19:30, but please let us know which at least 48 hours in advance! We will be able to meet the 15:51 and 18:46 trains departing from Inverness that arrive at 16:34 and 19:24 respectively.
What's included in your holiday price
* Seven nights comfortable accommodation at The Mountview Hotel, VisitScotland rated 3 Star. All rooms are en-suite, with colour TV and hospitality tray. There is no single supplement, and guests are never expected to share. Single guests may be upgraded to double room accommodation at no extra charge.
* Full Scottish breakfast, a substantial packed lunch, and a delicious dinner.
* Six full days wildlife watching.
* Boat trip to 'The Burma Bank'.
* Guidance from a professional Group Leader, and any extra guiding services on the west coast.
* All transport by comfortable minibus.
* A checklist specifically prepared for your holiday to record your sightings and notes.
* Courtesy bus service to and from transport in Aviemore.

Here are some of our reports from the Burma Bank:
Report by Ian Ford

'An early breakfast let us get on the road for our boat trip. We saw several Red Kites and two Sika Deer on the way to the west coast and the spectacular scenery was reflected in the lochs we passed. A loo stop gave us our first Song Thrushes of the week before we continued to the harbour. We struggled into our flotation suits and were all on board by 0945 so we could make best use of the calm sea before the wind got up. The sun kept struggling to burst through thin clouds but eventually gave up. We had barely left the quay when Owen saw an Otter but it disappeared before anyone else could see it.

We soon saw our first of many Kittiwakes and Gannets and a Black-throated Diver flew low over us. At least two Slavonian Grebes were seen as we sped past. A tiny Storm Petrel overtook us and there were several chances to see others later. We didn`t stop for Manx Shearwaters, Guillemots, Razorbills and Fulmars as we sped to the Burma Bank lying 20 miles offshore and north of the Shiants, a group of islands off the coast of Harris. There were some Manx Shearwaters resting on the water and a few Gannets and Kittiwakes were fishing in this productive area. A family of four Great Skuas or Bonxies were harassing a Sooty Shearwater which they had already injured. It could not fly far so also attempted to escape by diving and the Skuas let it exhaust itself. The juvenile Bonxies were learning the brutal art of murder on the high seas. This was a life bird for some of the group but not really the way you imagine getting a new tick.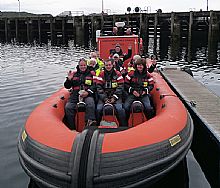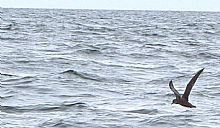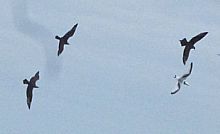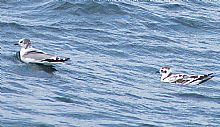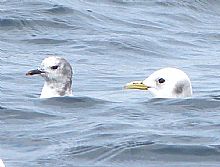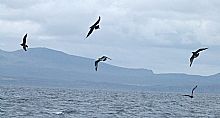 photos by Ian Ford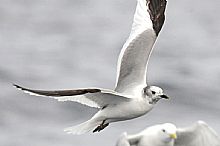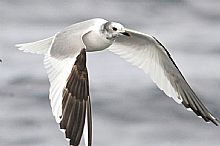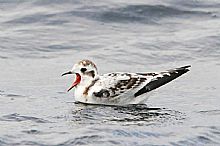 photos by Heatherlea Guest Nick Hibbert
We were close to the deserted cliffs of the Shiants when the skipper headed south towards the Rona Bank, off Skye, where there had been more seabird activity in recent days. In this shallow part of the Minch we could see many small flocks of Kittiwakes with Common and a few Arctic Terns amongst them, all swooping down to pick up small fish. More Guillemots and Razorbills, some with well-grown chicks squeaking to their parent, were diving for food as well. The ominous dark shapes of Arctic Skuas were waiting for their chance to force the Kittiwakes and Terns to disgorge any fish, often five or six joining together to chase their victims. These chases were spectacular to watch with many twists and turns before the victim coughed up a fish and an Arctic Skua always caught the fish before it reached the sea.

Photo by Ian Ford
One or two Storm Petrels and many Manx Shearwaters were also here and we found another group of Bonxies preparing to kill our second Sooty Shearwater of the day in the same manner as the first. However we also saw two more free flying Sooties and could enjoy their graceful flight and silver underwings contrasting with the sooty colour.

We started checking out the Kittiwake groups for other Gulls and first were pleased to see that there so many juvenile Kittiwakes in their distinctive plumage. A juvenile Little Gull was a good find and we all got excellent close views of this smart little seabird before the skipper found a first summer Sabine`s Gull, a rare plumage in Britain. This was our real target bird of the boat trip. With its half grey head, black and white wingtips and slim shape it would have been easy to pick out from its mates if we and the sea weren`t constantly moving up and down. However the skipper manoeuvred the boat within 20 yards of the resting group and everyone was able to obtain excellent views of this hard-to-see species. This first summer plumage is seldom recorded in British waters in the spring and even more rarely in autumn but we were close enough to see the black bill with a very small yellow tip and the smudgy grey hood. It flew a short distance with the Kittiwakes a few times showing off the very black wingtip, clear white triangle and grey saddle alongside juvenile Kittiwakes. Both in flight and on the water it was often next to the Little Gull as well so we could see the gradation in size of these three species and the slim, long-winged jizz of the Sabine`s was well-illustrated.

Our first Minke Whale was only seen briefly by a few guests from an unhelpful angle before it vanished without trace. Several Harbour Porpoises were also seen by some. There was still plenty of time to criss-cross the shallow bank looking for even more action and we enjoyed more Arctic Skua/ Kittiwake chases. We scrutinised all these Skuas with their various morphs and age-related plumage but concluded that they were all indeed Arctic but seeing them showing off their agility at close range was exciting.
We had spent nearly four hours now, well out from the shores of the West Highlands, the Outer Hebrides and Skye and certainly far removed from our fellow man. We had seen just one other boat, someone fishing for Pollock to take home for tea. We returned to the quay with two Grey Seals in the harbour and three "real" Rock Doves flew over. We were all encrusted in salt from spray but the suits kept us very cosy. The boat trip was undoubtedly the week`s highlight for many of this week`s guests, either the whole experience or the Sabine`s and Little Gulls, or the Skuas and the Sooty Shearwaters.'

Report by Dave Pullan

With Nick at the helm of his RHIB we left the jetty at about 1230 hrs. For the first hour we negotiated the choppy sea past Longa Island. A huge "super trawler" was on the distant horizon and this was where we were heading; the Burma Bank. Unfortunately when we got there, there were absolutely no birds! We tried a few different spots but there was nothing so we decided to cruise over to the Shiant Islands. A few Fulmars and the odd Kittiwake went by, and, as we got closer to land, Common Seals slipped off the shelving rocks into the water. A White-tailed Eagle glided out from the high cliffs of Garbh Eilean, quickly followed by a second and then a third eagle. Momentarily they soared above the skyline before disappearing around the back. Further exploring produced large numbers of Shags and a Buzzard was seen.

For the next stage we sped across towards north Skye. Occasionally a Kittiwake or a Gannet went past and a few small flocks of Guillemots sat on the sea. Suddenly Nick slowed right down at a place he called "the middle of nowhere". Approaching us from the left was a small gull and as it banked we could see the characteristic wing markings of a Sabine's Gull. Wow! It was a juvenile, the first of the season, and it came very close to the boat, sometimes settling on the water. We were able to follow it for a while as it made a wide feeding circuit and then when it joined a small group of 4 juvenile Arctic Terns and 2 Kittiwakes. Exceptional viewing at close range.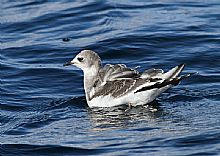 Photos by Dave Pullan

That was enough to make the trip worthwhile but we then made our way to the Rona Bank area. Great Skua and Arctic Skua were both seen although it was still generally very quiet. But there was one more surprise. A petrel flying towards us wasn't the expected Stormy, it was a Leach's! It flew low right across the bow. We went on to see 4 or 5 Storm Petrels and then picked up Black Guillemot, and finally back to the jetty where a couple of scrounging Grey Seals were hanging around hoping to be fed.
What's not included in your holiday price
* Insurance, drinks and other items of a personal nature.
WHY CHOOSE HEATHERLEA?
Heatherlea is THE place for top quality birding holidays in Scotland, chosen by more and more birders each year. Stay in our own three star Small Hotel, and enjoy first-rate birding with Scotland's best guiding team. Relax and enjoy yourself, as we do all the planning! Above all, we make it our business to show key wildlife to you. Our fully inclusive guided holidays concentrate on the real experience, and we take time to ensure that each of our guests enjoys everything we do.
* We have been organising birding and wildlife holidays for 27 seasons, and have a highly experienced and capable office team. We also offer a telephone and email service outside normal office hours.
* Our 'Mainland Scotland' holidays based at Mountview Hotel have a maximum ratio of 7 clients per guide, putting the emphasis on personal service, and helping you get the best possible experience.
* We are a small company, run BY birders FOR birders. Come and see!
* Heatherlea are Mainland Scotland's FIRST '5-Star Wildlife Experience!' This is the highest available grading, classified as 'exceptional' by visitScotland.
* There is no single supplement. Single guests are never expected or invited to share.
* Our holidays often include things which others might invite you to pay yourself, for instance loan of Swarovski binoculars, packed lunch and tips to hotels.
* We offer a courtesy transfer between our Hotel and Aviemore rail/bus links on Saturdays.
* Heatherlea hold full Tour Operator Insurance for your added protection.
* Heatherlea is a limited company, registered in Scotland. We are also registered to pay VAT, which is included in your holiday price as quoted on this page.
* Once your holiday is confirmed in writing by us, we promise not to surcharge the price for any reason.
Enjoy an excellent birding and wildlife holiday with Heatherlea.
Mainland Scotland's FIRST '5-Star Wildlife Experience!'
'Exceptional'
Visit Scotland
Please note: all itineraries are given as a guide only. Actual holiday content may vary according to the judgement of your guide, and elements beyond our control (eg weather).