NEW!

Spain - Catalonia and south-east Aragon
Superb spring birding from the pre-Pyrenees to the Ebro Delta
Dates

24 Apr - 02 May 2019
22 Apr - 30 Apr 2020

Guides
Max Group Size
6 per guide
Duration
9 Days
Prices

£1995 PP, £270 single supplement.

Deposit £300
This exciting new spring holiday is based in parts of the Iberian peninsula which are full of speciality birds. Very rewarding yet underwatched despite being within relatively easy reach of Barcelona, and surrounded by outstanding scenery, this area holds the promise of outstanding birding which may be new to many British birders.
We travel at the time of peak spring migration activity, and this eight-night adventure features days full of birdsong and breeding display. Our itinerary covers many of the most sought-after species, and although not a holiday to see all the key targets of the region, can certainly be seen as an opportunity for outstanding European birding covering an impressive number of targets in delightful places, and featuring authentic Catalan hospitality.
We begin in the Ebro Delta, where spring birding is extremely exciting, as just about anything might occur. A big range of waterbirds should include many gulls including Audouin's, Slender-billed and Mediterranean, terns including Gull-billed, Black and Whiskered, up to 25 wader species, and a big range of migrating passerines.

Next we transfer inland to the steppes via a vulture feeding station where birds can be seen at very close quarters, and we also look for endangered Spanish Ibex, before arriving at our second centre to enjoy outstanding birding in plain, steppe and mountain areas. Key birds here include Little Bustard, Black-bellied and Pin-tailed Sandgrouse, Lammergeier and many, many more, including Booted, Bonelli's, Short-toed and Golden Eagle, Black and Egyptian Vulture, Roller, Bee-eater, Hoopoe, Golden Oriole, warblers including Moustached, Melodious, Western Bonelli's, Great Reed, Sub-alpine, Western Orphean, Cetti's and Spectacled, larks including Calandra, Thekla, Short-toed and Lesser Short-toed, and other birds of interest including Black Wheatear, Pallid Swift, Penduline Tit, Cirl Bunting, Turtle Dove, Stone Curlew, Red-billed Chough, Woodchat and Iberian Grey Shrike, Eagle and Little Owl, Iberian Green Woodpecker, Great Spotted Cuckoo, Rock Sparrow and many more. We have good chances of both Great Bustard and Dupont's Lark, and even an outside chance of Wallcreeper. A true birding feast on one of the very best European itineraries available.
We stay in two rural Catalonian hotels, both of which have excellent birding close at hand, and enjoy genuine Catalan dishes in places where English cuisine is simply unknown. Your guides will be Ian Ford, veteran of many Heatherlea holidays in Spain, and Sergi Sales, a leading and highly respected Catalan birder. An intriguing and very rewarding birding holiday!
Heatherlea's Kevin Shaw says: 'I spent a few days in the Delta in Sept 2017, and a few more in the steppes around Lleida in April 2018, working closely with Sergi to put this holiday together. The birding is truly exceptional in both locations, and you should see well over 150 species including some of the most sought-after in Europe. The two hotels are just right, in spring the temperature isn't too hot and the birds are active. The excitement of migration adds an important extra element too!'
Day 1: Wed 24 Apr Arrival and Transfer to the Ebro
Relax in our VIP Lounge before your flight, also included in your holiday price. On arrival at Barcelona airport, we collect our minibuses and transfer to our comfortable hotel in the Ebro Delta. If there is time, we may enjoy a little birding close to the airport, where Iberian Green Woodpecker, Short-toed Treecreeper, Firecrest, Crested Tit, Hoopoe and more can be found. Three nights at Delta Hotel, Deltebre.
Days 2 and 3: Thu 25 and Fri 26 Apr Birding the Ebro Delta
Our family-run hotel is ideally placed, and the delta area is small and easy to comprehensively cover in two days. Before breakfast, the area immediately next to the hotel might produce Little Bittern, Black-crowned Night-heron and Penduline Tit. As we travel, Squacco Heron, Whiskered Tern, Audoin's Gull and Collared Pratincole might be found very close to hand, Slender-billed Gull are resplendent in their breeding plumage, and we spend our time looking for gulls, terns, waders and other waterbirds. Long-eared Owl breed here, and we may see them either in these days or later in the Catalonian steppes. Migration is lively and often very exciting, and could produce just about anything on the European list and even North American vagrants. Birds change continuously, and we use local knowledge to look for any rarities which might be around. In 2018, Lesser Yellowlegs and Moltoni's Warbler were welcome additions to our birdlist. In the evening, we may find Scops Owl within a few yards of the hotel entrance.
Day 4: Sat 27 Apr Vulture Station and Els Port
Today we say goodbye to the coastal wetlands, travelling first to a spectacular vulture feeding station, where dozens of mighty Griffon Vulture are fed daily and can be seen at very close quarters. Other birds including Egyptian Vulture and Raven sometimes come to the site, and Red Fox can be seen here too. A memorable experience. Next we visit the mountains in Els Port, a good site for rare Spanish Ibex, but also a very interesting birding location where we may make our first contact with Bee-eater and other Mediterranean speciality birds, and raptors including Booted, Bonelli's and Short-toed Eagle are possible, as are interesting passerines including Woodlark and many more. Finally today we head north-east to our second centre, birding as we go. Five nights at Monastir de les Avellanas.
Days 5 to 8: Sun 28 Apr to Wed 1 May Steppes, Plains and Mountains
Our second hotel is a huge, impressive and still active monastery of great antiquity and history. Rooms are modern, spacious and very comfortable, and food reflects Catalan heritage and style. Birding in the immediate vicinity is superb, with singing Nightingale and Serin everywhere in early morning (subject to migratory conditions of course!), and chances of Golden Oriole, Cirl Bunting, Rock Sparrow, Short-toed Treecreeper, Firecrest, Crested Tit, Hawfinch, Iberian Green Woodpecker, Western Bonelli's Warbler and passing Booted Eagle among many more.
As a base for our daily birding safaris, this is an ideal choice. The mountains of the pre-Pyrenees lie to the north, and we leave one morning to catch vultures and eagles, hopefully including Lammergeier, as they soar from sheer sandstone cliff faces. This is considered the only location in Europe where Black, Egyptian and Griffon Vulture and Lammergeier can be seen together. Migrant warblers and Red-billed Chough also attract our attention. Later we visit Alt Boumort National Park, where a late lingering Wallcreeper may be present, though we also have good chances of Rock Bunting, Rock Sparrow, Alpine Chough, Dipper, Blue Rock Thrush and other specialities of this altitude including more raptors.
One day we drive to the steppes of south-east Aragon, where we look for Great Bustard. The 'lek' is now over, but male birds remain in the area, and we know where to look! Black-bellied Sandgrouse are also found here. We visit wetlands where warblers might include Moustached, Western Orphean, Melodious, Cetti's and Great Reed, and Bearded and Penduline Tit may also be found as Marsh Harrier quarter the surprisingly extensive reedbeds, and the occasional Red-crested Pochard and Black-necked Grebe sail serenly on the open water. Baillon's and Little Crake are present too. Returning via some more quiet and little known places, we may see Eagle Owl, Black Wheatear, Pallid Swift and more on our way home.
Another day sees us at a different area of the steppes, where Dupont Lark are known to be present, and we may hear and hopefully see the birds. This area is full of birdsong on a sunny morning, as Calandra, Short-toed and Thekla Lark, Tawny Pipit, Spectacled Warbler and Corn Bunting fill the air with sound. Pin-tailed Sandgrouse are also found here. An area of shady trees holds Iberian Green Woodpecker and other woodland species plus migrant warblers and flycatchers. Later we visit areas of steppe further into Catalonia, where Little Bustard, Great Spotted Cuckoo, both sandgrouse, Iberian Grey Shrike and Little Owl can be seen. Beautiful, brightly coloured birds including Roller, Bee-eater and Hoopoe can turn up anywhere, and other migrants of interest include Red-rumped Swallow, and Pallid Swift.
We have allocated one more full day to this itinerary to revisit any of the above places to take a second look for birds we might have missed, though there is so much to see that we have no doubt this final birding day will be absorbing. A couple of hours spent around our hotel will also be very rewarding; this tranquil and beautiful place is full of birdsong, and we are sure you will enjoy birding here!
Day 9: Thu 2 May Final Birding and Departure
The airport is only around ninety minutes away, so after some final birding around the hotel we head towards Barcelona, and if time allows divert to see some of Catalonia's newer avain inhabitants, including Red-billed Leothrix and both Rose-ringed and Monk Parakeets. We might also find a few extra species, perhaps Black Redstart and Crag Martin, right up to arrival at the airport!
Please note: all itineraries are given as a guide only. Actual holiday content may vary according to the judgement of your guide, and elements beyond our control (eg weather).
What's included in your holiday price:
scheduled return flights between London Gatwick and Barcelona, airport taxes.
ground transportation as outlined including all transportation in Spain in a modern and spacious air-conditioned vehicle.
accommodation and all meals, including breakfast, lunch and dinner.
vulture Feeding Station entry fee.
the services of your leaders.
The Heatherlea Pre-Flight Service offers everything you need at the airport, including hotels, car parking, airport lounges, regional flights, and upgrades. Let Heatherlea take the strain! Pre-flight airport hotel and lounge included free of charge subject to terms and conditions. Read more....
What's not included in your holiday price:
personal insurance, drinks and other personal expenses, and any other costs not specified as 'included'.
More holiday information
Accommodation: is in two comfortable, rural hotels with all rooms en suite.
Food: Breakfast in Delta Hotel is excellent by Mediterranean standards, featuring cold meats, cheese, bread, yoghurt, fruit, a selection of preserves and cakes, croissants and other sweetmeats. Fruit juice and tea or coffee is also available. Breakfast in the Monastir is less expansive, but still very good. Picnic lunches will be taken away from the hotel in both locations, and are often substantial, including sandwiches, pasta or salad, cakes and soft drinks. Evening meals offer many interesting local dishes, which are very good though sometimes simple. Water, bread and wine is included at dinner, which is very pleasant and convivial! Vegetarian and other diets are welcome, though please check before booking as both hotels have their own way of doing things, and we need to make sure your needs can be met.
Walking: is generally easy, on paths and tracks. We will usually drive to key birdwatching spots. Most birding is done close to our vehicle.
Weather: Direct sunlight can send the temperature soaring above 30c, though mid 20's c is more usual. Minimum temperatures will be about 15c (although it can sometimes drop lower), and the winds can be cool. Evenings and particularly mornings can be cool.
Insects: There may be biting insects, though not usually as a major problem. Bring a repellent just in case.
Group: size is restricted to 12 clients maximum.
Flights: are by scheduled airline, from London Gatwick - Barcelona. We may be able to offer flight arrangements from another airport and/or or quote without flights. If you wish to add an extension either before or after your holiday, please contact us and we will be happy to arrange this for you.
Your Guides
Ian Ford - Spanish-speaking Ian is a veteran of many Heatherlea holidays to southern Spain, and is looking forward to joining you in Catalonia and South-east Aragon.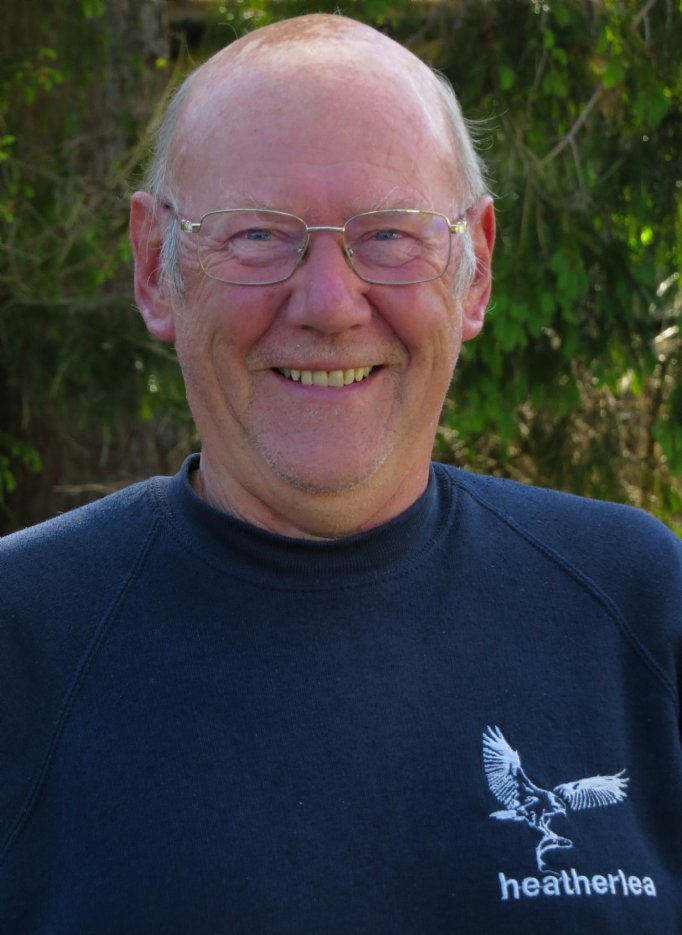 Sergi Sales - Sergi is an outstanding birder, specialising in the birds of the Ebro Delta and steppe areas of his native Catalonia. Able to readily identify virtually everything he sees or hears, Sergi is a fount of knowledge about birding in this area and a valuable addition to our holiday team.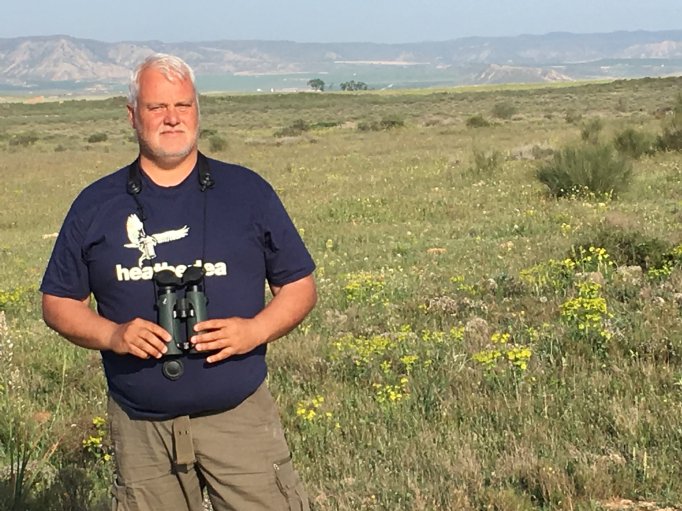 Why choose Heatherlea for your birding and wildlife holiday in Europe?
Our overseas holidays are planned with care to offer great birding and wildlife, led by capable Leaders who really look after you. Every holiday is run the 'Heatherlea Way', and we hope our Overseas Adventures remind you of the quality and care so many of you enjoy in Scotland. That means rewarding and exciting days in the field, and good quality accommodation and meals, with a real flavour of the country we are visiting. Heatherlea always seek to include the personal touches that make all the difference.
Heatherlea holidays are not 'dawn to dusk' expeditions. Our less-intensive approach is ideal for those who want to relax whilst experiencing the best wildlife watching, and wherever possible we organise early or late activity on an optional basis. We also take sensible breaks when in very hot places and regular comfort breaks on every holiday whenever possible. All itineraries are planned carefully around the best wildlife opportunities, and you won't miss out on memorable wildlife, whilst enjoying relaxed, informal days that are great fun.
The really important part of any wildlife holiday is the experience for you, our valued customer. Heatherlea invest in many things to offer you the best possible service;
We have been organising birding and wildlife holidays for over 25 seasons, and have a highly experienced and capable office team. We also offer a telephone and email service outside normal office hours.
Heatherlea overseas holidays have a maximum of 12 clients per trip, putting the emphasis on personal service, and helping you get the best possible experience.
Our holidays often include things which others might invite you to pay yourself, for instance Departure Taxes and tips to hotels.
All elements of our holidays are sold under our own licence, ATOL 6113. Under 'Flight-Plus' legislation it is a legal requirement of any tour operator to hold an ATOL licence for the supply of any overseas holiday where a flight is involved, if that holiday includes either overseas accommodation and/or car hire. It can be a criminal offence for an operator to book flights as part of a package without an ATOL licence. Heatherlea also hold full Tour Operator Insurance for your added protection.
Heatherlea is your complete wildlife holiday provider. Our 'Back Office' team can organise all your pre-flight and other travel needs. Our specialists will help you book the right services, at the best price. Book holiday extensions through us, and your ATOL protection is extended further. We don't charge extra for this service.
Heatherlea is a limited company, registered in Scotland, and registered to pay VAT (applies to all holidays within the European Union).