Coll and Tiree in Autumn for birders
A pioneering birding adventure on underwatched Hebridean islands.
| | |
| --- | --- |
| Prices: | £1645 PP, £225 single supplement. Deposit £200. 2020 prices TBC. |
| Dates: | 13 Oct - 19 Oct 2019, 11 Oct - 17 Oct 2020 |
Overview
Coll and Tiree lie on the outer, western edge of the Inner Hebrides, and their position makes them ideal for migrant birds. Northerly and western migrants take pride of place, though the islands also receive eastern falls, as birds migrating at altitude recognise them as the last available landfall. The two islands are very different in character with Coll being very rocky and windswept while Tiree offers a much more gentle aspect with fertile crofts and very rich grazing. They are very under-watched but have a formidable track record of rarities, and Tiree has become one of the best places in the UK to catch up with rare and scarce American waders. Scotland's fifth Brown Shrike, Bairds, White-rumped, Semi-palmated, Buff-breasted and Pectoral Sandpiper, Cedar Waxwing and Scotland's first Northern Parula, have all turned up on Tiree in recent years.

Other birds recorded on the islands in the last few years include Blyth's Reed Warbler, Citrine Wagtail, Buff Bellied Pipit, Yellow-browed Warbler and Common Rosefinch. American Golden Plover, American Wigeon, Ring-necked Duck and Green-winged Teal are all regular, and seawatching can be very rewarding, perhaps including Grey Phalarope, Pomarine Skua and Sooty Shearwater, as well as good numbers of Great and Arctic Skua and Manx Shearwater.
Flocks of Fieldfare and Redwing should be present, along with Brambling, Blackbird and Robin on migration, perhaps with an exotic rarity present too! Peregrine, Merlin, Hen Harrier, Raven Hooded Crow and flocks of Twite and Linnet are also likely, and we will watch for migrating Snow Bunting, Lapland Bunting and other passerines.
Walking will be easy, and most birding can be done from our vehicle or nearby. There will be optional walks for those who wish them.


Itinerary
Day 1 Sun 14 Oct OBAN to COLL
The holiday begins in Oban, where we board the early morning ferry to Coll. Sea watching from the ferry can be very rewarding with skuas shearwaters and petrels all possible, and White-tailed Eagle are possible over the shores of Mull. We cruise up the Sound of Mull, and westerly across open sea to our remote island destination. As we go, the odd Gannet, Kittiwake, Guillemot and Black Guillemot should be seen, and we watch for Minke Whale, Common Dolphin and Harbour Porpoise too. On arrival on Coll, we make ourselves comfortable before heading round the island looking for Raven , Twite, Hen Harrier and Merlin, and checking nooks and crannies for possible migrants.


Day 2 Mon 15 Oct COLL
A full day exploring this beautiful island. Most of Coll is bleak, with a thin skin of heather and grass pierced by gnarled rock. There are however patches of shrubbery, gardens and large expanses of iris beds, which may well hold special birds. We will visit the RSPB reserve and check for migrants in secluded bays and on the open sea. The scenery is unique, with views back to the distant Scottish mainland and to Mull on a clear day.

Day 3 Tues 16 Oct COLL to TIREE
After a last birding foray in the early morning, we take the ferry across to Tiree. Sea watching can be very productive. After we land on Tiree, we head for the three-mile long beach at Gott Bay, where sizeable flocks of Sanderling can include exciting American vagrants. At the northern end of the island around Vaul, we seawatch across the waters of Gunna Sound, and investigate secluded bays where northern and eastern migrants might be located. A unique birding day in a unique environment!

Day 4 Wed 17 Oct TIREE
We head down to what is perhaps the premier site on Tiree at Loch A Phuil where we hope to see good numbers of waders. We check out the largest stand of trees and gorse on the island, which provides a haven where birds can both rest and remain. We check the machair for Golden Plover flocks and the gardens and shrubbery for migrant passerines. Later we head round the coast to Hynish and check the shore for waders and also otter.

Day 5 Thurs 18 Oct TIREE
Depending on the weather and wind direction we plan to spend the day around the West and North of the Island. Rocky shorelines, machair, boggy fields, gardens and small patches of shrubbery all attract their share of migrants, and a full and exciting days birding awaits us!

Day 6 Fri 19 Oct TIREE
Our last full day on Tiree will depend on weather and birding considerations, though we would expect to take a slow birding drive up to the North, looking at hidden bays for waders before heading back around the island to check Sandaig and then the area round Balephuil and Loch A Phuil. We have extensive local contacts, and will of course be liaising with others throughout to maximise our birding chances.

Day 7 Sat 20 Oct TIREE to OBAN
We depart Tiree mid-morning, heading first for Coll, then across the water to Oban, arriving late afternoon, with the possibility of making rail connections to Glasgow. Transfers back to Nethy Bridge are includied for those who wish.
This holiday can be combined with:
MAINLAND SCOTLAND
Highlands and Skye in Autumn, Highland Autumn Birding.
Trip Information
Expect a wide variation in weather conditions, which can be wild and unpredictable, with temperatures perhaps averaging around 5 - 15 degrees Celsius. Sunshine, rain and strong winds are all possible, and you will probably experience a bit of everything. Biting insects are not expected. Please bring walking boots or shoes, weatherproof clothing and a small rucksack. There will be short to moderate (1 to 3 mile) walks some days.
What's included in your Coll and Tiree holiday price
• Six nights comfortable hotel/guest house accommodation on Coll and Tiree. We stay here every year, and choose places where birders are welcome and the hospitality is special. Guests are never expected to share.
• Full Scottish breakfast and dinner from Sunday evening til Saturday morning, packed lunch daily.
• All transfers by comfortable minibus. All ferries and other boat trips. Drivers can leave vehicles safely parked at The Mountview Hotel. We offer a courtesy drop off service to Aviemore on the morning of departure.
• Guidance from a professional Group Leader.

What's not included in your Coll and Tiree holiday price
• Extra night in Oban/Nethybridge area at beginning and end of holiday. This can be arranged for you if requested at time of holiday booking.
• Transfers from rail links in Aviemore.
• Insurance, drinks and other items of a personal nature.
WHY CHOOSE HEATHERLEA FOR YOUR SCOTTISH ISLAND ADVENTURE?
Heatherlea is THE company for top quality birding holidays in Scotland, chosen by more and more birders each year. Relax and enjoy first-rate birding with Scotland's best guiding team, as we do all the planning! Our fully inclusive guided holidays concentrate on the real experience, and we take time to ensure that each of our guests enjoys everything we do. Above all, we make it our business to show key wildlife to you.
These popular holidays are carefully designed to explore the beautiful and wildlife-rich Scottish islands and far west coast. Many itineraries are unique, designed to give you the best of island wildlife at the best time of year. All are run at a leisurely pace, though we might move a little faster when rare migrants and vagrants are in our sights!
We have been organising birding and wildlife holidays for over 25 seasons, and have a highly experienced and capable team. We also offer a telephone and email service outside normal office hours.
This holiday has a maximum ratio of 7 clients per guide, putting the emphasis on personal service, and helping you get the best possible experience.
Heatherlea are Mainland Scotland's FIRST '5-Star Wildlife Experience!' This is the highest available grading, classified as 'exceptional' by visitScotland.
Single guests are never expected or invited to share.
Our holidays often include things which others might invite you to pay yourself, for instance packed lunch and tips to hotels.
Heatherlea hold full Tour Operator Insurance for your added protection.
Heatherlea is a limited company, registered in Scotland. We are also registered to pay VAT, which is included in your holiday price as quoted on this page.
Once your holiday is confirmed in writing by us, we promise not to surcharge the price for any reason.
Enjoy an excellent birding and wildlife holiday with Heatherlea.
Mainland Scotland's FIRST '5-Star Wildlife Experience!'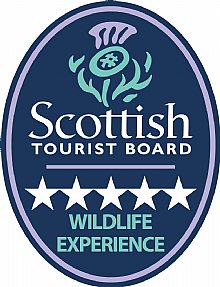 'Exceptional'
Visit Scotland
Please note: all itineraries are given as a guide only. Actual holiday content may vary according to the judgement of your guide, and elements beyond our control (eg weather).