Arizona and Grand Canyon
Fantastic spring birding across the Grand Canyon state!
Dates
Guides
Max Group Size
12
Duration
15 Days
Prices

£5295 PP, £695 single supplement.

Deposit £1200
This is a two week trip to one of America's most stunning destinations, featuring amazing cacti desert and 'sky-island' mountain landscapes, plus a visit to the grandest canyon on Earth. There is a diversity of fabulous birds to match, and from desert and Mexican specialities, to many gorgeous and gaudy breeding plumaged American wood warblers heading northwards into the mountains, this is the trip that every birder should do at least once in their life. Migration will be in full swing and the excitement is unparalleled as wave upon wave of new birds arrive around us. We stay in and visit some of the most beautiful places in North America, where the hospitality is wonderful and the vistas occasionally familiar to those who watch Westerns! This is the home of several Native American tribes, and was the scene of Apache Chief Geronimo's 'last stand' .
We begin our trip at the indescribably beautiful Grand Canyon and then travel south to savour the legendary birding of Southeast Arizona. As 'The Sunshine State' shares a 350 mile border with Mexico, the landscapes, food and people have a Mexican feel.
Day 1: Tuesday 28 April
After relaxing in our complimentary airport lounge, we fly London to Phoenix, arriving in the afternoon. We drive north to Camp Verde on the lush migratory corridor of the Verde River, where we stay for two nights. En route we become acquainted with some common species, including Great-tailed Grackle, Mourning Dove and Turkey Vulture, and see a few desert birds at roadside rest stops such as Cactus Wren and Curve-billed Thrasher. Rest from your travels and wake up in prime birding terrain! Overnight in Camp Verde.
Day 2: Wednesday 29 April
Today we make a circular route to premier birding areas associated with the Verde River, including a fish hatchery and stunning Red Rock State Park. The Sedona area has great wetlands, which are good for crakes and rails, plus we have realistic chances of seeing American Beaver here. Raptors include Zone-tailed Hawk and Black Hawk.

Days 3 and 4: Thursday 30 April and Friday 1 May
From Camp Verde we drive north to Flagstaff, a very attractive university town. Travelling through Sedona and scenic Oak Creek Canyon, we stop at Slide Rock State Park and several scenic viewpoints. The road climbs several thousand feet, taking us up the Mogollon Rim, the southern edge of the Colorado Plateau. Along the way we enjoy local birding stops for new species such as Western Scrub Jay, Cedar Waxwing, Western Bluebird, Pinyon Jay, Dark-eyed Junco and Rock Wren. From Flagstaff we are only a 1.5 hour drive from the Grand Canyon, during which we may see Pronghorn or Mule Deer or possibly Elk. When we arrive at the Canyon rim, we will see spectacular sights and colours that may leave you speechless. Aside from the breath-taking beauty, the sheer scale takes some getting used to. We will explore the bird rich habitats on the southern rim of Grand Canyon where we may find Juniper Titmouse or Black-throated Gray Warbler, and might be lucky enough to see one of the individuals of the restored Californian Condor population, which is making a slow recovery in this region. Two nights in Flagstaff.

Day 5: Saturday 2 May
Avoiding the congestion and urban sprawl of Phoenix, we take a rural route through some of Arizona's best scenery, with pines in the morning, lunch in the very western town of Payson, and saguaros in the afternoon as we drop in elevation back down the Mogollon Rim to Globe. In the morning outside Flagstaff, and then again at Roosevelt Lake, we use scopes to inspect several large lakes for breeding-plumage ducks that may be moving through. Along the margins we search for shorebirds and blackbirds, Marsh Wren, and migrant grebes. Our lodgings tonight position us for birding the next day at the world-class botanical site of Boyce Thompson State Park, where arid land plants from around the world are also an oasis for migrant birds. There is considerable mining history in this area and an active large Copper Mine. We mix with locals tonight for dinner at the tavern in Superior. Overnight in Globe/Superior.
Days 6: Sunday 3 May
Today we head for famous Southeast Arizona and its "Sky Island" Mountain Ranges, including the Chiricahua, Huachuca and Penalenos, among the tallest and most diverse of some 25 stepping stone ranges that allow species to pass from the Sierra Madres mountains of Mexico north to the Colorado Plateau and Rockies. Interstate 10, running east-west across the southern part of the state, has been called 'The Madrean Line' noting the division between subtropical Mexico and temperate Rocky Mountains. We stay right at that line, enjoying shorebirds at the remnant of a geologic playa lake, Roadrunner, Gambel's and Scaled Quail, Say's Phoebe, Loggerhead Shrike and nearby in the mountains, enormous numbers of migrant warblers.
The afternoon highlight is a small but fantastic lake at Willcox, which due to the dry surrounding prairie attracts many passing wetland species. Migrants such as American Avocet, Bairds, Spotted, Least, Stilt and Semi-palmated Sandpiper, Willet, Long-billed Dowitcher, Cinnamon Teal, White-faced Ibis, and perhaps Wilson's Phalarope join the resident Killdeer and endemic Chiricahua Ravens. The grasslands around this site are very good for otherwise difficult species such as Shore Lark, Chestnut-collard Longspur, Lincoln's, Brewer's and Savannah Sparrow and with luck we might see our first shock of vivid colour that is a stunning male Vermillion Flycatcher. Accommodation for three nights in Portal, lodging in a beautiful, and very birdy canyon.
Days 7 and 8: Monday 4 May and Tuesday 5 May
Portal is a stunning heritage village set in spectacular mountain surroundings. We will stop off at Rodeo, New Mexico on the way, as our route follows the State Line. Here we look for Crissal Thrasher, Inca Dove, Cassin's Kingbird and Gambel's Quail. Simply spending time in this area and at nearby settlements like Paradise is a highlight; the woods and valleys around Portal are full of wonderful and approachable birds and we will spend lots of time here, heading up to higher ground in search of the some of the very localised regional specialities such as stunning Elegant Trogon, Montezuma Quail, Red-faced Warbler, Mexican Chickadee, Olive Warbler and Pygmy Nuthatch.

There are Javenlina and Coatimundi in canyons close to town, and Black Bear and rare Mountain Lion in the hills. The bears are sometimes seen around local feeders, not always popular with residents but a wonder to visiting enthusiasts! In canyons and forests we hope to connect with migratory Townsend's and Hermit's Warblers, as well as resident Steller's Jay, Hermit Thrush, Mexican Chickadee, Acorn and Arizona Woodpecker, White-breasted and Red-breasted Nuthatch, Painted Redstart, Bridled Titmouse, Hutton Vireo, Grace's Warbler, Ruby-crowned Kinglet, Black-headed Grosbeak, Scaled Quail, Hooded and Scott's Orioles, Pacific-slope, Cordilleran, Hammond's Flycatcher, Greater Pewee, Yellow-eyed Junco, Lesser Goldfinch and Pine Siskin. Dinner one night is at the home of a local resident who welcomes us to see the stars and listen to Poorwills calling as we dine. The other night we venture out in search of Elf, Whiskered Screech and Western Screech Owls.

Days 9 and 10 Wednesday 6 May and Thursday 7 May
Moving south today towards the Mexican border and west towards the Huachuca Mountains, we take a brief visit to the historic western town of Tombstone, home of the legendary OK Corral, and the site of many western movies. Enjoy some time to look around, and lunch there.
Our birding this afternoon and over the next days is in lush habitats along the San Pedro River, and we also bird some Huachuca Mountain hotspots perhaps including Ramsey Canyon, Miller Canyon and Garden Canyon. (we can't be certain in advance which will be accessible, as this is determined by the US military and wildfire hazard status). Both the river and mountain range of this area provide vital migration routes into North America and many highly local Mexican bird and plant specialties also occur here. The reeds and trees along the river, which is a beautiful babbling shallow brook, are full of migrants, especially delightful hummingbirds and warblers such as Black-throated Gray, Yellow, Wilson's, Orange-crowned, Common Yellowthroat and McGillavray's as well as Red-headed Red-winged, and Yellow-headed Blackbirds, Pyrrhuloxia, Summer Tanager, Belted Kingfisher, and if we are lucky Green Kingfisher and White-tailed Kite.
Nearby Ash Canyon is the hummingbird mecca of North America, with Broad-tailed, Anna's, Black-chinned, Magnificent, Calliope, Lucifer and Rufous all coming to feeders in the foothills. Miller Canyon is a good site for Spotted Owl, Hepatic Tanager, and Arizona and Acorn Woodpecker. Ramsey Canyon is another great site with easy trails full of birds, including more hummingbirds, Whiskered Screech Owl, Dusky Flycatcher, Plumbeous Vireo, Bushtit, Brown Creeper and a few of the more difficult to see warblers, such as Red-faced, Virginia's and Nashville. Our accommodations tonight are at one of the most gracious Inns in the Southwest, situated right on the San Pedro River, where sunset brings changing of the guard from predatory Gray Hawk to Great Horned Owls. Two nights in Sierra Vista.

Days 11 and 12: Friday 8 May and Saturday 9 May
We tear ourselves away from the dramatic colorful cliffs framing Portal to head to another great Sky Island Range of Arizona. Last but not least on our great route through Arizona's birding realm, we finish up at wonderful Madera Canyon, in the Santa Rita Mountains to the southeast of Tucson. On the way, we stop at Patagonia and the famous Patten's House, where an array of garden feeders attracts many species such as Bullock's, Scott's and Hooded Oriole, Gila Woodpecker, numerous Black-chinned, Rufous, Broad-billed, Anna's and Broad-tailed Hummingbird, Lazuli and Indigo Bunting, Lincoln's, Savannah and Black-throated Sparrow at close quarters.The forests contain White-breasted Nuthatch, Mexican Jay, Acorn Woodpecker, Red-naped Sapsucker, Red-tailed and Cooper's Hawk, vireos and many warblers.
Madera Canyon traverses four diverse biomes and many habitats from the desert floor to the mountain tops. The area is known throughout the world for its birds, with over 250 species recorded, including 15 species of hummingbird, the beautiful and much sought-after Painted Redstart, Elegant Trogon, and many gaudy and beautiful wood warblers, juncos, sparrows and flycatchers. For those who have looked longingly at American field guides, the breeding-plumaged warblers moving through at this time of year are exceptional, and we could see Orange-crowned, Yellow, Townsend's, Black-throated Grey, Wilson's, Yellow-rumped, Lucy's, MacGillivray's and gorgeous Hermit Warbler amongst others.

Feeders in the canyon attract a surprising variety of species including woodpeckers, sapsuckers, tanagers and orioles. We will walk and bird along fantastic, picturesque, easy walking trails taking us through grassland bajada, mesquite brush, oak, juniper and pine forests. The deserts around Madera Canyon are full of wonderful specialists such as Curve-billed and Sage Thrasher, Cooper's Hawk, Prairie Falcon, Greater Roadrunner, Green-tailed and Canyon Towees, Cactus Wren, Verdin and Phainopepla. The forests contain White-breasted Nuthatch, Mexican Jay, Acorn Woodpecker, Red-naped Sapsucker, Red-tailed and Cooper's Hawk, vireos and many warblers. Overnight for two nights in Green Valley.

Day 13: Sunday 10 May
cToday we start our drive north back to Phoenix, planning our final night en-route to break the journey. Tucson has urban parks that provide lush oases in the desert, and birders report rarities here regularly. Depending on what species are reported, we may visit Florida Canyon of the Santa Ritas, Agua Caliente or other parks of Tucson or the Sweetwater Wetlands. Dinner is at a favorite local restaurant and sunset should be in view of saguaros one last time! Accommodations near Tucson.

Day 14: Monday 11 May
Drive north to Phoenix birding en route as time allows, and fly home, arriving in London Tues 12 May.
Please note: all itineraries are given as a guide only. Actual holiday content may vary according to the judgement of your Leader, and elements beyond our control (eg weather).
Please note: all itineraries are given as a guide only. Actual holiday content may vary according to the judgement of your guide, and elements beyond our control (eg weather).
What's included in your holiday price:
return scheduled flight from London Heathrow – Phoenix, Arizona. Airport taxes, transfers from and to airports (where appropriate).
ground transportation as outlined in a modern and spacious air-conditioned vehicle.
accommodation and all meals (as specified), including breakfast, lunch and dinner.
the services of your leaders.
National Park entry fees
The Heatherlea Pre-Flight Service offers everything you need at the airport, including hotels, car parking, airport lounges, regional flights, and upgrades. Let Heatherlea take the strain! Pre-flight airport hotel and lounge included free of charge subject to terms and conditions. Read more.
FREE! 'Birds of Western North America' by David Allen Sibley is included in your holiday price.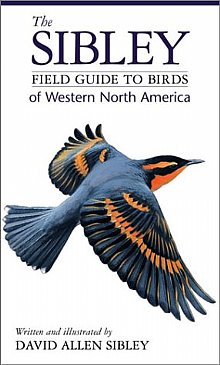 What's not included in your holiday price:
personal insurance, drinks and other personal expenses, esta costs where necessary, optional tips to the local guide, hotel/restaurant staff, and any other costs not specified as 'included'.
More holiday information
Accommodation is in hotels or lodges with all rooms en suite. All have en-suite facilities, and are comfortable to a good standard.
Food full-board accommodation at hotels and lodges (as specified) including picnic lunches and some meals at diners. Vegetarian and other diets are welcome.
Walking is generally light/moderate. There may be some uphill track and road walking, though generally an average level of fitness is required.
Weather it is springtime in Arizona during this holoiday, and the weather should be lovely! Days in Grand Canyon and Flagstaff will be 70'sF, and evenings 40'sF. The low desert (Tucson, Phoenix) can be very hot, up to 80 - 90 degrees Fahrenheit.
Insects There are biting insects, though not usually as a major problem.
Group size is restricted to 12 clients maximum.
Flights return scheduled flights from Heathrow – Phoenix - Heathrow. We may be able to offer flight arrangements from another airport and/or or quote without flights should you wish. If you wish to add an extension either before or after your holiday, please contact us and we will be happy to arrange this for you.
Visa Travellers are required to obtain authorisation (known as ESTA) before arriving at the airport and can apply online. The application process should take around 20 minutes, and authorisation is normally granted immediately but may take up to 72 hours. Once granted, authorisation is valid for two years. At the time of writing the Esta application charge is $14.
Your Leaders:
Peter Cosgrove: Peter is a professional eco-consultant, of all our locally based guides Pete is the one who is most likely to be spreading the news about rarities! Pete has a passion for birding everywhere, particularly in North America and tropical climes.

Peg Abbott: A long-standing friend of Heatherlea, Peg is our ground agent for this and many other Heatherlea holidays in the USA. Peg lives in Portal, in the heart of Arizona and one of the important locations in this holiday, so is especially well placed to design the detail of this holiday. Our thanks to Peg for her help and hard work!
Peter Cosgrove Peg Abbott
Photo Credits: Many thanks to Peg Abbott and friends for photos.
Why choose Heatherlea for your birding and wildlife holiday in the Americas?
Our overseas holidays are planned with care to offer great birding and wildlife, led by capable Leaders who really look after you. Every holiday is run the 'Heatherlea Way', and we hope our Overseas Adventures remind you of the quality and care so many of you enjoy in Scotland. That means rewarding and exciting days in the field, and good quality accommodation and meals, with a real flavour of the country we are visiting. Heatherlea always seek to include the personal touches that make all the difference.
Heatherlea holidays are not 'dawn to dusk' expeditions. Our less-intensive approach is ideal for those who want to relax whilst experiencing the best wildlife watching, and wherever possible we organise early or late activity on an optional basis. We also take sensible breaks when in very hot places and regular comfort breaks on every holiday whenever possible. All itineraries are planned carefully around the best wildlife opportunities, and you won't miss out on memorable wildlife, whilst enjoying relaxed, informal days that are great fun.
The really important part of any wildlife holiday is the experience for you, our valued customer. Heatherlea invest in many things to offer you the best possible service;
We have been organising birding and wildlife holidays for over 25 seasons, and have a highly experienced and capable office team. We also offer a telephone and email service outside normal office hours.
Heatherlea overseas holidays have a maximum of 12 clients per trip, putting the emphasis on personal service, and helping you get the best possible experience.
Our holidays often include things which others might invite you to pay yourself, for instance Departure Taxes and tips to hotels.
All elements of our holidays are sold under our own licence, ATOL 6113. Under 'Flight-Plus' legislation it is a legal requirement of any tour operator to hold an ATOL licence for the supply of any overseas holiday where a flight is involved, if that holiday includes either overseas accommodation and/or car hire. It can be a criminal offence for an operator to book flights as part of a package without an ATOL licence. Heatherlea also hold full Tour Operator Insurance for your added protection.
Heatherlea is your complete wildlife holiday provider. Our 'Back Office' team can organise all your pre-flight and other travel needs. Our specialists will help you book the right services, at the best price. Book holiday extensions through us, and your ATOL protection is extended further. We don't charge extra for this service.
Heatherlea is a limited company, registered in Scotland, and registered to pay VAT (applies to all holidays within the European Union).
Trip Reports