Holland and Flanders
Eurostar or flight to Brussels followed by great winter birding and chances of European Beaver
More than one million geese winter in Holland, together with high numbers of waders, swans, divers, grebes and seaduck. Whole areas are developed specially for birds, including Plan Tureluur in Schouwen-Duiveland and the Oostvaarderse Plassen in Flevo-Holland. We will visit the best places for these birds, plus White-tailed Eagle, Marsh and Hen Harrier, Bearded Tit, Bittern and much more.
Goose species in Schouwen-Duiveland should include Red-breasted, White-fronted, Lesser White-fronted, Dark-bellied Brent, and 'Tundra' Bean Goose with Snow Goose a distinct possibility. Seaduck include Smew, and other water birds should include all three egrets, Eurasian Spoonbill and the first returning Black-tailed Godwits.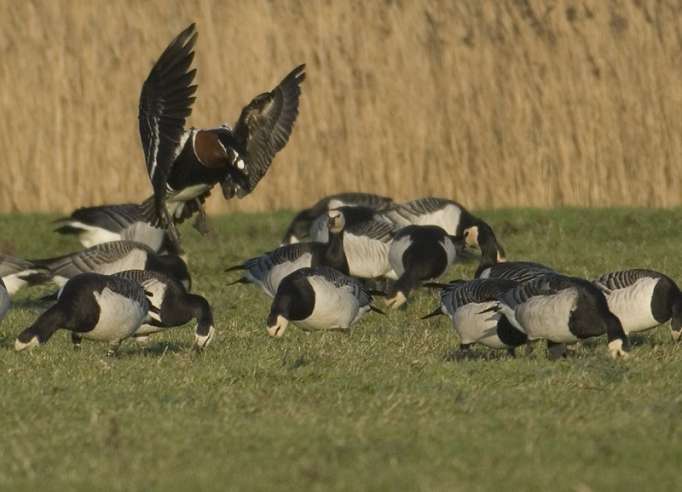 Bootjesven is a woodland area with lakes and ponds, and here we can expect five species of woodpecker, including Black and both Middle- and Lesser-spotted. Other species of note are Crested Tit and Firecrest, Short-eared Owl and rarities perhaps including Rough-legged Buzzard and Caspian Gull. Crested Lark, Serin, Great Grey Shrike and Woodlark overwinter, as do a host of other species.
We also have the opportunity to see European Beavers as we take a trip on a 'Whisperboat' through the canals and creeks of Biesbosch National Park.

One of the most important features of this holiday will be the way we travel. You may choose to join the holiday by either Eurostar or air flight from London to Brussels, where you will be met by our guide. The rest of the holiday will be by minibus travel, returning to Brussels for the train or aeroplane back to London on the final day.
Our guide is Flanders native Jozef Leestmans. Josef divides his time between Flanders, Spain and Scotland, where he has long worked as a Heatherlea guide from the Mountview Hotel.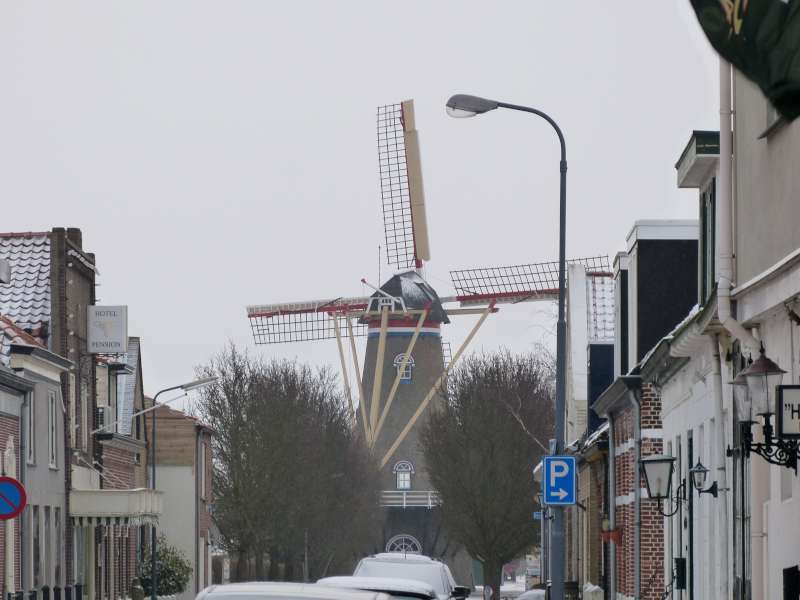 If flying from Gatwick, enjoy your complimentary pre-flight overnight hotel before your holiday begins. The following morning, you may relax in our VIP Lounge before your flight. Full details from our office! NB there is no Pre-flight Hotel/Lounge for those joining the holiday by train.

Departure from London Gatwick, morning flight.
or
Depart from London St Pancras by Eurostar to Brussels.
Day 1: Sat 2 Feb Arrival and First Birding
Heatherlea guide Josef Leestmans will meet you at either the Rail Terminal or Airport in Brussels (only seven miles apart). Next we drive to the area of Schouwen-Duiveland where goose concentrations are at their highest. We should have time to investigate local flocks today, before arriving at our first comfortable hotelm where we stay for five nights. Hotel de Kroon, Zeeland.
Days 2 and 3: Sun 3 Feb and Mon 4 Feb Schouwen-Duiveland and Zeeland
We are based in the part of south-west Holland which contains the highest concentration of wintering geese in Europe, and spend our first days in Schouwen-Duiveland and Zeeland investigating these birds. Expect thousands of wintering Barnacles, with several Red-breasted likely to be mixed in, and Bewick and Whooper Swans nearby. Flocks of White-fronted Goose will probably contain Lesser White-fronted, and all these birds attract raptors including Peregrine. White-tailed Eagle and Short-eared Owl are also found here.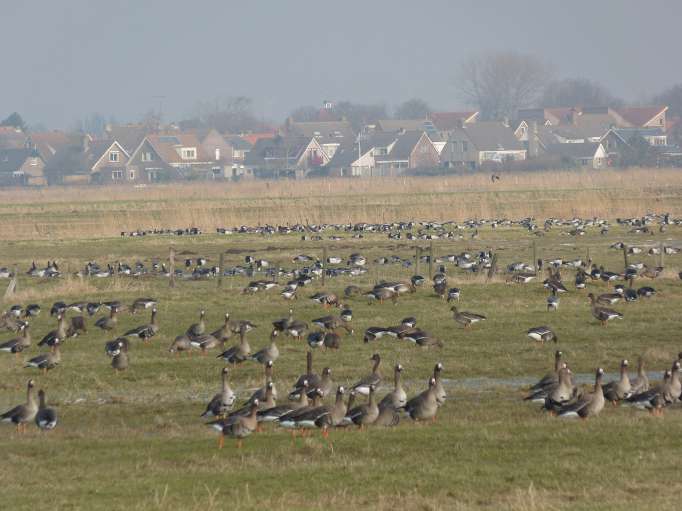 Day 4: Tue 5 Feb Noord-Brabant and Flanders
Our destination today is Noord-Brabant and Flanders in Belgium, where we seek five woodpeckers, Black, Green, Greater, Lesser and Middle Spotted. This is also a good area for Tundra Bean Goose and White-fronted Goose, and Josef will also be hoping to find Woodlark, Goshawk, Great Grey Shrike, Crested Tit and Peregrine. Josef helped develop the nature reserves in this area, so you should be in very good hands!
Day 5: Wed 6 Feb Zeeland
Back to Zeeland where we again search the goose flocks. All four divers are possible here, and we should see Long-tailed Duck, Common and Velvet Scoter and wintering grebes on the open sea. In the mudflats we will search for waders including Greenshank, Avocet, Grey Plover, Golden Plover, Dunlin, Redshank and both Bar-tailed and Black-tailed Godwit. On the shore we look for Sanderling, Snow Bunting, Lapland Bunting and Shore Lark.
Day 6: Thu 7 Feb Biesbosch National Park
This is a river and wetland national park of 8000 hectares, one of the last remaining freshwater tide wetlands in Europe. A fine web of rivers and creeks runs through an area characterized by reed fields, willow forests and moist grasslands.
The main attraction here is European Beaver, and the present population is around 250 animals, distributed through 86 lodges. In the morning we will take a walk along the creeks, birding as we go. In the afternoon we take a trip on a 'Whisperboat', which will take us through the canals and creeks and offers the best opportunity to see the animals. Our flat-bottomed boat can go into creeks were other boats can't go, and on-board there will be a specialised Beaver guide. The 'Whisperboats' are very comfortable, and are even equipped with a stove for heating!
It will be easier to spot traces rather than the animals themselves, as they are mostly nocturnal, though we have reasonable chances to see them. Besides Beavers and a couple of pairs of breeding White-tailed Eagles, there are several species of ducks, geese and waders wintering in the Biesbosch including Smew, Goosander and Red-breasted Merganser. We stay for our final two nights at the Apollo Hotel, Papendrecht.
Day 7: Fri 8 Feb Oostvaarderseplassen
Today we travel to the Oostvaarderse Plassen in Flevoland near Amsterdam. This wetland of over 5500 ha is situated below sea level, and consists mainly of reedbeds and shallow lakes and pools. Locally the area is called the 'new wilderness', because nature itself is still deciding how the landscape will evolve. Birds here might include White-tailed Eagle, Smew, Scaup, Marsh and Hen Harriers, Bearded Tit, Bittern, Great White Egret, Gadwall, Pintail and Shoveler. As we walk through the nature reserve we should see large herds of Konik-horses and Heck-cattle, wild creatures which exist without interference or regulation from humans.
Day 8: Sat 9 Feb Final birding and Return Home
If we have time, a final search for wintering specialities before returning to the railway station or airport for transfer back to London.
Please note: all itineraries are given as a guide only. Actual holiday content may vary according to the judgement of your guide, and elements beyond our control (eg weather).
Accommodation is in a small family run hotel, situated in the centre of Wissenkerke, on the island of Noord-Beveland in the Dutch province of Zeeland.
Walking The holiday is not strenuous. Leisurely walking, very occasionally over moderately rough terrain. An average level of fitness is required.
Weather Temperatures in February will be similar to London/South-east England, mostly single figures but it can be wintry at times.
Insects Biting insects are not expected.
Group size is restricted to 12 clients maximum.
Travel is by Eurostar between London St Pancras and Brussels, or by air from London Gatwick to Brussels. If you wish to add an extension either before or after your holiday, please contact us and we will be happy to arrange this for you.
Your Leader:
Jozef Leestmans is a Flanders native. Josef divides his time between Flanders, Spain and Scotland, where he has long worked as a Heatherlea guide from the Mountview Hotel. Josef was formerly the Reserve Manager at Bootjesven in Flanders-Belgium, and still has regular contact with local birders here.

What's included in your holiday price:
* return Eurostar train travel from St Pancras - Brussels - St Pancras.
* OR return scheduled flight from London Gatwick – Brussels, airport taxes, baggage and hand luggage up to airline included limit.
* The Heatherlea Pre-Flight Service offers everything you need at the airport, including hotels, car parking, airport lounges, regional flights, and upgrades. Let Heatherlea take the strain! Pre-flight airport hotel and lounge included free of charge subject to terms and conditions. Read more....
* rail/airport transfers when in Brussels, ground transportation, accommodation and meals as specified.
* the services of Heatherlea leaders.
* full-board accommodation at from Dinner on Day 1 until Breakfast on Day 8, picnic lunches.
* ground transportation, any entry fees
* incidental tips including mealtimes, and the services of your leader(s).
What's not included in your holiday price:
* holiday insurance, optional tips to local guides/other staff, drinks, and other personal expenses.
Why choose Heatherlea for your birding and wildlife holiday in Europe?
Our overseas holidays are planned with care to offer great birding and wildlife, led by capable Leaders who really look after you. Every holiday is run the 'Heatherlea Way', and we hope our Overseas Adventures remind you of the quality and care so many of you enjoy in Scotland. That means rewarding and exciting days in the field, and good quality accommodation and meals, with a real flavour of the country we are visiting. Heatherlea always seek to include the personal touches that make all the difference.
Heatherlea holidays are not 'dawn to dusk' expeditions. Our less-intensive approach is ideal for those who want to relax whilst experiencing the best wildlife watching, and wherever possible we organise early or late activity on an optional basis. We also take sensible breaks when in very hot places and regular comfort breaks on every holiday whenever possible. All itineraries are planned carefully around the best wildlife opportunities, and you won't miss out on memorable wildlife, whilst enjoying relaxed, informal days that are great fun.
The really important part of any wildlife holiday is the experience for you, our valued customer. Heatherlea invest in many things to offer you the best possible service;
We have been organising birding and wildlife holidays for over 30 seasons, and have a highly experienced and capable office team. We also offer a telephone and email service outside normal office hours.
Heatherlea overseas holidays have a maximum of 12 clients per trip, putting the emphasis on personal service, and helping you get the best possible experience.
Our holidays often include things which others might invite you to pay yourself, for instance Departure Taxes and tips to hotels.
All elements of our holidays are sold under our own licence, ATOL 6113. Under 'Flight-Plus' legislation it is a legal requirement of any tour operator to hold an ATOL licence for the supply of any overseas holiday where a flight is involved, if that holiday includes either overseas accommodation and/or car hire. It can be a criminal offence for an operator to book flights as part of a package without an ATOL licence. Heatherlea also hold full Tour Operator Insurance for your added protection.
Heatherlea is your complete wildlife holiday provider. Our 'Back Office' team can organise all your pre-flight and other travel needs. Our specialists will help you book the right services, at the best price. Book holiday extensions through us, and your ATOL protection is extended further. We don't charge extra for this service.
Heatherlea is a limited company, registered in Scotland, and registered to pay VAT (applies to all holidays within the European Union).