NEW!

Highlands in late November
Resident specialities and winter visitors
Destination
Focus
2021 Dates
Duration
8 Days
Guides
2021 Price

£1295 pp

No single supplement.

Deposit £200

Max Group Size
14
STOP PRESS! Second date added due to popular demand!
This is an exciting time for birding in the Highlands, as key resident species are augmented by winter visitors inland, and our coasts hold large numbers of geese, seaduck, waders and passerines. On this tour we target all of these birds including any rarities within reach, as we seek to maximise your end-of-the-season birdlist.
During six full days birding we make the best use of available daylight, giving us plenty of time to build a strong northern list. Highland specialities can be easier to see in the short autumn days. Capercaillie forage for remaining berries in quiet locations, Black Grouse return to their lekking grounds, and Crested Tit and Scottish Crossbill are active in the forest. Ptarmigan are moulting in quiet mountain corries, there are geese and harriers at the roost, and eagles patrol winter territories, with younger, wandering birds also in evidence. Both Golden and White-tailed Eagle are more than possible, and we have every chance of Hen Harrier, Goshawk, Merlin and Red Kite too. Large goose flocks are a feature at this time of year, with many Pink-footed and Greylag, and also possible are Barnacle and both races of White-fronted and Brent Goose. We will check the flocks carefully for uncommon Tundra or Taiga Bean, and perhaps find even rarer Red-breasted, Snow or Ross's Goose. Regular white-winged gulls include Glaucous and Iceland present in harbours and fields, and we may also find rarities such as Ivory and Ross's Gull.
On the open seas, large flocks of Common and Velvet Scoter may contain a single Surf Scoter, and Long-tailed Duck will be with us in good numbers, often at close quarters. King Eider are sometimes to be found in familiar locations. Red-necked and Slavonian Grebe, all three commoner diver species and Black Guillemot are also possible on the sea, with chances of storm-driven seabirds such as Little Auk or Grey Phalarope after rough weather. Wader numbers will be significant in the right places, with wintering Purple Sandpiper, Black-tailed Godwit and possible American rarities in our sights in quiet estuaries where bird flocks can be inspected at leisure. Whooper Swans are back on their wintering grounds, and our days can include surprises and rarities such as Waxwing and Great Grey Shrike, though anything is possible!
We also find time during the week to target rarities, and our main objective is to maximise our birdlist at the end of the Scottish birding season.
Day 1: Saturday Arrival
Arrival, welcome, dinner and briefing. Don't forget our courtesy collection service from Aviemore.
Day 2: Sunday Local Day
Our first day is focused on the birds which make this wonderful part of the country so special. An early start for Black Grouse will get us off to a fine start before breakfast, and you might see Red Grouse too. At 'hotspots' in the Caledonian pine forest we look for Crested Tit, which can usually be found locally. Scottish Crossbill are also found in the forests, and with both Common and Parrot Crossbill also present, separation of these three species can pose a real identification challenge! We also look for Capercaillie, travelling to our own private forested estate where any views will be from our vehicles. As with many other resident species, the population of this increasingly rare grouse will be at its highest, and the birds are active at this time, though our chances are weather dependent, and of course we will be very sensitive to the welfare of the birds. Read more about Capercaillie watching here. Later we visit remote Highland glens looking for Golden Eagle. In suitable weather in beautiful upland surroundings, we can expect sightings of other species, possibly including Peregrine, Buzzard, Raven, and White-tailed Eagle.
Day 3: Monday The Crown Estate and Moray Coast
We drive to the Crown Estate at Glenlivet, where we have chances to see wintering raptors. With private access to an elevated location where eagles are frequently found, you will see this beautiful part of Scotland from a place not available to others. Hen Harrier, Merlin and Goshawk are possible, as are commoner raptors including Buzzard, Sparrowhawk and Kestrel. Next we drive to the Moray Coast, where birding is excellent in November. There are rafts of Common and Velvet Scoter, plus good numbers of Long-tailed Duck, Goldeneye, Goosander and Red-breasted Merganser. Red-throated Diver and Slavonian Grebe may also be offshore, and in recent years we have seen rarities including King Eider, Surf Scoter and White-billed Diver. Iceland and Glaucous Gull are both regular, and many wader species can be expected including Purple Sandpiper. In the fields, Whooper Swan and goose flocks are worth checking for scarcer species, and farmland birds may include Corn Bunting, Tree Sparrow, Stock Dove, Grey Partridge and Yellowhammer. A great day's birding!
Day 4: Tuesday Cairngorm Mountain
Today we visit the mountains to look for Ptarmigan, most often seen in small groups, with individuals perhaps moulting into white 'winter' plumage. Your guides will select the best location to search for birds based upon recent sightings, and at this time before any significant snowfall, there are good options available. Lingering Snow Bunting are also possible, we may see Peregrine, and as we descend any remaining time will be used to look for forest species and wintering geese.
Day 5: Wednesday Aberdeenshire
Depending on birding prospects we may explore the area around the Ythan Estuary, an important migration site and SSSI, or head further north to Fraserburgh and Loch of Strathbeg RSPB. Previous visits at this time have produced rarities including Green-winged Teal, American Wigeon, Smew, King Eider, Surf Scoter, and Ross's and Snow Goose. The harbour and bays at Fraserburgh have a good track record for rare gulls, with several records of Ross's Gull here while Iceland and Glaucous Gull occur annually. Local farmland can be very productive with herds of Whooper Swan, feeding geese and large numbers of Tree Sparrow, finches and buntings (including Corn Bunting) expected.
Day 6: Thursday Winter west coast birding
Today we head to the far west, either in the area around Little Loch Broom, or perhaps further north beyond Ullapool, to round-up western coastal species and perhaps a rarity or two. Both Golden and White-tailed Eagle are possible, with chances of other raptors including Hen Harrier, Peregrine and Merlin. Wintering Great Northern and Black-throated Diver are likely, plus migrant wildfowl and geese including Barnacle and Pale-bellied Brent Geese, and waders including Black-tailed Godwit or perhaps even a rarity. Winter thrushes, Hooded Crow, Raven, Rock Pipit and Twite are also likely, with Otter, Grey and Common Seal and cetaceans perhaps including Common Dolphin and Harbour Porpoise contributing to a great day.
Day 7: Friday The Black Isle and round-up
November on the Black Isle is always rewarding, with flocks of Greylag and Pink-footed Goose often augmented by uncommon Bean, Barnacle or White-fronted, and perhaps rarer species such as Snow Goose. Waders and seaduck can be expected at the coast, flocks of wintering finches can hold Brambling, and Waxwing are also regular at this time. We also round-up anything we may have missed earlier, with the possibility of rarities at Redcastle, Alturlie or Loch Flemington among the places we keep an eye on!
Day 8: Saturday Breakfast and departure
Don't forget our courtesy return service to Aviemore.
Please note: all itineraries are given as a guide only. Actual holiday content may vary according to the judgement of your guide, and elements beyond our control (eg weather).
Expect a wide variation in weather conditions, which can be wild and unpredictable. Sunshine, rain and strong winds are all possible, and you will probably experience a bit of everything. Biting insects are not expected. Please bring walking boots or shoes, weatherproof clothing and a small rucksack. At many of the reserves the trails can be muddy and even waterlogged at times, so if the forecast is wet then wellies are definitely recommended. The holiday will be run at a relaxed pace, with fabulous birdwatching in a spectacular setting! There will be short to moderate (1 to 3 mile) walks some days.
What's included in your 'Highlands in Late November' holiday price
• Seven nights comfortable en-suite hotel accommodation at The Mountview Hotel. All rooms are en-suite. Full details with your joining pack.
• Full Scottish breakfast and dinner from Saturday evening til Saturday morning, packed lunch daily.
• All transfers by comfortable minibus. Collect and return to Aviemore railway station.
• Guidance from a professional Group Leader.
What's not included in your 'Highlands in Late November' holiday price
• Insurance, drinks and other items of a personal nature.
Why choose Heatherlea for your Scottish birding holiday?
Heatherlea is THE place for top quality birding holidays in Scotland, chosen by more and more birders each year. Stay in our own three star Small Hotel, and enjoy first-rate birding with Scotland's best guiding team. Relax and enjoy yourself, as we do all the planning! Above all, we make it our business to show key wildlife to you. Our fully inclusive guided holidays concentrate on the real experience, and we take time to ensure that each of our guests enjoys everything we do.
We have been organising birding and wildlife holidays for 30 seasons, and have a highly experienced and capable office team. We also offer a telephone and email service outside normal office hours.
Our 'Mainland Scotland' holidays based at Mountview Hotel have a maximum ratio of 7 clients per guide, putting the emphasis on personal service, and helping you get the best possible experience.
We are a small company, run BY birders FOR birders. Come and see!
Heatherlea are Mainland Scotland's FIRST '5-Star Wildlife Experience!' This is the highest available grading, classified as 'exceptional' by visitScotland.
There is no single supplement. Single guests are never expected or invited to share.
Our holidays often include things which others might invite you to pay yourself, for instance loan of Swarovski binoculars, packed lunch and tips to hotels.
We offer a courtesy transfer between our Hotel and Aviemore rail/bus links on Saturdays.
Heatherlea hold full Tour Operator Insurance for your added protection.
Heatherlea is a limited company, registered in Scotland. We are also registered to pay VAT, which is included in your holiday price as quoted on this page.
Once your holiday is confirmed in writing by us, we promise not to surcharge the price for any reason.
Enjoy an excellent birding and wildlife holiday with Heatherlea.
Mainland Scotland's FIRST '5-Star Wildlife Experience!'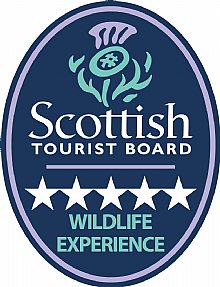 'Exceptional'
Visit Scotland