Antarctica 2020 - 2021
A wonderful choice of voyages to the Antarctic continent, South Georgia and the Falkland Islands.
Dates
Destination
Duration
25 Days
Focus
More Info

Prices from £8000pp inclusive of flights and overnight hotel. Deposit £1500. Superior, Double 'Window', Triple and Quadruple cabins are available at different prices, please ask. Singles welcome if willing to share.

The sample itinerary on this page is priced at £14995pp, based on twin porthole cabin for a 25-day holiday in Nov/Dec 2021, to coincide with the Solar Eclipse at sea.

These tours are not escorted by our Guides, the next Heatherlea guided tour is in 2022.

Prices do not include hotel or VIP Lounge in london, though these can be added on request, as can car parking and other services.

2021 Price

£14995 pp

No single supplement.

Deposit £1500
In 2020/1 we offer holidays in Antarctica courtesy of our long-time partners, Oceanwide Expeditions. There are a wide variety of dates and vessels to choose, and you can see all available cruises here. The itinerary on this page follows an incredible once-in-a-lifetime experience on MV Hondius in Nov/Dec 2021 including The Falkland Islands, South Georgia and Antarctica, plus a unique opportunity to witness a Solar Eclipse while on the open ocean.
We have a great deal of experience and will be delighted to help you choose the right voyage, select your cabin and add flights and other services you need. Although prices are quoted by Oceanwide Expeditions in Euros, your holiday will be priced in GBP Pounds Sterling by Heatherlea. You can expect to broadly match the cabin prices quoted by Oceanwide on their website, including any discounts available at the time of booking. Let us design your entire holiday package!
Book with Heatherlea, and include flights from the UK, and overnight accommodation in Ushuaia. If you book with Heatherlea, you benefit from the protection of our ATOL Licence (no 6113) and Tour Operator insurance. Availability is already very limited on the Solar Eclipse voyage, so please book early!
If you prefer a voyage guided directly by Heatherlea, we will be offering a Guided Tour here in 2022.
Cabin prices vary depending on cabin type and length of voyage. Holiday dates are available throughout the winter, taking advantage of long daylight hours and coinciding with the breeding season for most birds. You will never forget the wonderful wildlife of this harsh, beautiful landscape!
All ships are ice-strengthened vessels ideal for this type of voyage. On the featured voyage, newly-built MV Hondius is one of the most innovative and advanced ice-strengthened vessels, launched for Polar exploration in 2019. Expect a friendly intimate atmosphere in a cosy and comfortable onboard environment.
M/V Hondius is a luxurious vessel. All cabins are fitted to a high standard and have either window or porthole, private shower and toilet, desk and chair, flatscreen TV, telephone and internet connection (supplement charged), hair dryer and ample storage space. Click here for full cabin information, including pictures. We advise early booking to secure the cabin type of your choice. Single travellers are welcome, if willing to be paired with another single traveller in a shared cabin. Please contact us for details and to discuss options.
Download the ship cabin plan. Contact us to reserve the specific cabin of your choice!
Our Route
We begin at Ushuaia at the southern tip of Argentina, where we soon leave land behind to explore stunning Southern Hemisphere locations on the open water. The itinerary will be flexible, paying close attention to weather and ice, changing course and using inflatable zodiacs amongst the ice-floes, spending as much time ashore as possible. We cross Drake Passage where hardy seabirds from Albatrosses to Giant Petrels may be encountered, as might cetaceans. We visit the Antarctic peninsula early in the trip spending a few days exploring an icescape of glaciers and icebergs. Adelie, Chinstrap, Gentoo and Macaroni will be targets, and if conditions are favourable we visit Paulet, Elephant, Deception and South Shetland Islands before we continue west across the top of the Weddell Sea to the South Orkney Islands. From here the ship will be positioned in the center of the shadow of the moon for totality.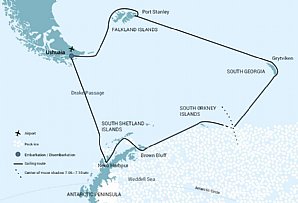 The rest of our journey will involve time visiting South Georgia and the Falklands. Memorable visits to Fortuna Bay, Salisbury Plain, Grytviken and Cooper Bay could feature on the itinerary in South Georgia, and birdlife includes King Penguin along with a number of endemics and some fantastic wildlife experiences. In the Falklands, excursions to Carcass Island and Saunders Island offer the chance to see breeding Magellanic and Rockhopper Penguin before we make our return to Ushuaia where our incredible journey must come to an end.
Please be aware the itinerary given is for guidance only. The exact program may vary depending on local ice, weather and wildlife information. Flexibility is key on all expedition cruises and it will be down to our onboard expedition leader to determine the final route.
Day 1 Wed 24 Nov depart London Heathrow
Depart London Heathrow on an overnight flight to Buenos Aires, Argentina.
Day 2 Thurs 25 Nov Ushuaia
Arrive at Buenos Aires early-morning and transfer onward to Tierra del Fuego. Your flight follows the Argentinean coastline, over Peninsula Valdez and along the Beagle Channel into Ushuaia. Depending on time of arrival, the afternoon is free to explore the town or begin birding. At the harbour front, and on nearby ponds you may see Kelp and Dolphin Gull, Upland and Kelp Goose, Crested Dand and Fuegian Steamer Duck and South American Tern. Chimanga Caracara are overhead, and you may also see Southern Lapwing, Magellanic and Blackish Oystercatcher, Red Shoveler, Night Heron and Chilean Skua. The first Southern Giant Petrel and Great Grebe may be seen at sea, and landbirds include Austral Thrush, House Wren, Austral Negrito, Chilean Swallow, Black-chinned Siskin and Rufous-collared Sparrow.
Day 3 Fri 26 Nov depart Ushuaia to the Beagle Channel
Board the newly built MV Hondius, home for the next 19 nights. In Ushuaia, it is said that the world 'drops off the edge', and here your ocean odyssey begins. Around the port there are Kelp and Dolphin Gull, and on entering the Beagle Channel exciting seabirds including King Cormorant, South American Tern and Magellanic Diving-Petrel might be seen. If lucky a penguin species, Magellanic, might make the checklist by the end of the day. Hourglass and Dusky Dolphin can be encountered, while in the channel larger cetaceans such as Fin Whale are possible as the land starts to disappear and the sea widens.
Days 4 - 5 Sat 27 - Sun 28 Nov through Drake Passage
Taking a southerly course, we make for Antarctica straight away, and to get there must first cross the Drake Passage. On the way, some time may be given to view Cape Horn, this iconic location popular for those with an interest in maritime exploration, though we want to get south quickly, and are keen to catch first sight of new seabirds on the wing. At times you should be able to seawatch from the upper decks but the Drake has a reputation and in rougher conditions might well be forced inside. Albatrosses will be prime targets and Black-browed can be common at this stage. Over the next few days at sea you stand chances of encountering another five species, with Grey-headed, Wandering, Northern and Southern Royal and sublime Light-mantled all possible in the southern oceans. Southern Giant Petrel can appear equally massive and we might also see Cape Petrel, Blue Petrel, Wilson's Storm Petrel, Grey-backed Storm Petrel, White-chinned Petrel, Sooty Shearwater and both Chilean and Sub Antarctic Skua in the early stages. At the same time test your ID skills by trying to separate any Diving Petrels or Prion's.
Cetaceans will hopefully feature too, Humpback Whale perhaps the most likely at any time during the voyage but you may also gain views of Fin, Sei, Southern Right and perhaps Killer Whale! Active pods of Peale's, Commerson's and Hourglass Dolphins occur and there are chances of scarcer species with Southern Bottlenose Whale and a number of Beaked Whale species recorded in some years.
Day 6 Mon 29 Nov Antarctica on the horizon!
By choosing to visit Antarctica before both the Falklands and South Georgia there is a higher possibility of spending a good amount of time here. The plan will be to spend 3-4 days exploring with excursions to different islands, seabird colonies and other sites of interest. Hondius could pass by Elephant Island and/or the South Shetland Isles and depending on conditions, maintaining a flexible approach could mean landings before reaching the Antarctic Peninsula. The South Shetlands are volcanic, with an eerie atmosphere, these hostile lands turned into home by Chinstrap and Gentoo Penguin. Busy penguin colonies will be flanked by marauding Southern Giant Petrels and Sub-Antarctic Skuas, and there is a surprising amount of botanical interest here too.
Days 7 - 9 Tues 30 Nov - Thurs 2 Dec exploring a white wilderness!
Plenty of time to explore with daily excursions to a number of islands possible. You will now be close to penguin colonies and while on land can be surrounded by them! High on the agenda will be a visit to Paulet Island on the east side of the peninsula to see the large colony of charming Adelie Penguin. Chinstrap, Gentoo, Macaroni and Emperor Penguin will hopefully all be seen at their nesting sites and in the water too. All the while you will be in the most dramatic of landscapes, an expanse of pack ice stretching for miles, snowscapes stained only by wildlife activity and enormous floating icebergs! In fact there can be so much 'white' all around that the sea can seem suddenly seem innocuous.
Wildlife interest will abound, with ferocious Leopard Seal on the lookout for any straying penguins. Crabeater and Weddell Seal seem a little more tolerant of Pale-faced Sheathbill scavenging around them. Other landings during this period may be made to Deception Island, perhaps near the old whaling station where there are also hot springs. At Brown Bluff, after breaking though the ice-clogged Antarctic Sound you might get the chance to set foot on the Antarctic continent itself if conditions are favourable. Many Cape Petrel will be seen and also Antarctic Fulmar, Antarctic Shag, Cape Petrel and Antarctic Tern to name a few, and you might add Antarctic Petrel (often difficult to find) to the list. Antarctic Minke and Humpback Whale may be spotted surfacing just off the ice and if luck is in there could be opportunities to watch pods of hunting Killer Whale. During our time in Antarctica you could also spend time around the northern Gerlache and/or Bransfield Straits, visiting Cierva Cove or the harsh ice mountains of the Davis Coast. Stops at Devil or Trinity Island could be options though please be aware that factors including weather, ice conditions and directions from the ship's Captain and Expedition Leader will dictate the exact itinerary.
Day 10 Fri 3 Dec into the Weddell Sea and the South Orkneys
We set a course east towards the South Orkney islands, and enter the Weddell Sea, passing huge icebergs on the way. By now familiar seabirds including the albatrosses, Cape Petrel and Wilson's Storm Petrel may be seen tailing the Hondius through the floating pack ice, while these waters offer more chance to catch a sight of Antarctic Petrel. If time is favourable, you may linger around the South Orkney archipelago and in favourable conditions head ashore. On Laurie Island visit the Orcadas Base, an Argentine scientific facility, and enjoy wildlife including Fur Seal while ashore.
Day 11 Sat 4 Dec Solar Eclipse and on towards South Georgia
Our vessel will be positioned overnight, preferably some distance into the Scotica Sea drift ice from where you can witness the Solar Eclipse. Just after 7.00 UTC, we gather out on deck to safely enjoy this dramatic celestial event. Tracking along the ice perimeter, keep a sharp look out for surfacing Fin, Humpback and Antarctic Minke Whale before eventually heading north towards South Georgia. These seas will bring new challenges and Black-bellied Storm Petrel, White-chinned Petrel, Common Diving Petrel and both Antarctic Prion and Fairy Prion may be seen.
Days 12 - 15 Sun 5 Dec - Wed 8 Dec South Georgia
After the best part of a day at sea, South Georgia comes into view. Over the next few days enjoy unique wildlife experiences with several excursions offshore. Salisbury Plain, St Andrews Bay and Gold Harbour hold the three largest King Penguin colonies with another sizeable colony at Fortuna Bay. The noise and aroma coming from beaches packed with breeding Southern Elephant and Fur Seal add to the atmosphere and bulls of either species compete and fight over territories and females. Any rocky outcrop might harbour resting Antarctic Tern, Kelp Gull, Sub Antarctic Skua or South Georgia Shag.
Prion Island is home to a large Wandering Albatross colony, and though you may not be able to come ashore (the island is off limits during the early part of their breeding season) you will see these iconic birds, famed for having the longest wingspan in the world, socialising in a way unique to their genus. Fortuna Bay will be worth a visit for other reasons. Follow the final leg of Shackleton's route to the abandoned whaling station at Stromness, via a stunning waterfall named after the explorer, and you may see other less pelagic birds including South Georgia Pintail. At Grytviken, the buildings for another abandoned whaling station are surrounded by King Penguin and Elephant Seal. If there's time you can visit Shackleton's grave and see the South Georgia Museum. While on a zodiac trip to Cooper Bay, you see gatherings of Macaroni Penguin returning from fishing forays. Battling for airspace anywhere here could be Sub-Antarctic Skua, Northern and Southern Giant Petrel and more elegant Grey-headed and Light-mantled Albatross. Please be aware that weather conditions in the archipelago can at times be challenging, with mist frequently affecting plans.
Days 16 - 17 Thurs 9 - Fri 10 Dec towards the Falkland Islands
Our time in South Georgia having come to an end, the enchanting Falklands are the next destination, but not before two more days at sea. Cross the Antarctic convergence, where water columns collide forcing nutritious water to the surface often attracting huge numbers of seabirds. The species may be familiar by now, but numbers will be impressive and you may gain some of your best views of albatrosses, Great and Sooty Shearwater, numerous petrels and maybe your best chance of separating troublesome prions with Slender-billed now in the mix just to make things difficult! Cetaceans may be attracted to the abundance of food and time on deck may yield several species, perhaps offering side by side comparison.
Days 18 - 20 Sat 11 Dec - Mon 13 Dec the enchanting Falklands
The abundance and diversity of wildlife make the Falklands one of the most interesting destinations. On an excursion to Saunders Island see ethereal Black-browed Albatross grace the skies and posturing to one another in this busy colony. Three species of Penguin occur here, King, Magellanic and Gentoo all perhaps being seen. Imperial Shag breeds here and on Carcass Island to the west and during our time on the islands look for endemic Cobb's Wren and perhaps other passerines including Black-chinned Siskin, Black-throated Finch, Falkland Grass Wren, Tussockbird, Falkand Pipit and Falkland Thrush. Piratic Striated Caracara can be found among the throngs of nesting seabirds or near colonies of Fur Seal and among other native species we may see Falkland Flightless Steamer Duck, Magellanic Oystercatcher, Magellanic Snipe, Crested Duck and perhaps Kelp and Upland Goose.
West Point island may also be visited, another beautiful location. There is a Black-browed Albatross colony here and Rockhopper Penguin, fresh from fishing trips, undertake an incredible climb over the rocky ground with the added struggle to avoid predators in order to reach their nests. A different aspect to life here can be found at Port Stanley, the island's capital. With its Victorian-era, charming colourful houses, well-kept gardens and English-style pubs comes an odd familiarity to proceedings after time away from such civilisation. On a cultural break from birding you may visit the small museum and explore the town.
Day 21 - 22 Tues 14 Dec - Wed 15 Dec return to Ushuaia
Journey in a south-west direction back towards Ushuia, enjoying your last chances to enjoy seabirds on the wing before re-entering the Beagle Channel. After such a memorable trip enjoy a great, if a little sad final night on board the Hondius and at some stage during the next day, dock in Ushiana.
Day 23 Thurs 16 Dec depart Ushuaia
After breakfast everyone says goodbye to our friends the ship's crew and expedition staff before disembarking and spending the morning at leisure. Your flight back to Buenos Aires departs early afternoon, and on arrival transfer overnight to a comfortable hotel.
Day 24 Fri 17 Dec in flight
After a leisurely morning return to Buenos Aires Ezeiza Airport in time to catch your flight to London Heathrow.
Day 25 Sat 18 Dec arrive London Heathrow
Arrive into London Heathrow in the morning on day 25.

Please note: all itineraries are given as a guide only. Actual holiday content may vary according to the judgement of your guide, and elements beyond our control (eg weather).
Our Vessel - M/V Hondius
Our vessel M/V Hondius is the first-registered Polar Class 6 vessel in the world, meeting the latest and highest demands for ice-strengthened cruise vessels. Hondius also exceeds the requirements of the Polar Code as adopted by the International Maritime Organization (IMO), allowing you to enjoy the polar regions as much as possible while impacting them as little as possible. It will be the most flexible, advanced, innovative ice-strengthened vessel active within the polar regions, being optimized for exploratory voyages. Hondius offers high quality accommodation for all passengers in a variety of spacious suites and porthole cabins. Additionally, one deck consists of a large observation lounge and separate lecture room, which are reserved for a wide variety of interactive workshops, exhibitions, and performances to involve yourself in as and when you wish.
Our captain will aim to keep sea time as short as possible to focus on fast, effective access to shore and near-shore activities. Wildlife of the region may be observed both from land and sea and to give you the maximum contact with nature and the wildlife you have travelled so far to see, there is a tough fleet of rigid-hull inflatable Zodiac boats to guarantee swift and safe landing operations for all passengers at the same time. Hondius has two separate gangways and a sheltered indoor Zodiac embarkation platform that can also be used for special outdoor activities. Flexibility will be key as your Leader aims to make the most of our opportunities in the hope of seeing as much as possible. Hondius is equipped with advanced stabilizers and two main engines capable of powering the vessel up to 15 knots. You will have 72 crew and staff members (including expedition and hotel staff) at your service while on board, ensuring that what time is spent aboard is comfortable and enjoyable.
More ship and cabin information can be found here
Why choose Heatherlea for your birding and wildlife holiday?
Our overseas holidays are planned with care to offer great birding and wildlife, led by capable Leaders who really look after you. Every holiday is run the 'Heatherlea Way', and we hope our Overseas Adventures remind you of the quality and care so many of you enjoy in Scotland. That means rewarding and exciting days in the field, and good quality accommodation and meals, with a real flavour of the country we are visiting. Heatherlea always seek to include the personal touches that make all the difference.
Heatherlea holidays are not 'dawn to dusk' expeditions. Our less-intensive approach is ideal for those who want to relax whilst experiencing the best wildlife watching, and wherever possible we organise early or late activity on an optional basis. We also take sensible breaks when in very hot places and regular comfort breaks on every holiday whenever possible. All itineraries are planned carefully around the best wildlife opportunities, and you won't miss out on memorable wildlife, whilst enjoying relaxed, informal days that are great fun.
The really important part of any wildlife holiday is the experience for you, our valued customer. Heatherlea invest in many things to offer you the best possible service;
We have been organising birding and wildlife holidays for over 30 seasons, and have a highly experienced and capable office team. We also offer a telephone and email service outside normal office hours.
Heatherlea overseas holidays have a maximum of 12 clients per trip, putting the emphasis on personal service, and helping you get the best possible experience.
Our holidays often include things which others might invite you to pay yourself, for instance Departure Taxes and tips to hotels.
All elements of our holidays are sold under our own licence, ATOL 6113. Under 'Flight-Plus' legislation it is a legal requirement of any tour operator to hold an ATOL licence for the supply of any overseas holiday where a flight is involved, if that holiday includes either overseas accommodation and/or car hire. It can be a criminal offence for an operator to book flights as part of a package without an ATOL licence. Heatherlea also hold full Tour Operator Insurance for your added protection.
Heatherlea is your complete wildlife holiday provider. Our 'Back Office' team can organise all your pre-flight and other travel needs. Our specialists will help you book the right services, at the best price. Book holiday extensions through us, and your ATOL protection is extended further. We don't charge extra for this service.
Heatherlea is a limited company, registered in Scotland, and registered to pay VAT (applies to all holidays within the European Union).