BIRDFAIR, Rutland August 2018
featuring our Guides from around the world!
Coming to Birdfair? Please come and see us! Kevin Shaw, Ian Ford, Toby Green, Phil Knott, Mark Warren, Emma McBride and Fleur Warren will all be there to meet up and give you any holiday information you might need. We are in Marquee 6, Stand 57-59, our usual place by the breeze next to the opening to Marquee 7. We will have special offers just for the show (win a holiday!), and a taste of Scotland waiting for you.
Our guides from all around the world will be there to welcome you, so pop round to our 'Meet the Guides!' event, each day between 3pm and 4pm.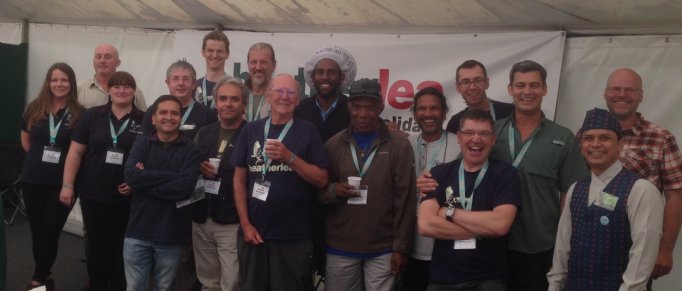 FUN AT BIRDFAIR! From left to right, Emma (General Manager), Gerard (Eastern Europe, Jamaica, Uganda, Cuba, Peru ...), Fleur (Operations Manager), Wilson (Peru), Kevin (Italy, more places ...), Phil (Scotland and many more places), Domingos (Portugal), Gabor (Mexico), Ian (Scotland and many more places), Vision (St Lucia), Newton (Tobago), Leio (India), Toby (front, Scotland and many more places), Mark (rear, Scotland and many more places), Paco (Costa Rica, Panama), Suchit (Nepal), Trausti (Iceland).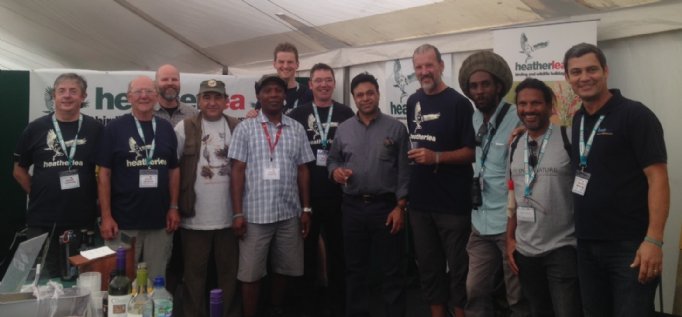 From left to right, Kevin, Ian, Trausti, Josele, Newton, Phil, Toby, Badri, Gabor, Vision, Leio and Paco on Sunday at the Birdfair in 2015!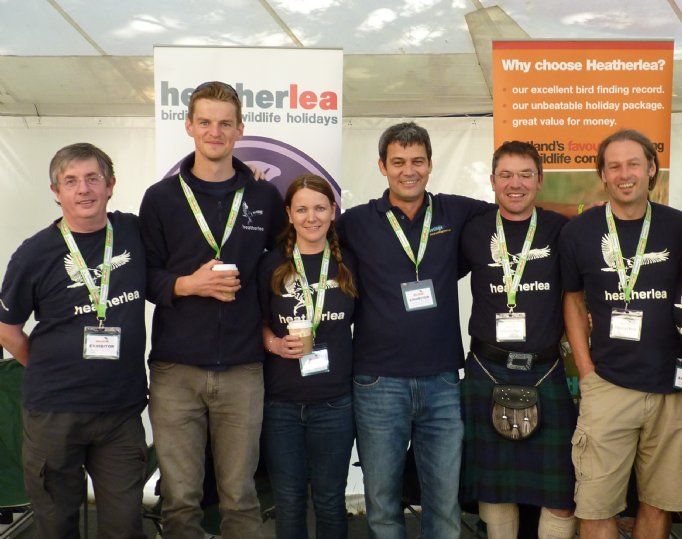 Kevin, Phil, Emma, Paco, Toby and Mike at Birdfair in 2014
.....................................
No appointment necessary, just come along for drinks, nibbles and a chat!

Friday 17 August
Saturday 18 August
Sunday 19 August
PHIL KNOTT
Scotland, Skyros, Picos and more
*
*
*
TOBY GREEN
Scotland, Goa, Fuerteventura and more
*
*
*
IAN FORD
Yellowstone, Gambia, Scottish islands and more
*
*
*

MARK WARREN
Scotland including North Ron, Orkney, Shetland and more

*
*
*
KEVIN SHAW
Scotland, Costa Rica, Po Delta and more
*
*
*
GERARD GORMAN
Cuba, Estonia, Croatia, Jamaica and more
*
NEWTON GEORGE
Tobago and Trinidad
*
*
*
LEIO and JENNY de SOUZA
India, Sri Lanka
*
*
*
PACO MADRIGAL
Costa Rica, Panama
*
*
*
WILSON DIAZ
Peru
*
*
DOMINGOS LEITAO
Portugal
*
*

GABOR ORBAN
Mexico

*
*
ANDRES TRUJILLO and CRIS VITERI
Ecuador
*
*
JARI PELTOMAKI
Finland
*
TANG JUN
China
*
*
SPECIAL GUEST MATT MERRITT
Editor, Bird Watching Magazine
*
*
*
EMMA McBRIDE & FLEUR WARREN
Operations for all holidays
*
*
*

THANKS FOR COMING!