HEATHERLEA GUIDES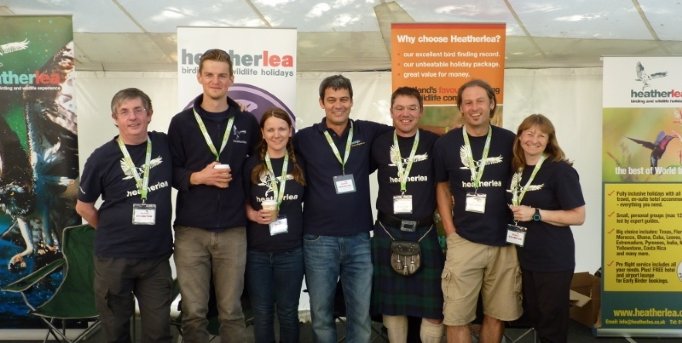 Wildlife watching in Scotland is best in the company of outstanding guides with up-to-date local information. Scotland is a big country with a wealth of open space, and whilst guidebooks can be very helpful, you have much better chances of seeing the key birds with the help of a Heatherlea guide, the majority of whom live just a short distance away from our hotel and who take personal trips across the region in their spare time. This is no empty claim: we know it's true, because our guests keep telling us! Take a look at our team, our experience, background and qualifications. We don't think you can do better than a Heatherlea guide.
Kevin Shaw
Kevin and wife Caryl founded Heatherlea in 1991, since then we have delivered over 750 full week holidays in Strathspey. Kevin is usually around most weeks at The Mountview Hotel in Nethy Bridge when not leading Overseas or in Scotland, working with our office team behind the scenes to make sure you get what you deserve – the best birding holiday in Scotland!
Ian Ford
Ian joined Heatherlea in 1999, and joins us again this year as a Senior Guide. Ever popular with guests and fellow guides alike, Ian will be leading groups across the Highlands and Islands of Scotland. Ian particularly enjoys his holidays to the Inner and Outer Hebrides throughout the summer. Although he frequently leads our Scottish trips, he also leads overseas holidays including Gambia, Estonia, Cuba, Portugal, Spitsbergen, Nepal, Yellowstone and Andalucia & Morocco.
Jonny Pott
Jonny joined Heatherlea in 2002, and has spent a lifetime working in his native area amongst wildlife and the outdoors. A first class field naturalist, with knowledge on almost all wildlife, he has excellent botanical and invertebrate knowledge to match his birding skills. Jonny lives on local Kincardine Moor, and is full of tales of local history and birding lore. With his caring manner, Jonny will be here from mountains to Mull to show you Scotland's special wildlife.
Toby Green
Toby is a very experienced Scottish birder, who joined us in 2013. He lives in Carrbridge, and when he is not guiding he is out and about exploring and birding the area. Already very popular with our groups and his fellow guides, Toby is a top birder with a great sense of humour and endless enthusiasm. We know you will enjoy birding with him! Toby leads across Scotland, with trips throughout the year all over the Highlands and Islands. Overseas you can join him on trips to Sweden, Extremadura, Costa Rica, Nepal & Goa.
Dave Pullan
A top birder with vast experience in Scotland and worldwide, Dave lives in Boat of Garten and fits right into our friendly and happy team. Dave especially enjoys the birders tours, and every autumn loves the Shetland and Fair Isle trips, where he has found an enviable list of rarities! Dave will also be leading overseas in Canaries, Fuerteventura, Costa Rica, Armenia & China and numerous trips across India.
Rob Jordan
Top photographer has been leading groups on wildlife holidays for many years, and with his Geordie humour and careful personal attention, Rob is a favourite with Heatherlea clients. Rob will again be guiding Heatherlea groups around Scotland during the year, and he will also lead overseas on Mallorca and in the Camargue.

Mike Coleman
Dedicated birder Mike is a top guide with a very friendly manner. Mike first joined Heatherlea back in 2002, and has guided across Scotland and all over the World for us. In 2019 Mike will lead for us in both Europe and Scotland.
Peter Cosgrove
A professional eco-consultant, of all our locally based guides Pete is the one who is most likely to be spreading the news about rarities! Pete has a passion for birding everywhere, particularly in tropical climes, with a real love for the Americas. Join Pete in Trinidad & Tobago, Finland and Brazil in 2019.

Chris Townend
Chris lives in Devon, but has been guiding trips for Heatherlea both in Scotland and overseas since 2008. He is very much a people person keen to share his knowledge and ensure that bird tours are full of birds, wildlife, humour and cake.

Matt Wilson
Our resident Heatherlea guide on the west coast of Scotland, Matt is an exceptional naturalist on personal terms with Golden and White-tailed Eagles, Otters, Pine Martens, Wildcats and Red Deer. On many of our West Coast holidays Matt invariably produces an absorbing and rewarding day, with guests and guides learning something new every time.
Scott O'Hara
Scott is a relatively new addition to the Heatherlea team, having recently joined in 2015. He is an experienced guide with a background in ecology and environmental education. Scott is an enthusiastic and avid birder and general naturalist; but having grown up in Montrose, on the Scottish east coast, his real passion is for waders, wildfowl and seabirds. Join Scott across the Highlands and Islands, and also on Skyros and in the Po Delta in 2019.
Mark Warren
Mark has recently moved to the Strathspey area and joined us as a guide in 2016. Mark has been a wildlife enthusiast from an early age, and among his conservation roles have been seasons working for the RSPB in Cornwall and at Fair Isle Bird Observatory. He is also a fully qualified BTO bird ringer and is well travelled. He is a very experienced and dedicated birder, and many Heatherlea customers have already reaped the rewards from his widespread knowledge of migration and his daily enthusiasm during his 5 year tenure at North Ronaldsay Bird Observatory. Join Mark across the Highlands and Islands, and also in Sweden, Ireland and Portugal in 2019.
John Picton
John has been birding since the age of eight & has been coming to the Highlands to watch wildlife for over 30 years. After studying for a diploma in Ornithology then a BSc (Hons) in Wildlife Ecology, Conservation & Managment, he went on to work for the Forestry Commission & the RSPB, before moving to Strathspey and becoming a full time guide five years ago. A good all round naturalist but specialising in birds & mammals with a special interest in raptors & Pine Martens.
Enjoy an excellent birding and wildlife holiday with Heatherlea.
Mainland Scotland's FIRST '5-Star Wildlife Experience!'
'Exceptional'
Visit Scotland
HEATHERLEA GUIDING – it makes all the difference!