NEW! Specials and Migration, featuring The Burma Bank
A brand new Heatherlea experience including 'The Burma Bank' as part of our popular 'Scottish Specials and Autumn Migration' holiday
Prices:
£1095 PP, No single supplement. Deposit £100
Dates:
24 Aug - 31 Aug 2013, 31 Aug - 7 Sep 2013, 23 Aug - 30 Aug 2014, 30 Aug - 6 Sep 2014

Featuring fabulous migration around the coastline of northern Scotland and all the special resident birds of the Highlands, this is an absorbing and exciting holiday where anything might turn up! As a very special experience we take a thrilling boat trip to 'The Burma Bank' - more below! We also visit the very best spots on the coast to see migrating waders, shearwaters, petrels and skuas. Absorbing birding and a wonderful pelagic boat trip! With all speciality birds found in good numbers, and seabird flocks beginning to build, this is one of the best times to come to Scotland.
KEY MOMENTS at our Friday round-up - which will be yours?
That special 'Burma Bank' rarity - maybe Sabine's Gull!
Shearwaters, skuas and cetaceans on our exciting day in 'The Minch'
Capercaillie and Black Grouse, perhaps on the same morning!
Three diver and three scoter species - all in summer plumage
Golden Eagle above, with roaring stags in the background
DAY 1 (Saturday)
Arrival, welcome, dinner and briefing. Don't forget our courtesy collection service from Aviemore.
DAY 2 (Sunday)
Purple heather moors, the gold and red of a Highland autumn in the birchwoods, the first snows on the Arctic tops, the deep greens of the ancient pinewoods, this is a lovely time to visit Scotland. Mixed parties in the Caledonian pines contain good numbers of Crested Tit, and Scottish (Parrot) Crossbill form their own noisy flocks, often in dozens. Golden Eagle, Peregrine, Buzzard, Sparrowhawk and Kestrel are the main upland raptors we seek today, though White-tailed Eagle are often seen at this time. You may also hear Red Deer stags bellowing at the rut - a wonderful and unforgettable experience.
DAY 3 (Monday)
THE 'BURMA BANK'
The 'Burma Bank' is a part of Scotland not known to many. Indeed, other than trawlermen, a few local boat owners and a handful of birders, hardly anyone is aware of its existence, let alone its significance to migrating seabirds. Now Heatherlea have made it possible for you to visit this remote and mysterious place to enjoy its wildlife.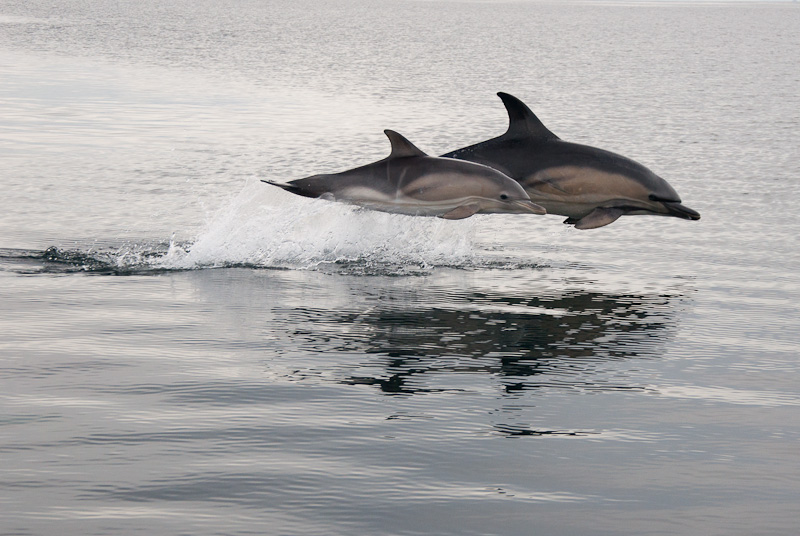 The 'Burma Bank' is a subterranean range of hills, running north-to-south in the middle of The Minch, between the Isle of Lewis and the Scottish mainland. Here the water depth rises sharply from around 400 feet to only 70 feet. The strong tidal currents deflect nutrients to the surface here, encouraging a food chain which includes plankton, fish, cetaceans and of course birds. Seabirds spiral from the north of Lewis into the Minch to feed here, and some genuinely pelagic species, rarely observed from British coastal locations, can be seen by visiting birders.
Perhaps our key target is Sabine's Gull, seen regularly here in the past few years. A northern Arctic species, Sabine's is notoriously difficult to see from the British mainland. Sooty Shearwaters, which breed in the south Atlantic, are seen on passage here amongst much commoner Manx Shearwater. Storm Petrel and all four northern skuas, including Long-tailed and Pomarine, are very possible. We may be lucky enough to encounter Great and Balearic Shearwater, Little Gull and Leach's Petrel. Red-necked Phalarope and in the second week Grey Phalarope are possible too. Commoner species will include all British breeding auks, including Black Guillemot and Puffin, perhaps with young (Pufflings), White-tailed Eagle, Gannet, Kittiwake and more.
During our voyage, which lasts between three and four hours, we will find time to search for available cetaceans and large fish, as we scan the horizons for feeding flurries or for trawlers chumming, and travel quickly between the Burma Bank and available coastlines including the north of Skye and sheltered sealochs off the Scottish mainland. Common Dolphin, Minke Whale, Basking Shark and Common Porpoise are all found regularly in these waters at this time of year. We may even be lucky enough to see Sei Whale, Orca, or rarer dolphin species such as Risso's, White-beaked or White-sided Dolphin.
We travel on a RHIB (Rigid Hull Inflatable Boat), which has the power, speed and strength to take us safely and quickly into the offshore waters where wildlife sightings are best at the time of our travel. Our stable boat will plane across the water at up to 26 knots, and is highly manoeuvrable; similar vessels are used by HM Customs, the Ministry of Defence and the National Lifeboat Institution.
DAY 4 (Tuesday)
In autumn our private estate woodlands are excellent for both cock and hen Capercaillie, which often show well whilst taking autumn berries. Later we drive to the Moray Firth, to examine the concentrations of seabirds, which make this coastline such a great magnet for birders. Common and Velvet Scoter, Long-tailed Duck, Great Northern, Black- and Red-throated Divers are all possible on this day, but perhaps our key target is Surf Scoter, a regular visitor arriving mid-late September. Ospreys can be found fishing till mid-September.
DAY 5 (Wednesday)
An early (but not too early!) start for Black Grouse returning to the lek. Ptarmigan are our target after breakfast, skulking in mountain corries within walking distance of transport. The birds give good sightings once located as they rely upon camouflage more than flight whilst moulting into white winter plumage. Lingering Snow Bunting may also be seen. Redpoll, Siskin, Redwing, Fieldfare and Red Grouse are also possible on this day.
DAY 6 (Thursday)
Another great coastal experience, we go north to the Moray Coast or east to Aberdeenshire, depending upon the local birding. Amongst the passing terns, auks and Gannet we watch out for Manx and Sooty Shearwater, and we also visit favourite spots where just about anything might drop in! Rarities seen by Heatherlea on this holiday include Bean Goose, Snow Goose and Red-breasted Goose.
DAY 7 (Friday)
Easter Ross is another new birding area for Heatherlea, as we visit remote Tarbet Ness and other headland locations in the upper Moray Firth. We may find concentrations of waders, including Bar-tailed Godwit, Sanderling, Dunlin, Turnstone, Knot and many more, some individuals in summer plumage, or we may use favourable winds to spot passing Long-tailed Skua or Storm Petrel at close quarters. Rarities can make a Scottish autumn special – recent holidays have included Mealy Redpoll, Red-footed Falcon and Rough-legged Buzzard.
DAY 8 (Saturday)
Breakfast and departure. Don't forget our courtesy return service to Aviemore.
Field Notes
Expect a wide variation in weather conditions. Sunshine, showers and cold winds are equally likely, and you will probably experience a bit of everything. Bring waterproofs, walking boots or shoes and warm clothing. Walking will be easy/moderate, although mountain walking for Ptarmigan can be strenuous. See 'Easy Walking' holidays with less walking. Telescopes will be useful, and you should bring binoculars. A camera would be useful too! You don't need flasks for hot drinks or wellies. Biting insects are not expected.
What's included in your holiday price
Seven nights comfortable accommodation at The Mountview Hotel, VisitScotland rated 3 Star. All rooms are en-suite, with colour TV and hot drinks facilities.
Full Scottish breakfast, a substantial packed lunch, and a delicious dinner.
Six full days birdwatching.
All land transport by comfortable PCV minibus. All estate access fees.
Guidance from a professional Group Leader with extensive up to the minute local knowledge.
What's not included in your holiday price
Transport to The Mountview Hotel.
Insurance, drinks and other items of a personal nature.
Enjoy an excellent wildlife holiday with mainland Scotland's only 5 star Wildlife Experience.
'Exceptional' Visit Scotland