Spain - Birding and Lynx
Birding and endangered Iberian Lynx
Prices:
£1195 PP, £70 single supplement. Deposit £300
Dates:
7 Jan - 14 Jan 2014
More Info
Leader: Cristian Jensen Maximum Group size: 7
Spain - Birding and Lynx
This is a combined birding and mammal trip, with a good range of Spanish birds, plus a special focus on seeing endangered Iberian Lynx in the wild. We enjoy the mild winter of southern Spain, visiting two great wildlife destinations, Coto de Donana and Sierra de Andujar, which is part of the larger Sierra Morena Natural Park.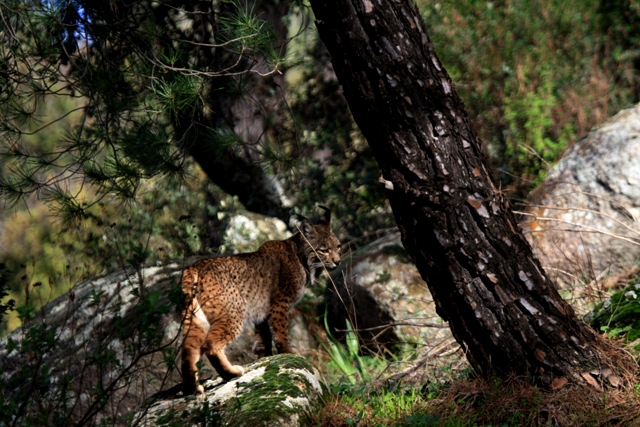 The Iberian Lynx (Lynx pardinus) stands on the brink of extinction, and is perhaps the most endangered wild cat in the world, with only around 200 individuals remaining. Just a century ago, it ranged over half of the Iberian peninsula. As recently as the mid-nineties it was thought to occur in a wide area of south-west Spain. Today its range has shrunk dramatically to just two viable populations within Andalucia, and on this holiday we visit both areas, with an estimated 15 – 20 individuals in Donana, the rest being in Sierra Morena. January is an ideal month to see this skulking species, active during the cool daytime as animals seek a mate before warmer months when Lynx become more nocturnal.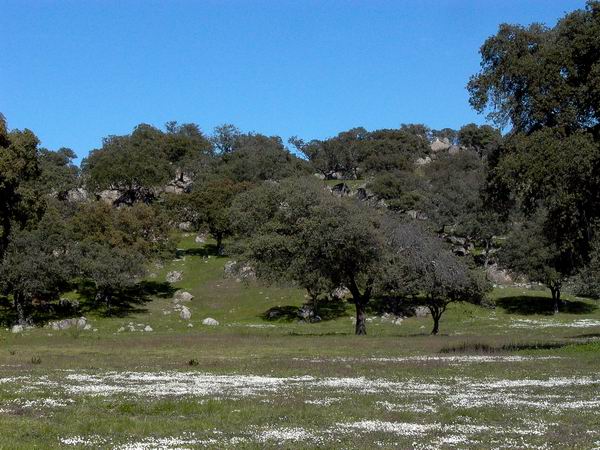 The first part of the holiday concentrates largely on birding, though we have our first chances of Lynx here too. From our base in the quaint town of El Rocio, we will explore the mosaic of marshes, pine woodland, open heath land and sand dunes at one of the best times to visit Donana. This famous area can be very dry later in the year, but in winter its marshes usually hold water and attract great numbers of gulls, terns, and shorebirds to forage side by side with herons, egrets, White Stork, Glossy Ibis and Spoonbill. Thousands of wintering geese feed in the shallow waters, and we also have the opportunity to catch up with some of southern Spain's specialities, in particular Purple Gallinule, Marbled (Duck)Teal, Red-knobbed Coot and rare Spanish Imperial Eagle. Some breeding raptors are back on territory, whilst others are passing on migration, and the whole area is just full of life. We have chances of seeing Iberian Lynx, and other large mammals include Wild Boar, Red Deer, and Fallow Deer.
The second part of our holiday is spent in Sierra de Andújar. This beautiful mountain chain holds dense populations of Red and Fallow Deer, Moufflon, Otter, and Wild Boar, as well as the largest remaining Lynx population in Spain. Birds seen here include Griffon and Black Vultures, Spanish Imperial Eagle, Azure-winged Magpie, and Black Wheatear.
This is a relaxed and interesting itinerary, with good birding and mammal watching in a pleasant climate. Small group size is necessary so wild Lynx are not disturbed, making this an exclusive and personal group opportunity. You will enjoy our special meals and Andalusian local wines. Transport is by minibus, allowing us to visit isolated places in incredible landscape.

ITINERARY
Days 1 – 4: Tuesday 7 January - Friday 10 January,
DOÑANA NATIONAL PARK
Guide Cristian Jensen will meet you at Sevilla Airport, then we drive to Coto de Donana, passing through the fertile farmland and fruit groves west of the Guadalquivir River. The unique village of El Rocío lies at the edge of the Parque National de Doñana, and this "Wild West" town, with its white buildings and church, makes an amazing backdrop. Here we are likely to encounter horsemen cantering through the wide, sandy streets, or a mule and cart tied up to the hitching rails outside the houses.
Our birding begins at the adjacent "marisma", a magnificent lagoon laden with Flamingos, Egrets, Coots, waders and numerous other waterfowl. At the time of our visit, these bird-filled wetlands are at their wintering peak and the quaint village with its sandy roads makes the perfect base. We spend time in the realm of the Iberian Lynx, exploring the woodland, marshes, sand dunes and open grassland where we are likely to encounter Iberian Hares, Red Deer and Fallow Deer. Birdlife includes Black-winged Kite and Spanish Imperial Eagle.
The Marshes by El Rocío, and the varied habitats of El Rocina, teem with birds – Spoonbills, herons and egrets fly over the reed beds as Marsh Harrier quarter the vegetation. In shallow water, Greater Flamingo and White Stork feed, surrounded by wintering waders. Thousands of Greylag Geese will be grazing fresh grass while wintering Whiskered Tern hawk over open water, swooping down to the surface to pick off a small insect or tiny fish. In the more wooded areas, Serin and Azure-Winged Magpies seem never to stop looking for food. Purple Gallinule can often be seen and Little Grebes occasionally take a brief swim across to another patch of reeds.
Days 4 – 8: Friday 10 January - Tuesday 14 January,
SIERRA MORENA NATURE PARK

We head east to the hills, for a four night stay in the Sierra Morena. To give the best chances of a Lynx sighting, we must spend time scanning from a number of scenic viewpoints. From each we overlook vast tracts of Lynx habitat, and chairs will be provided, as we may have to be patient to see the animals! Here sightings of animals are often at long range, but the scenery formed by huge rock boulders is magnificent, and birdlife is rich, being a good place to enjoy Mediterranean woodland, with very good chances of Spanish Imperial Eagle, Black Vulture, Griffon Vulture, Golden Eagle, Sardinian Warbler, the Spanish race of Green Woodpecker, Hawfinch, Firecrest and Eagle Owl. Our accommodation here is a guest house situated in the heart of the beautiful Mediterranean woodland. All rooms have en suite facilities.
Day 8: Tuesday 14 January,

Early morning birding before we drive to Sevilla Airport to fly home.

What's included
Price includes return scheduled flight from London Gatwick – Sevilla, airport taxes, baggage and hand luggage up to airline included limit, airport transfers, ground transportation, accommodation and meals including breakfast, lunch and dinner, and the services of Heatherlea leader Cristian Jensen. Max 7 clients.
What's not included
Travel to and from Gatwick before and after holiday, in-flight meal, baggage above airline included limit, incidental tips, expenses of a personal nature including drinks and personal insurance.