NEW! High Summer wildlife by land and sea - Aug
Prices:
£1095 PP, No single supplement. Deposit £100
Dates:
10 Aug - 17 Aug 2013, 17 Aug - 24 Aug 2013, 9 Aug - 16 Aug 2014, 16 Aug - 23 Aug 2014
NEW! High Summer wildlife by land and sea - Aug

A new holiday with the accent on birds and sea mammals. We use our specialist knowledge to find the birds, and enjoy two great boat trips, one off the west coast and the other off the Moray coast to see whales and dolphins. Back on dry land we concentrate on the Scottish special birds, with early autumn migration to add to the excitement. A thoroughly enjoyable week of birding and marine wildlife by land and sea.
KEY MOMENTS at our Friday round-up - which will be yours?
• Minke Whale off the west coast
• Bottle-nosed Dolphin on our exciting Moray Coast trip
• Sooty Shearwater or Storm Petrel, a west coast pelagic bird!
• Golden Eagle above, with roaring stags in the background

OUTLINE ITINERARY
DAY 1 (Saturday)
Arrival, welcome, dinner and briefing. Don't forget our courtesy collection service from Aviemore.
DAY 2 (Sunday)
Purple heather moors, the gold and red of a Highland autumn in the birchwoods, the first snows on the Arctic tops, the deep greens of the ancient pinewoods, this is a lovely time to visit Scotland. Mixed parties in the Caledonian pines contain good numbers of Crested Tit, and Scottish (Parrot) Crossbill form their own noisy flocks, often in dozens. Golden Eagle, Peregrine, Buzzard, Sparrowhawk and Kestrel are the main upland raptors we seek today, though White-tailed Eagle are often seen at this time. You may also hear Red Deer stags bellowing at the rut - a wonderful and unforgettable experience.
DAY 3 (Monday) WEST COAST WHALES and BIRDING SEATRIP
We drive to the west coast, watching out for Golden and White-tailed Eagle, before boarding our vessel for an exhilarating seatrip. Our skipper is very experienced, and will know roughly where cetaceans can be expected today. Minke Whale is a top target, though Fin and Sei Whale and even Orca are possible. Common Dolphin, Basking Shark are also found here at this time. Birding can be superb, with Manx and Sooty Shearwater, Great and Arctic Skua likely, Storm and Leach's Petrel possible, and the chance of rarities such as Great Shearwater, Long-tailed and Pomarine Skua in the fishing flurries where the whales are found, this is a great day.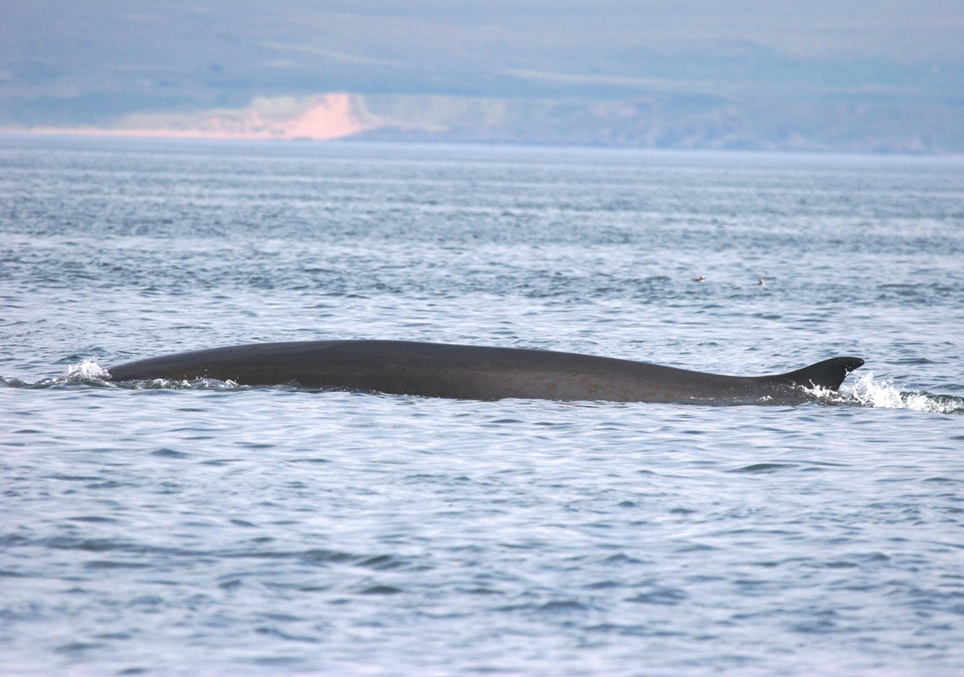 DAY 4 (Tuesday)
At this time in our private estate hen Capercaillie with large chicks which often show well whilst taking autumn berries. Later we drive to the Cairngorms, where Ptarmigan can be found skulking in the corries. For the rest of the day we explore the birdlife of the moorlands, with Golden Eagle, Raven, Slavonian Grebe, Twite, Red Grouse and perhaps Short-eared Owl and Black-throated Diver to entertain us.
DAY 5 (Wednesday) DOLPHIN EXPERIENCE
Today we enjoy a day on the Black Isle, where the highlight will be our expedition on the open waters to see Bottle-nosed Dolphin at close quarters. Our skipper is a local Cromarty girl and an old friend of Heatherlea, very experienced in these waters and with unrivalled ability to see dolphins at long distance! We will find time to check key sites for passage waders, terns, ducks and geese, with marauding Peregrine a distinct possibility. Harbour Porpoise, Grey and Common Seal, Turnstone, Dunlin, Bar-tailed Godwit and perhaps Curlew Sandpiper, Red Kite and Tree Sparrow are found here too. A lovely and memorable day.
DAY 6 (Thursday)
Ptarmigan and perhaps late-staying Dotterel are our target as we devote a full day to birding the mountains. The weather will be all important, so we will choose the best day for this experience, as we hope to walk across the plateau to see the birds. This can be one of the best times to visit Cairngorm, with good numbers of young birds to help us locate key species. Apart from Ptarmigan and Dotterel, Red grouse, snow Bunting and Golden Plover might be seen, and Wheatear, Meadow Pipit and lingering Ring Ouzel might also be on the hills.
DAY 7 (Friday)
Another great coastal experience, we go north to the Moray Coast or east to Aberdeenshire, depending upon the local birding. Birdlife includes Gannet, gulls, terns and auks on the open seas along with the occasional passing Great or Arctic Skua. Waders on passage might include Purple Sandpiper, Turnstone, Bar-tailed Godwit, Knot, Dunlin and Ringed Plover, many in breeding plumage. Fishing Osprey is a key target, and the first wintering geese and ducks may be arriving. We will also round-up any rarities within reach.
DAY 8 (Saturday)
Breakfast and departure. Don't forget our courtesy return service to Aviemore.

Field Notes
Expect a wide variation in weather conditions. Sunshine, showers and cold winds are equally likely, and you will probably experience a bit of everything. Bring waterproofs, walking boots or shoes and warm clothing. Walking will be easy/moderate, although mountain walking for Ptarmigan can be strenuous. See 'Easy Walking' holidays with less walking. Telescopes will be useful, and you should bring binoculars. A camera would be useful too! You don't need flasks for hot drinks or wellies. Biting insects are not expected.
What's included in your holiday price
•Seven nights comfortable accommodation at The Mountview Hotel, VisitScotland rated 3 Star. All rooms are en-suite, with colour TV and hot drinks facilities.
•Full Scottish breakfast, a substantial packed lunch, and a delicious dinner.
•Six full days birdwatching. Seatrip off the west coast of Scotland and Dolphin-watching trip off the Moray coast.
•All transport by comfortable PCV minibus. All estate access fees.
•Guidance from a professional Group Leader with extensive up to the minute local knowledge.

What's not included in your holiday price
•Transport to The Mountview Hotel.
•Insurance, drinks and other items of a personal nature.