NEW! Andaman Islands
Endemics of the Andaman Islands featuring South Andaman (Port Blair) & Havelock Island
Prices:
£3295 PP, £295 single supplement. Deposit £700
Dates:
22 Nov - 3 Dec 2013
Andaman Islands
The Andaman and Nicobar Archipelago is a collection of more than 500 remote islands, part of a submarine mountain range that divides the Bay of Bengal from the Andaman Sea. This tropical paradise is home to a spectacular number of endemic birds, evolved here as a result of sheer isolation and afforded considerable protection as a result of inaccessibility - only 26 of the 204 Andaman islands are inhabited, resulting in an extraordinarily extensive cover of natural tropical rainforest and coastal mangroves, making this one of the most significant Endemic Bird Areas in the whole of Asia. For the purposes of this tour our focus is the easily birded southern portion of the island of South Andaman and Havelock Island, where 20 endemic and near-endemic species* can be found as part of a rich and varied avifauna. Many species here are more commonly associated with Southeast Asia than India, and since these will be accompanied by migrants during the time of our visit, an absorbing birding holiday is guaranteed. (*see below for species).
Led by experienced Heatherlea Guide Gerard Gorman, this trip is designed as a one-off opportunity for the non-intensive Heatherlea birder to visit a remote and exotic island location. We will seek a good number of endemic birds, plus many other typical south-Asia species. These might be more common, but of great interest to the first time visitor to this part of the world. We begin in Chennai on India's eastern coast, where we relax and enjoy a day's birding before continuing by air to the Andamans, around 1190km east of India. Our base on the Andamans will be close to the capital, Port Blair. We enjoy two stays here, punctuated by a visit to Havelock Island, where many key birds can be found.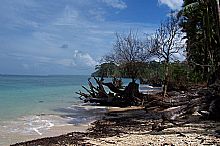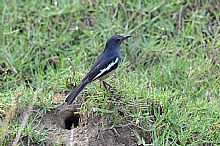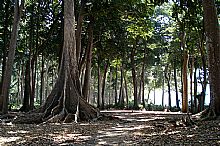 The holiday in general features easy walking. Almost all birding is from paved roads or well marked tracks/trails, and birding here is not difficult. The Andamans operate on Indian Standard Time, making sunrise and sunset far earlier than on the mainland (5am/6pm), meaning that early morning starts (sometimes before 5am) are required. A leisurely lunch break is usually scheduled back at the hotel to compensate, before the late afternoon/evening excursion. Of course there is also the option for group members to prefer relaxation at the hotel since we are based at one hotel for a number of days, and return to the hotel for lunch every day. Finally, we do not anticipate this to be a regular destination, this trip may not be repeated for a few years. Don't miss those Andaman specialities!


ITINERARY

Day 1: Friday 22 November LONDON - CHENNAI
Depart London on our flight to Chennai, eastern India

Days 2 and 3: Saturday 23 and Sunday 24 November CHENNAI
We arrive around lunchtime, and transfer to our comfortable hotel. Situated on the Coromandel coast of southeast India, Chennai is a busy city well located for a variety of birds. Despite its growing population, Chennai has a few areas of wilderness for us to explore. Species might include Grey Francolin, Blue-faced Malkoha, Rufous Treepie, Ashy-crowned Finch-lark, Blue-tailed Bee-eater, White-bellied Drongo, Orange-headed Thrush, Tickell's Blue and Blue-throated Flycatchers, Yellow-eyed and Yellow-billed Babblers, White-browed Bulbul and perhaps Ashy Minivet. We may also find Greater and Lesser Sand-plovers, Pacific Golden Plover, Marsh and Broad-billed Sandpipers, Eurasian Thick-knee, Whiskered and Gull-billed Terns and White-bellied Sea-eagle at a local brackish marsh. On Sunday we will be accompanied by an experienced local guide to help us maximise our birding. Two nights in Chennai will be spent at a comfortable three star Hotel. B, L, D
Days 4 - 6: Monday 25 - Wednesday 27 November PORT BLAIR, South Andaman
Port Blair, the capital of the Andaman Islands, is making a rapid transition from forgotten outpost to busy commercial centre. There is still a good amount of littoral rainforest here however, and good birding can be found in and around Port Blair. We will also take easy local excursions for owls, prime target being endemic Andaman Scops Owl.

Corbyn's Cove, 8km south, is fed by a small mangrove creek with an adjacent marshy area. Birds such as Collared and Stork-billed Kingfishers, Mangrove Whistler, Yellow and Cinnamon Bitterns, Watercock, Pacific Reef-egret, Wood Sandpiper, and various warblers including Oriental Reed, Thickbilled, Rusty-rumped, and Dusky can be seen here.

To the north of the town, the extensive coastline between Phoenix Bay and Chatham Island can be an interesting place for waders at low tide, and these may include Broad-billed, Curlew and Terek Sandpipers, Greater Sandplover, and Great Knot. Other species that may be seen overhead or around our hotel include Asian Koel, Long-tailed and Red-breasted Parakeets, White-bellied Swiftlet, and White-bellied Sea-eagle.

The route from Port Blair passes through cultivated fields home to some of India's more widespread species, including Common Myna, Brown Shrike, Red Collared-dove, Red-whiskered Bulbul, Oriental Magpie Robin, White-rumped Munia, and Yellow Wagtail, and as we approach Chidiya Tapu, through some excellent mature forest, mixed feeding flocks contain species such as Dollarbird, Asian Fairy Bluebird, Black-hooded and Black-naped Orioles, Scarlet and Small Minivets, Asian Glossy Starling, the endemic Andaman Treepie, and near-endemic Andaman Drongo. The road also runs along a stretch of rocky coastline, worth checking for waders and terns as well as Crab Plover and Beach Thick-knee which are also found in the islands.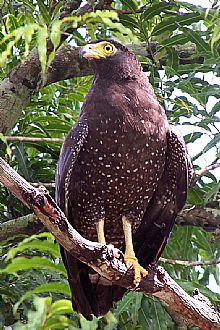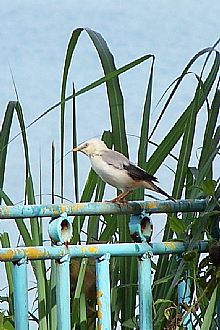 At the southernmost tip of South Andaman, Chidiya Tapu, or 'bird point', is a small yet productive patch of coastal rainforest. The forest here is somewhat degraded, but is still an excellent location for endemics, in particular Andaman Serpent Eagle, Andaman Woodpecker, Andaman Shama, Andaman Bulbul, Andaman White-headed Starling, and the near-endemic Andaman Coucal. Andaman Crake forages in the leaf litter and damp gullies; it is not uncommon at Chidiya Tapu, and most sightings are recorded from here, however it is a highly elusive species more easily heard than seen. Birding is from a once-motorable track, which winds its way through the forest until it opens out to a beach at the southern tip of the island where various waders, such as Ruddy Turnstone, Lesser and Greater Sand Plovers, Grey Plover and, rarely, Beach Thick-knee may be found. Other key species at Chidiya Tapu include Collared and Stork-billed Kingfishers, Slaty-breasted Rail, Greater Racket-tailed Drongo, Common Hill Myna,Green Imperial Pigeon, Vernal Hanging Parrot, Alexandrine, Long-tailed and Red-breasted Parakeets, Asian Brown Flycatcher, Black-naped Blue Monarch, Orange-headed Thrush, Large Cuckooshrike, Edible-nest and Glossy Swiftlets, and Emerald Dove.

A 20min ferry ride from Port Blair, Mount Harriet National Park is a small area of dense tropical evergreen and semievergreen rainforest and, is one of the few terrestrial environments in the Andaman Islands to be given true protected status. A narrow road winds its way through the sanctuary from the base of the hill to its peak, making this an easy place to bird and allowing easy access to dense forest. This provides ideal habitat for a variety of species including most, if not all, of the endemics on South Andaman. The lower half of the road cuts through open scrub and degraded forest, productive for endemics such as Andaman Woodpecker, Andaman Treepie, Andaman Cuckoo-dove and Andaman Crake rustling through the leaf litter. At higher elevations this scrub makes a gradual transition into thick forest, home to Andaman Treepie, Andaman Shama, Andaman Bulbul, near-endemic Andaman Green-pigeon, and scarce and elusive Andaman Woodpigeon.
At an elevation of 365m Mount Harriet is the highest point on South Andaman and one of the highest in the entire archipelago. The summit, and the trail leading along a ridge from here to Mount Carpenter further north, are exceptional watchpoints for raptors, swifts, and hirundines, in particular endemic Andaman Serpent-eagle, Crested Serpent-eagle, Changeable Hawk-eagle, White-bellied Sea-eagle, Glossy, White-bellied and Ediblenest Swiftlets, House and Barn Swallows, White-breasted Woodswallow, and Brown-throated Needletail. Japanese Sparrowhawk and Black Baza are occasionally reported.

Other key species at Mount Harriet include Dusky Warbler, Yellow-browed Leaf-warbler, Olive-backed Sunbird, Forest Wagtail, Orange-headed Thrush, Dollarbird, Black-naped Oriole, Green Imperial-pigeon, Emerald Dove, Alexandrine Parakeet, Blue-tailed Bee-eater, Small and Scarlet Minivets, Brown Shrike
and Spot-breasted Pied Woodpecker. Violet Cuckoo is sporadically reported here in mixed foraging flocks which typically contain Andaman and Greater Racket-tailed Drongos, and Andaman White-headed Starling. Andaman Hawk Owl, Hume's Hawk Owl, and Andaman Scops Owl, all endemic to the islands,
occur within the sanctuary and in particular around the forest checkpost, and Mount Harriet is perhaps the best place to attempt to locate these species as they begin to call at dusk.

Located a few kilometres west of the base of Mount Harriet National Park, Bamboo Flats is the point from where the ferry crosses to Port Blair. It also marks the beginning of a stretch of relatively productive, if degraded, mangroves further west. The roadside creeks are lined with mangrove vegetation which merges into mature forest, and as such this area presents the opportunity to see a broad range of species from the road, from Slaty-breasted Rail, Ruddybreasted and Baillon's Crakes, Mangrove Whistler, and Black-capped Kingfisher to Andaman Woodpecker and Andaman Serpent-eagle.
Accommodation: We stay at the best hotel in Port Blair for two nights, returning here for two further nights later in the holiday. The hotel has clean rooms, a good restaurant, and an excellent position overlooking the harbour. On Thursday morning we temporarily leave our comfortable base to head by ferry for Havelock Island.
Day 6 - 9: Wednesday 27 November - Saturday 30 November HAVELOCK ISLAND
The ferry takes around two hours, giving the opportunity to look for Black-naped and Lesser Crested Terns and White-bellied Sea-eagle, with dolphins (Common and Indo-Pacific Hump-backed Dolphins are the most common known to occur here), flying fish, and occasionally sea turtles (Leatherback, Hawksbill, Olive Ridley, and Green occur in these waters) surfacing intermittently alongside.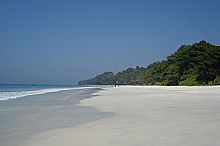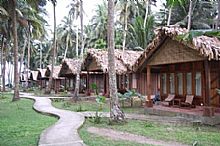 Lying 54 km northeast of South Andaman, Havelock is part of Ritchie's Archipelago, home to one of the world's richest coral reef ecosystems. This is a picturesque pastoral idyll where white, sandy beaches fringed with coastal rainforests gradually merge into coconut plantations and paddy fields. The island is delightfully quiet, and whilst birds found on Havelock and South Andaman are somewhat similar, this is an excellent place to track down many endemics, including Andaman Flowerpecker, Andaman Cuckoo-dove, Andaman Cuckooshrike, Andaman Shama, Andaman White-headed Starling, and the near-endemics Andaman Drongo and Andaman Coucal. Other species here include Common and Pintail Snipes, Watercock, Ruddy Kingfisher, Vernal Hanging-parrot, Red-breasted, Long-tailed, and Alexandrine Parakeets, Chestnut-headed Bee-eater, Black-naped Blue Monarch, White-breasted Woodswallow, Edible-nest Swiftlet, House Swallow, Brown-throated Needletail, Olive-backed Sunbird, Dollarbird, Red Collared Dove, Asian Fairy Bluebird, and White-rumped Munia.
Further inland, extensive flooded fields in Wimberley Gunj, Stewart Gunj and the vicinity provide refuge to good numbers of Andaman Teal among commoner Lesser Whistling-duck and Cotton Teal, Great, Intermediate, Little, and Eastern Cattle Egrets, Pond Heron species (both Indian and Chinese Pond
Herons occur here however in non-breeding plumage they are indistinguishable), and a host of waders, which may include Common and Pintail Snipes, Broad-billed and Curlew Sandpipers, Long-toed Stint, and Pacific Golden Plover.
Havelock is home to what is considered one of the world's finest beaches. Radhanagar Beach is a spectacular broad crescent of white sand, a good place to search for small flocks of the distinctive Andaman Teal. The littoral rainforests that fringe this and smaller Vijaynagar Beach are home to Oriental Scops and the endemic Andaman Scops Owls, as well as endemic Brown and Hume's Hawk-owls, and this is perhaps the most reliable place to find these species.

Marine life in the Andaman Islands and in Ritchie's Archipelago is spectacular. The seabed is a mass of corals, and sea turtles are occasionally seen in inshore waters. The water is alive with tropical fauna, including angel, parrot, and clown fish, sea cucumbers, sea anemones, starfish, and various shells, including a rare giant clam which can grow up to a metre wide.

Accommodation: We spend three nights in Havelock Island at a pleasant beach resort with cottage rooms spread within a quiet palm tree grove along a beachfront. The cosy Andaman chalet rooms are comfortably furnished, and equipped with air-conditioning and en-suite bathrooms.
Days 9 - 11: Saturday 30 November - Monday 2 December PORT BLAIR, South Andaman
Throughout the Andamans almost every waterway and coastline is edged with mangrove swamps, which are estimated to comprise an impressive 15% of the total land area. Sippighat is an expanse of mangrove-lined tidal creeks and marshes interspersed with flooded fields, and plantations situated at the southern end of the creek that cuts almost entirely across the island. The mangroves of Sippighat provide refuge to a good range of species, including Ruddy, Collared, and Stork-billed Kingfishers, Common and Pintail Snipe, Striated Heron, Chestnut and Yellow Bitterns, Slaty-breasted Rail, Ruddy-breasted Crake, and Mangrove Whistler.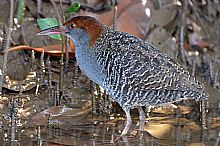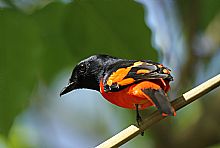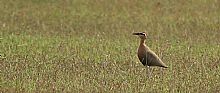 The adjacent marshes host a variety of waders, including Greater and Lesser Sand Plovers, Wood, Broad-billed, and Curlew Sandpipers, Long-toed and Rufous-necked Stints (Little may also occur, however in non-breeding plumage it is almost identical to Rufous-necked and its presence in the islands is unconfirmed), Bar-tailed Godwit, and Whimbrel. Black-browed Reed-warbler is occasionally reported from the Andaman Islands, yet its status here remains unconfirmed. A shy and skulking yet somewhat distinctive bird, it is in all probability a winter vagrant, and since it prefers wetland vegetation and adjacent scrub Sippighat is a good place to search for it.
Day 11: Monday 2 December PORT BLAIR - CHENNAI
Morning birding on South Andaman, midday flight to Chennai, use of hotel rooms in Chennai with associated airport transfers on arrival and departure, depart for London on this day or early morning on Day 12.
Day 12: Tuesday 3 December CHENNAI - LONDON
Arrive home on international flight from Chennai.
* Endemic or near-endemic (e) species:
Andaman (Sunda) Teal Anas albogularis
Andaman Serpent Eagle Spilornis elgini
Andaman Crake Rallina canningi
Andaman Woodpigeon Columba palumboides
Andaman Cuckoo-dove Macropygia rufipennis
Andaman Green Pigeon (e) (Pompadour Green Pigeon) Treron chloropterus
Andaman (Brown) Coucal (e) Centropus andamanensis
Andaman Hawk Owl Ninox affinis
Hume's Hawk Owl (Brown Hawk Owl) Ninox obscura
Andaman Barn Owl (Barn Owl) Tyto deroepstorffi
Andaman Scops Owl Otus balli
Andaman Nightjar (Large-tailed Nightjar) Caprimulgus andamanicus
Andaman Woodpecker Dryocopus hodgei
Andaman (Bar-bellied) Cuckooshrike Coracina dobsoni
Andaman Bulbul (Black-headed Bulbul) Pycnonotus fuscoflavescens
Andaman Shama (White-rumped Shama) Copsychus albiventris
Andaman Flowerpecker (Plain Flowerpecker) Dicaeum virescens
Andaman Drongo (e) Dicrurus andamanensis
Andaman White-headed (White-headed) Starling Sturnia erythropygia
Andaman Treepie Dendrocitta bayleyi

The above is in accordance with Rasmussen, P.C. & Anderton, J. C. (2005) Birds of South Asia. The Ripley Guide. Vols 1 and 2. Smithsoniann Institution and Lynx Edicions, Washington D.C. and Barcelona, while corresponding names used in Grimmett, R., Inskipp, C., & Inskipp, T. (1999) Pocket Field Guide to the Birds of the Indian Subcontinent. OUP are indicated in brackets.

The variation in names given in each publication is a result of recent taxonomic study which contributed to the former either species have been renamed here or they have been given species status
where they were formerly considered conspecific with another by Grimmett et al.
Price includes:
Return scheduled flight from London – Chennai, return flight Chennai - Port Blair, airport taxes, ground transportation, ferries whilst in the Andaman Islands, accommodation and all meals, incidental tips, and the services of Leader Gerard Gorman and local guides in India, plus Kevin Shaw with more than 7 clients. Max 12 clients.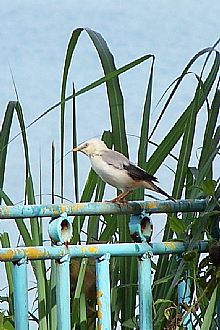 Andaman White-headed Starling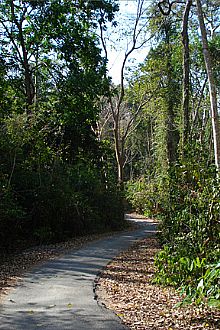 Chidiyatapu, South Andaman
Yellow-billed Babbler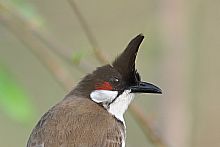 Red-whiskered Bulbul
Ashy-crowned Sparrow-lark