Gambia
A great introduction to African birding
Prices:
£1645 PP, £150 single supplement. Deposit £300
Dates:
13 Jan - 20 Jan 2014
More Info

Departure from Manchester Airport

The Gambia is a small, narrow West African country, with a short coastline onto the Atlantic Ocean, otherwise completely surrounded by Senegal. In the area close to the sea there is a wide variety of habitats within just a few miles: estuary, mangrove swamp, riverine forest, marshland, and the edge of the West African Forest.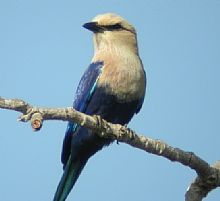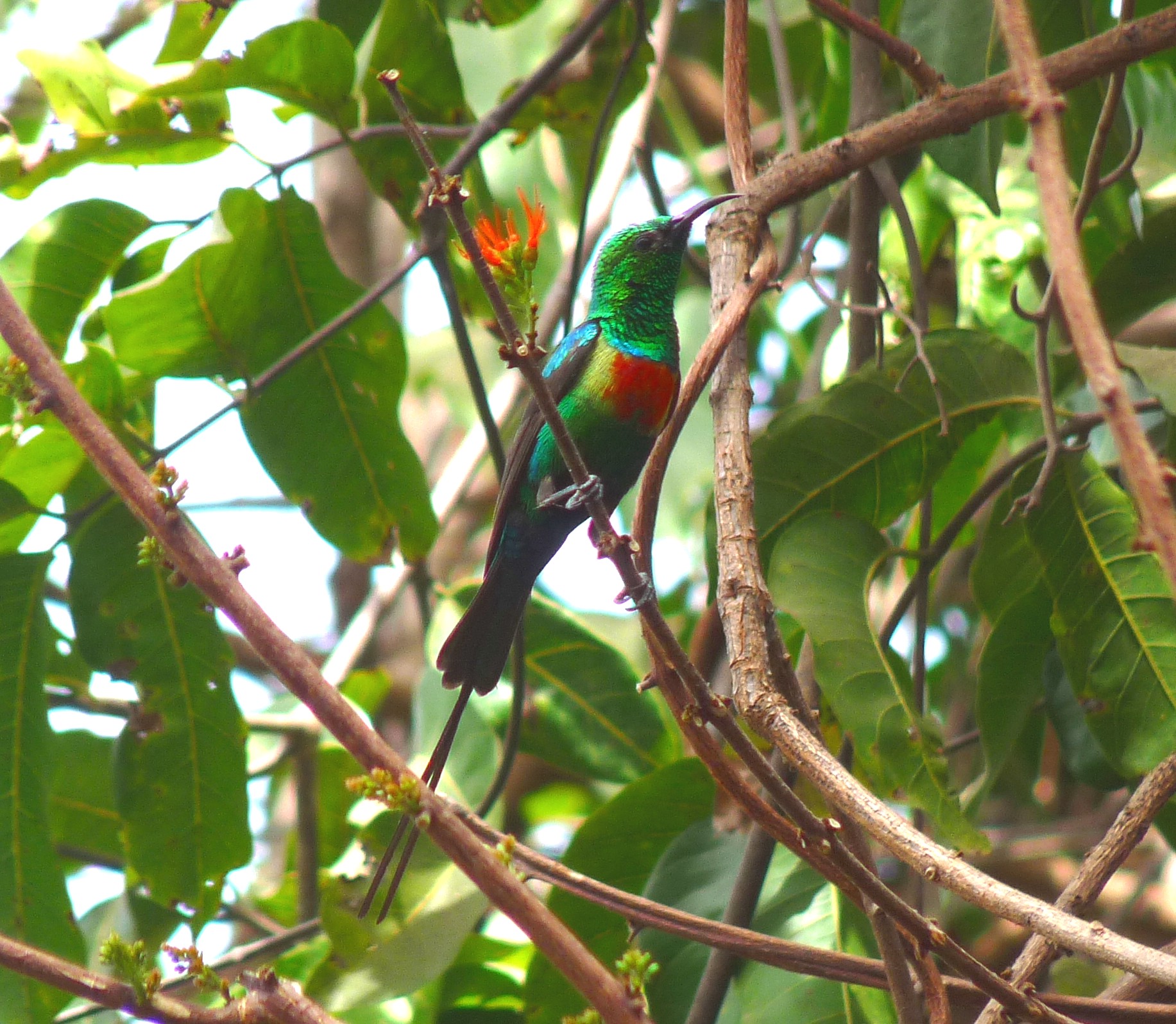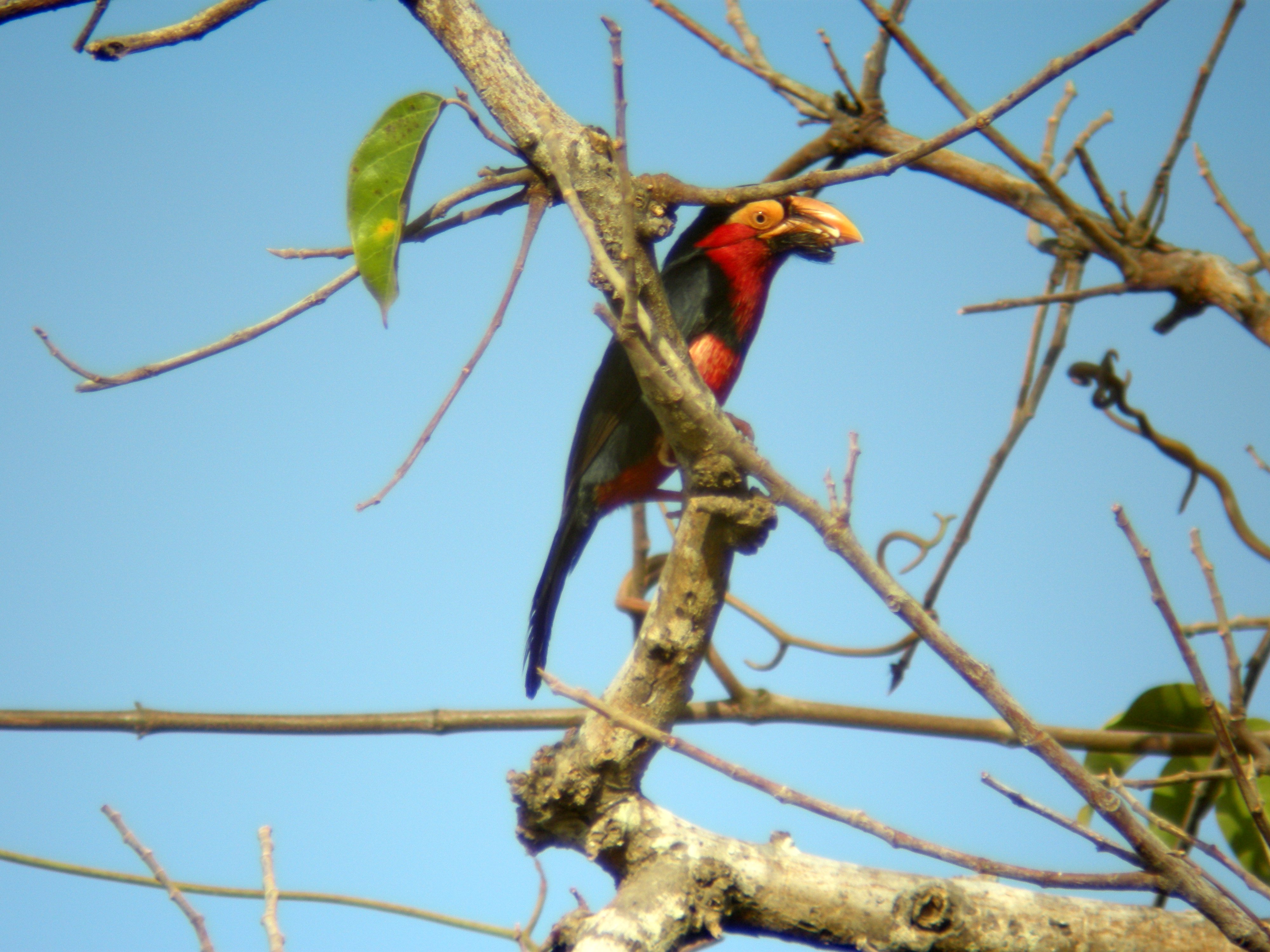 The Gambia is a superb option for British birders because it offers the nearest forest jungle to the UK, is easily accessible from London, and boasts comfortable hotels with easy birding close to the airport. This holiday is seen as a simple and straight-forward introduction to African birding, and with the single exception of a one hour drive inland, the holiday will be based entirely at the bird-rich coastal strip, largely considered to be safe and friendly to British tourists. The Gambia is usually dry and sunny in January, so based on our local guide's advice we will be as flexible as possible. This means that if one of our pre-planned sites is poor for birds due to weather conditions, we will switch to somewhere better for birdlife.
Birding promises to be exceptional, and we will almost immediately see Red-billed and Grey Hornbills, Senegal Coucal, Long-tailed Sunbird, Hooded Vulture and many more. Hotel grounds offer excellent birding and our first morning's stroll should produce fine views of some spectacular species. As usual, we shall be keeping an eye on the general wildlife of the area including some spectacular butterflies and reptiles, Nile Monitor Lizard, and monkeys such as Green Vervet and Red Colobus.
Transport is by small coach with local driver. Please note that the roads can be rough, though because we minimise travelling, this trip is gentle in pace and as comfortable as possible. There will be short walks of up to two miles over relatively flat terrain, and you should wear walking boots or shoes.
Outline Itinerary
Day 1
Arrive in The Gambia and transfer to the Bakotu Hotel, our base for the week. The immediate area hosts a wide variety of birds, and our African list will quickly mount up as we briefly explore the hotel grounds, where we might see a variety of small finches and weavers amongst other common species. Our hotel is a great place for optional early morning and evening birding, and sometimes we will also relax here in the heat of the day. All rooms have private facilities.
In the evening we will go for a leisurely walk around the adjacent Kotu Creek and Faraja Golf Course. This will be our first chance to see West African species that will be the focus of our trip. The tidal creek and immediate golf course surroundings are excellent for waders, herons, egrets, kingfishers, Double-spurred Francolin, Fulvous Whistling Duck, Yellow-billed Shrike, Glossy Starlings and huge cumbersome Western Grey Plantain-eaters. This day should also include Grey Kestrel and Painted Snipe, With a little luck we might see Abyssinian Roller, Blue-bellied Roller or Green Wood-hoopoe sitting in a palm tree or a Black Egret doing its famous umbrella fishing technique!
Day 2
For our first full day we head to the famous Abuko Nature Reserve where we immediately get to grips with birds of the tropical forest. Unlike many other parts of Africa, one of the joys of The Gambia is to be able to walk around birding without being on the menu of a large predator, so long as we avoid the edge of the Crocodile Pool! No where is this more apparent than at Abuko where we will spend all morning walking around the gallery forest and enjoying birds. Luckily there are hides and we can sit quietly and watch the wildlife.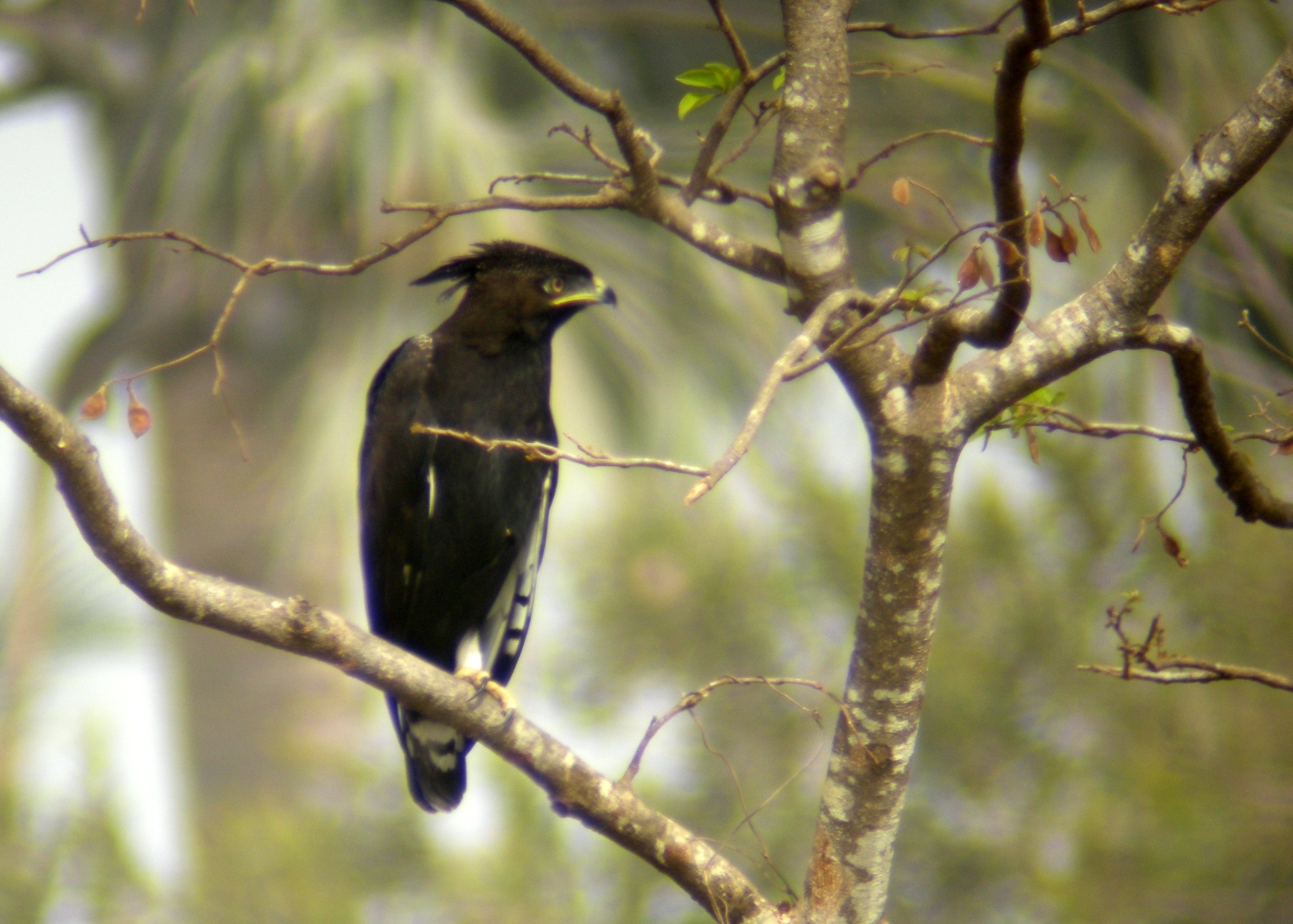 There are many target species at Abuko, but none more stunning than Green Turaco and Violet Turaco. The list of possible species here is huge, and highlights include Snow-crowned Robin-chat, Senegal Thick-knee, Black-headed heron, Palm-nut Vulture, African Darter, Hammercop, Giant Kingfisher, African Pygmy Kingfisher, Red-bellied Flycatcher, Western Bluebill, Little Greenbul, Oriole Warbler, Yellow-throated Leaflove, Fanti Saw-wing, Blue-spotted Wood Dove, Lizard Buzzard, White-headed Helmet Shrike and Bearded Barbet.
We will go to the marvellous Lamin Lodge (built on stilts) for a relaxing lunch and cold drink, whilst over-looking the mangrove. In the afternoon, we will bird around the field margins, searching for bee-eaters, pigeons, doves, weavers, manikins, fire-finches, waxbills, bishops and sparrows.
Day 3
Today we drive down the coast to the village of Brufut and spend much of the morning birding in the woodland and scrub habitats. The protected area is excellent for an array of woodland species including African Green Pigeon, Klaas's Cuckoo, White-faced Scops Owl, Pearl-spotted Owlet, Lizard Buzzard, African Harrier Hawk, Shikra, Senegal Parrot, Common Wattle-eye, Northern Black Flycatcher, sunbirds, Yellow-crowned Gonolek, Black-crowned Tchagra, and Long-tailed Nightjar.
In the late morning we will head for Tanji village. Tanji is an active bustling fishing village, with all the sites, sounds and smells that entails! It is also superb for a variety of coastal birds. There are many target species here and we expect to see Royal, Lesser-crested, Caspian, Little and, Sandwich Tern. Working our way through the gulls should reveal Grey-headed, Slender-billed, and Yellow Legged Gull. If we are lucky we might see a lone Kelp Gull standing on the beach or the difficult to see White-fronted Plover. Many familiar waders will be along the shore if the tide is suitable. Less familiar may be the Pink-backed Pelicans sitting on the water or on fishing boats. 200m north of Tanji village on the beach is a Giant Kingfisher nesting colony where a stream enters the sea an forms a sand wall.
We will have lunch back at the Bakotu Hotel and have a relaxing afternoon in the heat of the day by the swimming pool, beach or perhaps in the local craft market. In the evening, we will go for a gentle bird walk looking specifically for Painted Snipe, African Black Crake and perhaps if we are lucky Oriole Warbler.
Day 4
In the early morning we will visit the scrubby open woods at Turjering. The open nature of the habitat makes seeing birds easy and their confiding nature means that most will be easily seen. Turjering is excellent for a wide variety of species and may throw up some surprises, perhaps Black Wood-hoopoe, White-crowned Helmet Shrike, Long-crested Hawk Eagle, Red-necked Falcon, Yellow Penduline Tit, Yellow White-eye, sunbirds, African Golden Oriole, White-shouldered Black-tit or an out of place wintering Redstart or Melodious Warbler.
Once the heat of the day has built up we will drive to the Faraba-Banta Bush Track, better known as the 'Raptor Track'. This area of natural savannah grassland, with some scrub and tall parkland trees is perfect for birds of prey. This is an excellent area for a variety of species including Martial Eagle, Booted Eagle, Black-shouldered Kite, Dark-chanting Goshawk, Shikra, Lanner Falcon, Woodchat Shrike, Swallow-tailed Bee-eater, Vieillot's Barbet, hornbills, Fine-spotted and Grey Woodpeckers and perhaps day-time roosting owls. As we walk through the grassland we may find Four-banded Sandgrouse, Double-spurred Francolin, delightful Namaqua Doves, or a roving flock of passerines containing cisticolas, Red-winged Warbler, Africa Reed Warbler, Tawny-flanked Prinia, Yellow-fronted Canary.
We will head back for a late lunch and a well-earned pool-side rest, stopping off on the way for any interesting wayside birds. By now we will have built up a good trip list and seen some spectacular birds. Once again in the evening we will go for a gentle bird walk, hopefully catching up with any missing species.
Day 5
Today we head one hour inland to Marakissa Rivercamp. This is a top birding destination which has a greater diversity of habitats and species than anywhere else we visit. Lunch at the restaurant can be accompanied with up to five species of kingfisher! For those who like their birding leisurely and easy, this is the place to be with dozens of species around the camp. We enjoy a two hour canoe trip through the mangrove swamp, and there should be great bird photographic opportunities. Likely sightings include Orange-cheeked Waxbill, Oxpecker, African Paradise Flycatcher, Green Crombec, Red-shouldered Cuckoo-shrike, Cardinal Woodpecker, Yellowbill and many more. After lunch we head back to our main hotel at Bakotu.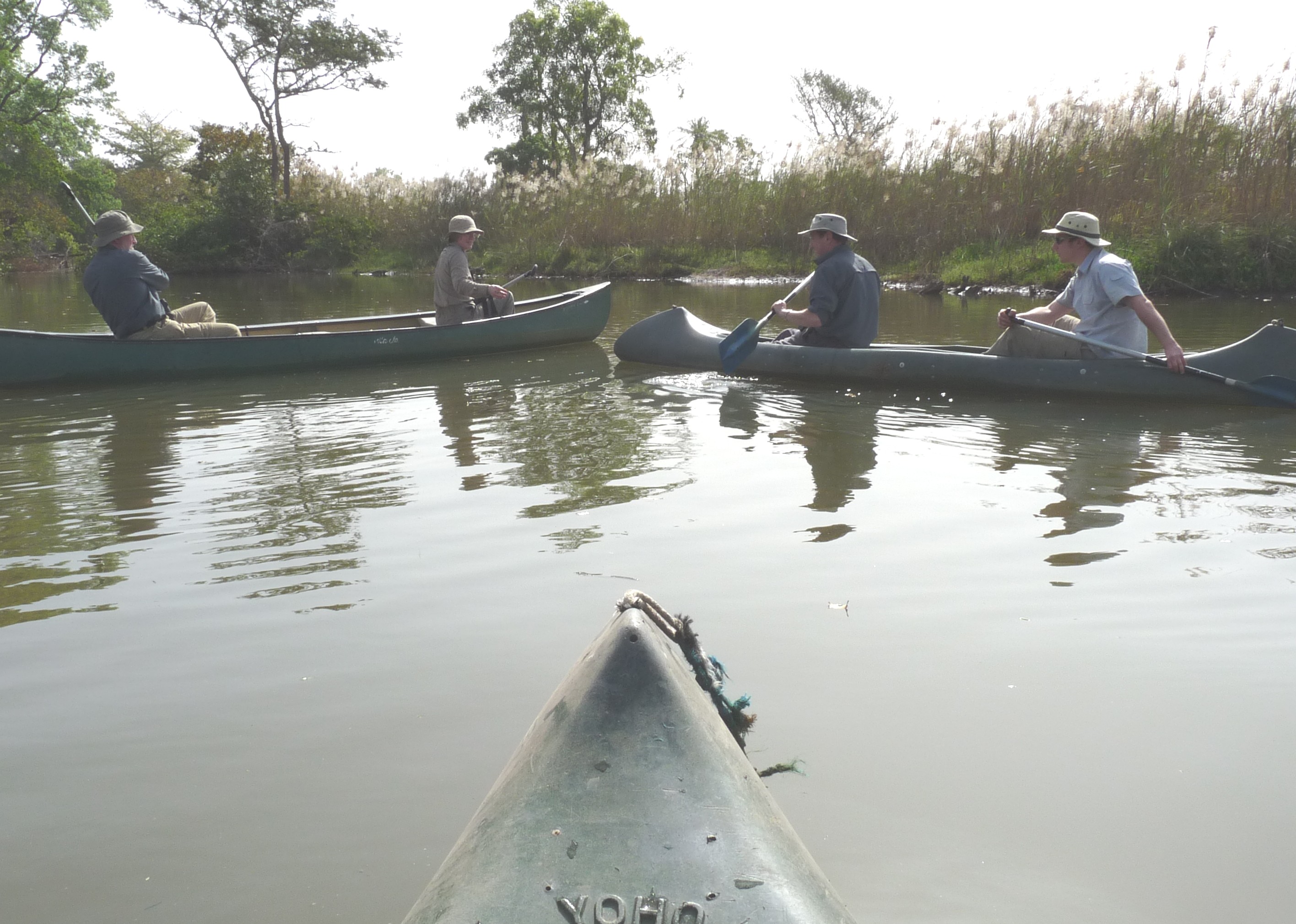 Days 6 and 7
Our final two full days are spent filling in the gaps in our list, and we may return to some of the places visited earlier in the week. Different weather conditions and the movements of early migrants will ensure a different cast list, and we remain flexible to give you the best possible birding.
Day 8
We have an afternoon flight, so in the morning have some time to go birding, relax with a walk along the beach or visit the craft market. We then transfer back to the airport and the UK.

What's included
Price includes return scheduled flight from London Gatwick – Banjul, airport taxes, baggage up to 15kg, hand luggage to 5kg, airport transfers, ground transportation, accommodation and meals including breakfast and lunch, water during the day, and the services of a Heatherlea leader and professional local guide. Max 12 clients.
....................................................................................................................................................................
NEW! HEATHERLEA PRE-FLIGHT SERVICE - The Heatherlea Pre-flight Service offers everything you need, including hotels, car parking, airport lounges, regional flights, and upgrades. Let Heatherlea take the strain!
SPECIAL OFFER! Join us on this holiday and enjoy airport facilities for free! We are offering FREE airport hotels combined with FREE airport lounge vouchers! Read more....
....................................................................................................................................................................
What's not included
Travel to and from Manchester before and after holiday, in-flight meal, baggage above 15kg, incidental tips, dinners and drinks when in Gambia, expenses of a personal nature and personal insurance.
Our thanks to Robin Cosgrove for kindly providing most of the images on this page.